The great thing about chocolate bark…besides the taste of course, is that it takes minutes to make. Dark chocolate is loaded with antioxidants and the combinations of add ins you can put together are endless! Everything tastes great with chocolate, even bacon! But today, we are keeping it simple. This dessert requires only three ingredients: good quality chocolate, toasted almonds and sea salt. So let's get to the tutorial: How to Make Chocolate Bark!
(This post contains affiliate links. I may make a commission from sales but your price remains the same.)
How to Make Chocolate Bark:
First stop, chocolate. Chocolate bark is pretty much melted chocolate that is allowed to cool. Using quality chocolate is very important here, so use the best quality chocolate you can find. You can use chips, bars or blocks. You'll just ned to chop it up if using block chocolate, or simply break it into pieces if using a thin bar. Once you have your chocolate prepped, you need to malt in. The easiest way is to melt the chocolate in the microwave to package instructions. But I love to do it on the cooktop in a double boiler, call me old fashioned. If you don't have a double boiler, see the nest photo.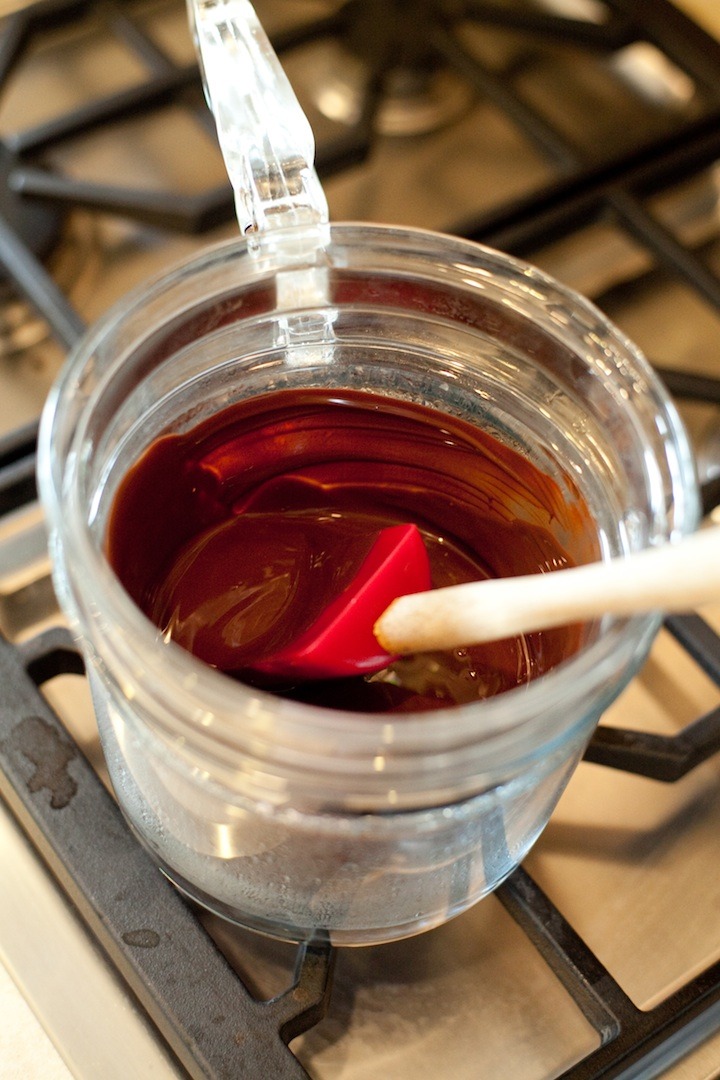 Make Your Own Double Boiler
You can make your own by placing a glass or metal bowl on a pot of simmering water. Just be sure the water isn't touching the bottom of the bowl, we want the steam to melt the chocolate not the boiling water. While chocolate melts, you are going to want to stir it often, until it's silky smooth. Once it is, take off heat.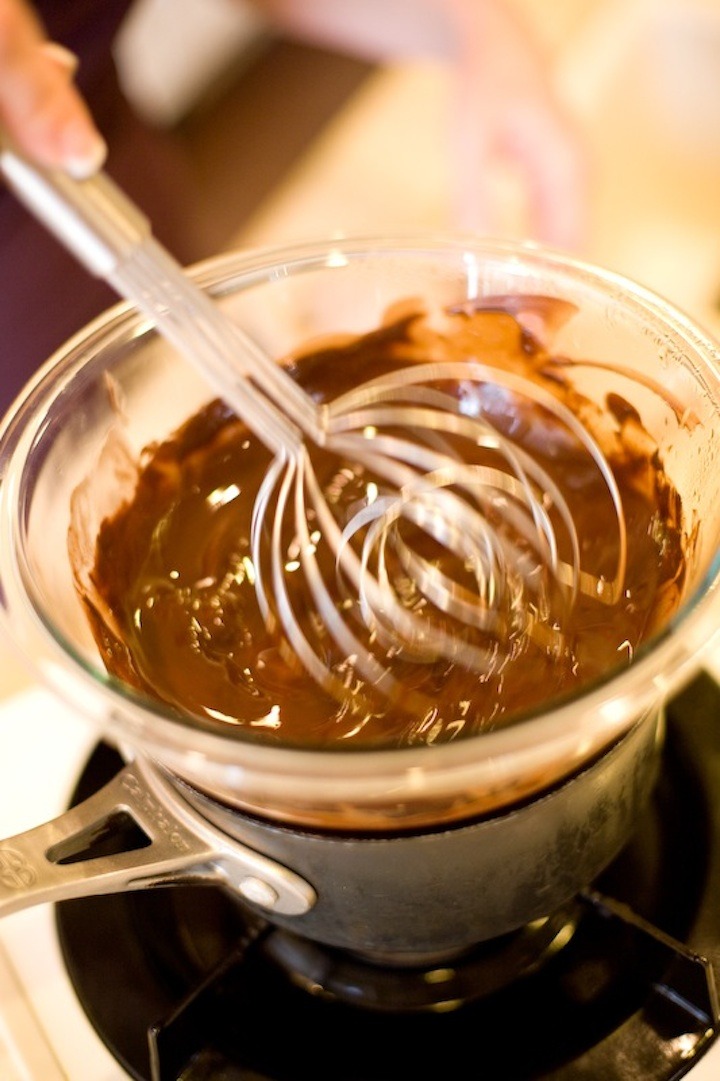 Now for the nuts:
Pour the melted chocolate over nuts placed on a cookie sheet covered with parchment paper, sprinkle remaining nuts on top. Then sprinkle generously with sea salt, allow to rest on the counter for 3-4 hours then place in the fridge or freezer until hardened. Use sharp knife to cut into pieces. (I use an 8″ Wusthof Chef's knife)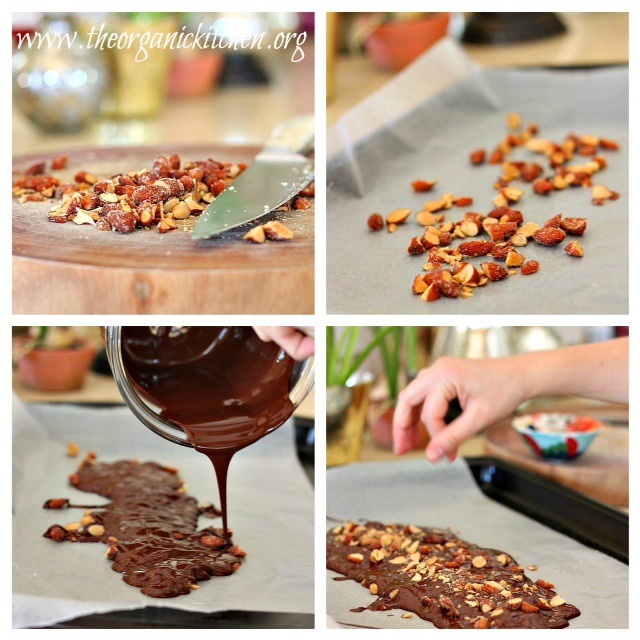 Let's Talk Sea Salt:
I use Maldon Flaked Sea Salt . It has a pure clean taste with no iodine or chemicals added.
And there you have it!
Beautiful, easy to make chocolate bark. By the way, people love receiving chocolate bark as a gift. Just wrap it up pretty and your teacher and mailman gifts are all taken care of!
The Recipe:  How to Make Chocolate Bark
What you need: parchment paper, a silicone spatula, and sea salt ( I buy the tub to save money)
How to Make Chocolate Bark
Easy to make and great for gift giving!
Keyword:
chocolate bark, chocolate dessert
Ingredients
1

cup

roasted salt almonds, chopped

12

ounces

quality chocolate (white, milk or dark chocolate, I used dark)

2

pinches

sea salt
Instructions
Place parchment paper on cookie sheet and set aside

Chop nuts, sprinkle down the center parchment paper reserving 1/3 for later

Melt chocolate in microwave according to package instructions or use double boiler (see tips in blog post)

When chocolate is smooth and melted, pour over chopped nuts on parchment paper, then sprinkle reserved nut on top. You can use a spatula to spread it out a little if needed.

Sprinkle two pinches of sea salt over the chocolate

Set that tray into the freezer for five to ten minutes to harden. Freezer full? Put it in fridge or a cold garage. Once the chocolate is hard to the touch, it's ready to be chopped!
MAY I PLEASE ASK A FAVOR?
We small bloggers need all the help we can get. Subscribing and sharing on social media is very appreciated!