As summer glides by, we are making more and more 'no churn' ice cream. If you haven't tried it yet, you must. It will change your ice cream loving life! And this time I am loading up the simple vanilla with chocolate goodies and hand dipped chocolate cones!
(This post contains affiliate links. I may make a commission from sales but your price remains the same.)
I Scream, You Scream!
There is truly nothing like homemade ice cream. So rich, creamy and delicious! And 'no churn' requires so little effort with huge reward. I love vanilla ice cream with chocolate goodies folded in. I use Trader Joe's Mini Peanut Butter Cups, Chocolate Covered Almonds, and Dark Chocolate Chips.
SO HOW DOES "NO CHURN" ICE CREAM WORK?
Well, it's easy. You use a hand mixer or stand mixer (or even hand whisk!) to whip up cream, sugar, vanilla etc… then add any additions (in this case vanilla paste and chocolate goodies) pour into a container, cover and freeze for at least four hours. Yep, that's it. What you end up with is amazingly creamy, delicious ice cream, and no ice cream maker needed!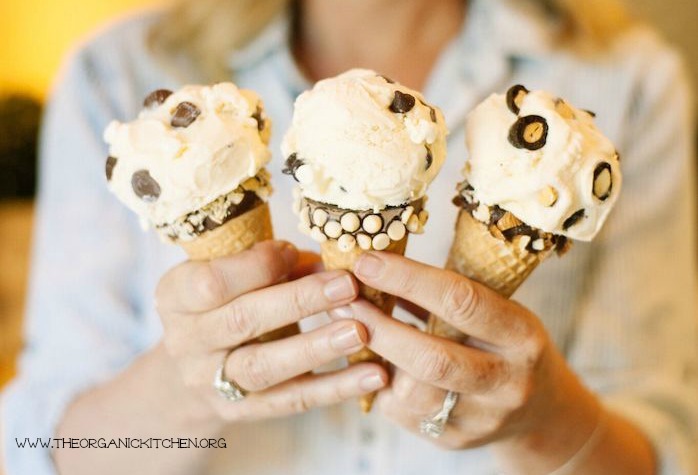 TO MAKE YOUR OWN SWEETENED CONDENSED MILK OR NOT, THAT IS THE QUESTION:
This recipe calls for sweetened condensed milk. Making your own is really easy, but of course you can buy store bought if you prefer. That said, this is how easy homemade sweetened condensed milk is to make: Put milk and organic sugar in a pot, bring to a simmer and leave alone for about 40-50 minutes. You can do whatever you want for that 40 minutes, just check on it here or there. Then cool before using in your ice cream. Easy as pie and you can find the recipe here.
Those Chocolate Dipped Cones:
Whether or not you make your own ice cream, using hand dipped cones is always a good idea, and the kids love helping! First, I roll the cones in chocolate…
…then dip them in chopped nuts or mini white chocolate chips. Aren't they cute?!

Top with homemade Vanilla Bean Ice Cream made with my favorite Nielsen Massey Vanilla Paste (affiliate link) and you have the ultimate summer treat!
I really wanted to eat these but I had to wait till pictures were taken. Sometimes being a food blogger is hard.
The Recipe: Vanilla Bean Ice Cream with Hand Dipped Cones
Tips and what you will need: (affiliate links) To store ice cream I recommend a glass baking dish with lid or Tovolo Ice Cream Containers. I always recommend vanilla paste over extract, it has less alcohol so that vanilla flavor shines through! Plus it gives you those pretty vanilla flecks! I used Trader Joe's Mini Peanut Butter Cups, Chocolate Covered Almonds, and Dark Chocolate Chips in this recipe.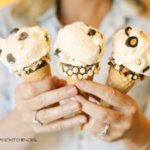 Vanilla Bean 'No Churn Ice Cream with Hand Dipped Chocolate Cones
A delicious ice cream recipe that doesn't require an ice cream maker! I offer the option to make your own sweetened condensed milk. If you make your own sweetened condensed milk allow 40 minutes cook time and time for it to cool.
Keyword:
easy dessert recipe, kid-friendly recipes, no churn ice cream
Ingredients
For Ice Cream:
1 3/4

cups

14oz cold sweetened condensed milk (if making your own, see link above in blog post)

2

cups

heavy whipping cream

cold

1

teaspoon

vanilla paste or extract

Assorted chocolate goodies

if using in any amount desired
For Cones:
12

waffle cones

1

cup

quality dark chocolate chips

1/2

cup

your choice of chopped nuts

mini chocolate chips
Instructions
For Ice Cream:
Place heavy whipping cream and vanilla paste or extract in the bowl of a stand mixer with whisk attachment (or use a bowl and hand mixer)

Beat until soft peaks form (this usually takes 3-4 minutes)

Add cold sweetened condensed milk, beat again until soft peaks form (1-2 minutes)

Fold in chocolate goodies by hand if using

Pour into a container, cover and set in freezer for at least 4 hours.

Note: If you are using chocolate covered nuts etc... they may sink to the bottom of your ice cream. There is nothing you can do about this, so this is what I recommend: after ice cream has been in the freezer for at least four hours, scoop it out into another container, stirring to mix in the chocolate additions. Place back in the freezer.

Best if used within six weeks. Enjoy!
For Cones:
Melt chocolate according to package instructions in double boiler or microwave

Transfer melted chocolate to shallow bowl and roll top of waffle cones in chocolate

Roll in nuts or chocolate chips

Set standing on wax paper (chocolate side down) till chocolate firms up
Enjoy the rest of your summer friends! ~ Linda Spiker
We small bloggers need all the help we can get. Subscribing and sharing on social media is very appreciated!
View The Organic Kitchen's Privacy Policy