You know my rule with pasta, if you eat it, load it with vegetables. Colorful, filling, antioxidant rich vegetables. This Linguini with rainbow Carrots and Broccolini is a perfect example!
(This post contains affiliate links. I may make a commission off sales but your price remains the same.) 
A 20 Minute Vegetarian Meal!
This meal may look fancy, because it kind of is, but fancy doesn't have to be time consuming. In fact this meal can be made in about 20 minutes! Here is how you do it…
How to:
To make this meal in a flash, I blanche the rainbow carrots and broccolini right in the pot with the pasta. Who doesn't love a one pot meal? In fact the most time consuming part of this recipe is waiting for the pasta water to boil.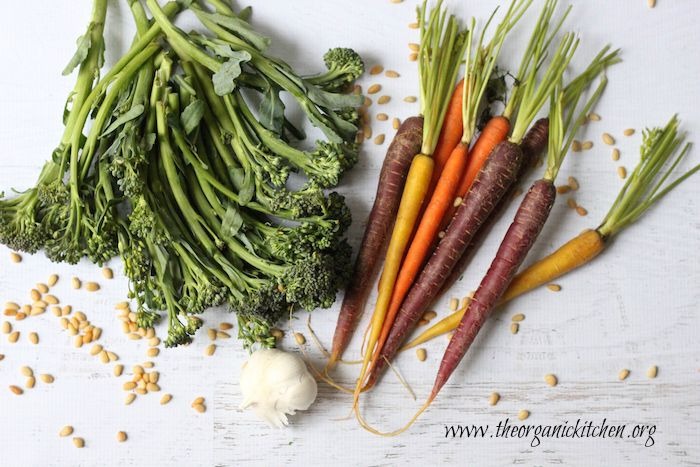 The Fresh and Easy Sauce:
This pasta is tossed with extra virgin olive oil, garlic, and lemon. All good things that add a lot of flavor as well as antioxidants and healthy fats!
Look at the color of those carrots! And I am sure you have noticed that platter by now, it is lovingly handmade by Nikki at HappyClay.com . Swoon right? You can check out her Etsy Shop here.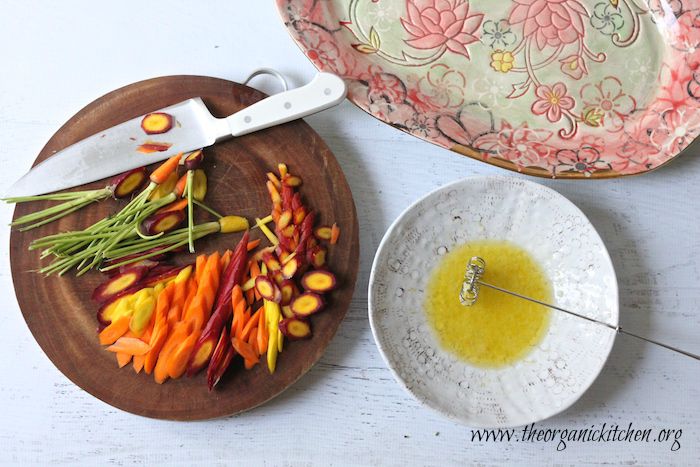 Toss all ingredients together with little sea salt and parmesan, garnish with pine nuts and parsley and you have yourself one amazingly beautiful, delicious meal with very little work!
The Recipe: Linguini with Rainbow Carrots and Broccolini
Tips and what you will need:  (contains affiliate links) make sure you slice the carrots VERY thinly so they will blanche quickly. You will need a microplane for zesting citrus, grating parmesan and garlic. A good knife is always a must! To make gluten free use gluten free pasta:
My oh my….
Simple and glorious! Please share if you feel so inclined ~ Linda Spiker
Healthy delicous meal delivery to your door! Get $30 off your Sun Basket order! Organic ingredients from the best West Coast farms and easy, healthy recipes delivered weekly.

May I Please Ask A Favor?
We small bloggers need all the help we can get. Subscribing and sharing on social media is very appreciated!