Complete meal salads make me happy. Especially this Chicken Club Salad with Ranch, not only is it delicious, it's also Paleo, Whole 30, low carb and Keto complaint! And if that weren't enough, I am going to give you options to make this as easy as you want! Because I am nice like that.
(This post contains affiliate links. I may make a commission from sales but your price remains the same.)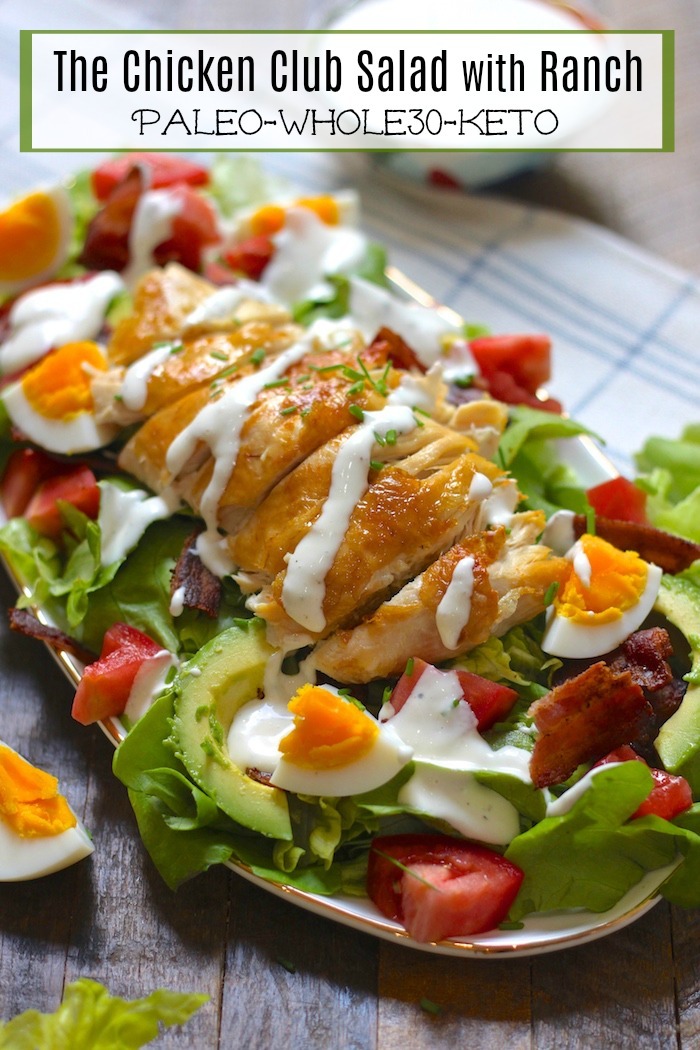 The Chicken Club Salad:
Like the traditional chicken club sandwich, this salad has roasted chicken, tender butter leaf lettuce, crispy bacon and fresh ripe tomato, but I throw in avocado hard boiled eggs for good measure. To keep this meal simple I use organic rotisserie chicken, but if you prefer you can make my super moist chicken breasts!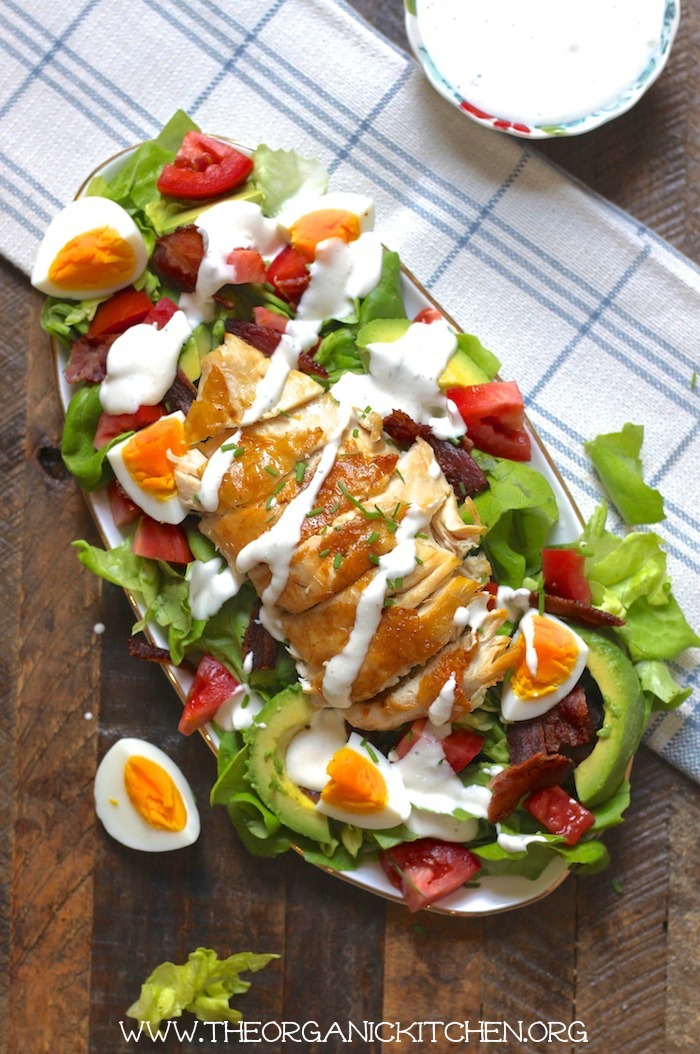 That Ranch Dressing:
Alright, I am just going to come out and say it, my homemade dairy free ranch is bomb.com, but I know not everyone has the time or inclination to make their own ranch dressing, so you can also buy Tessemae's or Primal Kitchen's Ranch Dressing and have it delivered to your door. Both Tessemae's and Primal Kitchen's Ranch Dressing's are Paleo and Whole 30 approved. That said if you want to make your own, I'll show you how easy it is!
HOW TO MAKE THE RANCH FROM SCRATCH:
I start by making a mayonnaise base. It's really easy but it is important to follow all the directions I give you in the recipe. Skipping any of them can cause your mayo to not set up. It's happened to me and it's a bummer.  I know some people have success using a regular blender to make mayo, I do not. I use an immersion blender. So here is how it's done:
Place room temp egg, lemon juice and extra light olive oil or avocado oil into a jar with a wide enough opening for an immersion blender to fit in.
Keep the blender at the bottom of the jar and whirl. Immediately you will see the oil and egg thicken up…it's mayo magic! Once it's 'set' you can move the blender up a down a couple of times to mix in the oil at the top.
Then add the cashew cream, herbs and spices and voila! Homemade dairy free ranch that is both Whole 30 and Paleo compliant!
Put it All Together and It's Magic!
Greens, protein, healthy fats, and low carb, it doesn't get better than that! And it's truly delicious and satisfying, not to mention beautiful. Oh…I mentioned it.
The Recipe: The Chicken Club Salad with Ranch! (Paleo/Whole30/Keto)
Tips and what you need: you can use rotisserie chicken to keep this recipe simple or use my super moist chicken breasts! If making my homemade ranch (recipe below) you will need an  immersion blender.  If buying ranch I recommend using Tessemae's or Primal Kitchen's Ranch Dressing.
The Chicken Club Salad with Ranch! (Paleo/Whole30/Keto)
A delicious complete meal salad with Keto, paleo, and Whole 30 options!
Keyword:
light recipe, Paleo, Whole30 recipe
Ingredients
If making dairy free ranch, make cashew cream (if not living dairy free you can skip this step and use buttermilk)

1/2

cup

raw cashews

1/2

cup

filtered water
If making homemade ranch:
1

cup 

light olive oil 

2

large

eggs

the second is back up ( both eggs need to be room temp, very important!)

Juice of half a lemon

room temp

1/2

cup

cashew cream

If you aren't living dairy free, you could use buttermilk

2

tablespoons

cilantro

chopped

2

tablespoons

chives

chopped

3/4

teaspoon

sea salt

1/2

teaspoon

freshly ground black pepper

1 1/4

teaspoon

onion powder

1 1/4

teaspoon

garlic powder
For Salad:
2-3

large

boiled eggs

peeled and quartered

6

slices

bacon

cooked and chopped

2

heads butter leaf lettuce

shredded by hand

2

chicken breasts

skin on and sliced (rotisserie or link to my recipe above if you want to make your own)

2

roma tomatoes

diced

2

avocados

sliced
Instructions
If making your own dairy free ranchdressing: 
Cashew Cream:
Bring 1 cup water to boil, turn off heat and pour 1/2 cup cashews into hot water. Soak for 3-4 hours or overnight. Strain and rinse. Place into blender with a half cup of filtered water and blend until smooth. Store in fridge until ready to use (expires in 4 days)

Place a room temp egg (have a second egg as back up) and olive in a narrow jar that is wide enough to accommodate an immersion blender. The egg must be room temp. If you forget to take the egg out of the fridge in time, you can place it in a bowl of hot water for 10 minutes to bring it to room temp.

Add the juice of half a room temp lemon.

Place an immersion blender into jar with the blender touching the bottom. Turn on immersion blender keeping it at the bottom of the dish. In about 30 seconds or less you will have mayonnaise! Stop blending. If mayo doesn't set up, use that second egg. Add it to the jar and mix again, it almost always saves the day. Add chopped herbs, spices and cashew cream (or buttermilk) and give one more quick blend to incorporate herbs and spices! Ta-da!
Salad Prep:
Boil eggs: place eggs in a pot of cold water making sure eggs are covered by several inches of water. Bring to a boil. Boil for three minutes then turn off heat. Allow eggs to sit in hot water for 8 minutes. Run eggs under cold water and peel.

While eggs boil and cool, cook bacon, allow to cool then chop

Place shredded lettuce on platter, add eggs, bacon, tomatoes, and avocado, toss with ranch dressing. Add sliced chicken, serve.