Salads are an important part of a holiday meal. They provide a splash of much needed color amongst the creamy beiges of turkey, gravy, potatoes and stuffing. In my humble opinion a good salad can be the star of the celebratory feast! So let's take a look at My Favorite Salads for The Holiday Table!
(This post contains affiliate links. I may make a commission from sales but your price remains the same.)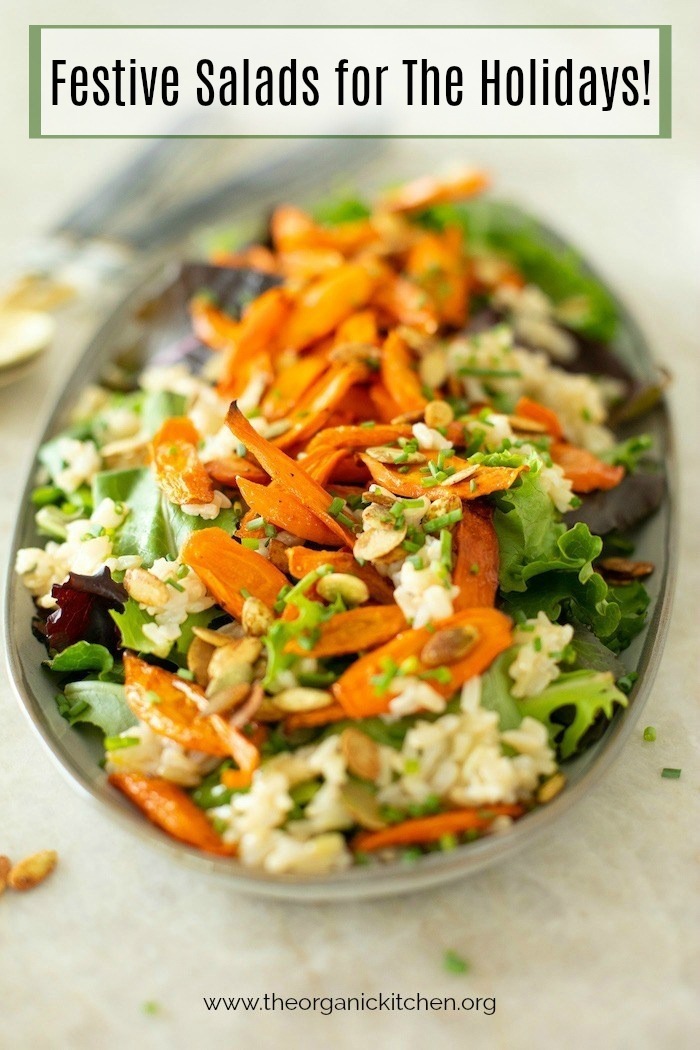 Apple and Farro Salad:
I cannot rave about this Apple and Farro Salad enough! Such a dreamy salad with flavors that work well with the traditional holiday menu!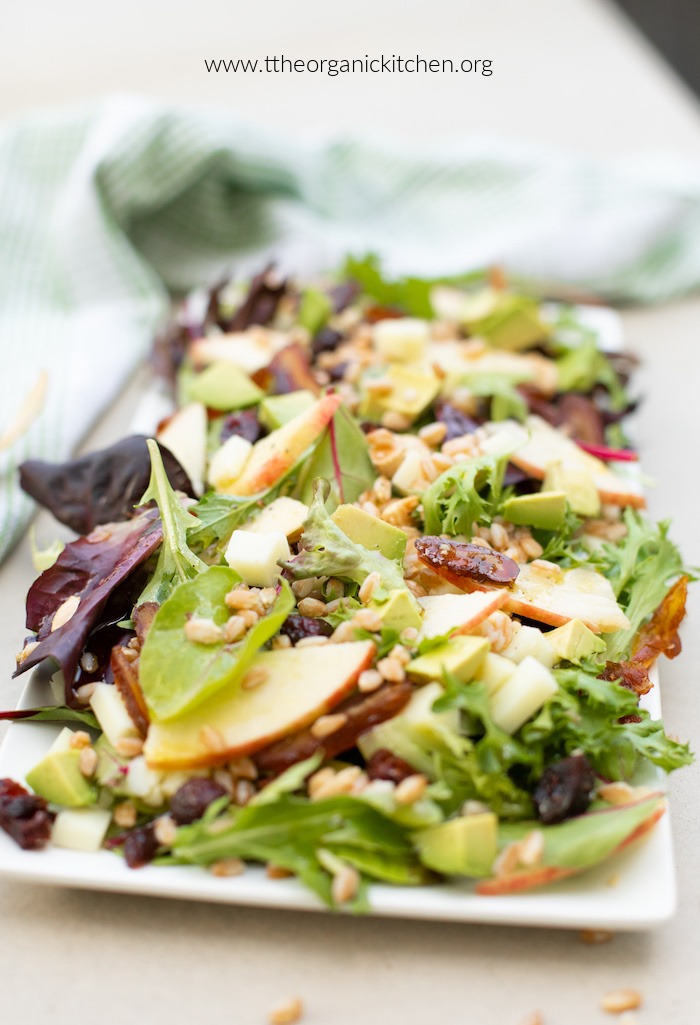 Greens with Pomegranate Vinaigrette:
This beautiful salad is quite simple and elegant. To keep this salad low stress and assembly only, seed the pomegranate and make the beautiful pomegranate dressing a day ahead.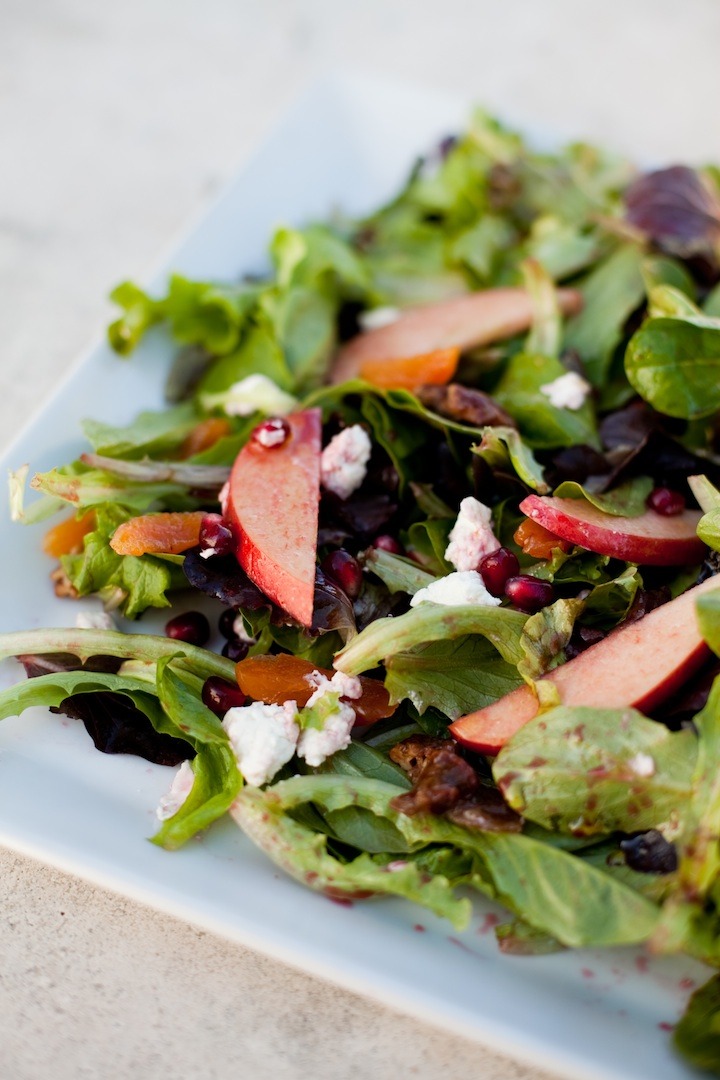 Greens with Roasted Butternut Squash and Pomegranate Vinaigrette:
You may be noticing a theme arising… pomegranates. They just happen to be in season around the holidays, so why not use them as often as you are able? I offer a beautiful pomegranate vinaigrette on this healthy, colorful salad!
The Organic Kitchen House Salad:
A very simple salad that works well with any main course. Super traditional but a real crowd pleaser. Everyone loves this salad!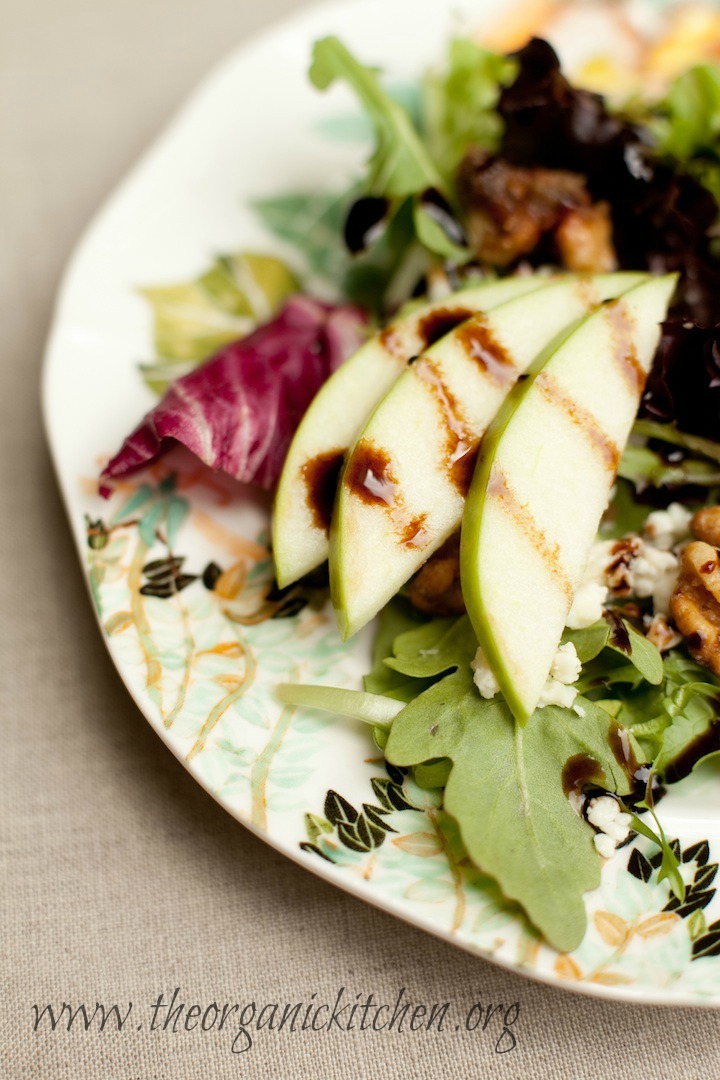 Baby Spinach with Roasted Carrots and Couscous
This spinach salad with roasted carrots and Israeli couscous is not only beautiful, it's also totally unique! This one is one of my all time favorites. If spinach isn't your jam, you can always make this salad with baby greens.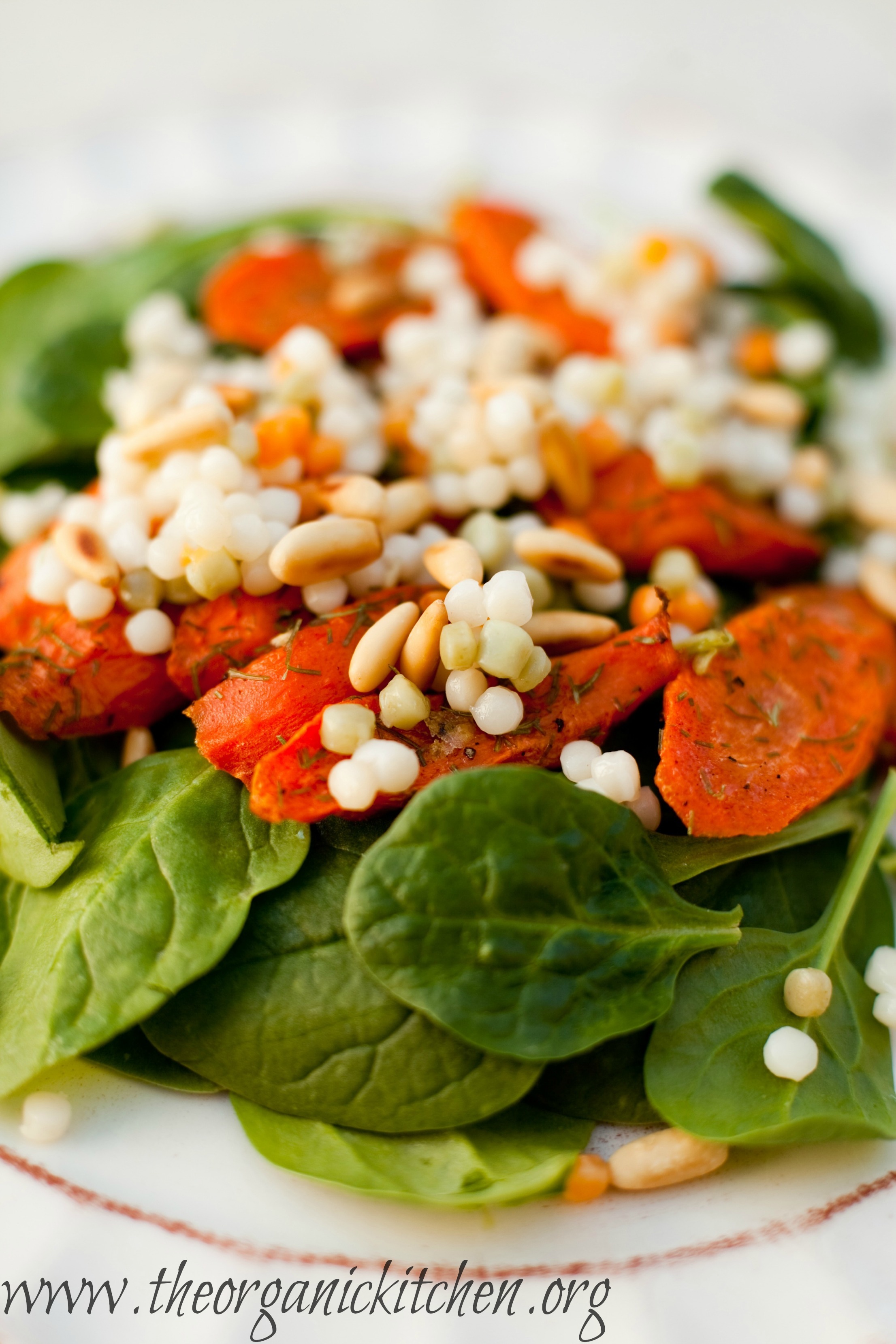 Greens with Pears and Fig Balsamic Vinaigrette:
A seasonal favorite, this salad incorporates sweet pears, feta cheese, caramelized nuts and a fig balsamic dressing to make a delightful, light side dish!
The Citrus and Avocado Salad:
Bring on the color with this Citrus and Avocado Salad! Tender butter leaf greens, vibrant citrus, creamy avocado, pistachios and pomegranate seeds, are all drizzled with a simple to 'whisk together' vinaigrette.
Butter Leaf Salad with Creamy Pear Vinaigrette
This salad is made with Butter Leaf, a very tender lettuce which is complimented beautifully with caramelized walnuts, cranberries and a creamy pear vinaigrette!
Spinach Salad with White Balsamic!
This spinach salad doesn't look like much, but let me tell you, it is pretty incredible! The white balsamic dressing and a bite of sea salt make this simple salad truly extraordinary!

The Chopped Apple Salad:
A crunchy chopped salad made with romaine, caramelized nuts, aged gouda and diced apples, all drizzled with a sweet tangy apple vinaigrette! And that aged gouda…is so, so gouda!

Last but Definitely Not Least: The Roasted Carrot and Brown Rice Salad
This salad will be a gorgeous addition to your holiday meal. Baby greens, brown rice, and spicy pepitas come together brilliantly when drizzled with a slightly sweet white balsamic!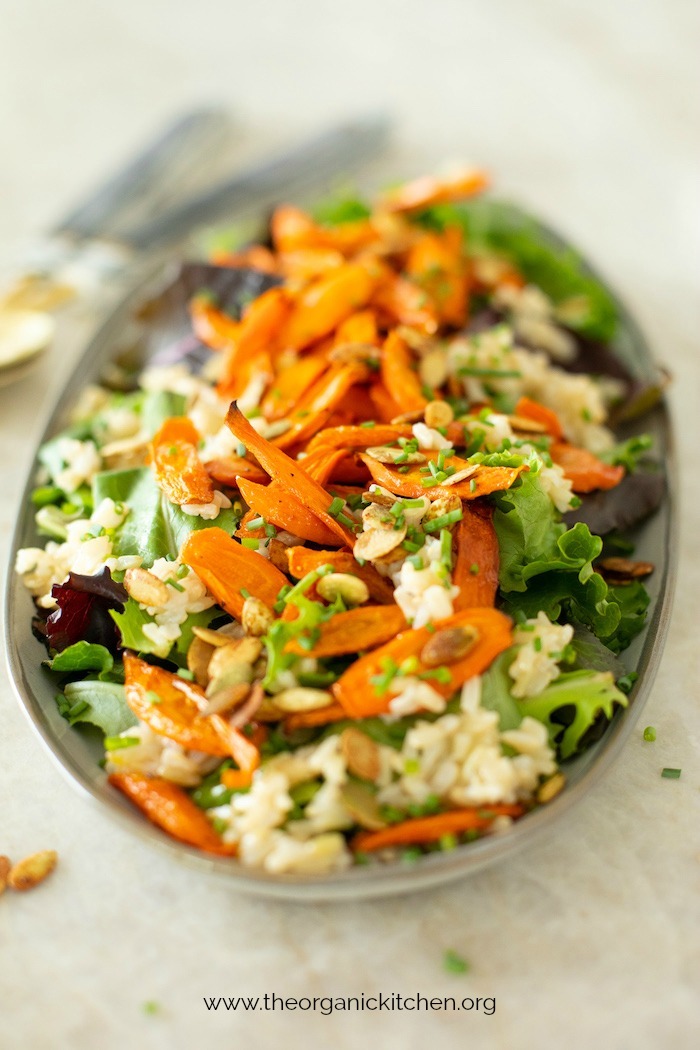 MAY I PLEASE ASK A FAVOR?
We small bloggers need all the help we can get. Subscribing and sharing on social media is very appreciated!