I can not say enough good things about this salad! Fresh baby spinach, tender roasted carrots, al dente Israeli couscous and pine nuts tossed in a flavorful white balsamic vinaigrette. Truly salad perfection!
(This post contains affiliate links. I may make a commission off sales but your price remains the same.)
For light eaters this salad can be a complete meal, for those that require a little more substance, serve alongside this roasted chicken.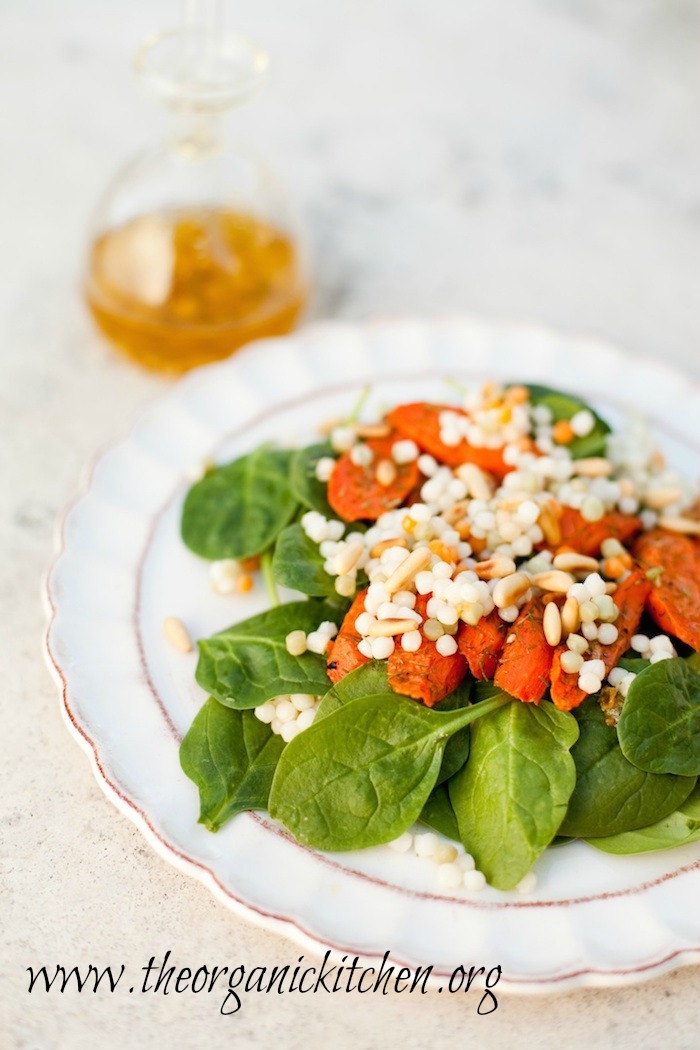 Roasting Carrots:
There is nothing to roasting carrots. Just peel, slice diagonally, toss in olive oil, sea salt, pepper and a little dill and pop in the oven to roast until the carrots are tender and the edges are browned.
The White Balsamic
The dressing on this salad is smooth and creamy with no acidic aftertaste and that is because I use the best white balsamic vinegar on the market,  Prelibato from the Malpighi family of Italy (affiliate link). This white balsamic is made with white grapes and aged slowly in wooden vats, it's actually quite the science! . I could drink this stuff straight out of the bottle.
But we aren't done yet. Once the salad is dressed and plated we take a pinch of sea salt (affiliate link) between the thumb and forefinger and sprinkle a bit on top of the salad for a salty little 'bite'!
The Recipe: Baby Spinach Salad with Roasted Carrots and Israeli Couscous:
You will need: a rimmed cookie sheet, parchment paper, sea salt (I buy the tub, it's a real money saver!), and White Balsamic (the best on earth and shipping is free as of posting) .
If you are like me and can't eat spinach, just sub with baby greens.
This salad truly is a unique and beautiful main course or side dish. If you liked this recipe please subscribe for my free weekly recipe newsletter (upper right sidebar just under my picture) and share on social media. Thanks ~ Linda Spiker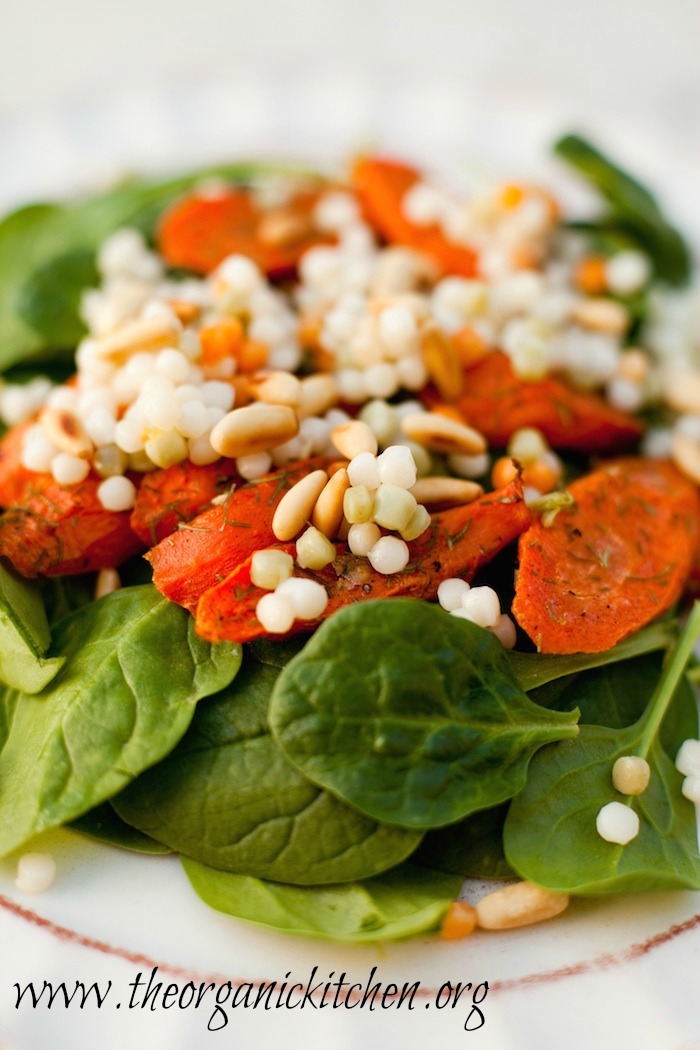 MAY I PLEASE ASK A LITTLE FAVOR?
We small bloggers need all the help we can get. Subscribing and sharing on social media is very appreciated!