Remember when you were a kid, walking home from school in the rain and you came in the front door and your mom had tomato soup and grilled cheese waiting for you? I do. But the tomato soup was from a can, comforting yes… delicious? Well…maybe when you were a kid it was. But we are grown ups now and need soup that is a little…how shall I say…more refined. So get ready to kick it up a notch…or ten… with this Creamy Carrot Tomato Soup: Comfort Food at it's Finest!
(This post contains affiliate links. I may make a commission from sales but your price remains the same.)

Creamy Carrot Tomato Soup: Comfort Food at it's Finest!
Soup should begin with the freshest ingredients.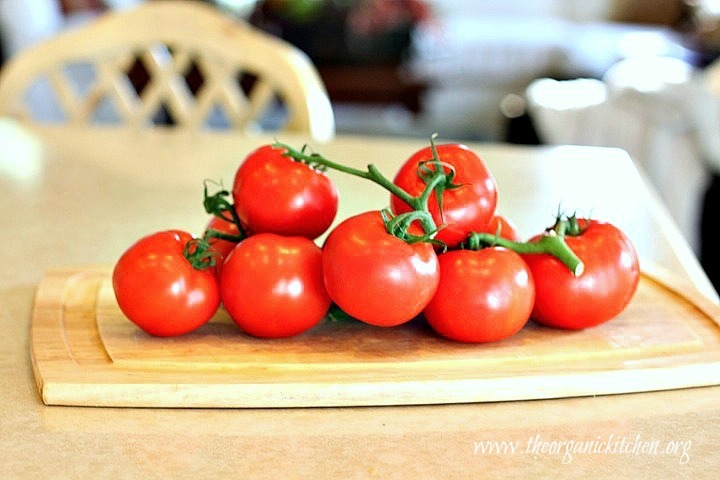 Start with the freshest juiciest tomatoes you can find. Then dice…and dice…and dice some more! Yep, it's a lot of tomatoes.
Time Saving Tip:
If dicing by hand is just too much you can put 2-3 tomatoes at a time into the food processor and give a whirl, saving your self some time! Instead of using a lot of sugar to cut the acidity of the tomatoes I opted to use only 1 tablespoon because I let sweet carrots to do the job instead!
To add a cheesy flavor I use an old soup trick, I cut the rind off a wedge of parmesan and put it in the soup as it simmers. The rind melts, adding flavor but stays in one piece. It is removed and discarded before blending the soup. (To see a tear free way to chop an onion, watch a 90 second video here)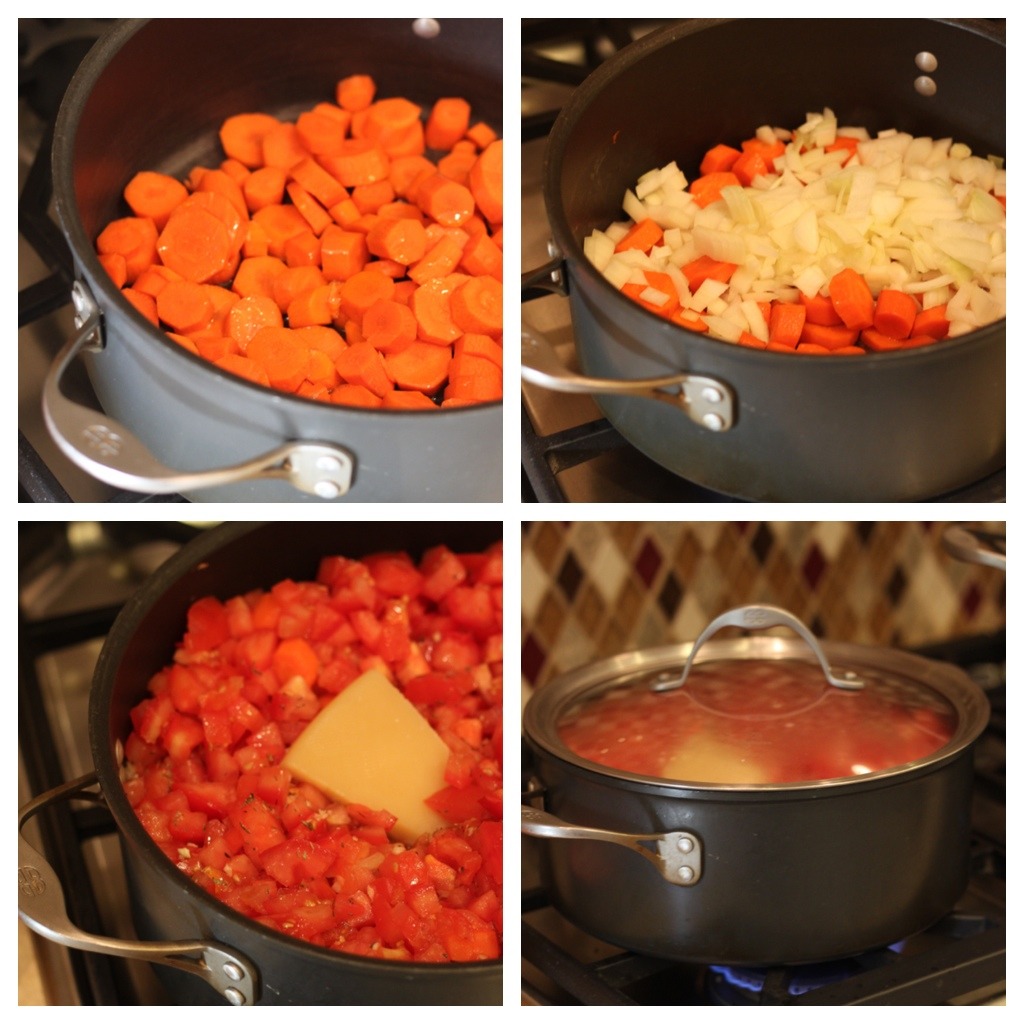 Straining Out The Seeds:
You can carefully blend soup in portions in the blender or use an immersion blender to blend right in the pot. Once blended strain out the skin and seeds. Don't skip this step! Just place the screen colander over and bowl and use the back of a ladle to push the soup through the screen, discarding the solids.
Maldon's Flaked Sea Salt
and
Herbs de Provence
spice this soup up. Herbs de Provence are a combination of savory, thyme, lavender, rosemary and fennel and is perfect for use in soups, on vegetables, chicken and beef. This recipe calls for Cayenne pepper. Always start with a small amount and add more if needed. Keep in mind that different brands of Cayenne pepper can vary in intensity. I have added a 1/4 tsp and not even felt the heat, and other times added the same amount and had it knock my socks off. If you ever over do it, just add a little more half and half or cream to cut the heat.
Et Voila!
A gorgeous, nutritious Creamy Carrot and Tomato Soup! If you want to round out this meal with even more comfort food, serve this soup with my Gourmet Grilled Cheese Sandwiches.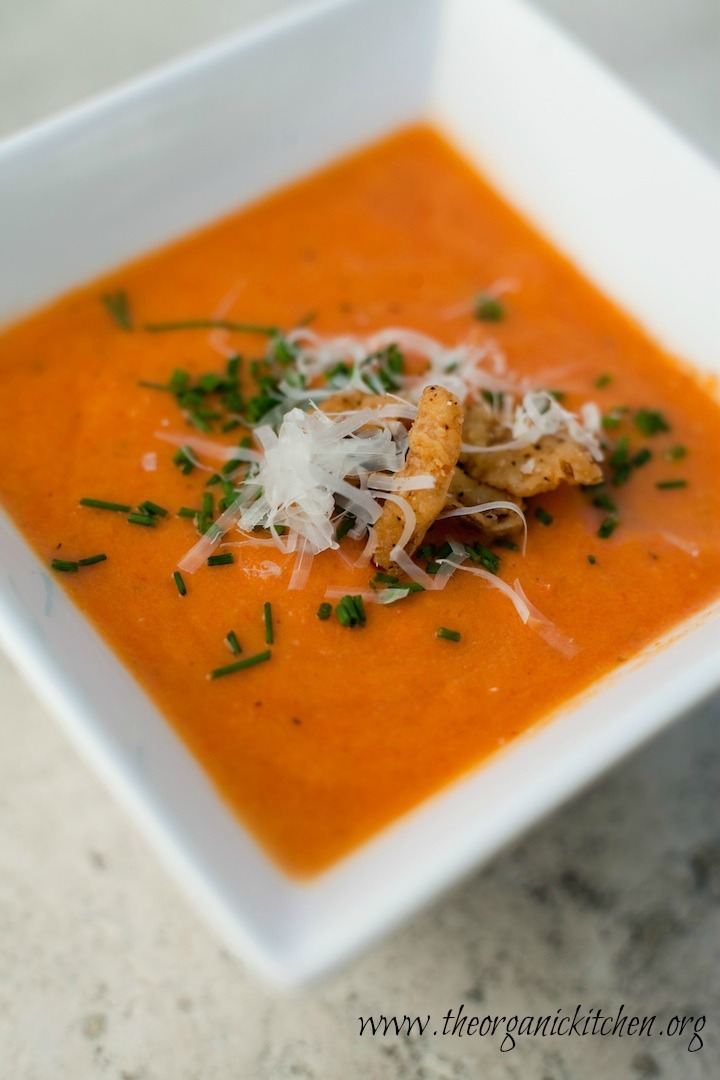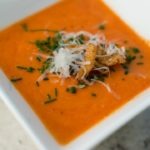 Creamy Carrot Tomato Soup: Comfort Food at it's Finest!
A creamy dreamy comforting soup made from scratch! Freezes beautifully. Dairy free option below.
Keyword:
dairy-free recipe, easy dinner recipe, easy lunch recipe
Ingredients
Dairy free option: skip the Parmesan and use coconut milk instead of cream or half and half

8

large carrots, peeled and sliced (1/4 inch thick)

5

lbs

of the biggest juiciest tomatoes you can find, diced by hand or in the food processor

3

cloves

garlic, peeled and minced

1

yellow onion, chopped

1

Tablespoon

brown sugar

1/3

cup

cream or half and half (or coconut milk)

Rind of Parmesan cheese (skip if you are dairy free)

2

teaspoons

Herbs de Provence

¼ - ½

tsp

cayenne pepper, depending on how much of a kick you want

Sea salt and pepper to taste

4

Tablespoons

butter

½

cup

freshly grated Parmesan cheese (for topping)

Packaged crispy onions

Olive oil
Instructions
Place sliced carrots, 2Tablespoons butter and 1 tablespoon olive oil in large stock pot and sauté on medium heat for 10 minutes.

Add chopped onions and another tablespoon olive oil and sauté for five more minutes. Vegetables should now be soft.

Add minced garlic, sugar, Herbs de Provence and tomatoes.

Cut the rind off a Parmesan wedge, place rind in center of soup mixture. The rind will not dissolve and will be removed later.

Cover and allow to simmer for 25 minutes.

Remove rind with a large spoon and discard.

Place tomato carrot mixture in blender or use a hand blender to blend till smooth. Depending on the size of your blender, you may need to divide to blend.

Place a screen colander over large bowl.

Using a soup ladle scoop three ladlefuls of soup into screen colander, then use the back of the ladle to push soup through the screen, straining out all the skin and seeds. Do not skip this step!

Discard the solids and repeat till all soup is strained. Return strained soup to pot, add cream, cayenne pepper and remaining butter, reheat.

Salt and pepper to taste.

To serve: pour into bowls and top with Parmesan and crispy onions (the onions are not gluten free)
MAY I PLEASE ASK A FAVOR?
We small bloggers need all the help we can get. Subscribing and sharing on social media is very appreciated!
All recipes and food images are copyrighted and owned exclusively by Linda Spiker. Do not republish photos or recipes without written consent.