Many years ago we were in New York City. We were on our way to see the play Hairspray and had neglected to make dinner reservations. We passed by a French restaurant and saw some tables open. We popped in and were lucky enough to be seated. And there in that lovely French restaurant I had the best spinach salad of my life! As soon as I returned home I duplicated it. So here is my version of that Spinach Salad with White Balsamic
(This post contains affiliate links. I may make a commission from sales but your price remains the same.)
What Makes the Spinach Salad with White Balsamic so Special?
The salad itself was so simple, that it's hard to put my finger on what made it so absolutely delicious. But I'll get it my best shot. The baby spinach was fresh, the avocado, perfectly ripe, and the dried cranberries and pine nuts a lovely touch, but the key to why it all worked so well together was the dressing and a crunchy bite of sea salt!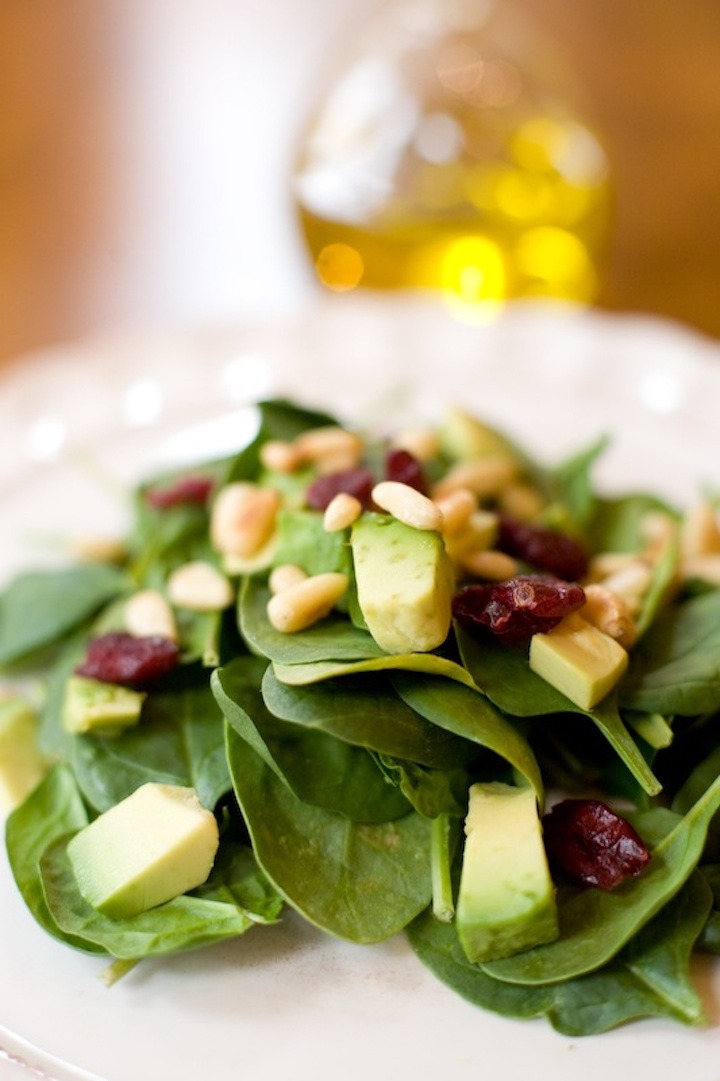 The Dressing:
If you have a favorite white balsamic vinegar, have at it. If not, here is my two cents. When making any recipe with so few ingredients it is important to make sure those ingredients are very high quality. I can't rave enough about the Prelibato White Balsamic Vinegar we use here at The Organic Kitchen…it's smooth and creamy unlike most of the acidic white balsamic vinegars found at the grocery store, which are usually a blend of white grapes and distilled vinegar. Prelibato White Balsamic vinegar is made from white or golden grapes which are aged in wooden vats for 12 years to develop a silky smooth flavor. Be sure to use a high quality extra virgin olive oil and fresh garlic. Some people avoid using fresh garlic because they don't like the smell garlic leaves on their hands. To see a quick and easy way of solving this problem watch this 90 second video.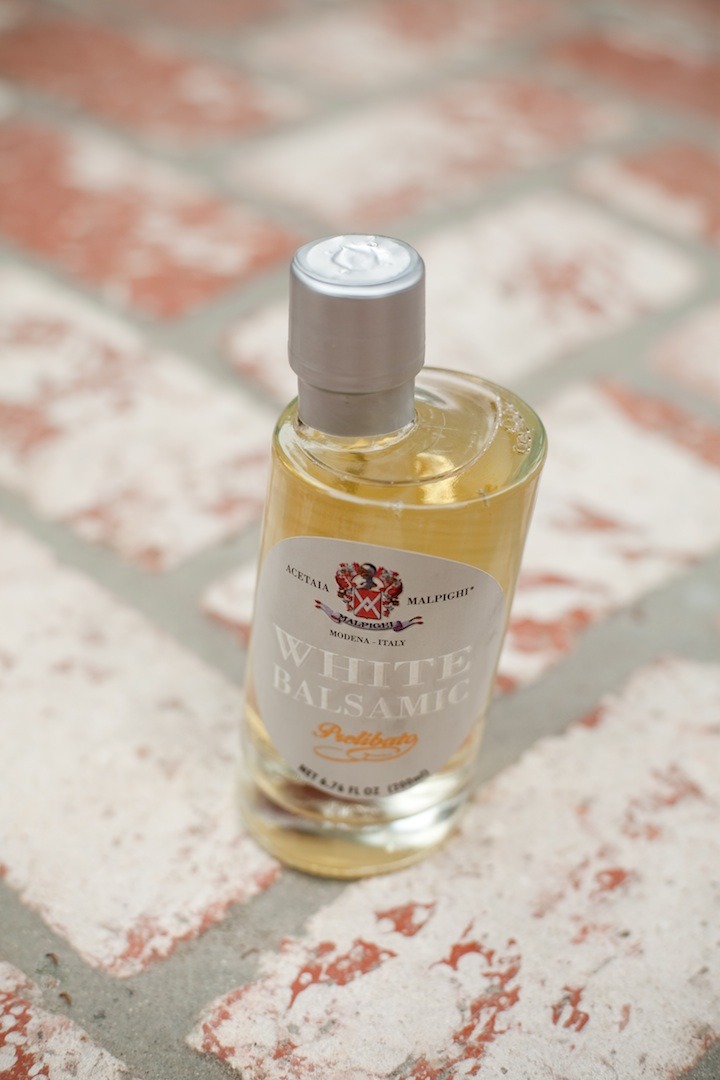 The Finishing Touch!
The finishing touch on this salad is definitely that bite of sea salt! You can use any high quality sea salt you prefer. My hands down favorite is Maldon flaked sea salt. After dressing the salad I take a pinch between my thumb and index finger and grind a little onto each salad just before serving! This provides a salty bite that gives this salad an extraordinary flavor.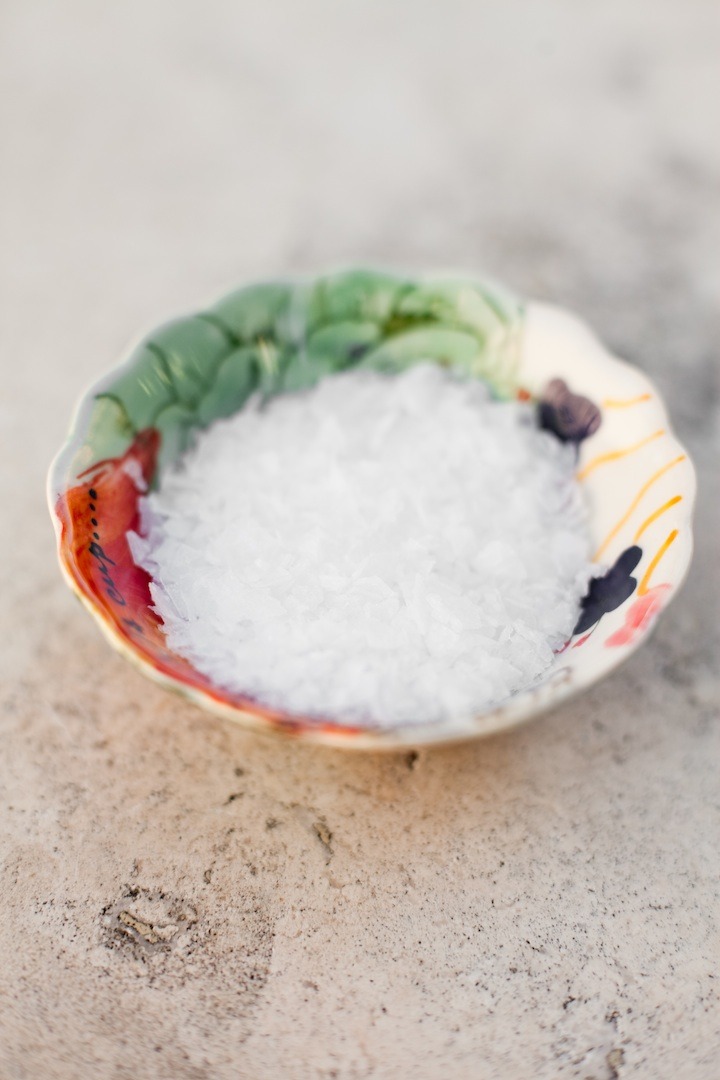 Delicious Simplicity:
Simple ingredients, a fantastic dressing and a crunch of sea salt make this salad a year round staple.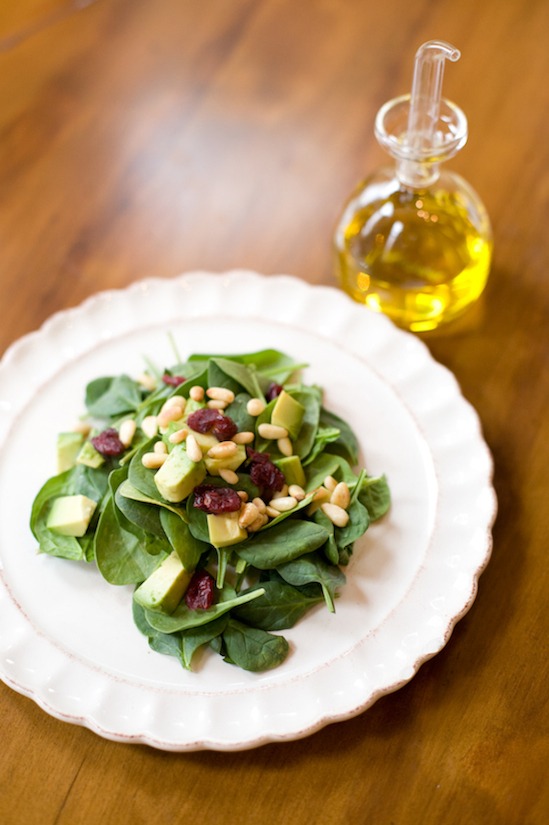 Love Salads and Need More Recipes?
Click here for The Secrets to Making Amazing Salads and over a dozen salad recipes!
The Recipe: Spinach Salad with White Balsamic
You will need: A good White Balsamic (preferably Prelibato White Balsamic) and Sea Salt ( Affiliate links)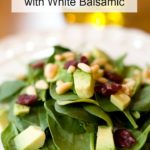 Spinach Salad with White Balsamic
A simple and amazingly delicious salad that goes with just about any entree!
Keyword:
easy lunch recipe, light recipe
Ingredients
Salad:
1 -5

oz

bag organic baby spinach

1

ripe but firm avocado

diced

1/4

cup

dried cranberries (my low carb friends can omit)

Handful roasted pine nuts

1

pinch

sea salt
White Balsamic Dressing:
⅓

cup

extra virgin olive oil

3

Tablespoons

white balsamic vinegar

2

teaspoon

minced garlic

Generous pinch Maldon Flaked Sea Salt

A few turns of freshly ground black pepper
Instructions
Salad:
Place all salad ingredients on a platter.
Dressing:
Place all ingredients in a bowl and whisk until emulsified.

Lightly dress salad and toss.

Place salad on plate and 'finish' by placing a pinch of sea salt between the thumb and forefinger and gently rub the fingers together sprinkling the salt lightly over the salad. Eat and enjoy!
MAY I PLEASE ASK A FAVOR?
We small bloggers need all the help we can get. Subscribing and sharing on social media is very appreciated!
Post tags: salads, avocado, avocados, vegetarian, vegan, gluten free, dairy free, vegetables, vegetable, grain free