One word: Chimichurri. If you don't make it on the reg, you should. It's a healthy, delicious way to add flavor to almost anything. In this case, filet mignon. This, my friends is The Organic Kitchen's Chimichurri Steak, Potato and Salad Dinner Board!
(This post contains affiliate links from which I may make a commission. Your price remains the same)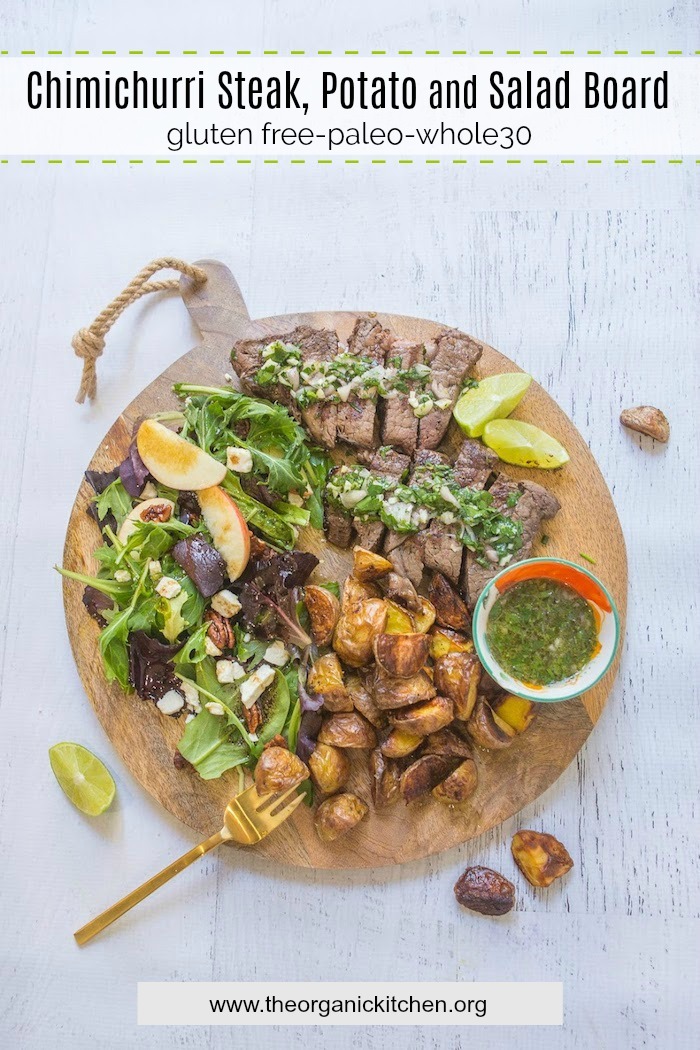 The Steak and Chimichurri:
Tender, juicy filet mignon, seared on the cooktop and finished in the oven, drizzled in fresh lime chimichurri… simply dreamy. Chimichurri originated in Argentina and is usually a simple combination of onions, garlic, olive oil, green herbs, and lemon or lime juice. Totally worth the five minutes it takes to whisk together!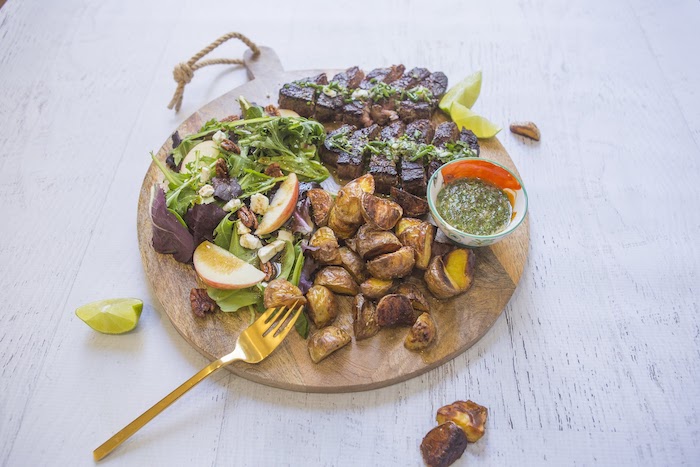 The Potatoes:
Crispy roasted potatoes are our favorite. We use 'new gold' potatoes for this board but you could also use fingerling or even sweet potatoes. We drizzle them in olive oil and sprinkle with sea salt and freshly turned black pepper and then pop them in the oven. While they roast, we prep the salad and cook the steaks. The whole meal takes about 50 minutes, from start to gloriously delicious finish!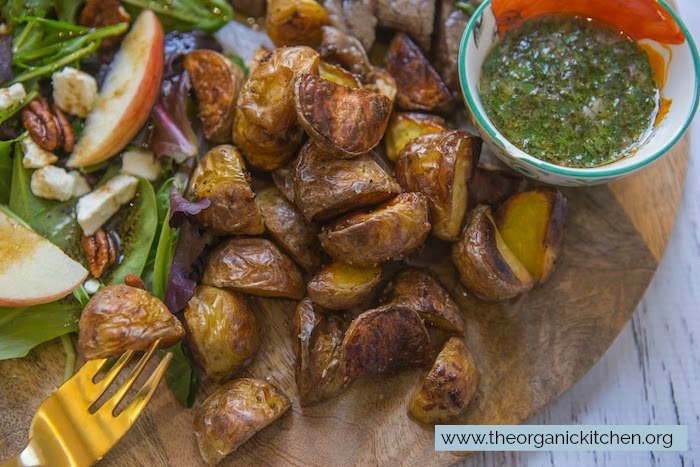 The Salad:
Keeping it simple here: greens, apples, pecans, and your choice of feta or avocado and a light, lemon vinaigrette! What an exquisite meal!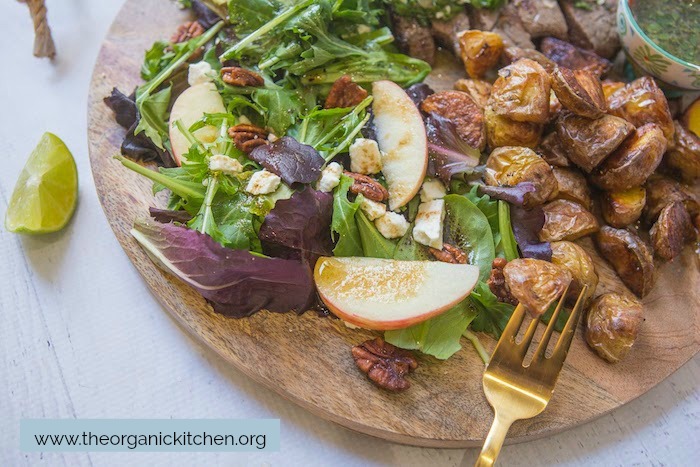 This Meal is Adaptable!
I show this as a meal for two served on one platter, but of course you could make this incredible meal for two, four, or six and simply serve on plates!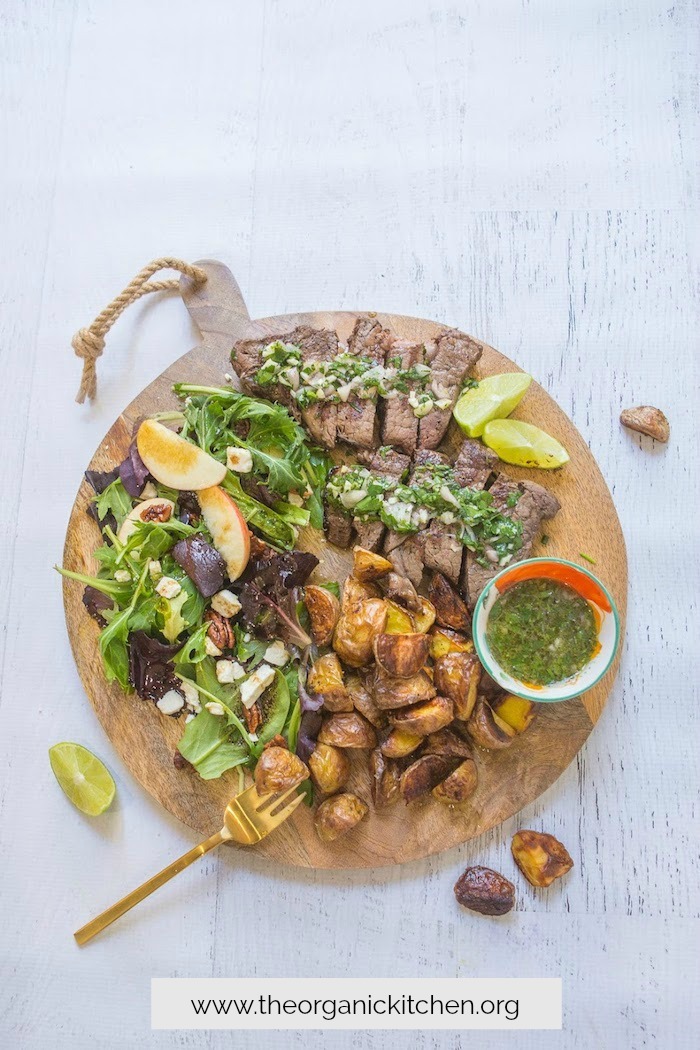 The Recipe: Chimichurri Steak, Potato and Salad Dinner Board
What you need: a grilling pan, a rimmed cookie sheet and parchment paper. As always you need a good quality knife. I love my Wusthof Ikon 8″ Chef's knife!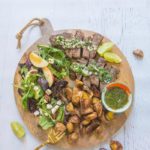 Chimichurri Steak, Potato and Salad Dinner Board
A complete meal of steak, potatoes and salad! Serve on a board for two, or double/triple the recipe to feed a crowd.
Keyword:
date night, easy dessert recipe, Paleo recipes, potatoes, steak, whole30 recipes
Ingredients
10

'new' gold potatoes (or any small variety), quartered

about 1/3 cup olive oil, divided

sea salt and freshly ground pepper, to taste

2

tablespoons

parsley, finely chopped

2

Tablespoons

cilantro, finely chopped

1

small clove garlic, peeled and minced or grated with microplane

1

small shallot, peeled and diced

zest and juice of one lime

1

tablespoon

fresh lemon juice

2

teaspoons

honey (optional, whole30 please omit)

2

6 oz

filet mignon

2

cups

baby greens

1/4

cups

pecans

2

Tablespoons

feta (or avocado if living dairy free)

10

slices

apples
Instructions
Preheat oven to 425 degrees and place one oven rack in upper third of oven and another rack in lower third of oven. Place a sheet of parchment on rimmed cookie sheet

While oven heats: quarter potatoes, place on parchment covered cookie sheet

Lightly drizzle potatoes in olive oil (about 1 tablespoon) and toss. Sprinkle with sea salt and pepper to taste, toss again

Place cookie sheet on upper rack in oven and roast for 35-40 minutes or until potatoes are crispy and browned
While potatoes cook, do everything else:
In a small bowl whisk together: 2 tablespoons olive oil, garlic, parsley, cilantro, shallot, pinch of sea salt and pepper, zest and juice of one small lime. Set aside

In another small bowl whisk together salad dressing: 2 Tablespoons olive oil, 1 tablespoon lemon juice, honey (optional), a pinch of sea salt and a few turns pepper. Set aside

Place greens, feta 9or avocado), nuts and apple slices on platter (or in bowl)

Season both sides of steaks lightly with sea salt and pepper

Heat an oven safe grill pan for three minutes on cooktop on high heat

Add olive oil to pan, heat for 30 seconds. Add steaks to pan, turn heat down to medium and sear for five minutes

Turn steaks and place in oven on lower rack, cook 4-5 minutes for rare, 5-6 minutes for medium rare, 8 for medium (note: every oven cooks differently. Your timing may vary)

Remove steaks from oven and allow to 'rest' for five minutes


Toss salad in dressing, place on platter. Remove potatoes from oven and place on platter. Slice steaks, place on platter and drizzle with chimichurri, serve!
MAY I PLEASE ASK A FAVOR?
We small bloggers need all the help we can get. Subscribing and sharing on social media is very appreciated!
View The Organic Kitchen's Privacy Policy.
We are a participant in the Amazon Services LLC Associates Program, an affiliate advertising program designed to provide a means for sites to earn advertising fees by advertising and linking to Amazon.com.