Summer and a juicy grilled burger go together like peanut butter and jam… peas and carrots…or in this case, pepper jack and garlic aioli. And since it's time to start gilling, here are The Organic Kitchen's Secrets to Making a Fantastic Burger!
(This post contains affiliate links. I may make a commission from sales but your price remains the same.)
The Secrets to Making a Perfect Burger!
There are common mistakes made when making a burger that can take your burger from fabulous to dry and flavorless in no time. So read, learn and apply these tips and your next BBQ will be the talk of the town…for good reasons;)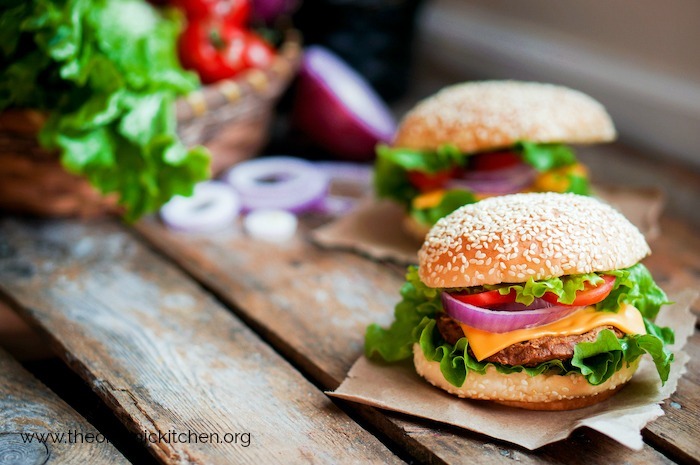 The Meat:
Don't go for lean when it comes to a burger. Lean ground beef makes for a dry, flavorless burger. Keep it 80/20. Yup, 20% fat that is what I'm talking about! Don't be putting your hands all over it either. Just take a portion of ground beef and form it into a patty with as little handling as possible. Over handling makes a burger less tender. If you can, use grass fed beef. Better for you, better for the planet.
ButcherBox delivers grass fed beef right to your door!
Size matters:
Make the patty a half inch wider than your bun. Otherwise when the burger shrinks on the grill it will appear miniscule, even with toppings. Six ounces of meat made about 3/4 of an inch thick should be just about perfect! Make sure the patty is flat so toppings will stay put.
Seasoning:
Always season after forming patties. Salt dries out food, so add it only to the surface instead of working it in. I use Maldons Sea Salt. And love my battery operated pepper grinder because I can handle the burger patty with one hand and season with the other! I usually keep seasoning simple, sea salt and pepper, most of the flavor comes from the toppings (recipes below)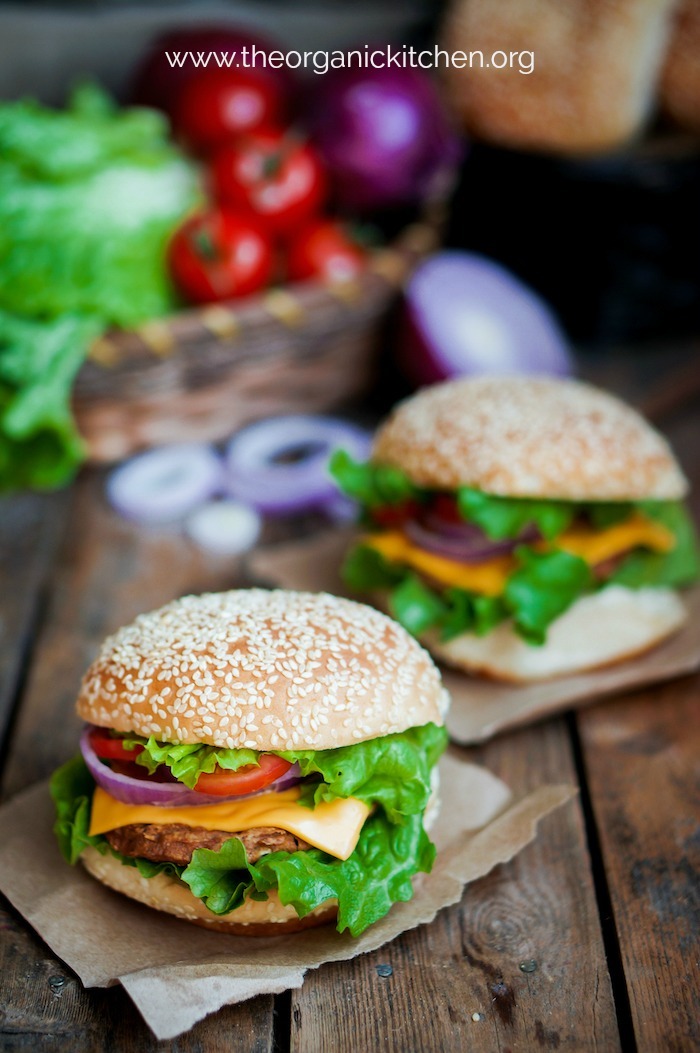 Prepping the Grill and Cooking:
Before firing up the BBQ, clean and oil the the grill. Actually it's best to clean the grill after the last use. Simply remove whatever you have been cooking, turn off heat and scrape with wire brush. Then when you are ready to use the BBQ again, just use a paper towel with a little coconut oil on it to wipe down the grill and prevent sticking. And whatever you do don't press on the hamburgers with your spatula! That presses out the juices that make a moist, flavorful burger. Cook at 400 degrees for 5-6 minutes for medium…that is how I like it. But if you like it well done then cook it for 10 minutes, I won't judge you (well maybe a little;)
Now that you know how to make a perfect burger let's talk toppings!
Of course you can choose whatever toppings you wish, but I will be offering you three recipe options below: A bacon cheeseburger with a fried egg, a cheese burger with caramelized onions and blue cheese, and last but not least a Cali inspired burger with pepper jack, avocado, bacon and garlic aioli!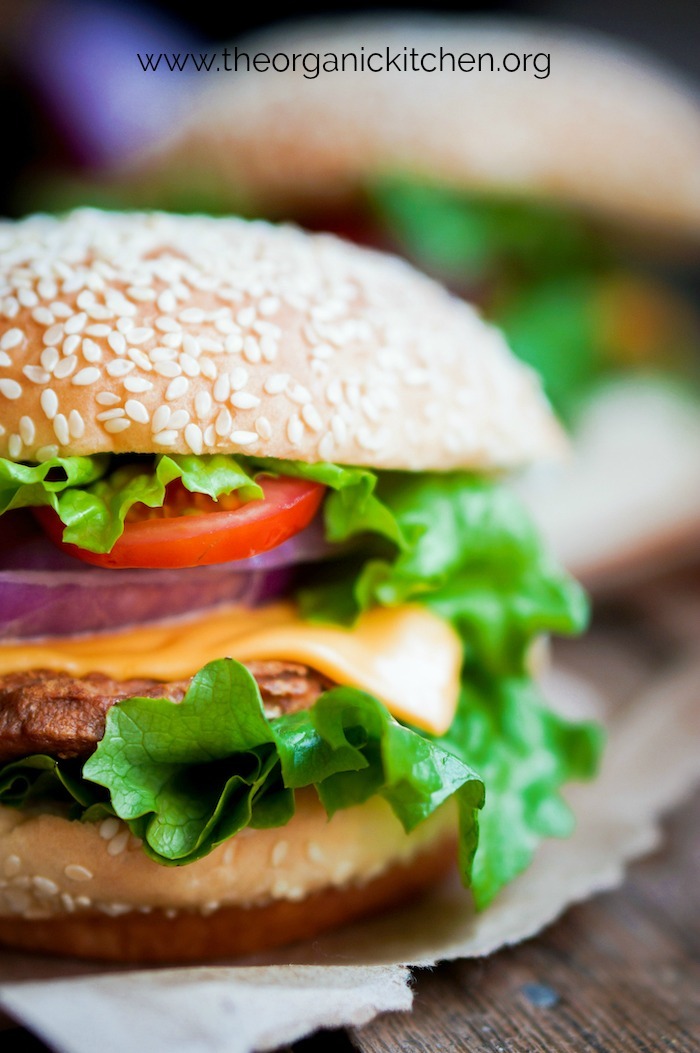 Need Some Sides for Your Burger?
I have some suggestions: Mexican Street Corn, Sweet Potato Fries, and Potato Wedges!
Need Grilling Tips for Chicken?
Click here to see how to grill chicken breasts to perfection!
The Recipe: Three Fantastic Burger Recipes
Tips and what you will need: Homemade mayo or garlic aioli is a great addition to this burger. See my recipe here. If you don't want to make your own mayo I recommend using a store bought version made with olive oil. If you are making the blue cheese burger, you will need to know how to caramelize onions!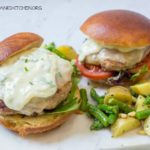 How to Make a Fantastic Burger~ Three Recipes!
Read "the secrets to making a fantastic burger" (above) before preparation, then choose a recipe below and make the best burger of your life!
Keyword:
easy dinner recipe, grilling recipe
Ingredients
PER BURGER: 6oz grass fed beef

80/20 ratio (20% fat)

Sea Salt

Pepper

aioli

you can use store bought mayo or click the link above to make your own

good quality hamburger buns, or wrap in lettuce for low carb version
For Farm Burger add:
2

slices

of bacon per burger

shredded lettuce

tomato slices

one fried egg per burger

cheddar cheese or provolone

garlic aioli, store bought or use recipe link in blog post above
For Cali Burger add:
avocado slices

two slices bacon per burger

tomato slices

one slice pepper jack cheese per burger

arugula

garlic aioli, store bought or use recipe link in blog post above
For Blue Cheese Burger add:
caramelized onions

recipe link above

blue cheese

as much as desired

arugula

mayonnaise
Instructions
Depending on what burger you are making have aioli, mayo, avocado, tomatoes, cheeses, caramelized onions (see link above) and bacon prepared in advance. If using a fried egg, make sunny side up right before burgers are done.

Without overworking meat, form patties making them 1/2" wider than bun.

Season with sea salt and pepper and set aside.

Spray grill with organic cooking spray to prevent sticking. Turn heat to 400 degrees.

Cook meat to liking (5-6 minutes, flipping halfway through for medium) place a slice of cheese on the burger the last minute of cooking.

Remove from grill.

Spread bun with mayo or aioli, place burger on bun, add suggested toppings above. Last , add the top bun spread with more mayo or aioli!
MAY I PLEASE ASK A FAVOR?
We small bloggers need all the help we can get. Subscribing and sharing on social media is very appreciated!