I have been featuring homemade mayonnaise in a few of my recent posts, so I decided a tutorial was in order! This is where I admit my first two attempts at making homemade mayo were epic fails. Mayo is actually super easy to make and takes literally 30 seconds, but if conditions are not right there can be trouble. Here are my tips for Perfect Mayo In a Minute!
Post sponsored by La Tourangelle Artisan Oils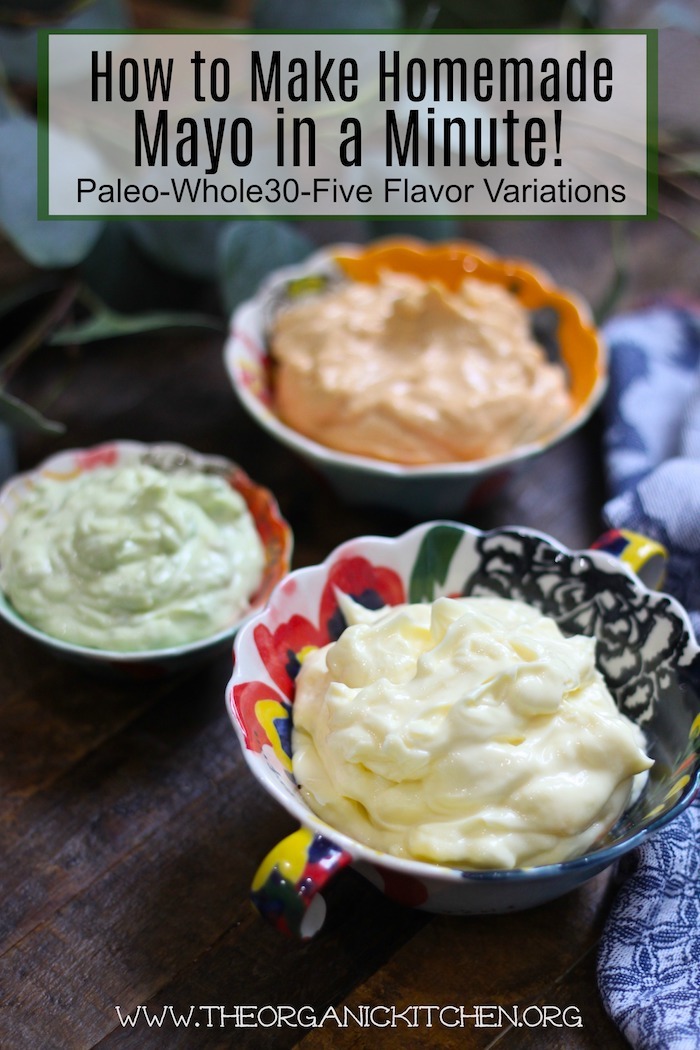 The Ingredients:
All you need for a simple mayonnaise is an egg, juice from half a lemon, a little sea salt and a good quality avocado oil or light extra virgin olive oil. I use La Tourangelle avocado oil, I love the flavor and it's health benefits! Store bought mayonnaise is usually made with highly processed oils that are far from healthy. Homemade is not only far superior in taste and texture but in nutrition as well!
Very important: all ingredients must be room temperature. If any of the ingredients are cold the mayo won't thicken up. So, pull eggs and lemons out of the fridge in advance and set them on the counter for an hour or two. If you forget to set the eggs out early you can set them in a bowl of really warm water for 10 minutes.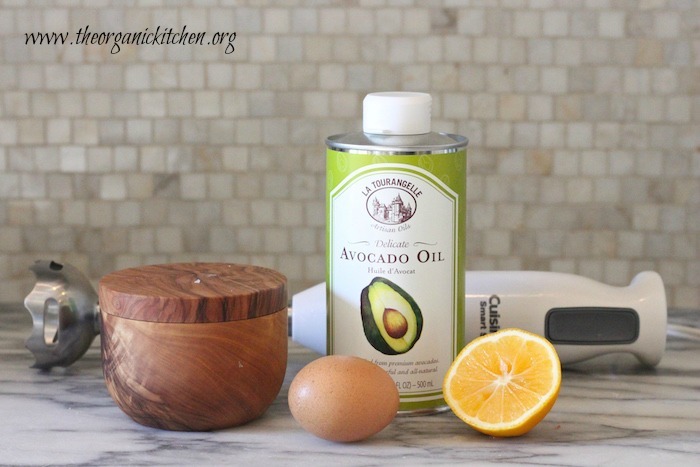 How To:
Simply put all ingredients in a narrow glass container or mason jar with a wide enough lid to accommodate an immersion blender (affiliate link). Important tip: Make sure the blender touches the bottom of the jar and stays there until the last few seconds of blending.
Turn on blender and you will immediately see the mayo thicken up in the center.
A few seconds later you will see the rest of the ingredients thickening up too.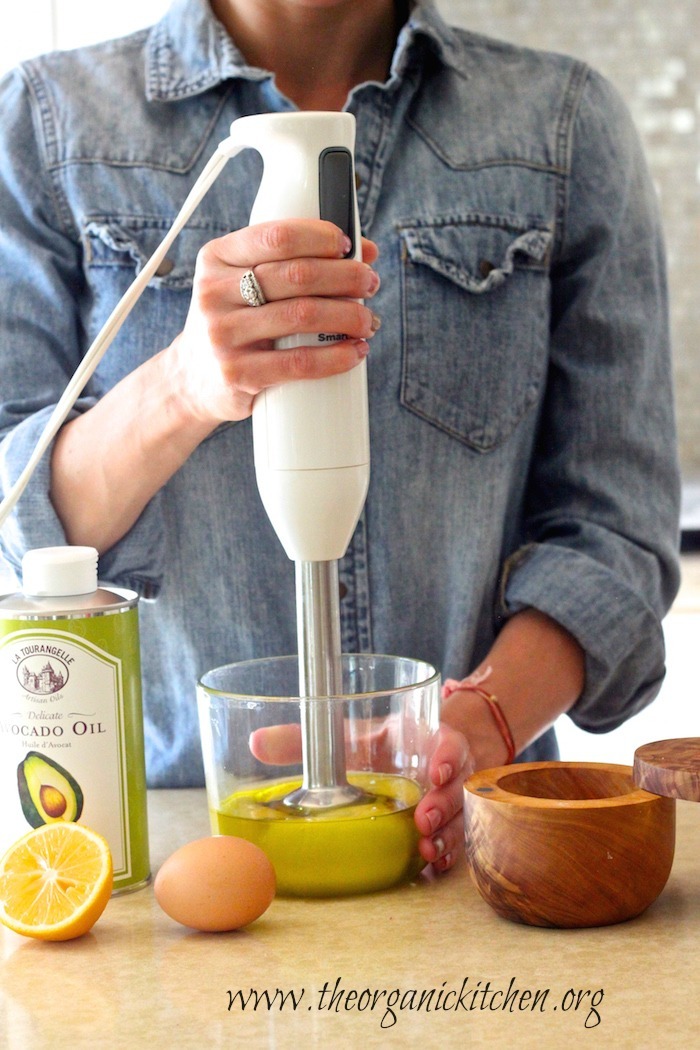 And voila! In about 30-40 seconds you have a rich creamy delicious flavorful mayonnaise loaded with healthy Omega 3-6-9 fats.
Now That You Know How To Make Mayo, Let's Talk Variations:
You can leave your mayo plain but it's also fun to make variations like avocado, chipotle lime, wasabi, sriracha, or garlic aioli! And it's simple to do and included in the printable recipe below.
The Recipe: Perfect Homemade Mayo in a Minute
Tips, recipes and what you need: I offer variations below for garlic aioli, chipotle lime mayo etc… If you are using avocado oil I recommend La Tourangelle Avocado Oil (<—buy here) If you are using extra light olive oil I recommend this one. You will need an immersion blender (affiliate link). I have found making mayonnaise in a regular blender to be more of a challenge. I have success every time using the immersion blender. Recipes: I use this mayo/aioli recipe in my Pulled Pork Sammys and Slaw,  Caesar Salad, How To Make a Fantastic Burger, Chicken Salad, and Scottish Salmon Sandwich! For even more recipes visit The La Tourganelle Pinterest Board and Facebook Page.
Perfect Mayo in a Minute!
Use this heart healthy mayonnaise on salads and sandwiches and for dips and salad dressings! All ingredients must be room temperature. If using olive oil make sure it is 'light' olive oil. Regular olive oil will not work.
Keyword:
easy lunch recipe, how to
Ingredients
1

cup

avocado oil or light olive oil

2

eggs

room temp (but you'll probably only need one, the second is back up)

juice of half a small lemon

1

generous pinch sea salt

Variations: to change things up you can...

add a teaspoon of spicy brown mustard for more flavor

add a minced clove of garlic to make garlic aioli

after making mayo add smashed avocado for avocado mayo

add sriacha sauce to taste for a hot mayo

add 1 tablespoon

or less chipotle in adobo sauce before blending and use lime instead of lemon juice for Chipotle Lime Mayo

add wasabi for a hot asian version!
Instructions
Place one egg, oil, lemon juice and salt (all room temp) into a narrow jar with a lid wide enough to accommodate the immersion blender.

Place the blender in jar so that it touches the bottom.

Turn blender on. You will see mayo thicken up almost immediately.

Keep the blender at the bottom of the jar for 20-25 seconds, if needed, move the blender up and down the last few seconds.

Now if your mayo doesn't 'set up' (this happened to me my first two times and hasn't happened since!) add the second room temp egg and blend again. That usually saves the day.

Store in a container in the fridge for up to a week.
There you have it my dears! I hope you love this mayo as much as I do. Once you go homemade you never go back! Kind of like almond milk. ~ Linda Spiker
MAY I PLEASE ASK A LITTLE FAVOR?
We small bloggers need all the help we can get. Subscribing and sharing on social media is very appreciated! 
Post tags: grain free, gluten free, dairy free, Whole 30, paleo