One of the things I learned while on my January Whole 30 was that I don't tolerate grains very well. But 30 days of no grains meant 30 days of no tortillas. Which also taught me that I can't live forever without tortillas, after all Mexican food is a staple around here. So I needed to find a way to make grain free tortillas that were delicious enough to serve with these Sweet Potato Tacos! And I did. Of course you may serve these delicious, colorful tacos on any tortilla you wish. (This post contains affiliate links through my association with Amazon)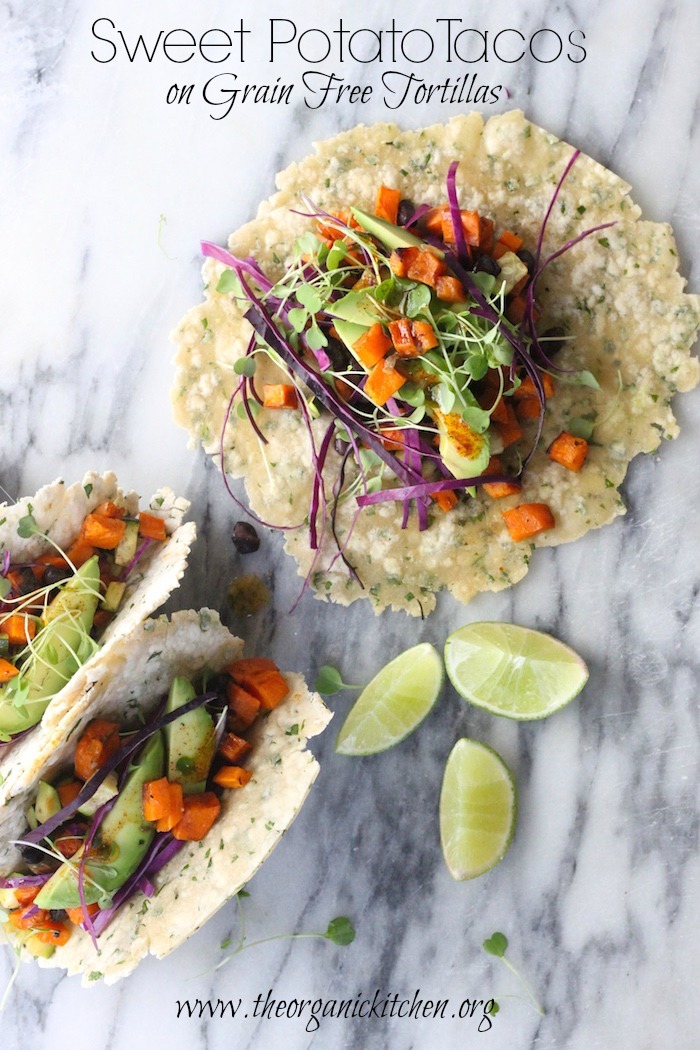 Aren't these tacos beautiful? So colorful, fresh and healthy!
The Filling:
To make these tacos I roast sweet potatoes and shallots until the edges are browned and crispy, then I add zucchini the last few minutes of cooking. After roasting, I toss with black beans and drizzle with chipotle oil for more flavor, then top it all with ripe avocados, thinly sliced cabbage, micro greens and lime juice. When it comes to vegetarian tacos it's all about the flavorful condiments and toppings!
The Grain Free Herbed Tortillas
I made these Tortillas using Otto's Cassava Flour. Cassava flour looks like flour made from wheat, it cooks like flour made from wheat and holds together like flour made from wheat but it is completely grain and nut free! Cassava flour is made from 100% yuca root and is the best option I have run across for people that need to avoid gluten and grains! 
Because it is so new, Cassava flour isn't in most stores yet but it is available online.  I just love to offer my friends with food intolerances an awesome option! Not only is cassava flour a fabulous grain free alternative but it is a resistant starch, which means it's fabulous for digestion. Win/win!
You can make these tortillas herbed or plain!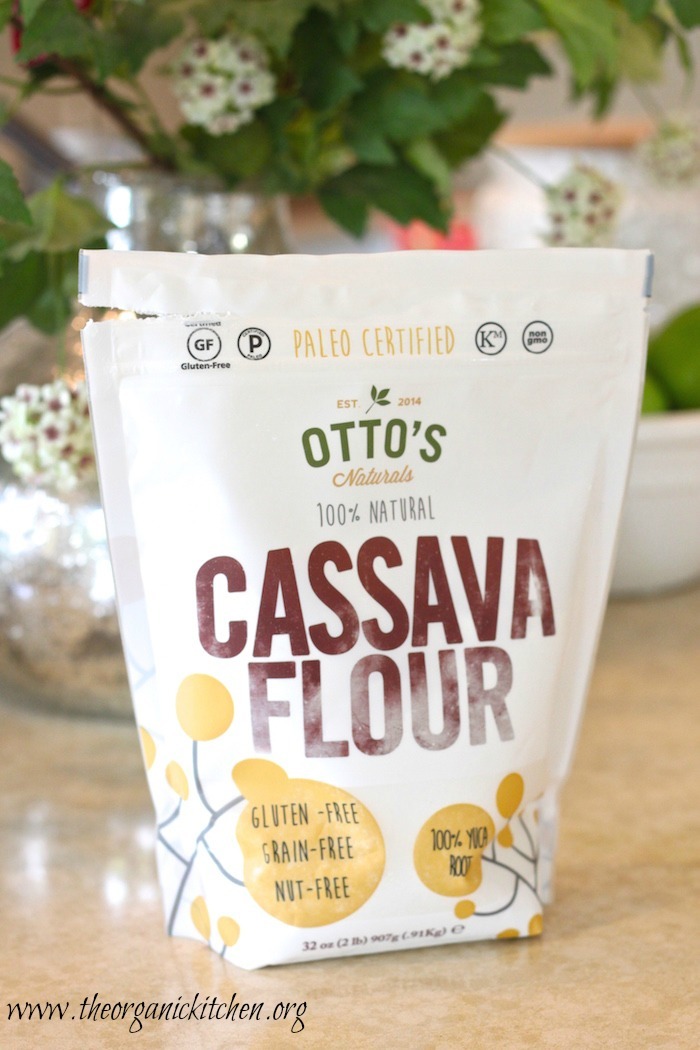 How To Make Tortillas:
Making these tortillas is simple and only takes a few minutes! Just put flour and butter, ghee or clarified butter in a bowl. Add sea salt, baking soda, herbs, lemon juice and a bit of sea salt. Use your hands to mix and form into balls.
Then place each dough ball between two pieces of wax paper. Press with your palm and then roll flat. Cook in a pan, fill with roasted sweet potatoes and…

..voila! A gorgeous meal! 
I use non toxic, non stick ceramic cookware from Xtrema Ceramic.
The Recipes: Sweet Potato Tacos with Herbed Grain Free Tortillas!
Tips and what you will need: You can use any tortilla you wish but if you are making these grain free herbed tortillas you will need Otto's Cassava Flour (affiliate link) and a rolling pin. I got my rolling pin and beautiful bowl at Anthropologie. You also need wax paper for rolling. You will need chipotle chili powder for the chipotle oil you drizzle on the tacos. Your tortillas will not have perfectly smooth edges. That is okay, I think they look pretty "rustic"style. If you want a smooth edge you can always trim them. See more variations for fillings below.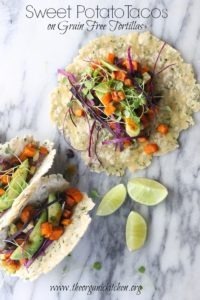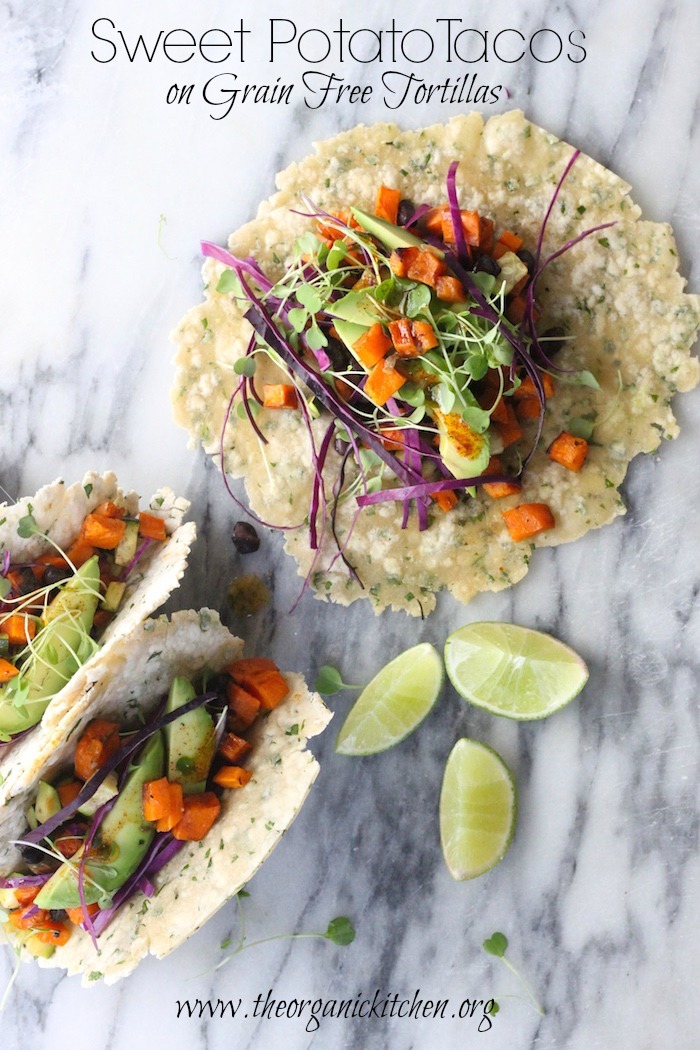 Print
Sweet Potato Taco Filling
Yield 6
Ingredients
Filling:
4 medium sweet potatoes, peeled and cut into 1/3 inch cubes
6 shallots, peeled and quartered
1 zucchini, diced 1/3 inch cubes
olive oil
sea salt
freshly ground black pepper
1/2 cup black beans
Chipotle Oil:
3 Tablespoons olive oil
2 teaspoons chipotle powder
Toppings:
purple cabbage or lettuce, thinly sliced
sliced avocado
one lime cut into 6 wedges
micro greens for garnish (optional but really good for you!)
Instructions
Preheat oven to 400 and place rack in upper third of oven. Cover a rimmed cookie sheet with parchment paper.
Peel and dice sweet potatoes and shallots.
Place on parchment covered cookie sheet and drizzle with olive oil. Toss.
You want all the veggies glistening with oil but not drenched.
Sprinkle with sea salt and a liberal amount of fresh pepper. Toss.
Place in the oven and roast for 35-40 minutes, add the black beans and zucchini to the sweet potatoes the last 10 minutes of cooking for a total of 45-50 minutes cooking time.
While potatoes cook, make chipotle oil.
Combine olive oil and chipotle chili powder and whisk.
When potatoes are done, remove from oven. Fill tortillas, drizzle with chipotle oil and top with avocado, cabbage or lettuce and squeeze with a little lime. Don't skip the chipotle oil or lime. Both of these add a ton of flavor!
Courses Main Course
Cuisine Mexican
Grain Free Herbed Tortillas!
Yield 5 -6
Easy to make grain free tortillas! Your tortillas will not have perfectly smooth edges. That is okay, I think they look pretty "rustic"style. If you want a smooth edge you can always trim them. Sometimes I want these tortillas plain and I leave out the herbs. It's up to you!
Ingredients
1 cup cassava flour
1/4 teaspoon sea salt
1/4 teaspoon baking soda
2 Tablespoons cilantro or chives or a combination of both (if you prefer a plain tortilla, exclude herbs)
1 teaspoon lemon juice
2 Tablespoons soft butter, clarified butter or ghee
2/3 cup warm water
Instructions
Mix flour, baking soda and salt in a bowl.
Add soft butter, clarified butter of ghee, lemon juice, warm water and herbs.
Use hands to mix well. Dough should be moist but not wet/not dry.
Roll into a ball and then separate into five or six balls.
Place each ball between 2 sheets of wax paper, press flat with palm.
Roll with rolling pin a couple times, turn the wax paper a quarter turn and roll a couple of times again. Turn wax paper a quarter turn and roll again...repeat until tortilla is really thin.
When ready to cook, place pan on medium/high heat. Peel of the top layer of wax paper.
Turn tortilla over into one hand and peel wax off. Gently set into hot pan.
Cook for 60 seconds and then turn tortilla. Cook for 60 more seconds.
Remove from pan.
More Ideas!
Sometimes if I have left over pulled pork I combine the sweet potato filling and the pork! So good. You can also use these tortillas for any of the following recipes:
Veggie Quesadillas
Fish Tacos
Ranch Chicken Wrap
Pulled Pork Tacos
Enjoy friends! ~ Linda Spiker
MAY I PLEASE ASK A LITTLE FAVOR?
We small bloggers need all the help we can get. Subscribing and sharing on social media is very appreciated!