My men are handsome, rugged and really know how to bring home the bacon…or in this case the salmon! My husband, sons and father in law caught 75 pounds of wild salmon in Alaska and we have just enough of this beautiful orange fish left in the freezer to make it through summer. I couldn't be happier!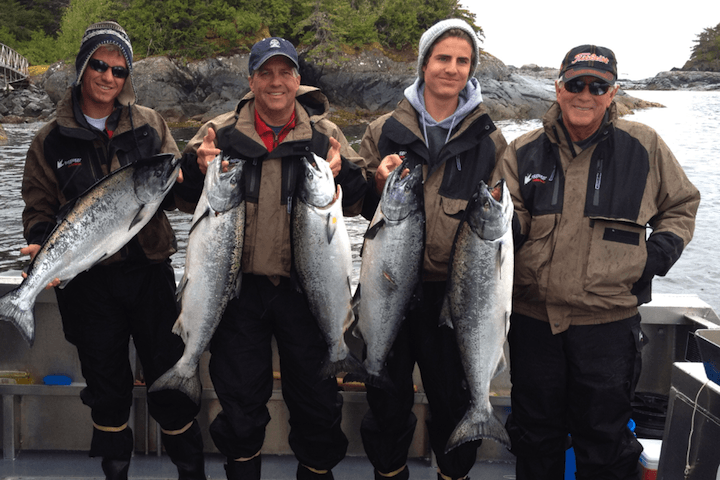 I love a casual Sunday dinner, especially in the summer. Salmon is really easy to prepare on the grill. Served with the right side dishes the entire meal is a breeze. Usually I would serve this with any of the 30 amazing salads from my cookbooks but today I decided on artichokes and roasted veggies. Artichokes are a summer favorite! Tasty and hardly any work.
Get 3 Meals Free from Sun Basket! Fresh organic ingredients and easy recipes delivered, with Paleo, Gluten-free and Vegetarian options.
How To Steam an Artichoke:
Just cut off the stem, trim the leaves with kitchen scissors…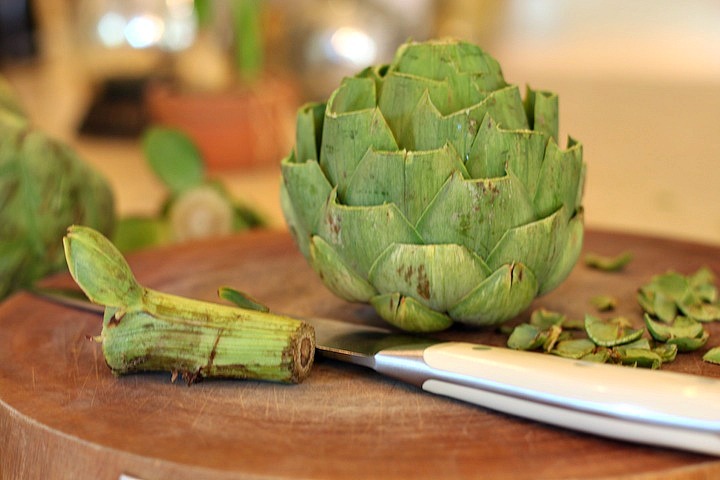 …and place them in a large pot with 2-3 inches of water…
Place the lid on the pot and bring to a gentle boil for 1-1 1/4 hours or until leaves and heart are cooked. Be careful not to let all the water evaporate. Refill with water as needed.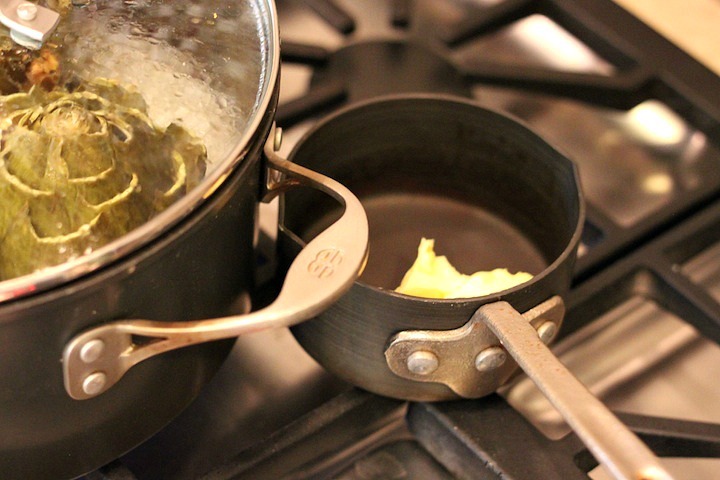 I like to put my butter in a small sauce pan adjacent to the artichokes so the butter melts slowly. If butter separates, just whisk with a fork.

The Roasted Vegetables:
Roasted veggies are a favorite all year at our house. Today I opted for butternut squash, carrots, new potatoes and beets.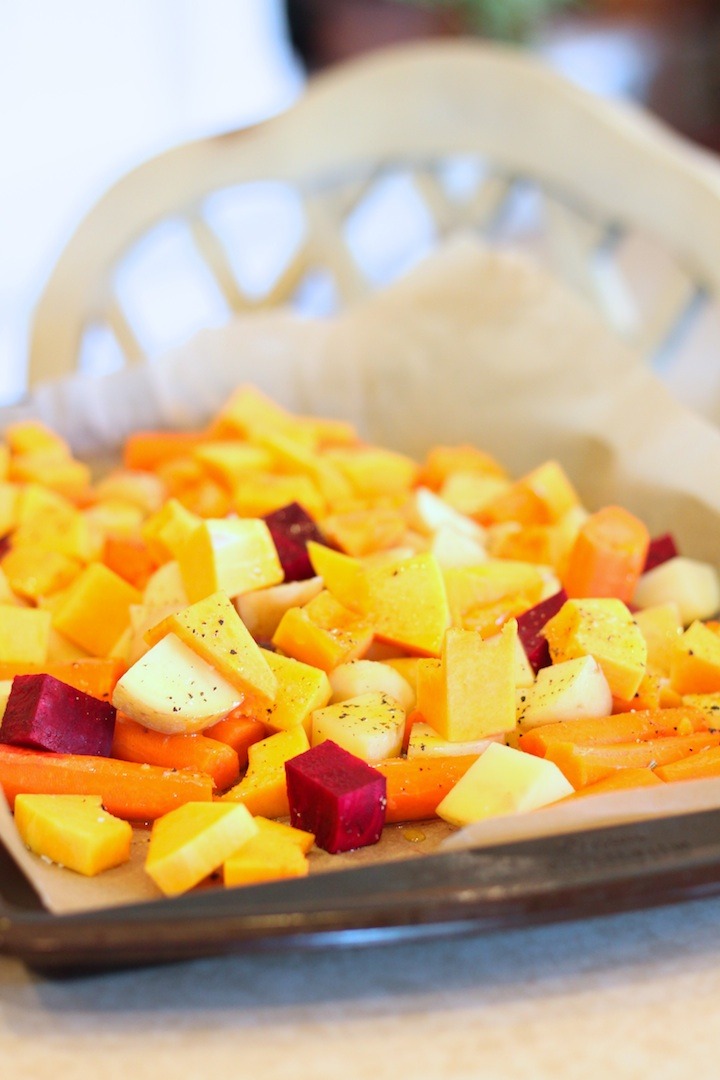 Helpful Hints for Buying Fish
1. It's best not to buy fish wrapped in plastic. You should be able to smell the fish you are buying. I always buy mine from a fishmonger I trust. If he is handling it, cutting it etc… he will know if it's not fresh.
2. Always buy fish the day you plan on making it.
3. When selecting fish always point to the piece you want. In stores the freshest fish is placed in the front of the window, closest to you, and the fish from the day before is placed in the back, closest to the fishmonger. So when you are looking at the fish closest to you and ask for it, he pulls it from the back. It doesn't mean there is anything wrong with that fish from the day before, it's just not the freshest…and you want the freshest:)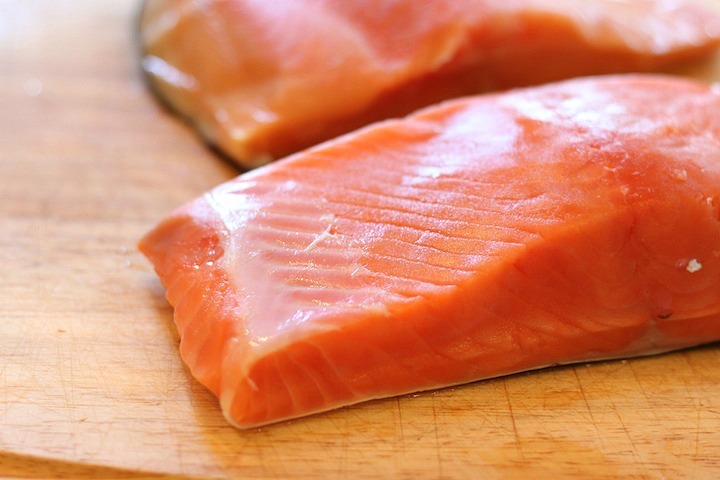 Seasoning and Cooking the Salmon:
I seasoned this salmon with sea salt, pepper, cayenne pepper, dried parsley, and garlic powder. This salmon has a little kick, of course exactly how much of a kick is up to you! I place seasoned fish on foil with a pat of butter…( but you could brush with olive oil or use a little coconut oil)
…then grill at about 400 degrees till the center is just cooked. Timing will depend on how thick the salmon is. Thinner cuts will take as little as 12 minutes, thicker cuts can take as long as 20.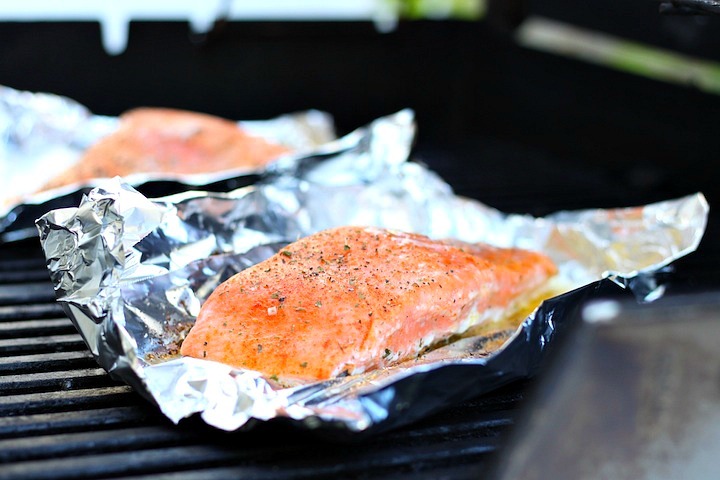 This is a perfect example of a largely plant based meal, with a healthy portion of protein and healthy Omega 3 fats!
Gorgeous, healthful and easy! Sugar, gluten and lactose free I might add!
If you want to make this meal a little more special serve it with one of these amazing summer drinks!
MAY I PLEASE ASK A LITTLE FAVOR?
We small bloggers need all the help we can get. Subscribing and sharing on social media is very appreciated!
Post tags: vegetables, fish, pescetarian, gluten free, dairy free option