This recipe for Simple Roasted Vegetables is a family favorite. If you want your family to eat more vegetables, it helps if they look and taste like these…
(This post contains affiliate links. I may make a commission from sales but your price remains the same.)
Cook Once, Eat Twice!
I make roasted vegetables all year round and I ALWAYS cook extra! I use them for days after, adding them to a pan with eggs for breakfast, or tossing them into a salad for lunch. Cook once, eat two (or three) times is my motto.

Roasting:
Roasting vegetables is a simple skill that you will use all your life. Simply cut vegetables in a uniform size, drizzle with olive oil, and season with sea salt and pepper, then toss. Place in upper third of a hot oven and cook until the veggies have golden edges! Root veggies, like carrots, sweet and white potatoes, beets, butternut squash etc cook at about the same rate and can all be loaded on the cookie sheet at the same time. There are some vegetables that roast very quickly, like asparagus or corn. I toss those in the last ten minutes of cooking.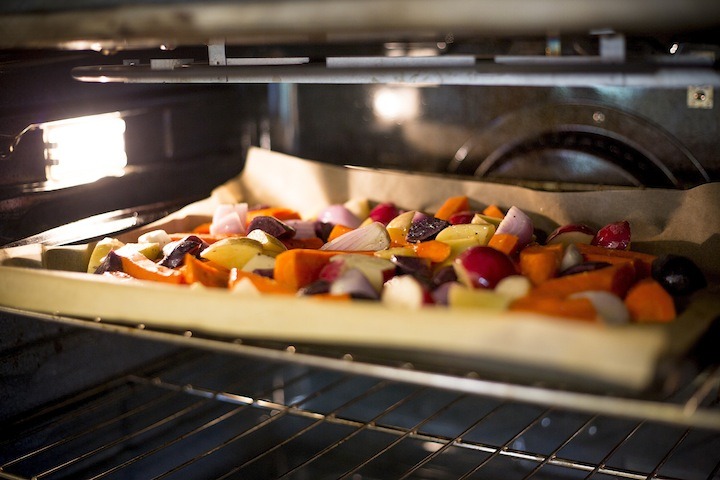 Variations:
You can leave the vegetables simple: drizzled with olive oil and sprinkled with sea salt and pepper, or make them a little fancy by adding herbs like thyme or rosemary! No one will argue about eating their vegetables again! Gorgeous, healthy, easy…an Organic Kitchen favorite!
Love Roasted Veggies and Need More Recipes?
Try my Roasted Carrots with Gremolata!
The Recipe: Simple Roasted Vegetables
The key to roasted vegetables is oven temp, proximity to heating element, and a parchment covered rimmed metal baking sheet. (affiliate links)
Simple Roasted Vegetables
So easy you will make them all the time! I offer variations below for added vegetables and herbs. Have fun.
Keyword:
easy side dish recipe, holiday recipe
Ingredients
In this variation we are using:
10

rose or white new potatoes, quartered

8

carrots carrots, peeled and cut into 3" pieces

6

shallots, peeled and cut in half
Variations:
zucchini, corn on the cob or asparagus (see cooking instructions below)

herbs like chopped rosemary or thyme
Instructions
Preheat oven to 400 degrees and place rack in upper third of oven. Place parchment paper on a rimmed cookie sheet.

Prepare veggies and place them on pan.

Drizzle veggies with olive oil (enough that all veggies are glistening but not drenched) and toss. Sprinkle with sea salt and freshly ground pepper. Toss. (add herbs if desired)

Bake to your liking (45-55 minutes). I like to roast vegetables till the edges are crispy and slightly browned.
Variations:
If you would like to add asparagus, zucchini or corn on the cob, add them to the pan ten minutes before root veggies are done.

For rosemary or thyme vegetables, chop fresh herbs and sprinkle over vegetables before cooking.
Recipe Notes
You can use any root veggie you like or a combination of many. Carrots, beets, potatoes, shallots, butternut squash, even brussels sprouts etc...
MAY I PLEASE ASK A LITTLE FAVOR?
We small bloggers need all the help we can get. Subscribing and sharing on social media is very appreciated!
Post tags: holiday, holidays, vegetarian. gluten free, dairy free