After two days touring Cork Ireland I wasn't sure I wanted to leave. The surrounding areas were so beautiful I thought we may never see anything that pretty again. But then we took a road trip (and if you saw my first Ireland post you know it was the wrong side of the road ) and I found out there was plenty of beauty left to be seen. The road to Killarney looked a little something like this…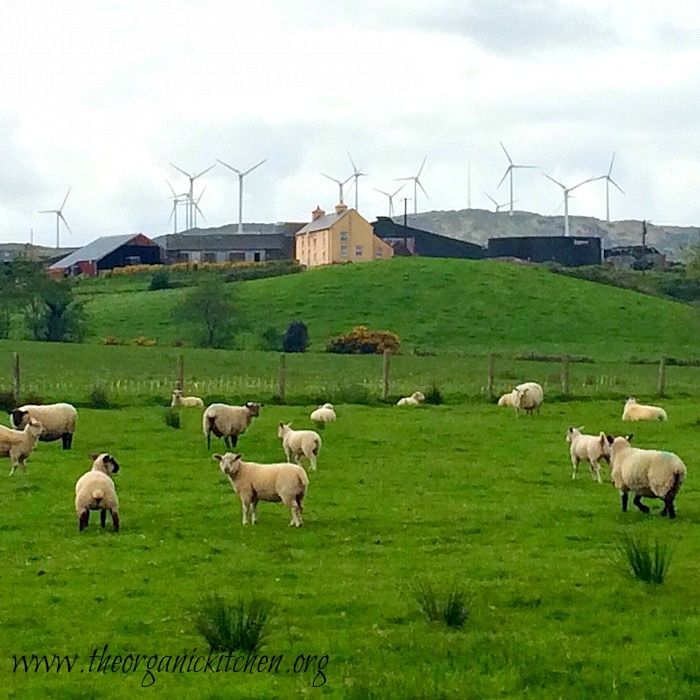 Once we were in the city of Killarney there was plenty to see and do. We visited castles, nearby towns and countryside, and spent an afternoon at the historic Muckross House and surrounding gardens and Abbey.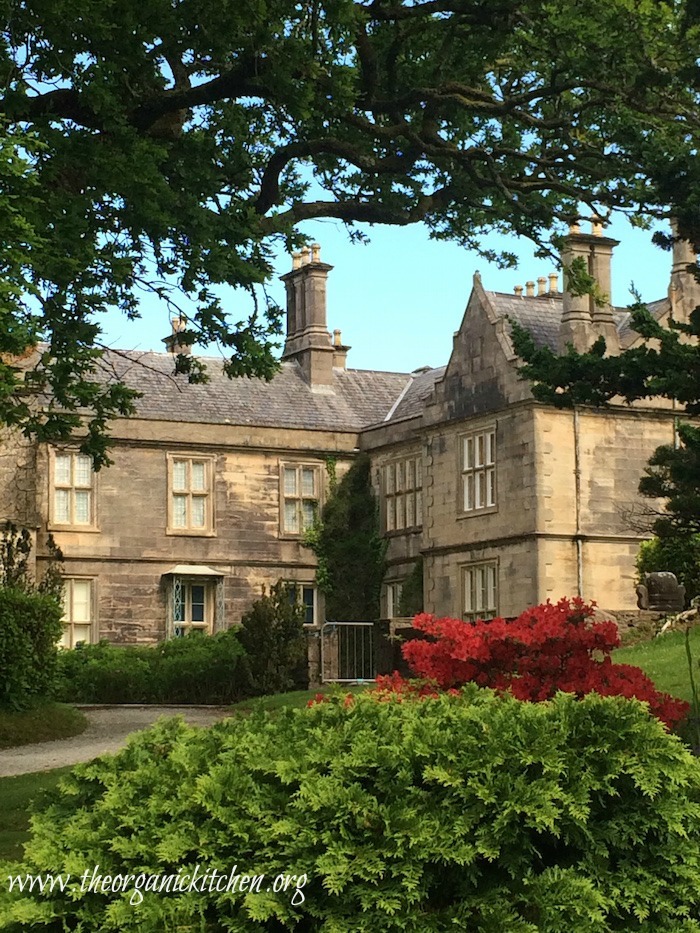 The grounds of Muckross House were beautiful, lush and green. But pretty much everything in Ireland is green!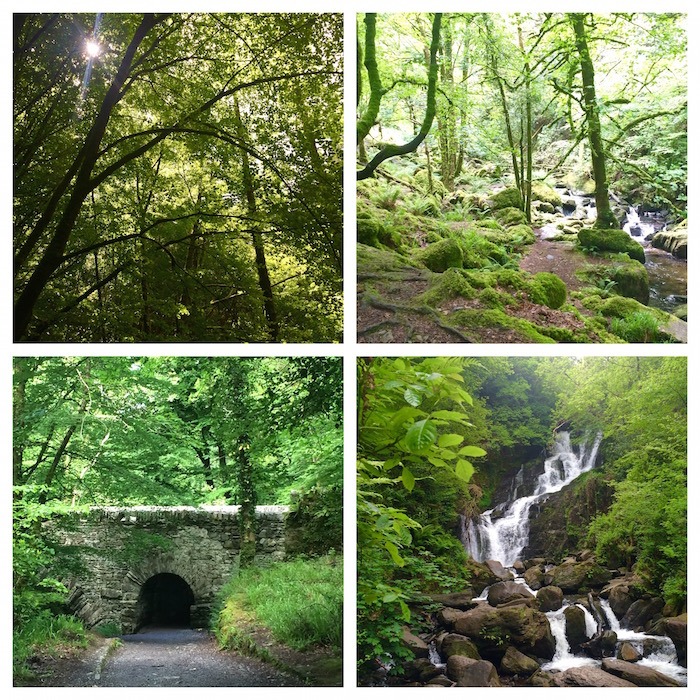 While in Killarney we ate at a wonderful cafe called Dyne. It is what I call a 'hipster cafe'. That is not a dig, hipster cafes are my favorite kind of cafe. My definition of hipster cafe is that the food is farm to table, locally sourced or grown, and seasonal. If there are several pickled or fermented items on the menu all the better! While at Dyne we ate some wonderful pasta, sandwiches, salad and soup. Our meal inspired me to come up with a really fabulous sandwich, and since Scottish salmon is abundant in Ireland I decided on a salmon sandwich…and to add a little 'hipster' touch I am using a homemade aioli and Sriracha sauce for a little kick!
I use a Panini pan to sear my salmon. Then I finish it in the oven. To remove the skin I simply slide my spatula between the skin and flesh and the meat lifts right off leaving the skin in the pan.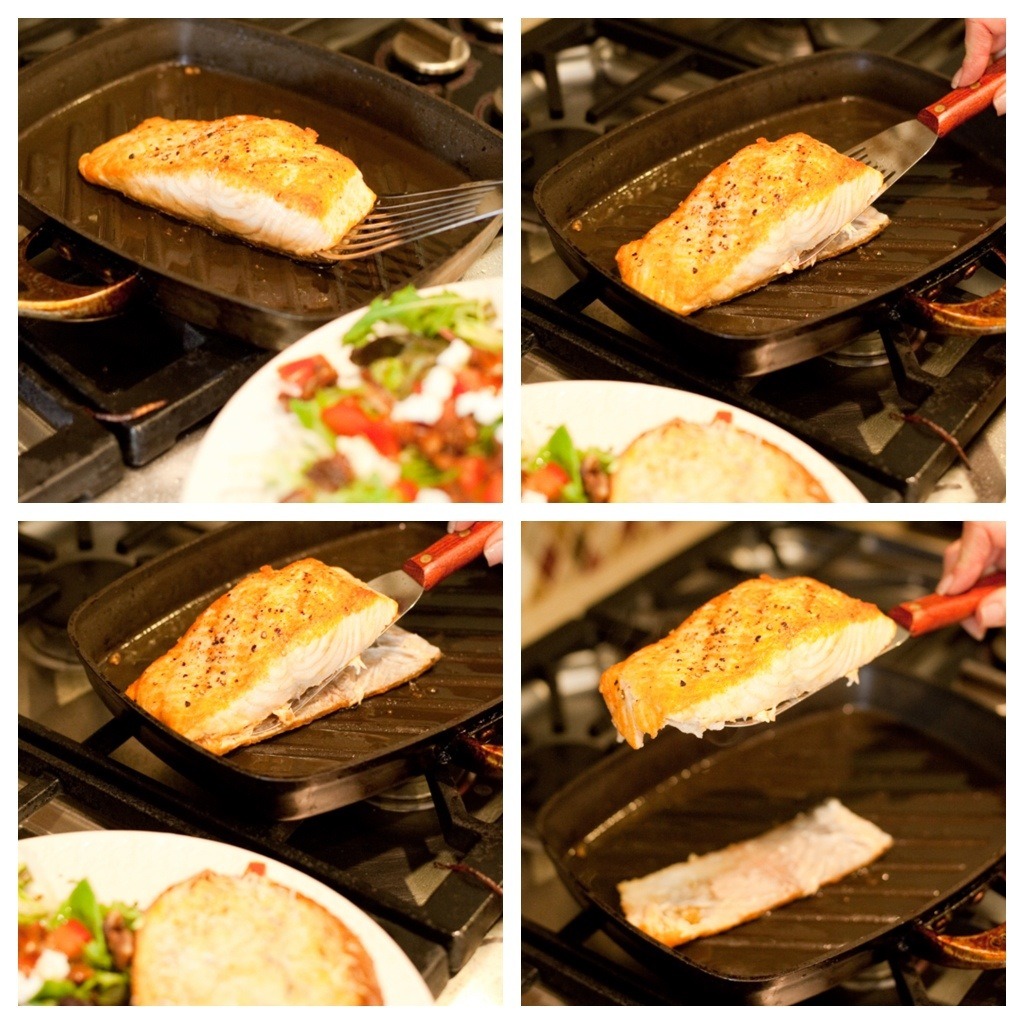 The Recipe: Scottish Salmon Sandwich
Tips and what you will need: a panini pan, a fish spatula, and sriracha sauce (affiliate links) if desired. The homemade aioli or mayo is a really nice touch. See how to make it here.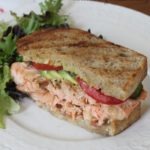 Scottish Salmon Sandwich
Tender seared salmon on toasted bread with avocado, tomato, and homemade aioli. Siracha Sauce optional. Feel free to use a good quality mayo instead of aioli. Link above for may/aioli recipe. You need an oven safe pan for this recipe.
Keyword:
classic recipe, easy lunch recipe
Ingredients
2

T

butter

sea salt

freshly ground pepper

1 - 6

oz

salmon filet

skin on or off (see instructions for removing skin above)

2

slices

of your favorite sandwich bread

I use sourdough

1

slice

of your favorite cheese

I use pepper jack

1/2

avocado

sliced

2

slices

tomato

aioli or mayonnaise

recipe link above

sriracha sauce

optional
Instructions
Preheat oven to 350 degrees and place rack in center position

Prepare homemade mayo or aioli

Sprinkle salmon with salt and pepper

Heat a panini pan (or other heavy pan) on high heat

When pan is hot add butter and turn heat to med/high

Place salmon skin side up on pan (flesh side down)

Cook for five minutes or until golden brown

Use fish spatula to gently turn salmon skin side down and place pan in oven for 12 minutes.

While salmon is cooking prepare the rest of your ingredients.

Heat a pan on high heat.

Spread butter on two pieces of bread.

Place bread butter side down and lower heat to medium

Place a slice of cheese on one piece of bread to melt.

When salmon is done, remove from pan (see tip above for removing skin) place on top of cheese (cut in half so it's half as thick if necessary to cover bread)

Place tomato and avocado on fish

Spread last piece of bread with aioli and drizzle Sriracha sauce to spice things up (optional) top sandwich. Slice sandwich in half and serve.
More European Vacation Posts:
To see my previous European vacation posts just click: London part 1, London part 2, London part 3, Paris part 1 and Paris part 2, Paris Part 3, Ireland Part 1. You can also check out the details of our trip on Instagram here.
Be sure to check back in a few days for a post from the Dromoland Castle and recipes for soft boiled eggs and eggs en Cocotte! ~ Linda Spiker
MAY I PLEASE ASK A LITTLE FAVOR?
We small bloggers need all the help we can get. Subscribing and sharing on social media is very appreciated!