About an hour and a half drive from London lies the most picturesque collection of villages in the English countryside called The Cotswolds. Known for the distinctive honey colored limestone that the homes, churches and walls are made from these quaint villages offer Londoners a respite from the hustle and bustle of the city. We spent a day in The Cotswolds…looking back it might have been nice to spend the night in a Bed & Breakfast before heading back to London!
Before I take you on a tour of the villages, let's see a bit of the drive. The road from London to the Cotswolds is a beautiful one. The English countryside isn't only green, it's bright yellow! Rapeseed fields dot the countryside. This bright yellow flower is use to make canola oil.
Apparently up until the last few decades you could buy a house in The Cotswolds for a steal, but then Londoners rediscovered it's charm and a few celebrities bought weekend homes there. Now a house in these lovely villages will set you back a pretty penny!
While we were walking down a small street we noticed a house under construction. Suddenly my husband disappeared. Sure enough he managed to get a construction worker to let him in to see the house. He said it was amazing and was being completely remodeled. The ceilings were very low which is something that can't be changed but other than that it was spectacular. Sure wish I had gone in with him! These neighborhoods were straight out of a storybook!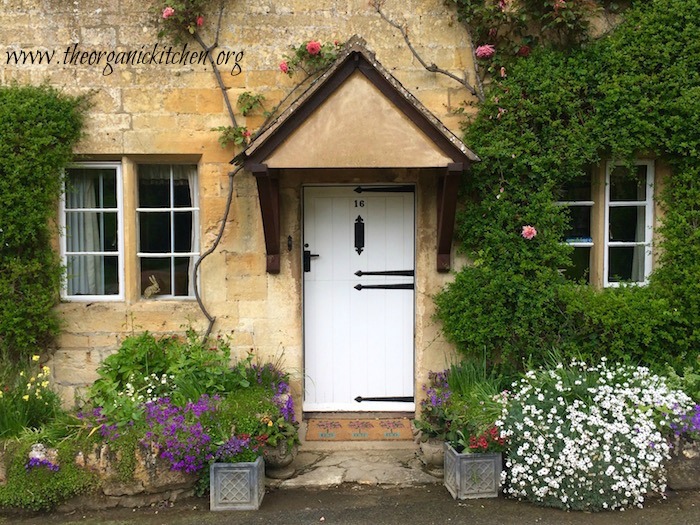 Each village has shopping, restaurants and even picture perfect flower shops…of course!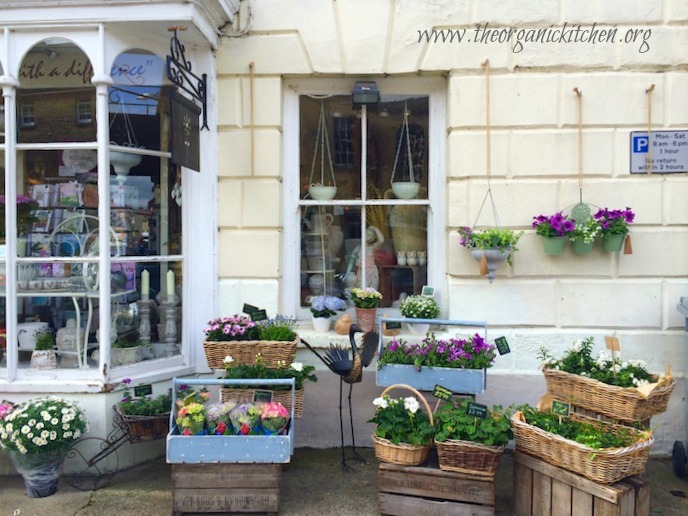 Even the walls ooze charm.
It seems every old village in Europe has an amazing church or cathedral in the center, and most include a cemetery. The locals are still buried here. Not something we are used to seeing in the states!
Doors, I have a thing for photographing doors.
Below is the Broadway tower, it is the second highest point in The Cotswolds. These towers are often called 'folly towers'. The rich and bored aristocrats would build them just to spend money and have a distraction. They are fairly small (compared to castles anyway) and serve no real purpose other than what I suspect was the medieval equivalence to a tree house for grown ups. We climbed to the top and it offered the most spectacular view! 

What We Ate, Yes The Important Stuff! 
After a wonderful morning of touring the villages we stopped in a small restaurant that was actually a house where people lived. The living room was converted into a dining area with 15 or so small tables and dog was even sleeping on the stairs while we ate. We had a wonderful potato and leek soup and then my husband ordered scones and clotted cream.
Clotted cream tastes like an amazing combination of butter and whipped cream! It is absolutely the creamiest. dreamiest concoction ever and so easy to make. And I don't mean easy if you are an experienced cook, I mean EASY as in anyone that can pour cream into a dish and turn on an oven can do it! The British generally use clotted cream like butter, spreading it on scones or bread and then topping with jam or lemon curd, but they also use it to top ice cream! The clotted cream is that amazingly fluffy, creamy colored decadence in the center bowl below. My marble and wood serving board can be found here.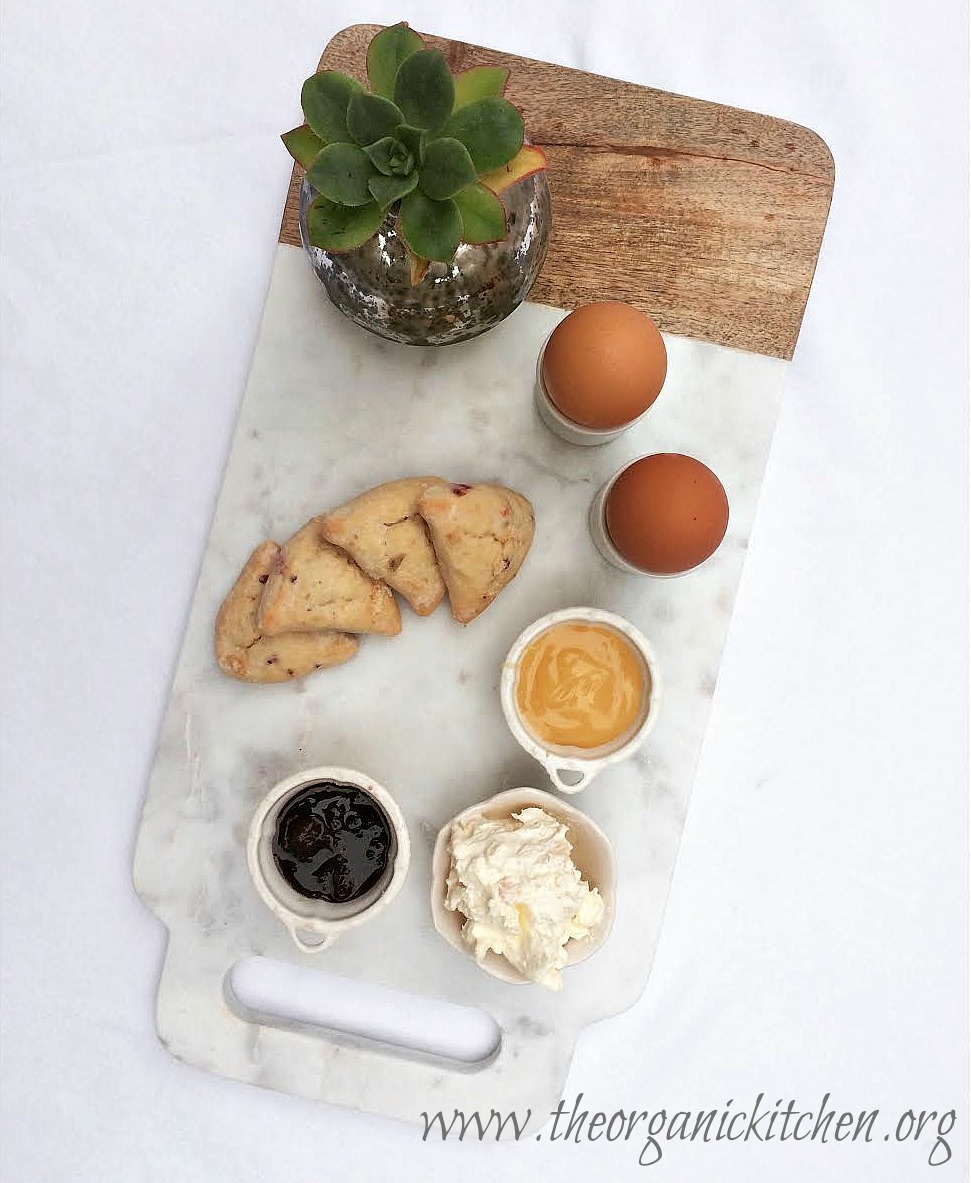 For the scones I use an all natural mix from Iveta Gourmet. There is nothing in these mixes I wouldn't use for baking myself and all you have to do is add fresh heavy whipping cream and bake. They are foolproof. There are dozens of flavors to choose from they and even have gluten free mixes! Iveta Gourmet also sells clotted cream and lemon curd. Scones and clotted cream are the perfect thing to serve at baby and wedding showers, brunches or holiday breakfasts. If you want to make scones from scratch I recommend Jamie Oliver's scone recipe…he is a Brit after all!
The Recipe: Clotted Cream
Tips and what you'll need: A glass or ceramic baking dish, it doesn't really matter what size as long as you fill it with an inch of cream. In other words, if you use a small dish, use  less cream, if you use a larger dish use more cream. I use this baking dish with a pint of cream.
Clotted Cream
The easiest recipe ever! One ingredient baked on low temp overnight. That' s it! Clotted cream tastes like a combination of butter and whipped cream and is used on scones, bread and even for topping ice cream.
Keyword:
classic recipe, easy breakfast recipe
Ingredients
Heavy whipping cream.

How much you use will depend on how big your baking dish is. The cream should be about 1 " deep when poured into the dish.
Instructions
Preheat oven to 180 degrees F.

Pour cream into baking dish till cream comes about 1" up the side of the dish.

Place cream on center rack of the oven overnight, baking for 10-12 hours.

A golden skin will form on top of cream and cream will thicken below. Don't worry if cream is still liquid in the bottom. This is normal.

Remove from oven and allow to cool. When cool place in the refrigerator for 4 hours. Then use a spoon to scoop clotted cream from dish. Place in covered container. The extra cream in the dish can be used for cooking! If you have enough you could even use it in the scone mix.
For more information about tours, drivers, activities etc.. visit thecotswolds.com . And be sure to check back in a few days for London Part 3: Activities Off the Beaten Path and Peri Peri Chicken! Click to see London Part 1 Traditional Eggs Benedict!
MAY I PLEASE ASK A LITTLE FAVOR?
We small bloggers need all the help we can get. Subscribing and sharing on social media is very appreciated!