Valentine's Day is fast approaching and I thought this salad was perfect for the occasion. Everything about this salad says romance, slow roasted red and golden beets, salty Prosciutto, creamy Burrata and a sweet lemon honey vinaigrette…
We start by slow roasting beets. Roasting beets brings out their natural sweetness and earthy flavor. Simply cut off the tops and roots, drizzle with olive oil and bake till soft. Beets are chock full of beneficial vitamins, minerals and phytochemicals. Only 37 calories per 1/2 cup and 1.7 grams of fiber make them a fabulous veggie to add to your diet.
Prosciutto is a dry cured ham that is sliced paper thin. It has a salty quality that is perfect when wrapped around Burrata cheese.
You have probably noticed Burrata cheese making an appearance on many restaurant menus as of late. There's a good reason, Burrata is a combination of Mozzarella and cream. It isn't solid like most cheese, it is almost liquid, soft and fluid…pretty dreamy stuff!
And we aren't done yet! This dressing is sweet and tart and lovely when combined with earthy beets and salty prosciutto.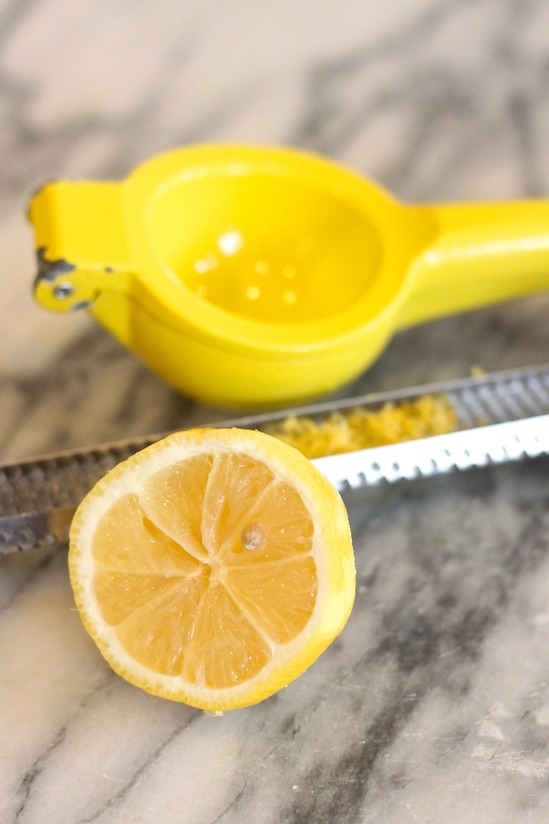 The Recipe: Greens with Burrata, Proscuitto and Roasted Beets
Roast beets ahead to allow time for cooling. Serves 4
Preheat oven to 350 degrees and place rack in center position. Cut tops and bottom off beets and wash well. Pat dry with a paper towel and set beets on a sheet of foil. Drizzle lightly with olive oil and wrap and seal foil tightly around beets. Roast till a fork goes in easily. Small bets take about 50 minutes, larger beets can take an hour and a half (sometimes even 2 hours). Once cooked, remove and allow to cool. Use fingers to peel off skin. Place in fridge till ready to use.

Dressing:
1/4 cup extra virgin olive oil
2 T freshly squeezed lemon juice
1/2 T minced scallions 
(green onions)
1 teaspoon lemon zest
2 T honey
Combine all ingredients in a bowl and whisk. Use a microplane to zest citrus (where to buy) and a handheld juicer to easily extract juice (where to buy)
Salad:
4 cups baby greens
1 gold and 1 red beet, roasted, cooled and thinly sliced
12 slices prosciutto
8 oz Burrata cheese
1/2 cup roasted unsalted pistachio nuts
Place greens on platter, dress and toss. Place greens on individual plates. Lay three slices of prosciutto on a flat surface. Place 1-2 oz of burrata on prosciutto and then wrap around cheese. Set on greens. Top with thinly sliced roasted beets, alternating colors. Sprinkle with pistachios and drizzle little more dressing over the top.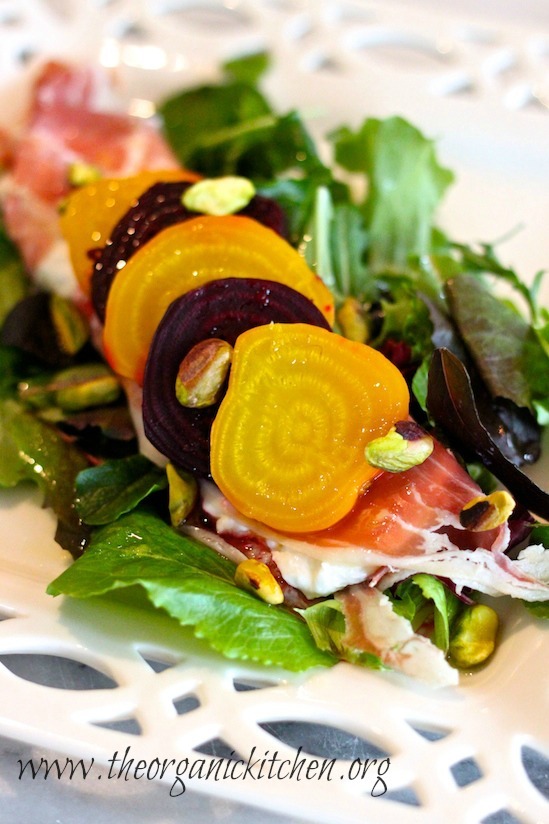 Sprinkle with sea salt (I use this) and freshly ground pepper to finish. Serve. Save extra beets and use them to make my avocado tacos the next day!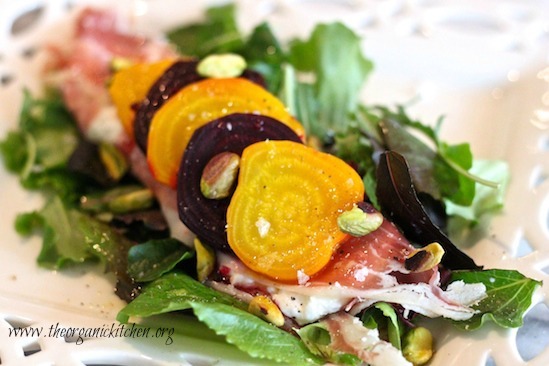 For me, this is a meal…for my husband, not so much. Serve with this roasted chicken, the two together are perfect! And if you are still looking for a dessert, click!