We loved London. It may be a big, busy city (see Part 1) but as you saw in my second post, there are beautiful places to which one can escape, and not just in the countryside!
London Parks: The Perfect Way to Spend A Day!
London, like most European cities, has absolutely spectacular parks. We waited for a warm day, rented city bikes and spent more than half a day riding through the three parks closest to our hotel: Hyde, Green and St James. (Note: the rental bikes in London do not have locks, which means you have to pick one up or plan on never leaving your bike.) This was my favorite way to spend a day in London.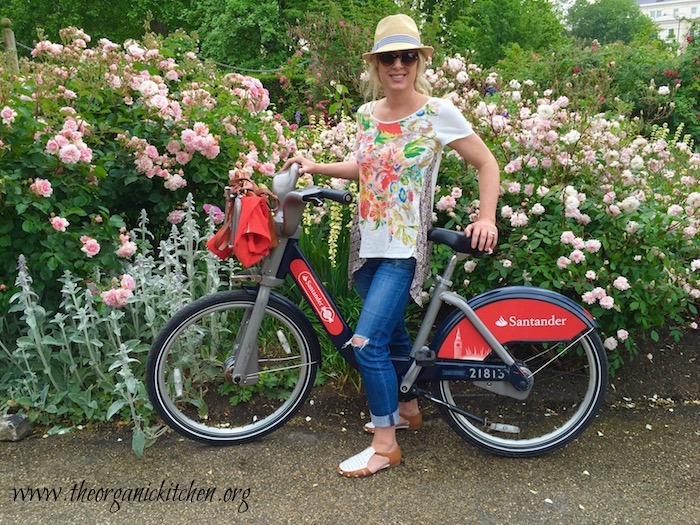 Getting from our hotel to the parks was a little harrowing! Riding a bike in London traffic isn't for the faint of heart. Luckily the parks were only a half mile from our hotel and most of the time we rode on the sidewalk. The Bobbies would call us over and tell us it was against the law but then say "But if it's dangerous…get on the sidewalk" then they would look over each shoulder and add "but I didn't say that". Our lips were sealed, nicest policemen ever! We also witnessed some of the Queen's Guard pageantry on the way to the parks!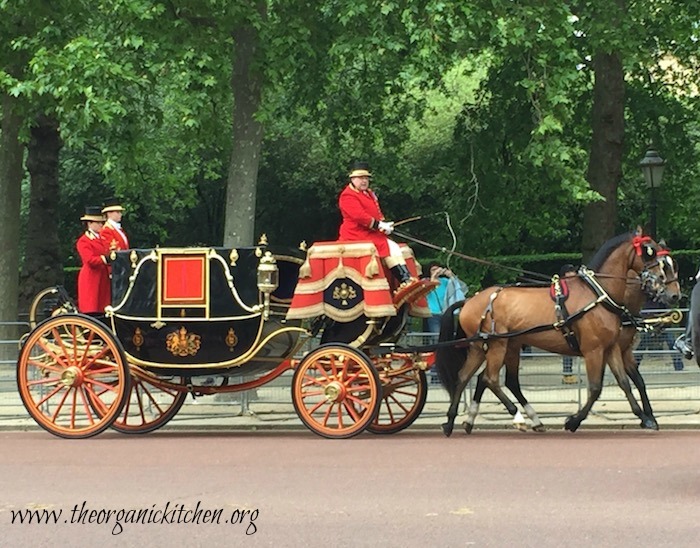 All of London's parks were lovely with lush gardens, peaceful sitting areas and beautiful statues. The three parks we visited cover over three miles, so it was very easy to spend 5-6 hours touring them.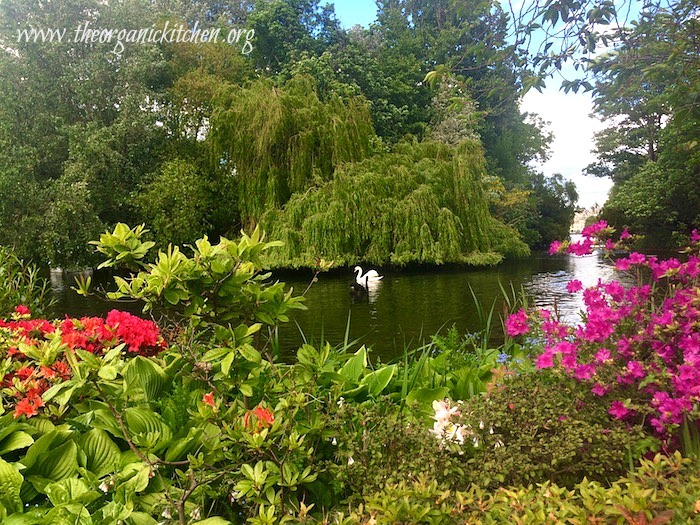 The very aptly named Green Park covers 47 acres and is scattered with comfortable beach chairs for visitors to relax or even take a nap in.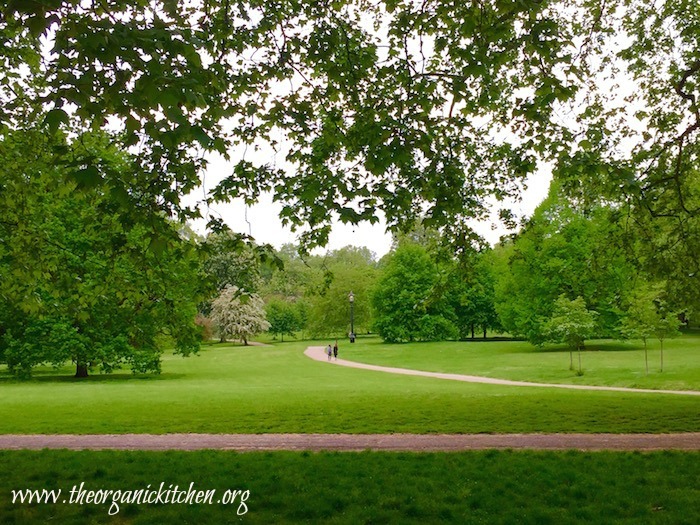 Hyde Park has restaurants, row/paddle boating and is also the location of Princess Diana's memorial fountain, where children can spend the day splashing and playing.
Bike trails were clearly marked and where riding wasn't allowed we walked our bikes. The parks have some surprises too, historical sights with tours or the random amazing church!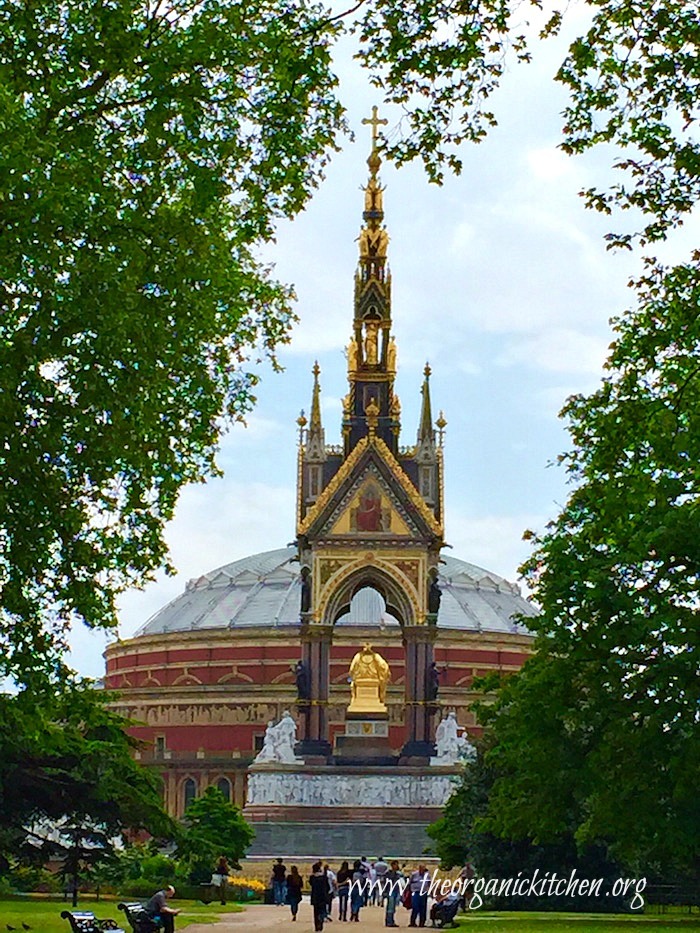 This was a such a lovely way to spend the day, especially after several days of hitting the major tourist attractions!
Honestly, it has been a tough thing to choose which photos to share because London is a very photogenic city. Just about everywhere I looked there was a stellar photo opportunity.
After a day in the park we were hungry and tired but since this was our last day in London, resting was not an option!
Off to The Theatre! What We Saw:
London has just about every play you can see on Broadway. We saw Billy Elliott (eh, don't bother) and Beautiful. 'Beautiful' is the Carol King story and is a must see! Don't worry, I didn't go dressed how I am below. I looked homeless pretty much all day, everyday but at night I stepped it up!
After the play we had a delicious spicy meal of Peri Peri Chicken at The B-Bar London! The B-Bar features a South African menu and if you are looking for the best burger in London, B-bar has it. We loved this place. We ordered Peri Peri Chicken with all the fixings and when we got home I made my own version, of course!
The Recipe: Peri Peri Chicken
What is "Peri Peri"? So glad I asked! Peri Peri is a sauce made with a potent chili native to South Africa. If you are lucky you can find Peri Peri Sauce at a grocery store, if not you can find it in medium or hot here (affiliate links). I served my version of Peri Peri Chicken with my carrots three ways, pureed cauliflower, and blanched green beans. I chose the simple butter and sea salt option for these because the Peri Peri is so spicy! You will need a grill (affiliate link). We love this mini grill and take it with us to the beach and parks!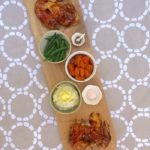 Grilled Peri Peri Chicken
An easy to make spicy chicken. Marinate for at least 4 hours or as long as overnight. Glaze can be made a day ahead. Best served with simple side dishes because the sauce is spicy!
Keyword:
classic recipe, easy dinner recipe
Ingredients
For marinade:
1- 4

lb

whole chicken

cut into 4 pieces (2-breasts with with wings, 2-thighs with legs)

1/4

cup

olive oil

2

cloves

garlic

peeled and chopped

1/4

cup

peri peri sauce

1/4

cup

lemon juice

1

tsp

sea salt

1

tsp

black pepper
For glaze:
4

Tablespoons

butter

1

small shallot chopped

1

clove

garlic

minced

2

Tablespoons

fresh cilantro

chopped

2

Tablespoons

peri peri sauce

1

tablespoon

lemon juice

1

Tablespoon

honey

zest of 1/2 a lemon
Instructions
Marinade and chicken:
Buy a 4 lb whole chicken and cut into four pieces. You can do this yourself or have the butcher do it.

Whisk together marinade ingredients.

Place in shallow dish and pour marinade over.

Chill for at least four hours, covered.
Glaze Prep:
Melt butter on med heat in a small pan.

Add shallot and cook for 2 minutes.

Add cilantro and garlic.

Simmer for 2 more minutes.

Add peri peri sauce, honey and lemon juice, simmer for 2 more minutes.

Add zest.
Cooking:
Clean grill and place heat on high.

When grill reaches 425 degrees, remove chicken from marinade, place chicken skin side down and lower heat to 350. Close lid.

Cook for 15 minutes. Turn chicken over.

Cook for 15 more minutes or till juices run clear or insta-read thermometer reads 165 degrees.

Remove from grill, brush glaze on chicken. Serve.
More of Our Trip!
Be sure to come back next week! We will be moving on to Paris part 1 and Paris part 2, Paris Part 3!
MAY I PLEASE ASK A LITTLE FAVOR?
We small bloggers need all the help we can get. Subscribing and sharing on social media is very appreciated!