This week I was going through pictures from our trip to Italy last May. What a fabulous vacation! As I reminisced about the time we spent in this glorious country I got a craving for some pasta, and of course I am not one to resist a craving! I decided to make Spaghetti Carbonara.
(This post contains affiliate links. I may make a commission off sales but your price remains the same.)
Spaghetti Carbonara is a quick, easy and delicious meal but I decided to do a little something less than traditional by adding spicy meat and greens. I paired it with my Heirloom salad and another "Casual Friday Menu" was born: "Spaghetti Carbonara with Spicy Italian Sausage and Rocket"
Carbonara is a pasta dish that originated in Lazio, Rome. Carbonara sauce usually contains eggs, cheese, garlic and occasionally cream. It's very subtly flavored but I was in the mood for something with a little more kick, hence the addition of spicy Italian sausage. I tossed in a handful of 'rocket' for color. You may be wondering what 'rocket' is…in the States rocket is known as good old fashioned arugula. When in Italy we learned a few things about the names of certain foods that we didn't know before, on menus arugula is often called 'rocket' and ham, bacon and pancetta are often listed as 'speck' which is actually a German word.
Spaghetti Carbonara takes only minutes to make because the sauce is not cooked. While pasta cooks you simply whisk together cream, egg yolks, lemon zest and Parmesan and then toss with piping hot pasta! The addition of sausage adds a few minutes to the process but it's still a complete meal in under 20 minutes!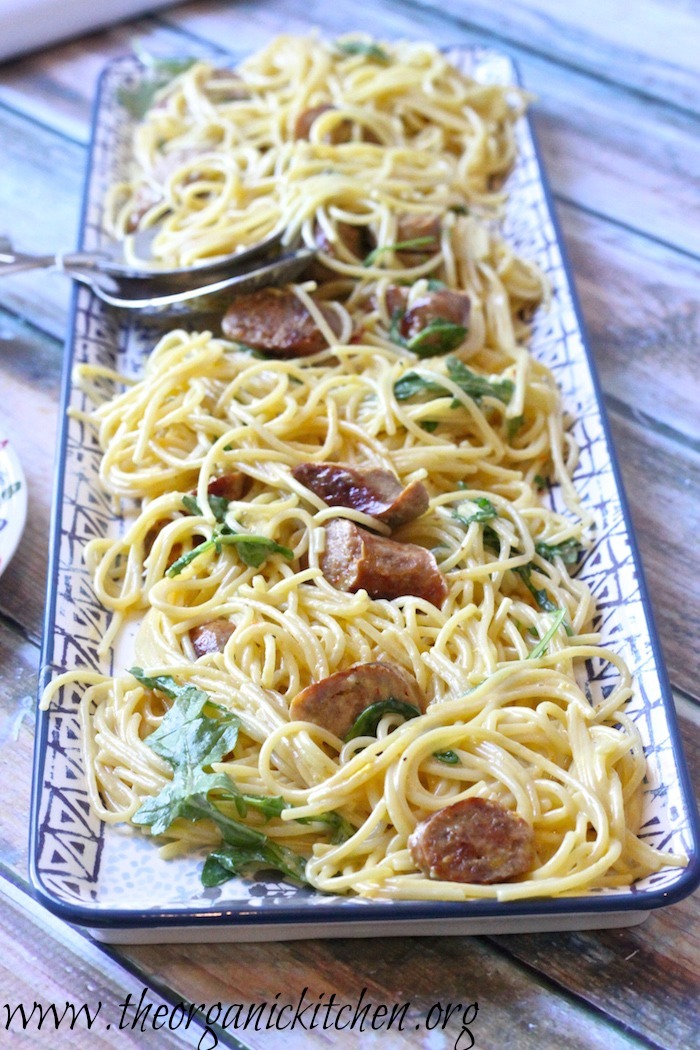 I pair this pasta with my Heirloom Salad to make this 'Casual Friday Menu' a 'delicious, healthy Friday menu' as well!
The Recipe: Spaghetti Carbonara with Spicy Italian Sausage and Rocket
Tips and must haves!: You will need a large stock pot, a microplane for grating Parmesan, and a good quality sea salt (I but the 3 lb tub, it's a huge money saver!) Sometimes for more flavor I sauté the garlic in the sausage pan for a minute or two after removing sausage, optional but it sure does add flavor!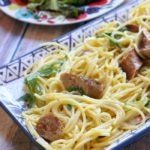 Spaghetti Carbonara with Spicy Italian Sausage and Rocket!
A traditional Carbonara Pasta with some non traditional additions!
Keyword:
easy pasta recipe, kid-friendly recipes, weeknight dinner
Ingredients
4

Italian sausage cooked and sliced

I use spicy but you can also use medium or mild

16

ounces

spaghetti

prepared to package instructions

2

T

Extra Virgin Olive Oil

3

cloves

garlic

finely minced

5

egg yolks

3/4

cup

heavy cream

½

cup

freshly grated Parmesan

Black pepper and sea salt to taste

Zest of one medium lemon

½

cup

pasta water reserved for thinning sauce

you may need a little, or none

Large handful 'rocket' also known as arugula
Instructions
Pasta directions.
Place a large stock pot of water to boil.

Place sausage in pan on medium/high heat. Cook for several minutes turning so all four sides are browned. After all sides are browned, place lid on pan and cook five more minutes or until cooked thru (about 15 minutes total) Remove sausage from pan and slice. (Sometimes for more flavor I sauté the garlic in the sausage pan for a minute or two after removing sausage. Optional, but it sure adds flavor!)

While sausage is cooking, prepare sauce and cook pasta to package instructions.
Sauce prep:
Place egg yolks, cream, lemon zest, garlic and cheese in a large bowl and whisk. When pasta is al dente, reserve 1/2 cup pasta water in a small cup and strain pasta in colander (do not rinse). Place pasta in the bowl with cream/egg mixture. Toss well. If sauce is too thick add a little pasta water to thin. (You may need a little, you may need a lot, you may need none at all) Salt and pepper to taste. Add sausage and rocket (arugula) and toss. Serve immediately.
I hope you and your family enjoy this gorgeous meal! And if you do please subscribe to my free weekly recipe newsletter (upper right side bar just under my photo) and share on social media. Thanks~ Linda Spiker
MAY I PLEASE ASK A LITTLE FAVOR?
We small bloggers need all the help we can get. Subscribing and sharing on social media is very appreciated!