"People discuss my art and pretend to understand as if it were necessary to understand, when it's simply necessary to love" ~ Claude Monet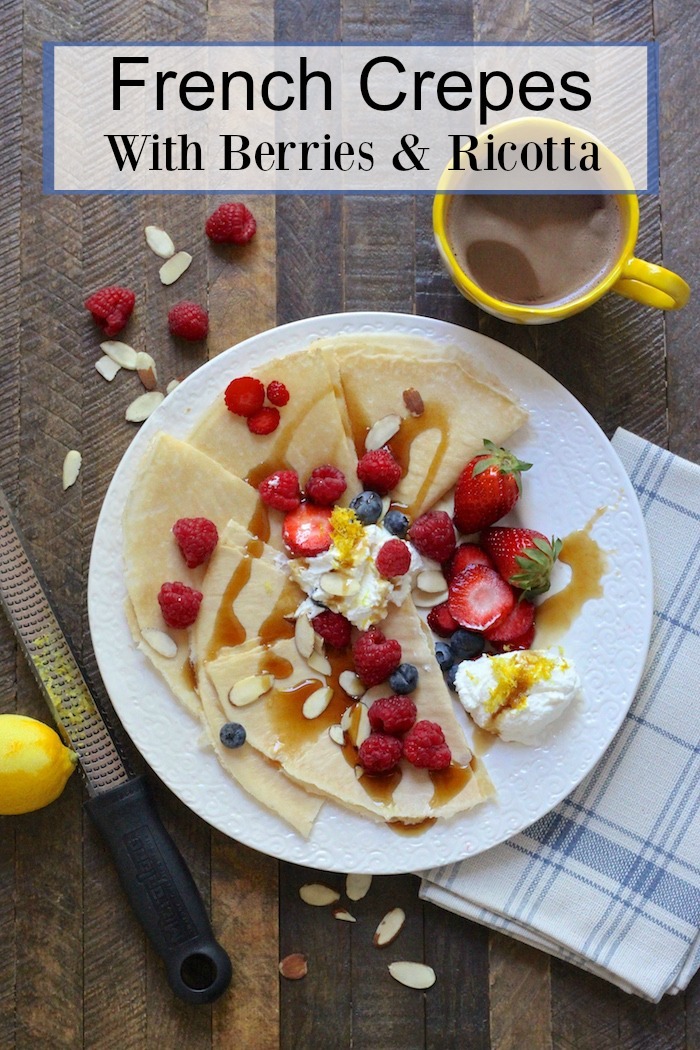 (This post contains affiliate links. I may make a commission off sales but your price remains the same.)

While in Paris we took a day trip to Giverny to tour Claude Monet's home and gardens. Claude Monet noticed the village of Giverny while looking out of a train window. He made up his mind to move there and rented a house and the area surrounding it. In 1890 he had enough money to buy the house and land outright and set out to create the magnificent gardens he wanted to paint.
After spending a day in the beautiful countryside town of Giverny in Northern France, I can certainly understand why Monet was drawn to it.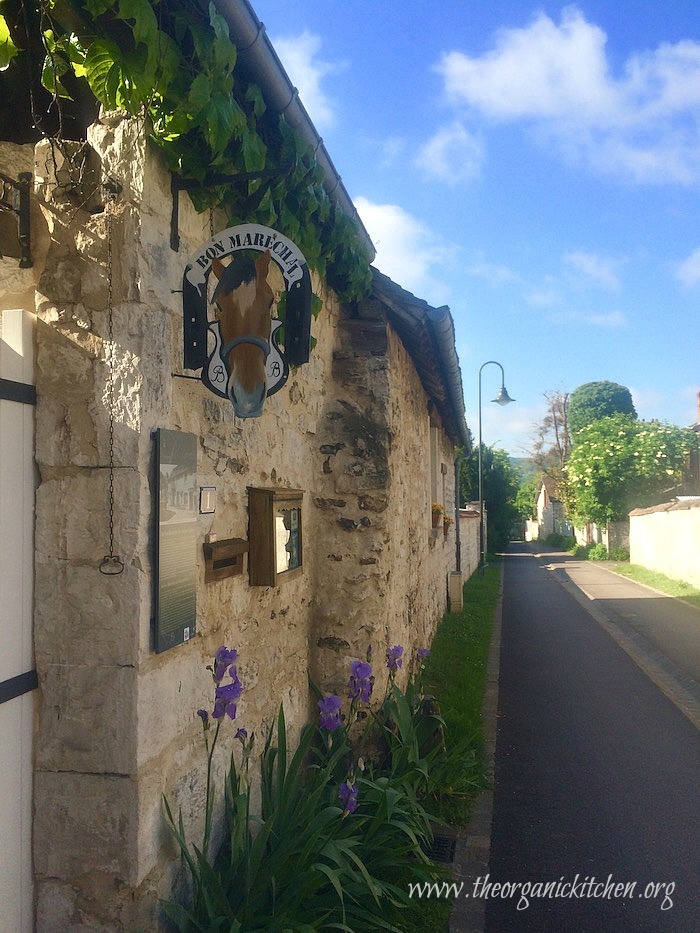 Some of Monet's most famous paintings were inspired by his incredibly colorful, lush gardens.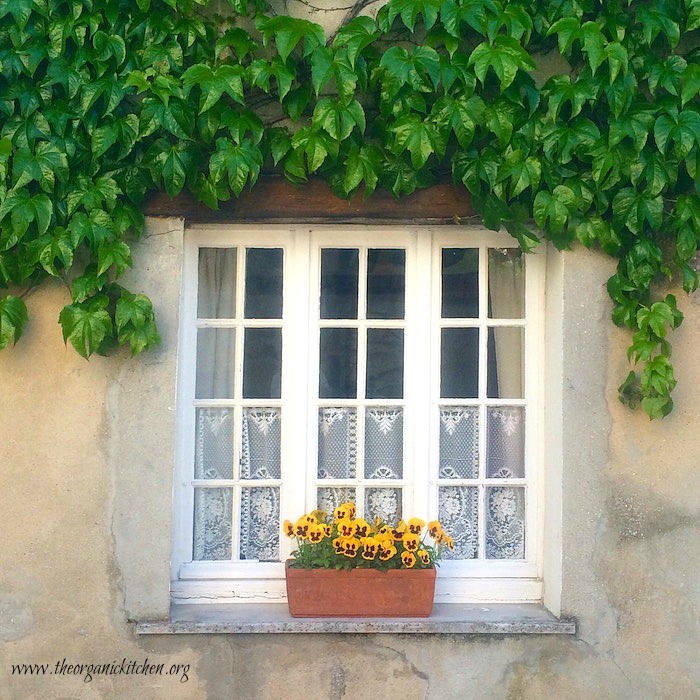 It is easy to see why Monet was so inspired n'est pas? His gardens inspired me as well, but not as much as his kitchen! It was very large and well equipped. Look at those copper pots and pans!
I imagine many a hearty meal was cooked using this huge stove, which is well over 100 years old by the way. And I can't guarantee it but I like to think Monet frequently stood at this stove and served up crepes for breakfast. And if he did, I am sure they were masterpieces!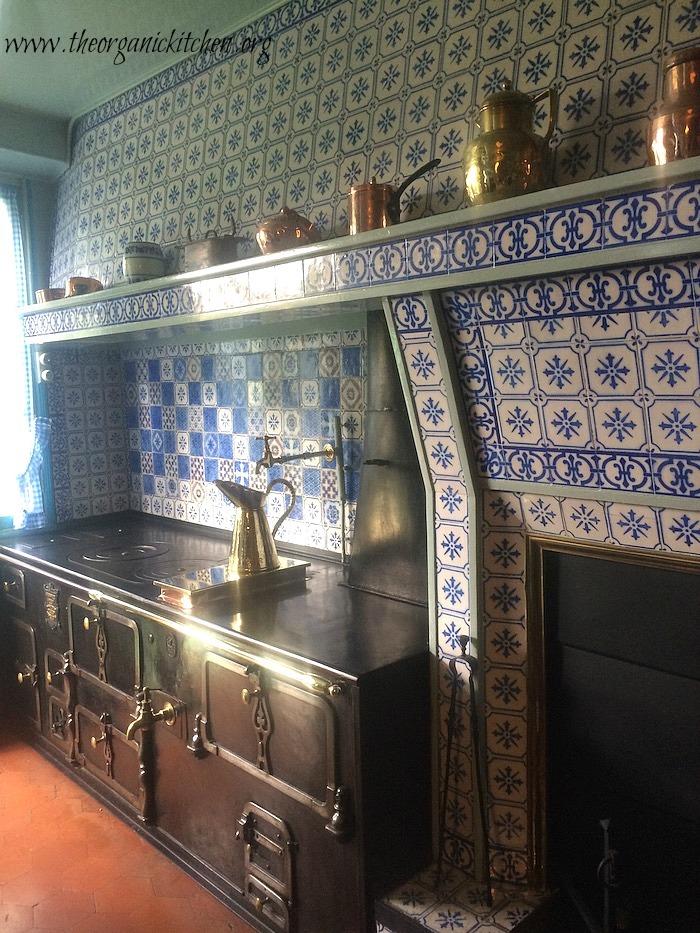 In Paris, crepe stands are everywhere. My husband ordered a crepe our first day in Paris, so per usual, I started asking the man making the crepes questions…really, how could I not? This guy makes crepes all day, everyday, I figure he has to know all the secrets.
These are the tips he shared with me: 1. Batter has to be smooth, unlike pancake and waffle batter, no lumps are allowed. 2. Allow batter to sit in the fridge for an hour before using, this allows time for all the bubbles in the batter to dissipate. 3. Use a 'spreader' (see video here) in a clockwise circle to evenly spread batter very thinly on crepe maker (affiliate links). And voila! A perfect crepe.
Now in Paris, Nutella and banana crepes are all the rage, but I make my recipe with berries, ricotta, and lemon zest.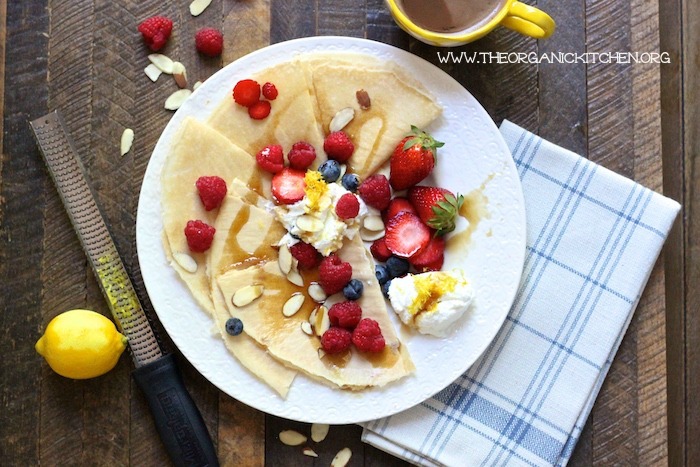 The Recipe: French Crepes with Berries and Ricotta
Tips and what you will need: be sure to follow the 3 tips and video above. For best results use a a crepe maker, a batter 'spreader', and vanilla paste, I prefer paste over extract. I recommend buying the quart size, it's a money saver! Use a microplane for lemon zest.
French Crepes with Berries and Ricotta
Now in Paris, Nutella and banana crepes are all the rage, but I make my recipe with berries, ricotta, and lemon zest.
Keyword:
classic recipe, easy breakfast recipe, easy brunch recipe
Ingredients
For crepes:
2

eggs

1 1/8

cup

milk

2

Tablespoons

honey

2

teaspoons

vanilla paste

1

cup

all-purpose flour

2

tablespoons

melted butter

plus more for pan
Toppings:
2

cups

fresh mixed berries

1

cup

ricotta cheese

zest of two lemons

1/3

cup

sliced almonds
Instructions
Makes 6-7 12" crepes

Place all the ingredients in a blender and blend until smooth. If you don't have a blender, whisk the eggs, milk, honey, and vanilla paste together in a bowl till smooth. Add the flour and whisk to combine. Whisk in 2 tablespoons of the melted butter. Make sure batter is very smooth. Cover and place in the refrigerator for at least an hour to allow all the air bubbles to settle.

Heat crêpe pan on high.

When heated, use a clean dish cloth to wipe with butter. Do this between making each crepe too.

Pour about 1/2 - 2/3 cup batter onto crepe maker and immediately use the spreader in a clockwise circle to spread batter. I messed it up the first time so don't worry if you do too. It takes a little practice to get it right! Watching the video posted above will help.

Cook for about 30 seconds (until lightly browned) and flip. Cook for another 10-15 seconds and flip again, fold crepe in half and remove from crepe maker, fold again. Set crepe on plate, top with berries, ricotta cheese, lemon zest and sliced almonds.
More From our Trip to Europe!
I hope you have enjoyed following along on our trip to Europe. If you need to play catch up just click: London part 1, London part 2, London part 3, Paris part 1, Paris part 2, Paris part 3, Ireland part 1, Ireland part 2 and Ireland Part 3. You can also check out the details of our trip on Instagram here.
MAY I PLEASE ASK A LITTLE FAVOR?
We small bloggers need all the help we can get. Subscribing and sharing on social media is very appreciated!