Oh mercy me…it's like going back in time. Buttermilk biscuits like grandma made. But not quite, because I am adding freshly grated Parmesan, garden fresh chives and toasted pine nuts to make grandma's recipe a bit more interesting!
These Easy Buttermilk Parmesan Chive Biscuits are going to be a new favorite…you can thank me now, or later. There's a comment section below specifically for that purpose;)
(This post contains affiliate links. See full disclosure at bottom of page)
To make these amazing biscuits I use a good old fashioned handmade dough (it takes minutes I swear!) Then I cut into circles using the top of a mason jar or cookie cutter…
…place on a parchment covered cookie sheet…
…and bake to golden perfection! 
Oh my heavens…serve warm and slather with butter!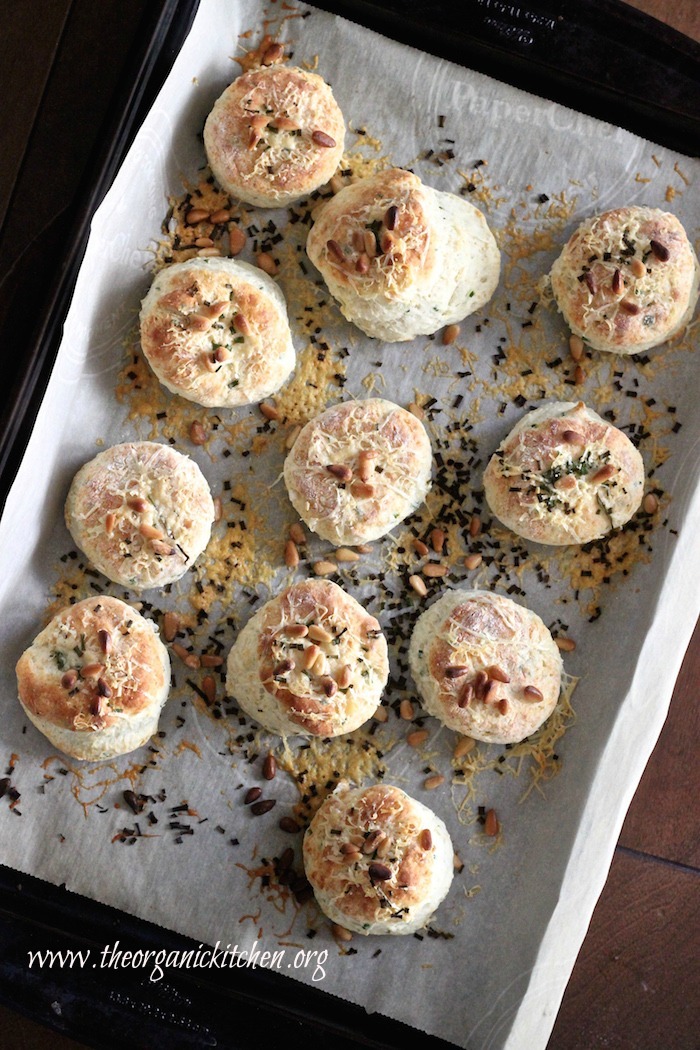 Oh, But I Am Not Done Yet…I Have a Grain Free Version!
And look how amazing they are! My gluten/grain free friends you can thank me later, or now. There's a comment section below specifically for that purpose:)
Seriously, you would never guess these are grain free! I use an amazing flour made from the yuca root. It's called  Otto's Cassava Flour (affiliate link) and it tastes, behaves and bakes the most like all purpose flour of any gluten/grain free flour I have used. 
Traditional and Grain Free Parmesan Chive Buttermilk Biscuits
Tips and what you will need: if you are making the grain free version of this recipe you will need Otto's Cassava Flour. You will also need  parchment paper and a cookie sheet. (affiliate links)
Enjoy my friends! ~ Linda Spiker
Find your perfect hair color now, free of harsh chemicals, odor and mess!
MAY I PLEASE ASK A LITTLE FAVOR?
We small bloggers need all the help we can get. Subscribing and sharing on social media is very appreciated!