I am in heaven. I just made a big batch of these Whole 30 Potato Wedges with Ranch Dressing and it felt like such a delicious, decadent treat! Crispy home fries dipped in yummy, creamy, herby ranch…life is good!
(This post contains affiliate links. I may make a commission off sales but your price remains the same.)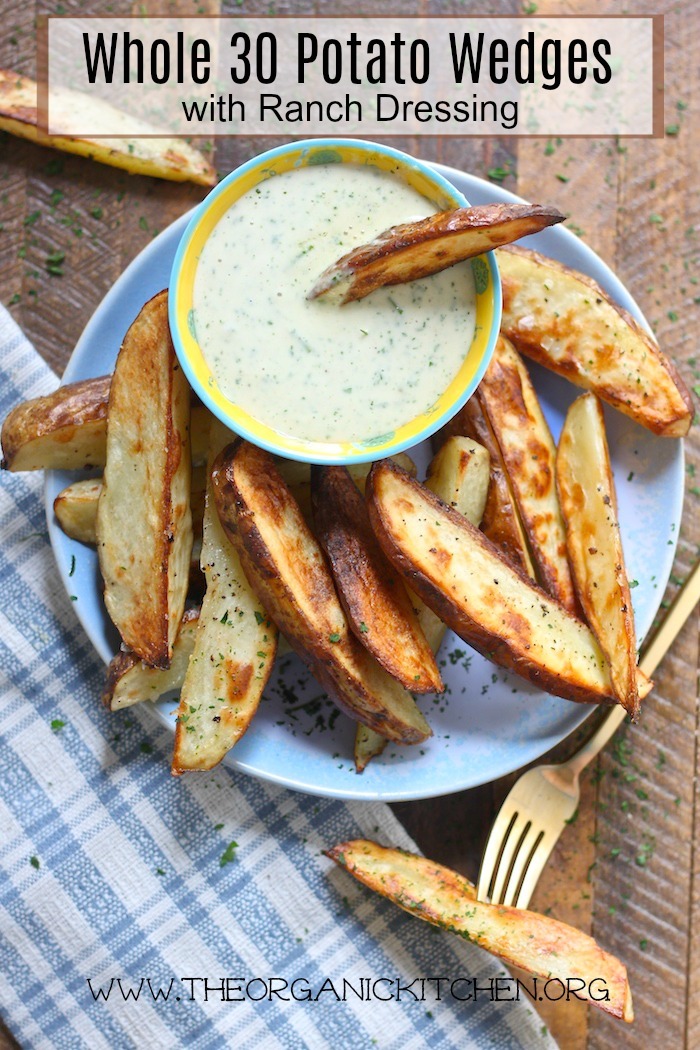 Those Crispy "Fries"…
I used medium size russet potatoes for this photo, and they are my husband's favorite. BUT I frequently use sweet potatoes because they are my favorite and because my food sensitivity test showed a reaction white. A combination of sweet and white keeps us both happy! These fries are so easy to make, simply: cut potatoes into wedges, drizzle with olive oil, sprinkle with sea salt and pepper and roast in the oven. The key to getting crispy taters is a really hot oven and placing close to the heating element. Crispy perfection!
That Creamy Ranch!
Who doesn't love ranch dressing on a salad or for dipping? Unfortunately most store bought brands are loaded with crap artificial colors, flavors, fillers, preservatives etc…we can't put that into our bodies! I have a homemade version that is delicious and can be made quickly. The creamy texture comes from soaked cashews blended with water. If you eat dairy, you can use straight up buttermilk. Either way, this ranch is totally 'dip worthy'!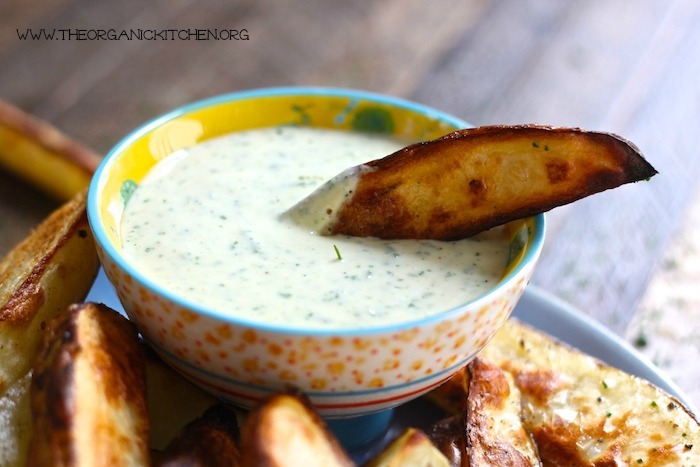 How to Make the Ranch from Scratch:
I start by making a mayonnaise base. It's really easy but it is important to follow all the directions I give you in the recipe. Skipping any of them can cause your mayo to not set up. It's happened to me and it's a bummer.  I know some people have success using a regular blender to make mayo, I do not. I use an immersion blender. So here is how it's done:
Place room temp egg, lemon juice and extra light olive oil or avocado oil into a jar with a wide enough opening for an immersion blender to fit in.
Keep the blender at the bottom of the jar and whirl. Immediately you will see the oil and egg thicken up…it's mayo magic! Once it's 'set' you can move the blender up a down a couple of times to mix in the oil at the top.
Then add the cashew cream, herbs and spices and voila! Homemade dairy free ranch that is both Whole 30 and Paleo compliant!
Who knew, right?
Whenever I show someone how quick and easy it is to make homemade mayo/ranch, their jaws drop. And homemade dressing is made with healthy fats, fresh herbs and flavorful spices. Of course you can adjust the seasonings to your liking.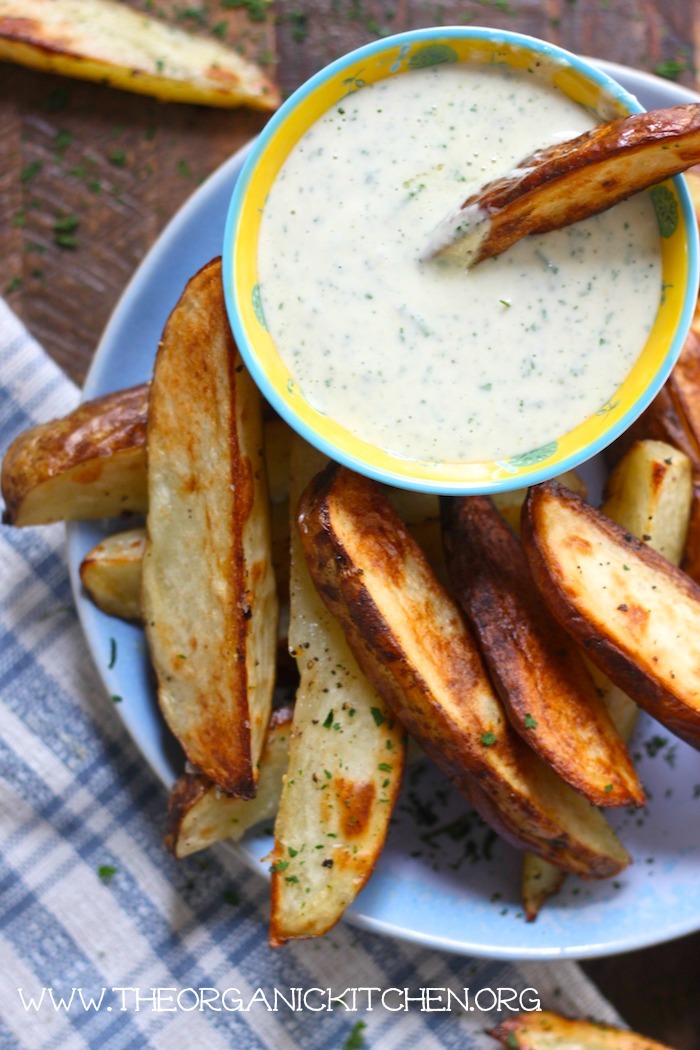 The Recipe: Whole 30 Potato Wedges with Ranch Dressing!
What you need: a rimmed cookie sheet, unbleached parchment paper, an immersion blender and a good knife! This recipe is Whole 30 and gluten and dairy free.