Back in the day, when all our kids were little, we made fresh pizza dough and everyone made their own individual pizzas, and we all loved it. But now that everyone is grown up, we go straight for the Naan. Naan makes pizza making easy and quick but still tastes AMAZING! And when you top it with parmesan, mozzarella, roasted butternut squash, caramelized onions and crunchy walnuts it's pretty much the best thing you have ever tasted. This Grilled Naan Pizza with Roasted Butternut Squash is straight up comfort food…but loaded with veggies and topped with mounds of greens!
(This post contains affiliate links. I may make a commission off sales, your price remains the same.)
The Naan…Don't Worry, I Got You Gluten Free Peeps!
Naan is an Indian flatbread that also happens to make a great pizza. You can buy great quality naan at the grocery store, but sadly, it's not yet available gluten free. And since my home food sensitivity test came back positive for gluten intolerance I am now a GF girl! So, my gluten free followers and I will have to make our own. Thankfully I have a blogger friend with an amazing GF naan recipe. Lucky us!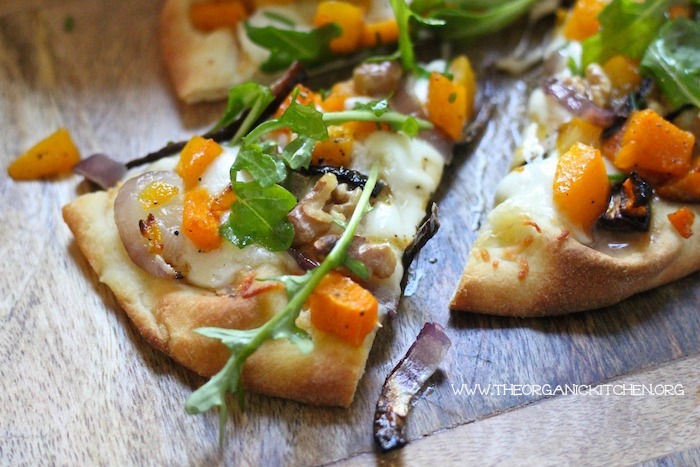 Prep: Working with Butternut Squash
If you live near a store that sells fresh, pre-cut butternut I say go for it! It will save you some time. Just be sure it's really fresh and know you may have to cut the the cubes smaller if they are too big. If you don't live near a store that sells pre-cut, you'll have to cut your own. Working with butternut squash can be a challenge if you don't have the correct tools. You will need a 'y' peeler and a sharp knife. A 'Y' peeler makes peeling a cinch! And a good, sharp knife slices through that squash like butter…if butter were hard like a squash:)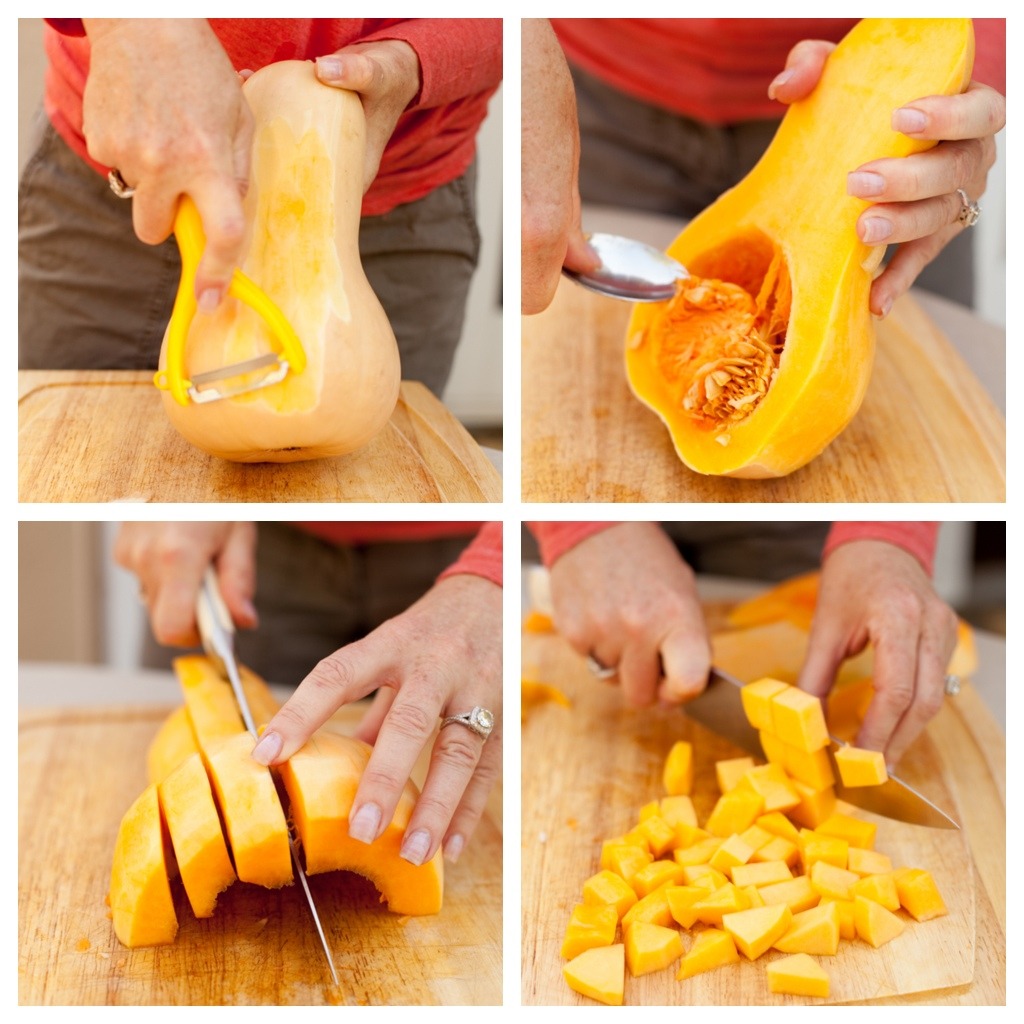 Place squash and onions on a rimmed cookie sheet, drizzle with olive oil, sprinkle with sea salt and pepper, then roast!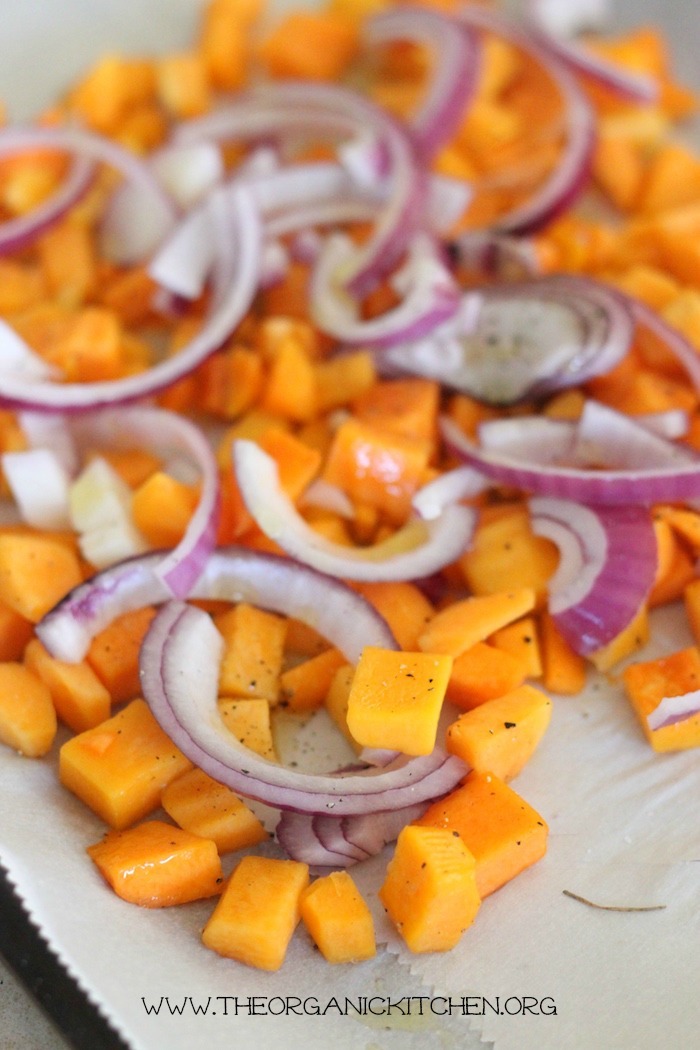 Assemble:
After roasting the veggies, you layer your naan with olive oil, parmesan, fresh mozzarella, onions, butternut and walnuts! The crunch of the walnuts is just sooooo good!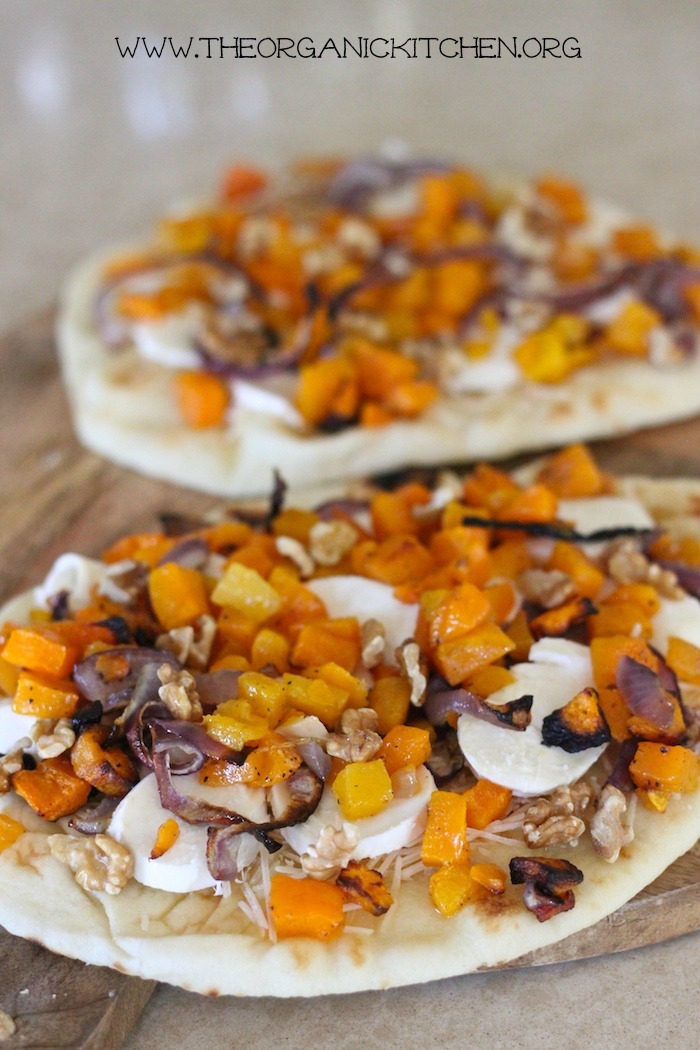 Pop It In The Oven or Put on The Grill:
Seven or eight minutes in the oven or on the grill and you have one heck of a pizza! The flavor combination is on point if I do say so myself. But we aren't finished yet! While pizza cooks, I drizzle a little lemon juice and olive oil on arugula, sprinkle with sea salt and use it to generously top the pizza. I love adding greens for the healthy boost and added flavor but it happens to look pretty too!
More Naan Pizza Recipes…
Zucchini and Corn Grilled Naan Pizza
Peach, Prosciutto and Buratta Grilled Naan Pizza!
Chicken and Peach Grilled Naan Salad Wraps!
Grilled Naan Salad Wrap with Herbed Chevre
The Recipe: Grilled Naan Pizza with Roasted Butternut Squash!
What you need: a rimmed cookie sheet, parchment paper and if peeling and cutting your own butternut squash, a 'y' peeler and a sharp knife.