Back in the day, when all our kids were little, we made fresh pizza dough and everyone made their own individual pizzas, and we all loved it. But now that everyone is grown up, we go straight for the Naan. Naan makes pizza making easy and quick but still tastes AMAZING! And when you top it with parmesan, mozzarella, roasted butternut squash, caramelized onions and crunchy walnuts it's pretty much the best thing you have ever tasted. This Grilled Naan Pizza with Roasted Butternut Squash is straight up comfort food…but loaded with veggies and topped with mounds of greens!
(This post contains affiliate links. I may make a commission from sales, your price remains the same.)
Let's Chat About Naan:
Naan is an Indian flatbread that also happens to make a great pizza. You can buy great quality naan at the grocery store, but sadly, it's not yet available gluten free. I do have an alternative suggestion though…
If using naan is a little too high carb for you, or you prefer to skip the gluten and grains, I have found a great alternative! Cali'flour Pizza Crust works amazingly well in place of naan and just take a look at the label below. Yup, only 60 calories and 1 net carb per serving! (If you want to buy Cali'flour Foods Pizza Crusts use the discount code theorganickitchen at check out to receive 10% off orders over $50) Trust us, you'll never miss the bread because this Cali'flour Pizza Crust is just as lovely, satisfying and delicious.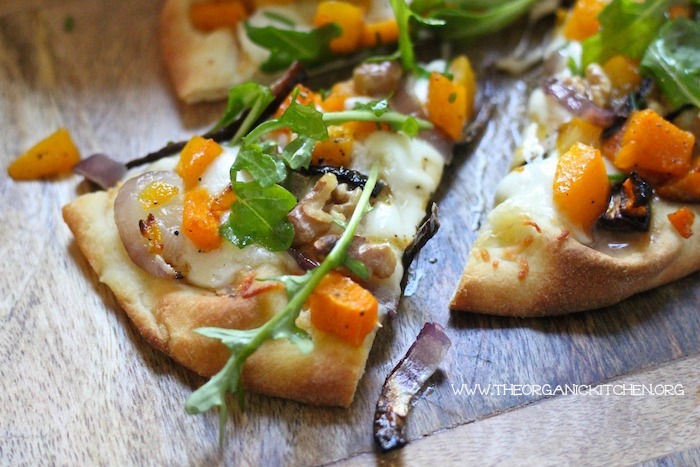 Prep: Working with Butternut Squash
If you live near a store that sells fresh, pre-cut butternut I say go for it! It will save you some time. Just be sure it's really fresh and know you may have to cut the the cubes smaller if they are too big. If you don't live near a store that sells pre-cut, you'll have to cut your own. Working with butternut squash can be a challenge if you don't have the correct tools. You will need a 'y' peeler and a sharp knife. A 'Y' peeler makes peeling a cinch! And a good, sharp knife slices through that squash like butter…if butter were hard like a squash:)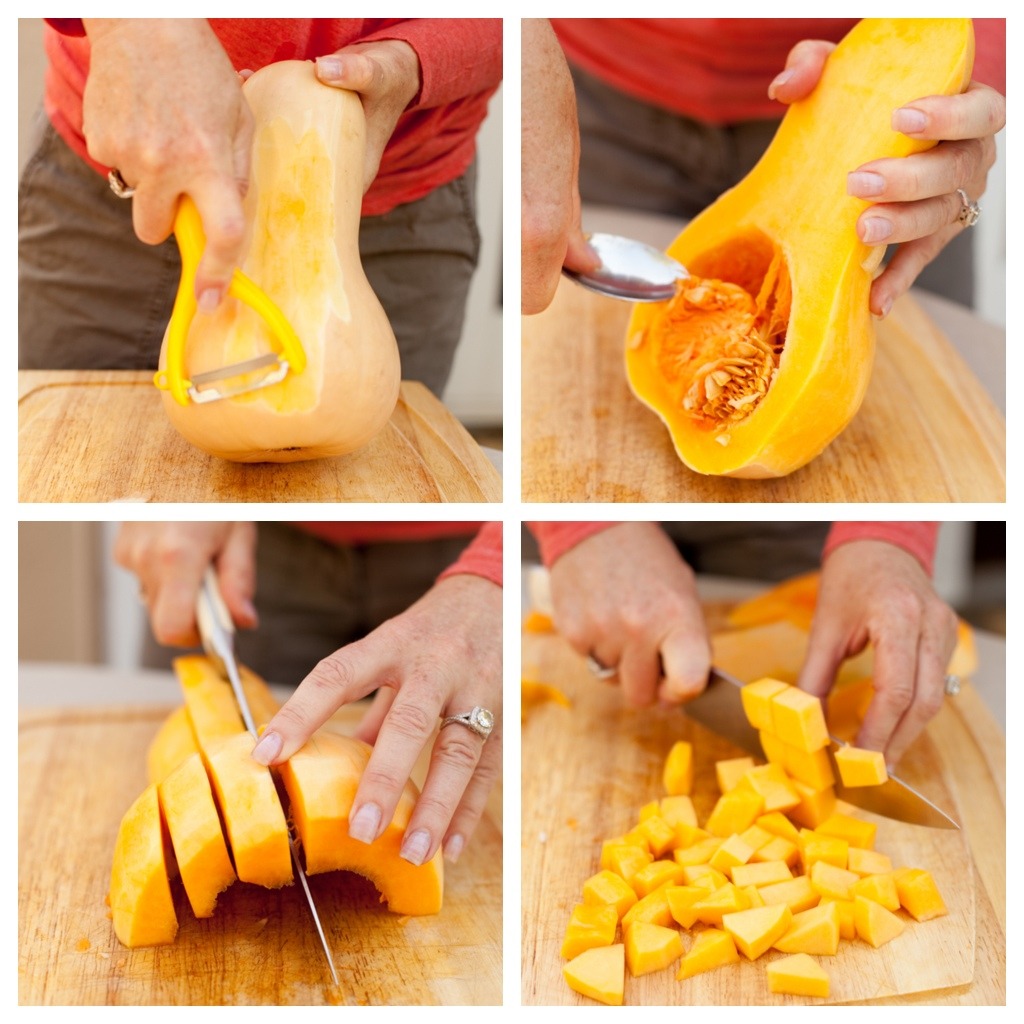 Place squash and onions on a rimmed cookie sheet, drizzle with olive oil, sprinkle with sea salt and pepper, then roast!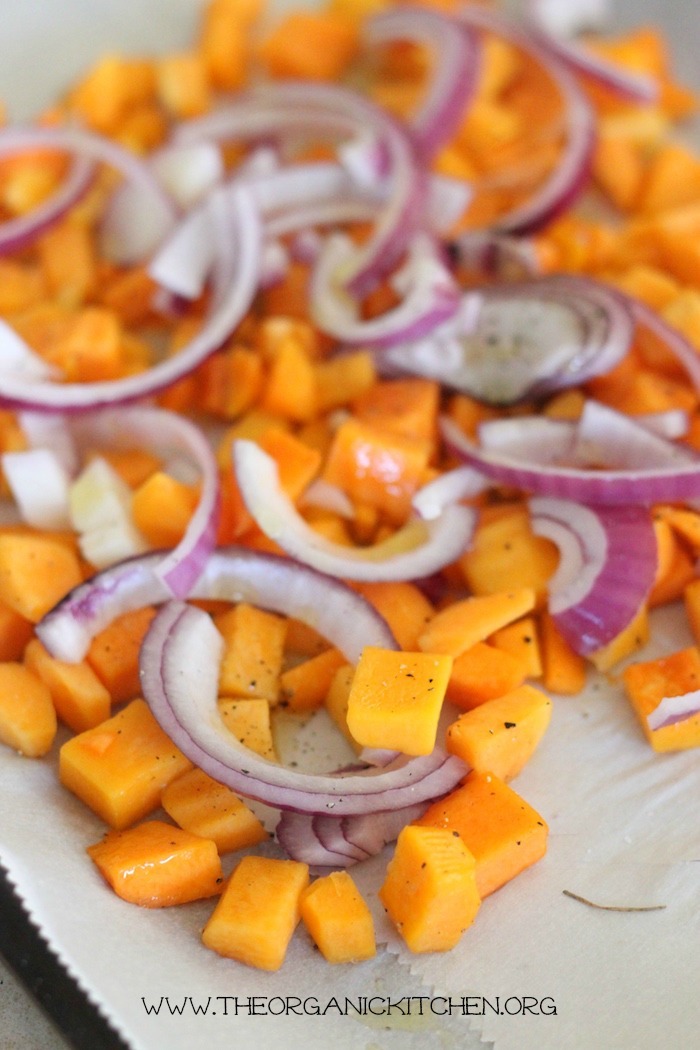 Assembling your Grilled Naan Pizza with Roasted Butternut Squash:
After roasting the veggies, you layer your naan with olive oil, parmesan, fresh mozzarella, onions, butternut and walnuts! The crunch of the walnuts is just sooooo good!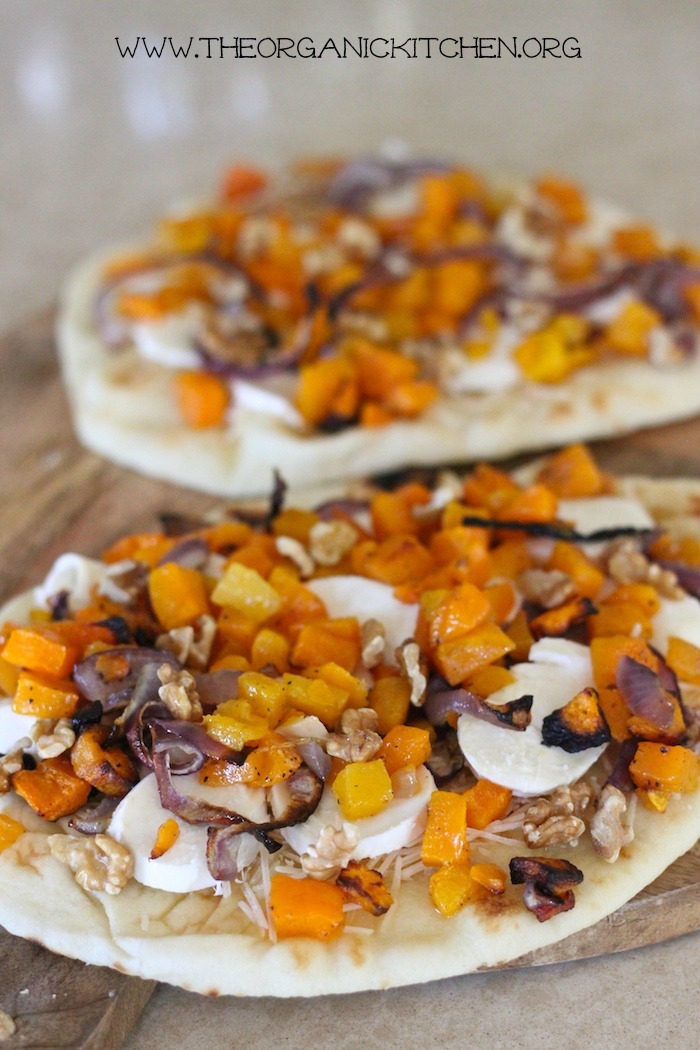 Pop It In The Oven or Put on The Grill:
Seven or eight minutes in the oven or on the grill and you have one heck of a pizza! The flavor combination is on point if I do say so myself. But we aren't finished yet! While pizza cooks, I drizzle a little lemon juice and olive oil on arugula, sprinkle with sea salt and use it to generously top the pizza. I love adding greens for the healthy boost and added flavor but it happens to look pretty too!
More Naan Pizza Recipes…
Zucchini and Corn Grilled Naan Pizza
Peach, Prosciutto and Buratta Grilled Naan Pizza!
Chicken and Peach Grilled Naan Salad Wraps!
Grilled Naan Salad Wrap with Herbed Chevre
The Recipe: Grilled Naan Pizza with Roasted Butternut Squash!
What you need: a rimmed cookie sheet, parchment paper and if peeling and cutting your own butternut squash, a 'y' peeler and a sharp knife.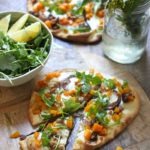 Grilled Naan Pizza with Roasted Butternut Squash!
This pizza is downright amazing! Sweet caramelized onions, roasted butternut squash, and mozzarella on warm naan and then topped with salty greens, lemon and olive oil! Gluten-free naan option offered.
Keyword:
easy lunch recipe, grilling recipe, weeknight dinner
Ingredients
4

cups

butternut squash, peeled and diced into 1/2" cubes

1

small

red onion, sliced 1/4"

1/4

cup

olive oil, separated

4

pieces

Naan bread

2/3

cup

shredded Parmesan

16

oz

fresh mozzarella packed in water, sliced

Small handful raw walnuts

Red pepper flakes, to taste, optional but encouraged

3

cups

arugula

Juice of 1/2 a lemon

Sea salt and freshly ground pepper, to taste
Instructions
Preheat oven or to 425 and position rack in center of oven. If using a BBQ grill you'll need to roast squash in the oven and then cook pizzas on the grill: clean grill and heat to 425

Cover a rimmed cookie sheet with parchment paper
Roast Squash:
Place diced butternut and sliced onions on a parchment covered cookie sheet and drizzle with enough olive oil so all the squash is glistening (2 tablespoons or so)

Generouly sprinkle with sea salt and freshly ground pepper, toss.

Bake for 30-40 minutes till squash is soft and edges are browned. Remove from oven

Brush each piece of naan with olive oil, sprinkle with Parmesan

Layer with mozzarella, and then a layer of butternut squash and onions

Sprinkle with walnut pieces and red pepper flakes if using

Move oven rack to upper third of oven. Place pizzas directly on oven rack and bake for up to 8 minutes (keep an eye on it)

While pizza bakes, drizzle arugula with olive oil and and lemon juice then sprinkle with sea salt and pepper, toss.

When pizza is done, remove and let sit for a minute, slice

Top each slice with a generous amount of dressed arugula and enjoy!