When we went to Italy two years ago we had some fabulous pizza. But I can honestly say mine is just as good. I am going to let you in on a not so big secret… dough matters, using a stone matters and setting your oven at a really high temp matters! So let's get to the details of this beautiful Fresh Tomato and Basil Pesto Pizza.
(This post contains affiliate links from which I may make a commission. Your price remains the same.)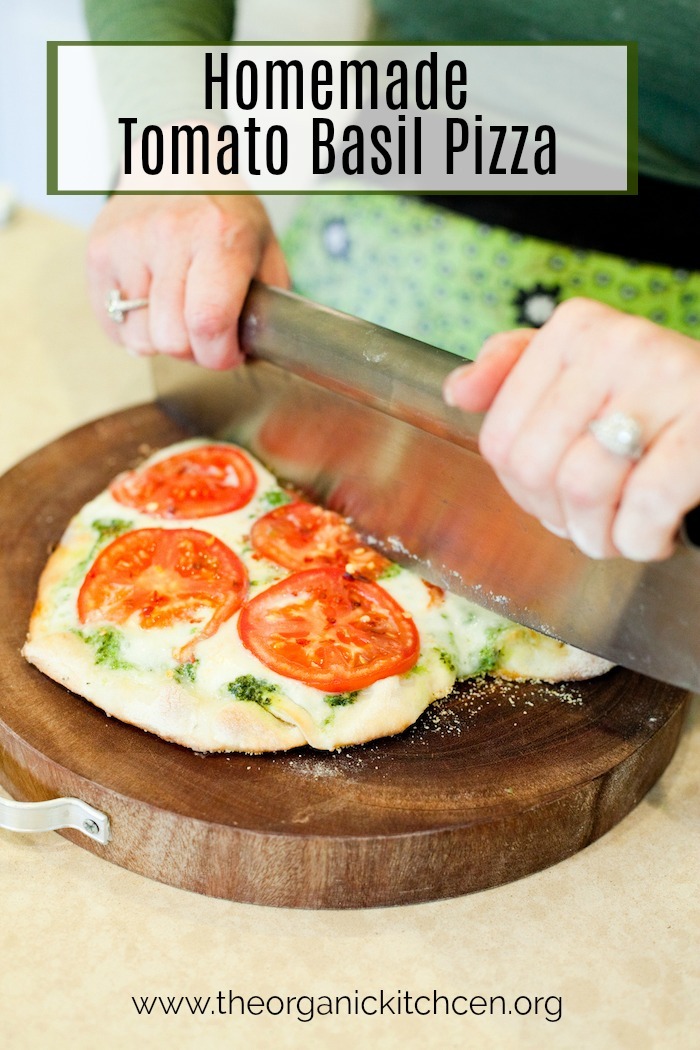 Before We Talk Pizza, Let's Talk Dough:
For this recipe you can use my home made dough. I highly recommend it. But you may also use store bought fresh dough. Whole Foods market and Trader Joe's both sell fresh dough, so feel free to take the short cut if you wish!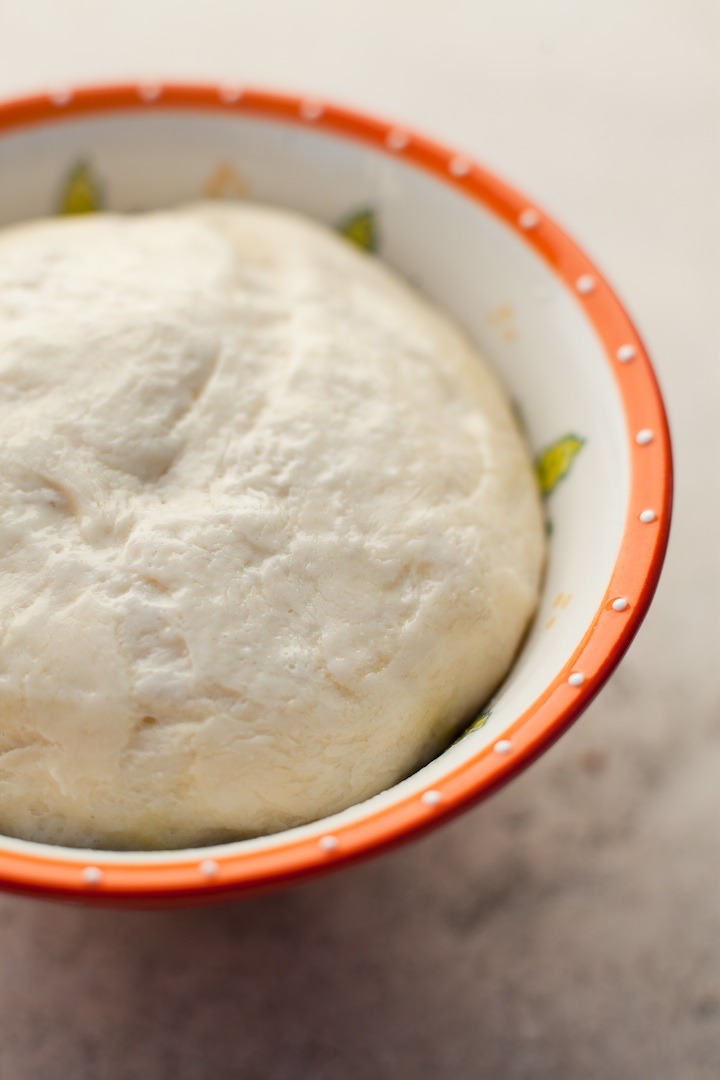 THE TOOLS:
There are a few items that make pizza making a whole lot easier: a rolling pin, a ceramic pizza stone, a pizza paddle, corn meal and a pizza slicer. (affiliate links)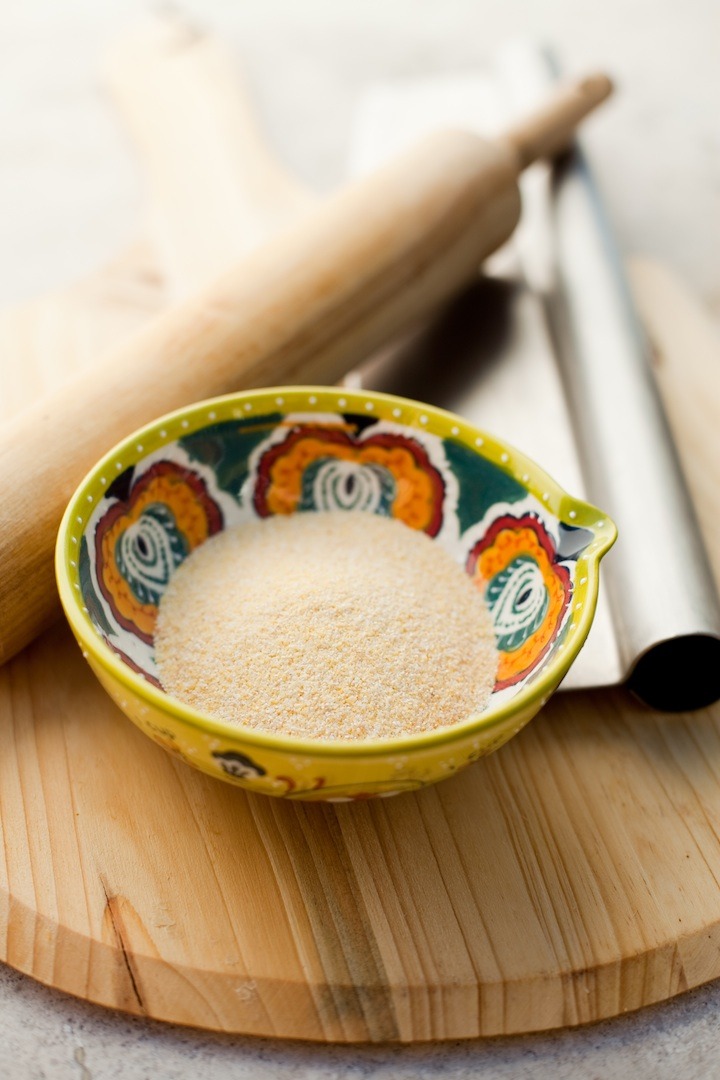 Why corn meal you ask?
Good question! Once your dough is rolled you sprinkle cornmeal on top of the paddle for easy transfer of dough onto the pizza stone. Placing a layer of corn meal on the paddle allows your pizza to slide right onto the stone with a little back and forth motion.. If you forget this step you will be very sorry!
Now the fun begins! Pizza Making:
Roll…the shape can be less than perfect and that's ok!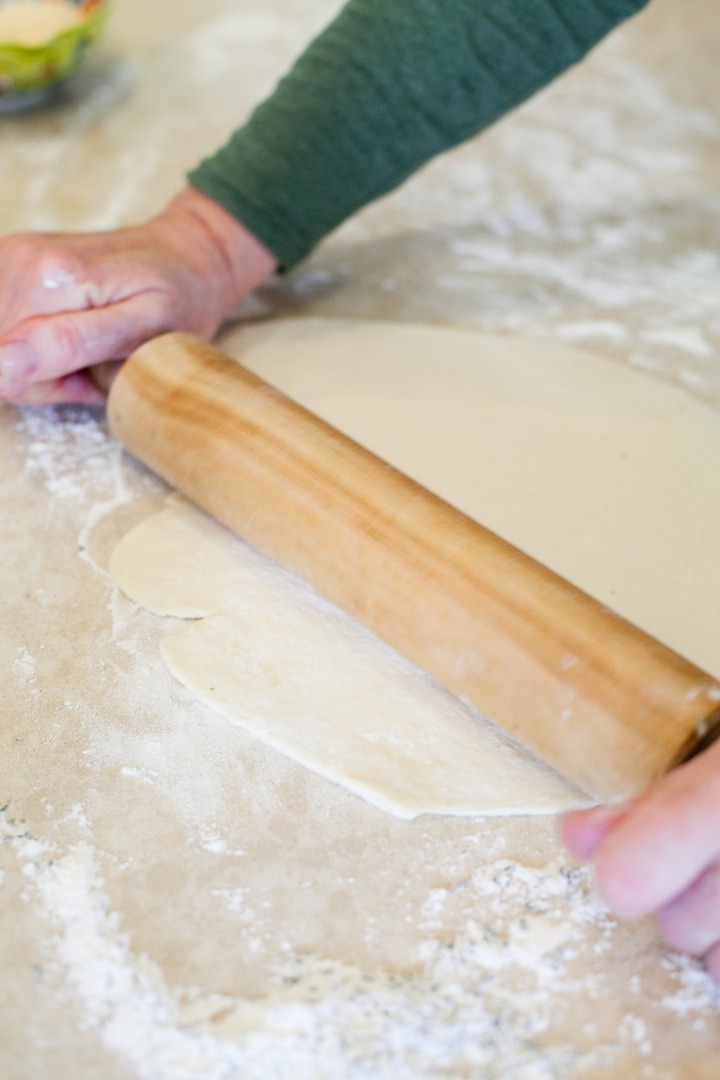 Place dough on a pizza paddle covered with corn meal and top with basil pesto, fresh mozzarella packed in water and tomatoes.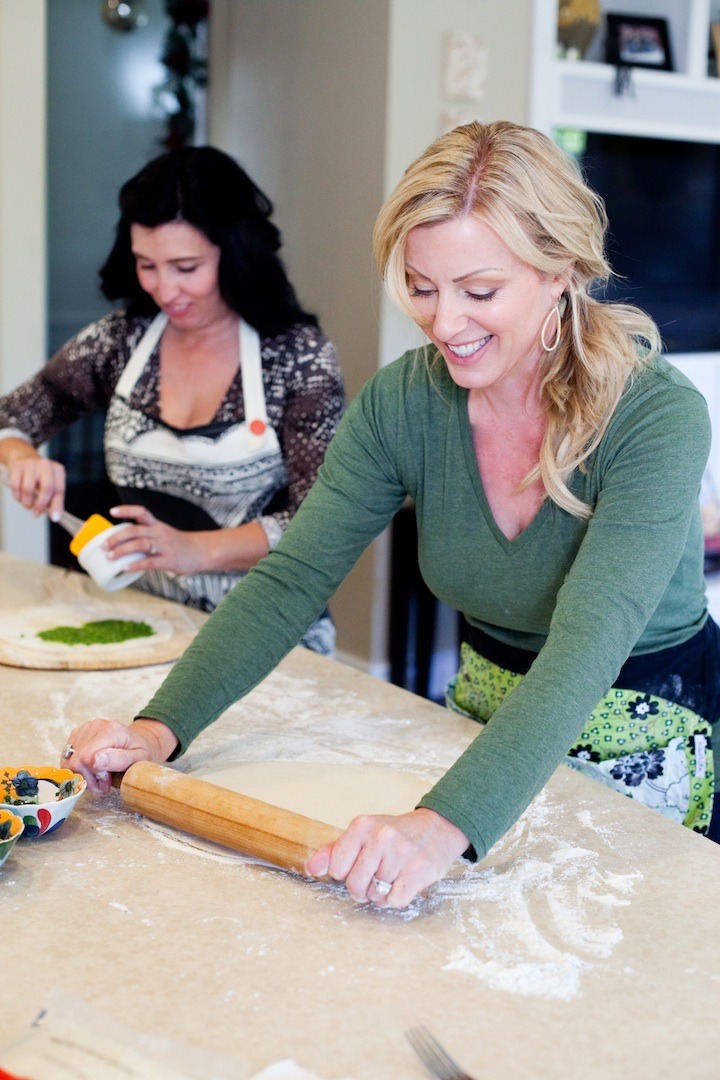 Placing corn meal on the paddle allows the pizza to slide off the paddle…trust me, you don't want to forget this step!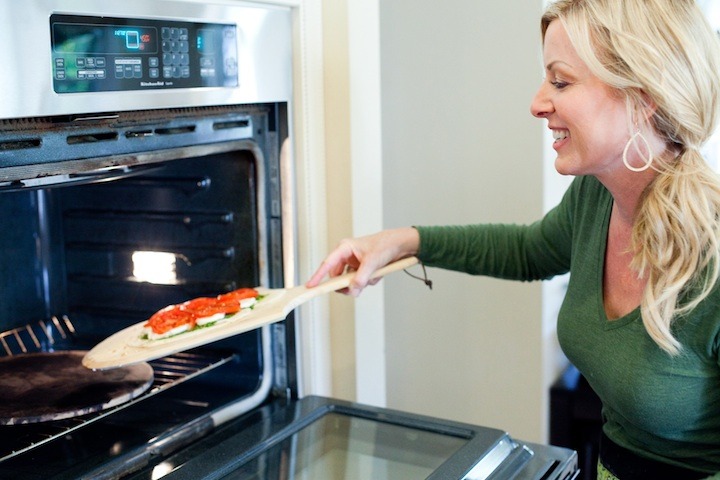 Nine minutes later you have an incredible crispy thin crust pizza!
The Recipe: Homemade Tomato Basil Pizza
Tips and what you will need: (affiliate links) Allowing dough to rise slowly over two days is recommended but you can also do a 'fast' method. Just know that either way the dough needs to rise for an hour and 15 minutes at the very least! There are a few things you need for really great pizza, a rolling pin, a ceramic pizza stone, a pizza paddle, corn meal and a pizza slicer.
Fresh Tomato Basil Pizza
Use homemade dough prepared in advance or use fresh dough from the store. This recipe makes two 9" thin crust pizzas
Keyword:
easy dinner recipe, easy lunch recipe
Ingredients
Pizza Dough (if made two days ahead, allow to sit on counter a ½ hour before rolling)
Enough pizza dough for 2 nine inch pizzas (see recipe linked above for homemade dough)

1/2

cup

Fresh pesto (recipe below)

6-8

Roma tomatoes, thinly sliced

16

oz

fresh Mozzarella, packed in water thinly sliced, and pressed firmly between two paper towels to remove extra water.

Red pepper flakes, to taste
Basil Pesto:
2

cups

fresh basil leaves, packed

1/3

cup

extra virgin olive oil

1/3

cup

toasted pine nuts or walnuts

3

medium sized garlic cloves

1/3

cup

freshly grated Parmesan cheese

Salt and freshly ground black pepper to taste
Instructions
Remove prepared pizza dough from the refrigerator and place on counter for 30 minutes before using and place pizza stone in cold oven with oven rack in bottom position. Turn heat to 450 degrees and allow stone to heat for at least a half hour before placing dough on stone.
Pesto Prep:
Pulse garlic in food processor.

Add basil leaves, cheese, salt, pepper and pine nuts.

Puree in processor, slowly adding olive oil till desired consistency. To store extra pesto simply place in s a small container, drizzle olive oil over pesto to completely cover (prevents oxidation) and cover. It will last up to a week in the fridge.
Pizza prep:
After dough has rested on the counter for 30 minutes, place on a floured surface, use rolling pin to roll pizza dough into 8-9 inch pie.

Place dough on pizza paddle covered with a thin layer of corn meal.

The corn meal allows the pizza to slide off paddle and onto stone.

Spread a thin layer of fresh basil pesto on dough leaving 1" around the edge for crust.

Place sliced fresh mozzarella cheese on top of pesto and then add a layer of thinly sliced tomatoes. Sprinkle with sea salt and red pepper flakes.

Bake for 8-9 minutes or until crust is crispy.

Remove from oven and allow to sit for a minute before slicing. Repeat with second pizza.
For my Grilled Veggie Pizza recipe visit this post. Grazi for stopping by! And please share on social media and pin! ~ Linda Spiker
May I Please Ask A Favor?
We small bloggers need all the help we can get. Subscribing and sharing on social media is very appreciated!