I recently published a collection of rice bowl recipes, because… well, I love rice bowls! They are such a fun, easy, tasty and laid back meal to make, serve, and eat. But a lot of people, including myself, limit grains. So what's a rice bowl lovin' girl to do? Cauliflower rice to the rescue! Cauliflower rice is a revelation and it's what I use in this 15 Minute Paleo Spicy Shrimp Cauliflower Rice Bowl. 
(This post contains affiliate links. I may make a commission off sales but your price remains the same.)
Let's Talk Cauliflower Rice:
Many stores carry cauliflower already 'riced'. If you don't live near a store that does, no problem. You can 'rice' cauliflower yourself by removing core, breaking the head into small florets and then pulsing in your food processor until the cauliflower resembles rice. Super quick, super easy! If you don't have a food processor you can pulse in a blender or grate with a box grater. Saute for a few minutes and top with spicy shrimp, avocado and a perfectly fried egg and you've got one amazingly healthy meal!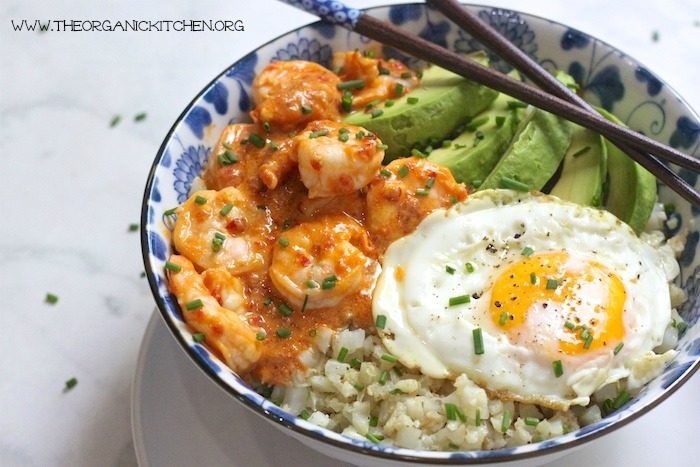 That Sauce!
This tasty Paleo sauce is a simple combination of Sambal Oelek, honey and Dijon mustard. You can adjust the amount of Sambal Oelek to create just the right amount of heat/sweet for you! If you are not familiar, Sambal Oelek is an Asian Chili Sauce. You can find it on the Asian aisle of most grocery stores. If your grocer doesn't carry it, you can find it here and have it delivered to your door. For my friends that aren't fans of heat, you can mellow out the sauce with a little coconut milk or cream. 
Need More Paleo Recipes?
To get my most popular Whole 30 recipes, click here, here, and here! 
The Recipe: Spicy Shrimp and Cauliflower Rice Bowl- Paleo
What you will need: sambal oelek, and good quality pans. You can buy riced cauliflower at the market or you can 'rice' cauliflower yourself using a food processor, blender or  box grater. See instructions above. 
View The Organic Kitchen's Privacy Policy