When I started my first Whole30 challenge, one of the things I knew I would miss the most (besides chocolate) was my morning Avocado Toast with a Perfectly Poached Egg. I knew I had to find a way to get my breakfast fix while staying on plan. I came up with a great solution if I do say so myself: Potato Avocado "Toast" with Perfectly Poached Eggs!
(This post contains affiliate links. I may make a commission from sales but your price remains the same)

How to Make Potato Avocado "Toast" with Perfectly Poached Eggs:
The "toast" is not bread but a crispy hash brown patty, topped with mashed avocado and then a perfectly poached egg! I have only made this recipe using fresh potatoes, but have heard from several followers that they used compliant frozen hash browns, thawed them, and squeezed out the water and they work really well. I am all about a time saver as long as it's compliant and works well!
To follow the Whole 30 meal template you would need to add a second egg because protein should be the size of your palm, but the photos looked better with just one egg (we food bloggers need those Pinterest worthy pictures!) Add a small helping of leftover veggies from the night before and you have yourself a delicious Whole 30 breakfast!
Don't Know How to Poach an Egg?
I have you covered! I have a video tutorial that shows you step by step how to do it.
The hash brown patty is simply a combination of potatoes (white or sweet), egg, a little flour (if on Whole 30 use almond flour or cassava flour,) chives and a little arrowroot. Arrowroot is an alternative to corn starch. It works as the 'glue' that holds our patty together while allowing this breakfast to remain grain free! You can find it at almost any super market. This recipe makes about six patties. I save the extra patties in the fridge and reheat them for several days. I have not yet frozen them but assume they would freeze well too.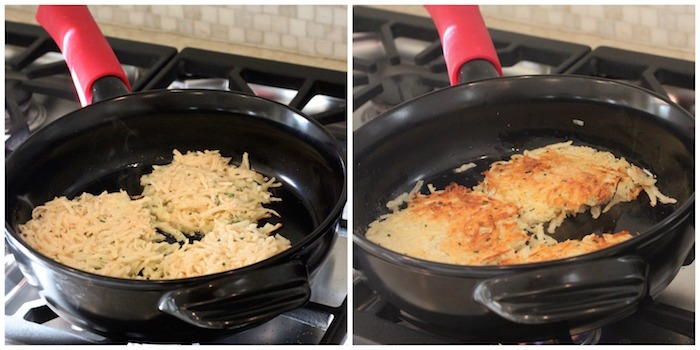 The Recipe: Potato Avocado "Toast" with Perfectly Poached Eggs
Tips, variations and what you will need: If you are using fresh potatoes you will need a food processor. If you don't have one, a box grater will do (affiliate links). Learn to poach the perfect egg by watching this video tutorial. My marble and wood serving board can be found here. If you are keeping this recipe grain free you will need almond flour or cassava flour. Cassava flour holds together better than the almond flour but is usually only available online. It is the closest grain free version of flour I have ever found! Variations: add bacon, tomato, prosciutto, sausage, asparagus spears…whatever your little heart desires.
If you would like more healthy Whole 30/ Paleo recipes please join The Organic Kitchen Facebook Page and follow my Whole 30 Pinterest Board.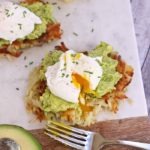 Potato Avocado "Toast" with Perfectly Poached Eggs
If you prefer to use frozen hash brown potatoes be sure to thaw them and squeeze out all the moisture before forming patties. If you use almond or cassava flour this recipe is Whole 30 compliant. Cassava works much more like flour and holds together better. Of course if you are not following Whole 30 you can use any flour you wish. Makes about six patties. Save extra patties in the fridge and reheat in pan with a little clarified butter the next day or two!
Keyword:
easy breakfast recipe, easy brunch recipe
Ingredients
For potatoes:
5

cups

grated potato, white or sweet potato

1

teaspoon

sea salt

1

large

egg

¼

cup

cassava flour or almond flour (cassava holds the patty together better! Of course if you aren't on Whole 30 you can use regular flour)

1

tablespoon

arrowroot powder or cornstarch (Whole 30 use arrowroot)

½

teaspoon

freshly ground pepper

3

Tablespoons

chives, chopped and divided

3

tablespoons

butter or ghee (Whole30 use ghee)
For topping:
1

ripe large avocado, mashed (1 large avocado usually tops 4 patties)

2

poached eggs per potato patty

1

tablespoon

distilled white vinegar
Instructions
Grate potatoes using food processor or box grater.

Place in bowl. Sprinkle with sea salt and stir well.

Place potatoes between paper towels and squeeze out excess moisture (or wring out in a clean dish towel) The more moisture you eliminate the crispier your patty will be, so squeeze! You may have to repeat three or four times to remove all the moisture.

Place grated potatoes in a bowl.

Add egg, and your choice of flour. Mix well. Add arrowroot powder and chives (reserving one 1 T for garnish).

Mix well.

Take a 1/2 cup at a time and form into patties.

Heat a pan on high heat. Add clarified butter. When butter is very hot add potato patties.

While potatoes cook mash avocado with a fork.

Cook till golden brown (about 3-4 minutes) gently turn. You may need to add a little more fat to the pan so the second side doesn't stick.

Cook second side till golden brown. (turn down heat if pan is too hot by now)

Start a small pot of water and 1 Tablespoon white vinegar to boil for eggs. (poaching instructions below)

Remove potato patties from pan and top with mashed avocado and poached eggs. Sprinkle with sea salt and freshly turned pepper. Garnish with remaining chives.

To Poach Eggs: I highly recommend watching the video above

Fill a small pot with a 3" of inches of water, add 1 T distilled white vinegar.

Bring to a rolling boil.

Use a large spoon to stir the water till you have a very good vortex going (if you haven't watched the video…watch:) then gently pour the eggs right in the center of the vortex.

Poach eggs 2-3 minutes for runny, 3½ minutes for slightly runny, 4-5 minutes for cooked through (but why would anyone do that?)

Remove from water with a slotted spoon or fish spatula and place eggs on paper towels to absorb extra water. You can use the same water to poach more eggs.

Gently turn eggs over to get all the water out.
MAY I PLEASE ASK A LITTLE FAVOR?
We small bloggers need all the help we can get. Subscribing and sharing on social media is very appreciated!
post tags: whole 30, grain free, gluten free, dairy free, breakfast