Simple Grilled Salmon Steaks (made indoors or out) are a staple at our house. When the weather isn't optimal, we cook our salmon indoors using a grill pan, when the weather is fabulous, we cook it outdoors on the grill, both methods are equally delicious.
(This post contains affiliate links. I may make a commission from sales but your price remains the same.)
What I Love About Simple Grilled Salmon Steaks (made indoors or out):
This recipe is so simple it only requires salmon, sea salt, freshly ground pepper, olive oil and butter. By keeping ingredients minimal, this dish tastes great when paired with side dishes that may have a lot of flavor, like my Pasta with Fresh Pesto or my Chopped Greek Salad with Farro.
LET'S TALK SALMON:
Salmon is high in protein and omega 3 fats, which are amazing for fighting inflammation. But there are differences in the quality of salmon available in most stores. If it is possible to purchase wild caught salmon in your area, I highly recommend it. Wild caught salmon is higher in the healthy omega 3 fatty acids, and wild salmon eat a natural diet that gives the meat that lovely salmon color. Farmed fish is grey and therefore unnaturally colored. Obviously, wild caught is best.
LET'S TALK How to Choose Fresh FISH Y'ALL!
1. It's best not to buy fish wrapped in plastic. You should be able to smell the fish you are buying. I always buy mine from a fishmonger I trust. If he is handling it, cutting it etc… he will know if it's not fresh.
2. Always buy fish the day you plan on making it, that way if your meal gets pushed back a day or two you can still use it.
3. When selecting fish always point to the piece you want. In grocery stores the freshest fish is placed in the front of the window, closest to you, and the fish from the day before is placed in the back, closest to the fishmonger. So when you are looking at the fish closest to you and ask for it, he pulls it from the back. It doesn't mean there is anything wrong with that fish from the day before, it's just not the freshest…and you want the freshest.
4. I always recommend eating wild caught salmon. It's just plain better for you, better for the fish and the environment!
Common Questions:
What's the difference between a filet and a steak? The salmon steak is cut through the bone crosswise (perpendicular to the spine), e bone, a fillet is cut lengthwise parallel to the bone.
Can I make this recipe with salmon filets instead of steaks? Yes! Cooking time will vary though depending on how thick your filets are. I usually sear the filets for 3-4 minutes on the cooktop and then pop them in the oven at 350 for 4-6 minutes depending on thickness.
Will the Thickness of the steaks determine cooking time? Yes. The thicker the steak the longer you leave the salmon on the grill or in the oven. This recipe uses 1″ thick salmon steaks. If yours are thicker you may need to add a minute or two per side.
Do salmon steaks have bones? Yes. You may get a tiny bone here or there whether you eat filets or steaks, but steaks are more likely to have them. No need to worry though, t's not usually a problem.
The Recipe: Simple Grilled Salmon Steaks (made indoors or out)
What you need: as always a great sea salt, and if cooking indoors you will need a grill pan.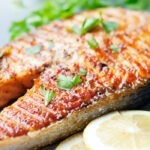 Simple Grilled Salmon Steaks (made indoors or out)
A simple recipe for grilling salmon indoors or out. Great served with a flavorful side dish.
Course:
dinner, Main Course
Keyword:
grilled salmon, salmon steaks
Ingredients
4

salmon steaks, about 1" thick

sea salt and freshly ground black pepper

1 1/2

tablespoons

olive oil

1

tablespoon

butter (or ghee)

lemon wedges for garnish (optional)
Instructions
For cooktop:
Preheat oven to 350 degrees. Season both sides of salmon steaks with generous sea salt and pepper

Heat a grill pan on high heat for 90 seconds. Turn heat down to medium, add olive oil and butter, swirl and then add steaks

Cook each side for 3-4 minutes until seared and golden. Place in the oven for five minutes. Remove from oven, allow to rest for a few minutes, serve with lemon wedges if desired.
For Grill:
Preheat grill to 400 degrees.

Brush both sides of salmon with olive oil and sprinkle with desired amount of sea salt and pepper. Place on grill, close lid and cook for 4-5 minutes (until grill marks are established) turn and cook for 4-5 more minutes. Remove from heat and drizzle with melted butter or ghee. Serve!
MAY I PLEASE ASK A FAVOR?
We small bloggers need all the help we can get. Subscribing and sharing on social media is very appreciated!
STANDARD FTC DISCLOSURE and Privacy Policy: In order for me to support my blogging activities, I may receive monetary compensation or other types of remuneration for my endorsement, recommendation, testimonial and/or link to any products or services from this blog. Please note that I only endorse products that are in alignment with Cook with Me Darling's ideals and that I believe would be of value to my readers.The Organic Kitchen is a participant in the Amazon Services LLC Associates Program, an affiliate advertising program designed to provide a means for sites to earn advertising fees by advertising and linking to Amazon.com. View The Organic Kitchen's Privacy Policy