Eggs Benedict! The stuff dreams are made of…unless of course gluten and dairy are more like a nightmare for you. Luckily, I have found a way to wiggle around those pesky food intolerances with this Whole 30/Paleo Eggs Benedict with Easy Blender Hollandaise Sauce!
This post is sponsored by Tomorrow Sleep: Makers of optimal sleep products engineered with 100 years of research for your best tomorrow. Click and get $100 off your mattress!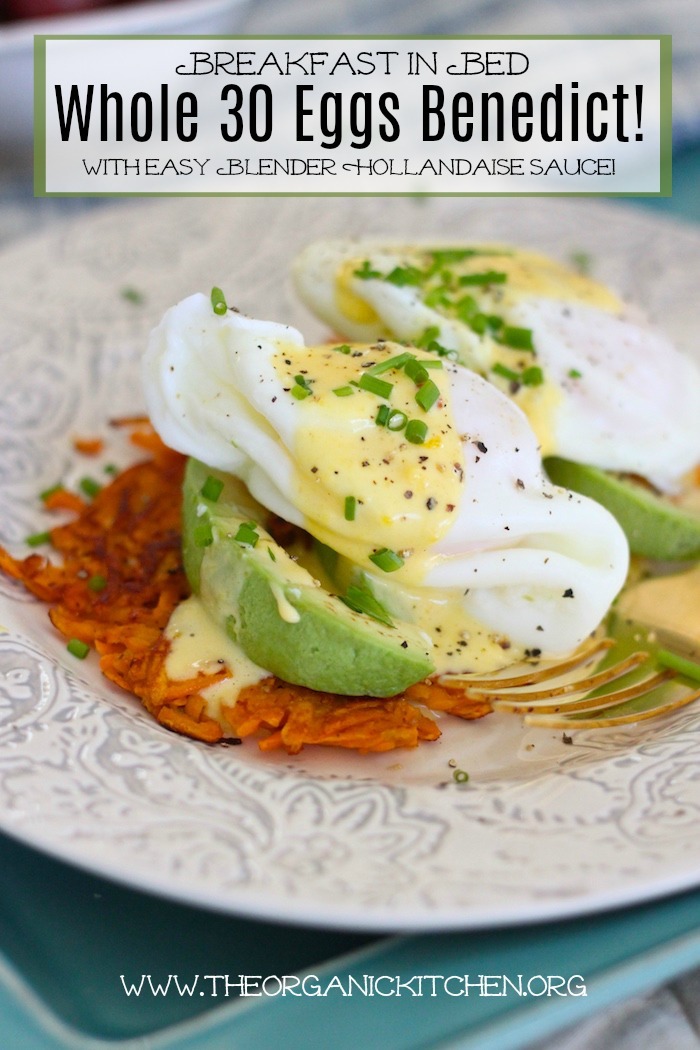 Valentine's Day Means Breakfast in Bed!
You may remember our master bedroom makeover. The comfy mattress, romantic atmosphere and chill vibe were the inspiration for a breakfast in bed recipe series. And being that Valentine's Day is right around the corner it seems like a great time to post another delicious morning meal, and what better way to celebrate love and romance than with Eggs Benedict in your cozy bed?! ( You can check out the first installment of the series "Cheesy Popovers with Chive Butter" and more photos of the remodel  here.)
Whole 30 Eggs Benedict: a Classic with a New Twist!
I love Egg's Benedict. So creamy, delicious and satisfying. For this Whole 30 version I top sweet potato fritters with perfectly poached eggs and an easy Hollandaise sauce made in the blender. Canadian bacon is optional, in fact I opted to 'California-ize' my version with a beautiful, ripe avocado instead. Of course, you could always do both!
The Fritters:
Crispy, delicious, simple, and made with only four ingredients, these sweet potato fritters make a great alternative to the customary English muffin most frequently used for Eggs Benedict. Not only do I love the taste of these fritters but I also think the color makes the recipe even more appetizing, and when you aren't eating bread you need to find the crunch where you can!
The Whole 30 Blender Hollandaise Sauce:
Hollandaise sauce is usually made with butter, and you are certainly welcome to use a lovely grass fed butter in this recipe if you aren't on Whole 30, but my W30 peeps will be happy to know my sauce is made with ghee, so it's completely compliant, and honestly I think it's just as delicious as when butter us used!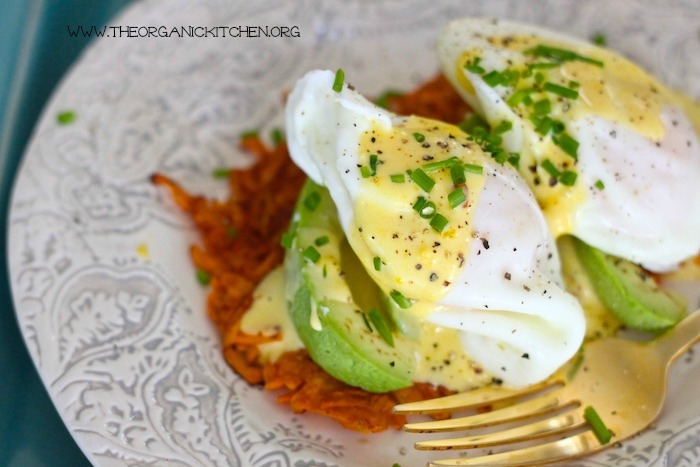 Let's Talk About Poached Eggs…
Poached eggs are very easy to make, but a few tips can really help. First, use really fresh pastured eggs (NOT pasteurized eggs…very different!) Second, use a small pot and add a little white vinegar to the water, this prevents your egg from getting slimy. Third, use the vortex method! Wait what??? The vortex? Don't sweat it, I have a video tutorial that shows you step by step how to do it.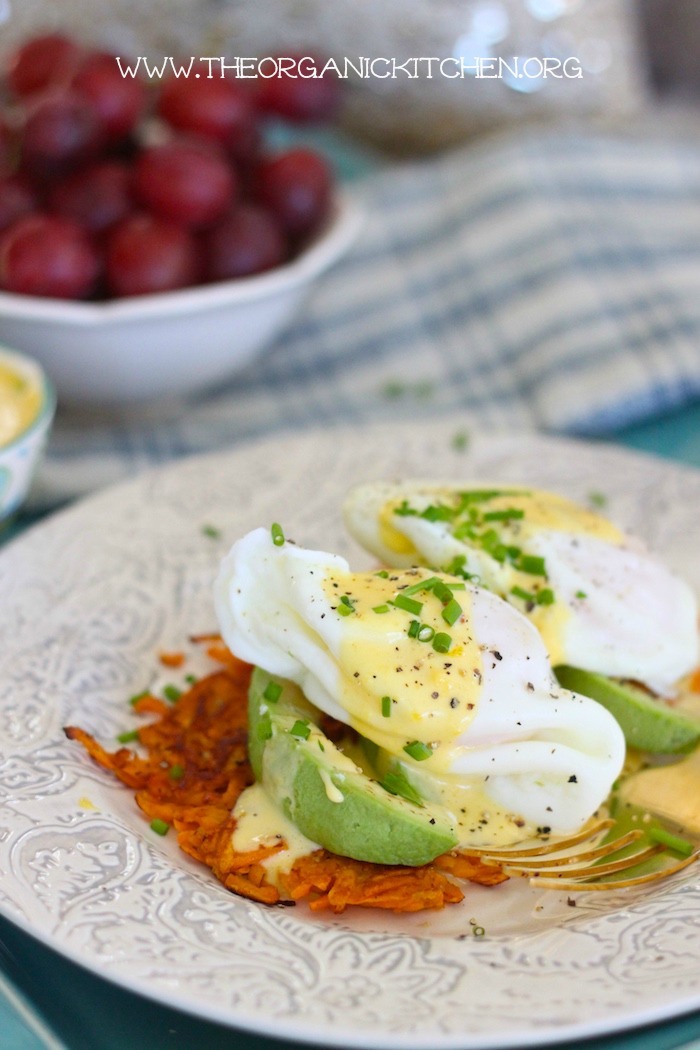 Put it All Together and Voila!
A Valentine's breakfast your health minded love will not soon forget. Lovely, simple, delicious and full of protein, healthy fats and unrefined carbohydrates…pretty much the perfect meal!
Whole 30 Eggs Benedict with Easy Blender Hollandaise Sauce!
Tips on Poaching Eggs and What You Need: Don't know how to poach and egg?  I have a video tutorial that shows you step by step how to do it! You will need a small pot a good pan and a blender.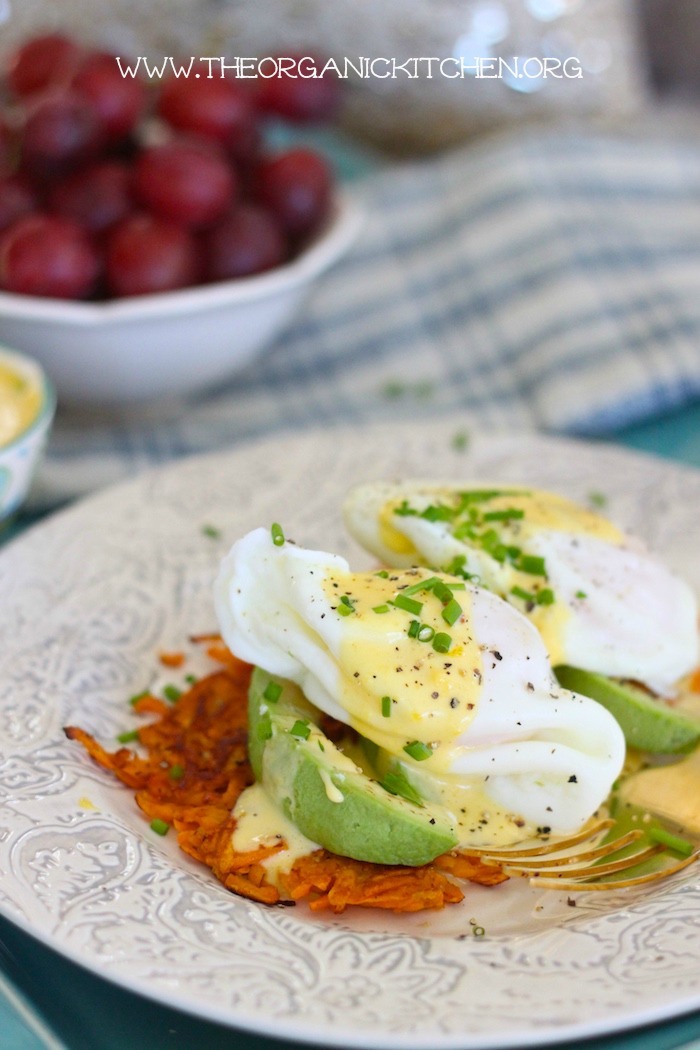 Print
Whole 30 Eggs Benedict with Easy Blender Hollandaise Sauce!
Yield 2-4 servings
An alternative to traditional Eggs Benedict, this version is Paleo and Whole 30 compliant!
Ingredients
Fritters:
1 medium sweet potato, peeled and grated
1/2 teaspoon sea salt
few turns freshly ground black pepper
1 egg, whisked
2 Tablespoons chives, chopped and divided
olive oil or ghee, for pan
Hollandaise Sauce:
3 egg yolks
1 tablespoon lemon juice
a little pinch of red pepper flakes
pinch sea salt
1/2 teaspoon dijon mustard
1/2 cup melted ghee (if not living W30 you can use grass fed butter)
Toppings:
2-4 eggs
1 tablespoon white vinegar
Avocado (optional)
Canadian Bacon (optional)
Instructions
Make Fritters and Poach Eggs:
Peel and grate potato, sprinkle with salt and toss
Whisk egg, pepper and half the chives together and stir into potatoes, mix well
Set a pan on the cooktop on med-high heat
Add olive oil or ghee to coat pan well
While pan heats, place a small pot filled with three inches of water and 1 tablespoon white vinegar on high heat and bring to a boil
When pan and oil are hot but not smoking, use a large spoon to gently place potatoes in pan (about 2 tablespoons per fritter) Use the back of the spoon to spread potatoes into a circle
Cook for 4-5 minutes until first side is golden, gently turn, lowering heat if necessary
While second side cooks, poach eggs and make hollandaise sauce:
I recommend watching the video linked above for a quick egg poaching tutorial. Work in batches poaching two eggs at a time.
Crack two eggs into a small dish
When water in pot is boiling, use one hand to hold the egg dish and use a spoon in the other hand to stir water quickly, forming a 'vortex'. While water is vigorously spinning drop eggs gently right into the center of the vortex
Cook eggs 2 1/2 -5 minutes. 2 1/2  minutes makes for a runny yolk, five minutes cooks them all the way through. I recommend runny of course
While eggs cook, make sauce:
Make Sauce:
Melt ghee (or butter) until very warm but not simmering and set aside
To blender add yolks, lemon juice, dijon and spices
Whirl for 30 seconds, then slowly drizzle in melted ghee (or butter) and blend for 30-60 more seconds. It should thicken immediately
Place sauce in a small pan, and keep slightly warm but don't allow to simmer! Whisk here and there
When eggs are done to your liking use a slotted spoon or fish spatula to remove them from water and set on a paper towel.
Top fritters with avocado slices, Canadian bacon or both, add eggs
Whisk Hollandaise sauce and drizzle over eggs
Sprinkle with remaining chives, sea salt and pepper.
Serve!
Courses Breakfast
Cuisine American