When I really want a healthy meal that feels like it's a treat, I go for these Easy Baked Sweet Potato Wedges with Chipotle Cashew dip! Whether you eat them alone or alongside a delicious green salad or roasted chicken, you can't go wrong.
(This post contains affiliate links. I may make a commission from sales but your price remains the same.)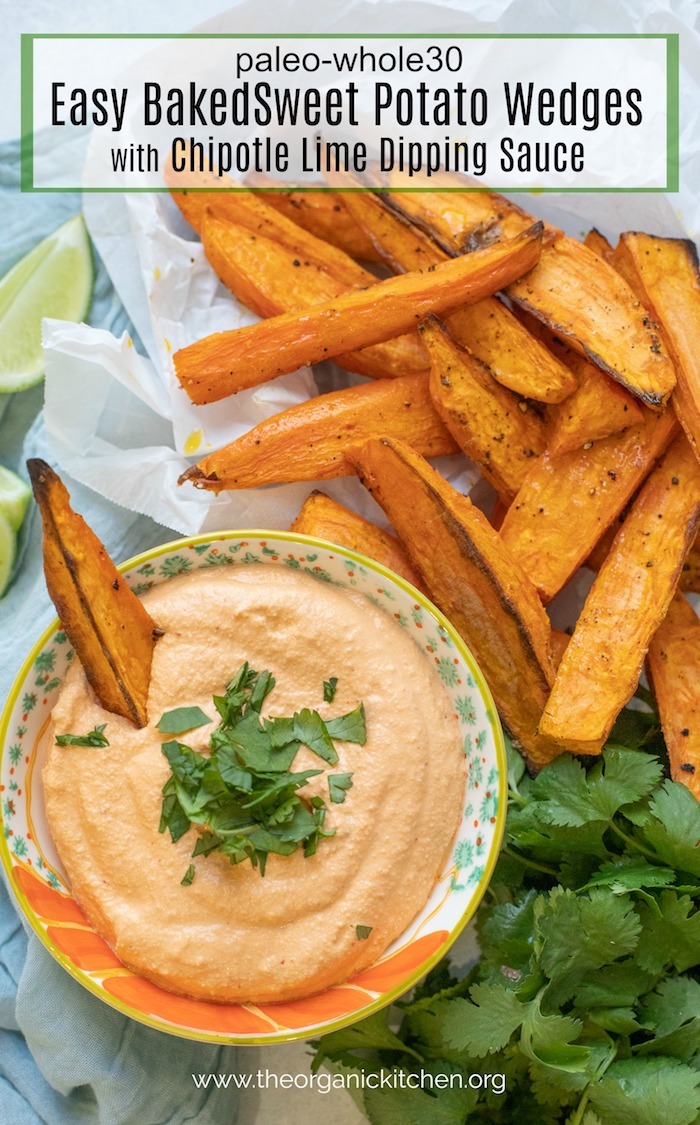 Easy Baked Sweet Potato Wedges with Chipotle Cashew Dip:
The sweet potatoes are cut in half lengthwise and then carefully cut into wedges. Don't go too thick or they will take longer to cook and tend to get mushy in the middle. Drizzle in olive oil, sprinkle liberally with sea salt and freshly ground black pepper, then pop in the oven and roast until the edges are crisp and browned. The secret to getting those browned edges is a hot oven and placing the pan close to the heating implement!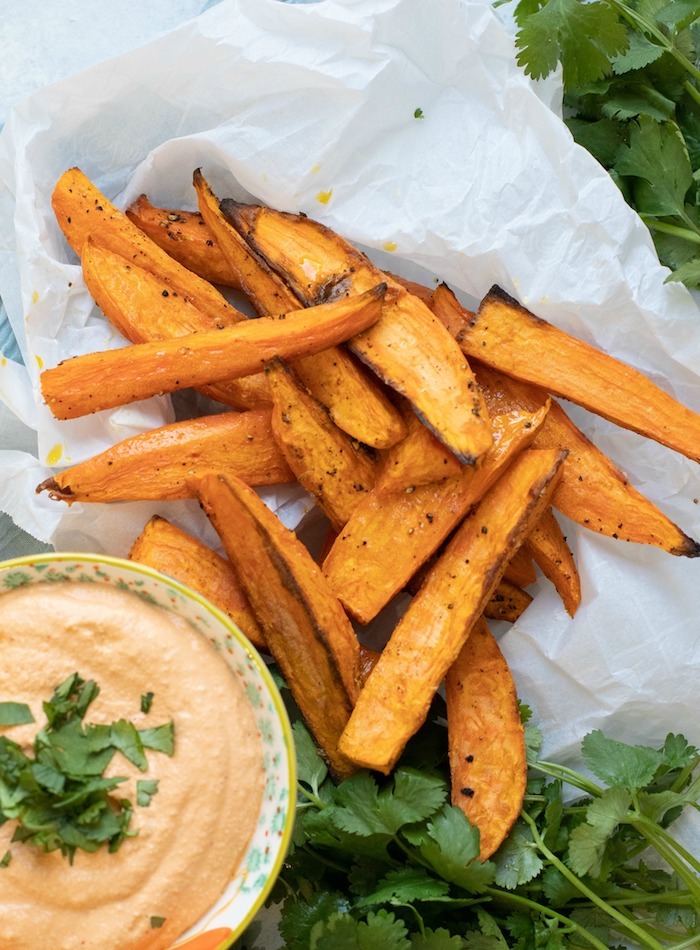 The Cashew Dip:
This chipotle cashew dip is really easy to make. Simply soak the nuts for a few hours (or overnight) and then place in a food processor with garlic, lime juice, sea salt and chipotle chilis in adobo sauce then process until smooth. Then just dip away! If you have leftover dip you can make this crispy veggies tomorrow!
Paleo/Whole 30
These baked wedges and dip are grain free, gluten free, dairy free, vegan, Paleo and Whole 30 compliant! So enjoy with no guilt whatsoever, just pick up a wedge and dip! That said, I noticed one brand of chipotle chilis in adobo sauce that contained sugar, so be sure to read the label if you want to stay Whole 30/Paleo compliant.
The Recipe: Easy Baked Sweet Potato Wedges with Chipotle Cashew Dip
Tips and what you will need: I use chipotle chilis in adobo sauce to bring the heat. You will need a food processor, a rimmed cookie sheet and parchment paper.
Easy Baked Sweet Potato Wedges with Chipotle Cashew Dip
A delicious side dish to roasted chicken or a green salad! I use chipotle chili powder in this recipe to keep it simple but if you prefer more heat use chipotle paste or using actual chipotle chilis in adobo sauce starting with 1/2 a teaspoon and working your way up.
Keyword:
easy side dish recipe
Ingredients
Allow 3 hours time for soaking cashews
2

cups

simmering water

1

cup

raw cashews, soaked

3

medium size sweet potatoes, peeled and cut into wedges (not too thick!. 1/2" at most please)

3

tablespoons

Olive oil, separated (some for potatoes, some for dip)

sea salt

freshly ground pepper

1

large clove garlic, peeled

1/4

cup

fresh lime juice

2-3

pinches

sea salt

1

chipotle chili pepper in adobo sauce (or less if sensitive to heat)

1/4  to 1/2

cup

water, start with a 1/4 cup and add more if needed
Instructions
Bring water to simmer in small pan, turn off heat, add raw cashews to pot, allow to sit at least three hours

When cashews have soaked for at least three hours and you are ready to eat: Preheat oven to 425 degrees. Place rack in upper third of oven. Cover a rimmed cookie sheet with parchment

Peel sweet potatoes, cut in half lengthwise and then cut each half into wedges. About 1/2" thick at widest point

Place wedges on parchment covered cookie sheet and drizzle with 1-2 tablespoons olive oil. Use enough oil that each wedge is lightly glistening with oil, toss

Sprinkle generously with freshly ground pepper and sea salt, toss

Place in oven and roast for 40 -50 minutes, turning potatoes halfway through cooking time
While potatoes cook, make cashew dip:
Place peeled clove of garlic in food processor and process until minced

Strain cashews and discard cooking water

Add soaked cashews, 1 tablespoon olive oil, lime juice, sea salt, 1/4 cup water and 1 pepper in adobo sauce (or less if sensitive to heat)

Process for one minute, if needed add up to another 1/4 cup water for thinning (I prefer mine a little thinner, some people like it thick, totally up to preference)

When dip is the consistency you want and nice and smooth stop processing. Taste and decide if it needs more sea salt or chipotle, then make adjustments accordingly

When potatoes are done (edges browned and crispy) remove from oven and serve with cashew dip
MAY I PLEASE ASK A FAVOR?
We small bloggers need all the help we can get. Subscribing and sharing on social media is very appreciated!