We recently went to New York City to visit our oldest son, his wife and two of our six grand babies. Being that we were in the Big Apple we ate out every single night. New York has such fabulous food! I ordered the most delicious risotto at one restaurant and immediately exclaimed "Oh my gosh this is so good!" I was so happy with my meal that when we got home I had to make my own version of delicious risotto and named it "Oh My Gosh This is So Good" Risotto.
(This post contains affiliate links. See full disclosure at bottom of post)
New York City
We usually travel to NYC a couple of times a year for business and manage to squeeze in some tourist attractions and plays while we are there. But on this trip we really didn't do many tourist-y things, we mostly hung out with our favorite New Yorkers, Nora and Will.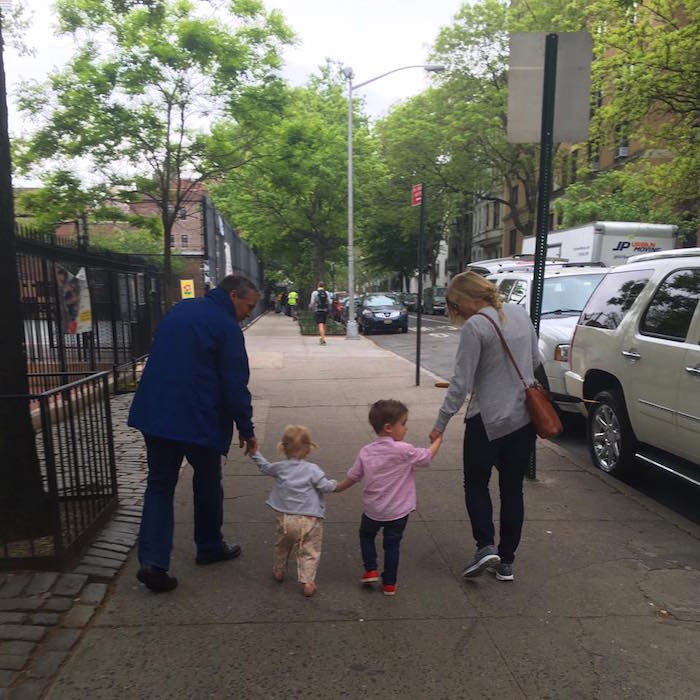 And we walked…boy did we walk! According to my husband's Fitbit we walked between 8 and 10 miles everyday, even walking from Manhattan to Brooklyn and back. We had to work off all that fabulous restaurant food after all.
We had some rain, which made for some very photogenic skies. That tall blue building you see in the background is the Freedom Tower as seen from Brooklyn. The 911 Memorial is a must see. The one tourist attraction we made sure to visit.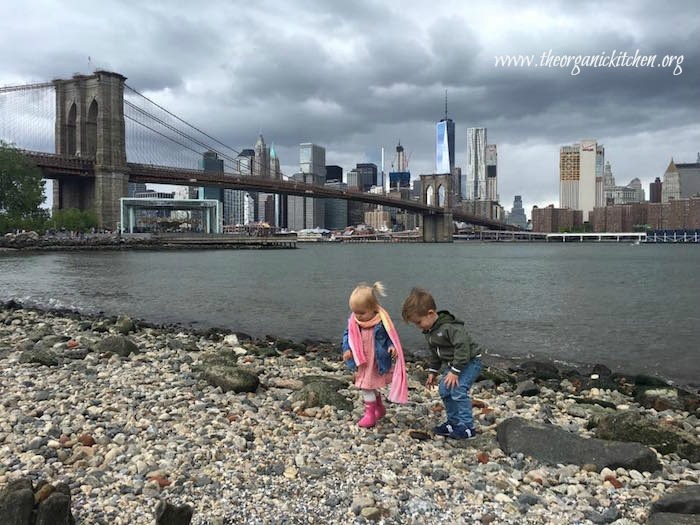 In the evenings we strolled along the Hudson and let the grand kids play in puddles.
This was by far was my favorite trip to New York City. I'll take laid back time with the family over hustle and bustle any day!
Now Let's Talk About How to Make This Risotto: Creamy, rich, goodness in a bowl!
Simply simmer Arborio rice, quality broth, leeks, fresh corn, and summer squash, together then add pecans, Parmesan, a little sea salt, fresh black pepper and basil and you have yourself a perfect meatless Monday meal. Of course you can always add leftover rotisserie or roasted chicken if you prefer. This recipe is gluten free.
Cooked in One Pan!
This recipe is easy to prep and cooks quickly (for risotto) and is made in a single pan. Gotta love easy clean up!

The Recipe: "Oh My Gosh This is So Good" Risotto!
Tips, variations and what you will need: Risotto is made with Arborio rice. Arborio rice is a short grain Italian rice, when cooked, the grains are round and chewy. You can find it in most grocery stores or order delivered to your door here. You will need good quality chicken or veggie stock. Chicken stock will make your risotto richer and more savory than the veggie stock, but it's up to you. Learn to make your own stock on the cooktop, crock pot or Instant Pot. You will need a microplane for zesting citrus and grating cheese.
Summer Corn Risotto
New York has such fabulous food! I ordered the most delicious risotto at one restaurant and immediately exclaimed "Oh my gosh this is so good!" I was so happy with my meal that when we got home I had to make my own version of delicious risotto and named it "Oh My Gosh This is So Good" Risotto.
Keyword:
easy dinner recipe, easy side dish recipe, summer recipe
Ingredients
2

tablespoons

olive oil or ghee

I like ghee because it doesn't smoke on high heat

1

cup

leeks

root trimmed, sliced and roughly chopped

1 to 2

garlic cloves

peeled and finely minced

1

large shiitake mushroom cap

sliced

¾

cup

Arborio rice

1/4

white wine

or water

3

cups

chicken or veggie broth

1

ear corn

kernels shaved off with knife

1

cup

white or summer squash

diced

7

large fresh basil leaves

chiffonade

juice and zest of 1/2 a lemon

1/2-1

cup

Parmesan Cheese

freshly grated

1/3

cup

walnuts

roughly chopped
Instructions
Prep all the vegetables and herbs:
Trim and discard the root from the leek. Cut the tough green tops off and discard.

Cut the white portion in half lengthwise, roughly chop, and rinse in calendar. Set aside.

Husk the corn. Cut the kernels from the cob, set aside.

Dice squash

Remove mushroom stem, cut cap in half and slice.

Finely mince garlic.

Pick the basil leaves and cut into thin strips. Discard the stems.

Zest and juice half the lemon.

Grate cheese with microplane.

In a pot over medium heat, warm 2 tablespoons oil or ghee until hot but not smoking.

Add the leeks, sprinkle with a couple of pinches of sea salt and cook, stirring occasionally, until tender, 5 to 7 minutes.

Add the garlic and cook until fragrant, about 30 seconds.

Stir in the sliced mushrooms and the Arborio rice and cook until the rice is opaque, 2 to 3 minutes.

Stir in ¼ cup wine or water, and cook until the liquid has been completely absorbed, about 1 minute.

Add broth, bring to a simmer. Place lid on pan and cook for 15 minutes or until most of the liquid is absorbed.

Add corn and squash cook for 3 minutes.

Add lemon juice and zest, parmesan cheese, basil and nuts. Cover and cook for 2-3 more minutes. Stir in walnuts and serve.
Another Risotto Recipe
Click for my Butternut Squash Risotto with Candied Pecans recipe. Enjoy! ~ Linda Spiker
MAY I PLEASE ASK A LITTLE FAVOR?
We small bloggers need all the help we can get. Subscribing and sharing on social media is very appreciated!
View The Organic Kitchen's Privacy Policy.
Post tags: gluten free