Sometimes even I am still amazed that my favorite vegetable, the butternut squash, is so versatile. It can be roasted to top a pizza, pureed for a side dish, stuffed into ravioli, made into to a creamy soup, added to salads… the list goes on and on. One of my favorite dishes using this incredibly healthful vegetable is Roasted Butternut Squash Risotto with Candied Pecans.
(This post contains affiliate links. I may make a commission off sales but your price remains the same.)
LET'S TALK ABOUT RICE BABY
Not just any rice is used to make risotto. Risotto is made using an Italian short grain rice called Arborio. When cooked the rounded grains remain firm and creamy because the starch content is a little higher than that of other rice grains.
Risotto is a Bit Like a Two Year Old:
When I I learned to make risotto my cooking teacher emphasized that "risotto needs lots of love" meaning this is not a dish you walk away from. Like a child, the more patience, love and attention you give it, the better it turns out! So plan to spend a leisurely hour in the kitchen, lovingly tending to your risotto.
The Result:
A delicious, creamy, colorful vegetarian dish the whole family will love! Totally worth the the hour in the kitchen, and the loving care.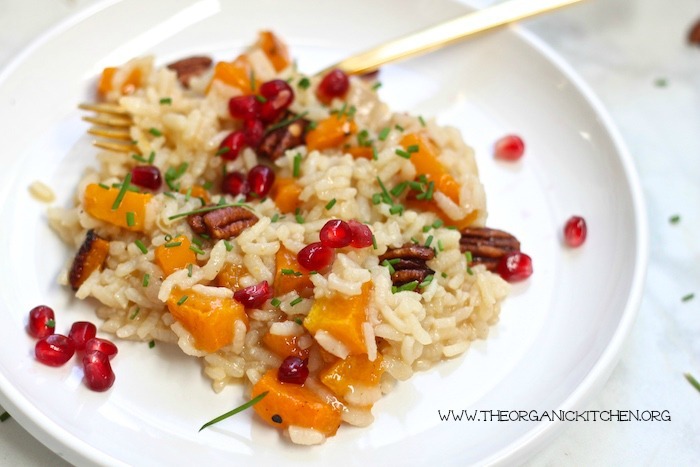 Working With Butternut Squash:
Of course you have the option of buying pre-cut and peeled Butternut squash from the grocery store. My advice here is to make sure it's very fresh if you decide to do so. If it has been sitting in plastic for more than a day my experience is that it doesn't roast well. That said I understand wanting the convenience because working with butternut squash can be difficult unless you have the right tools. You need a good sharp knife (my favorite on sale now!) and a "Y" peeler. With these two tools peeling and cutting a butternut squash is a piece of cake! I promise!
Roasting it is easy! Just drizzle with olive oil, sprinkle with sea salt and pepper and roast.
While squash is roasting caramelize pecans. You can see an in depth tutorial here. Of course you may always use raw nuts if you would rather skip the sugar, or buy store bought candied pecans.
Serving Suggestions:
I love to keep this dish vegetarian, but my husband always wants some form of protein (aka: meat) in his dinner, so to keep it simple I serve it with some store bought organic rotisserie chicken. So do whatever floats your boat! Whatever you choose it'll be delicious.
The Recipe: Roasted Butternut Squash Risotto with Candied Pecans
You will need: A medium sized pot, a"Y" peeler, and a good knife ! If you would rather buy candied pecans than make them, click here.
Roasted Butternut Squash Risotto with Candied Pecans
A sweet and savory side dish or main course. Gluten free, vegetarian.
Keyword:
easy dinner recipe, easy side dish recipe, gluten-free recipe
Ingredients
1

Tablespoon

butter 

3

cups

butternut squash

peeled, diced into 1/2" cubes and roasted

2

Tablespoons

olive oil

4

med shallots

peeled and sliced

1

small clove garlic

peeled and minced

1

cup

Arborio rice

1/2

cup

white wine

4

cups

hot chicken broth

preferably homemade, my recipe linked above

1/2

cup

parmesan cheese

finely grated (sometimes I use Gruyere)

1/3

cup

candies pecans

recipe above or use store bought

1/8

teaspoon

cinnamon

pomegranate seeds

optional

chives

chopped for garnish
Instructions
To Roast Butternut Squash:
Preheat oven to 400 and place oven rack in upper third of oven.

Peel butternut squash with a "y" peeler. Scoop out seeds, slice and cut into 1/2" cubes.

Place on a parchment covered rimmed cookie sheet, drizzle with olive oil. Toss.

Sprinkle with sea salt and fresh pepper, toss. Place in oven and roast for 40 minutes. While squash roasts, begin rice.
For rice:
Prep shallots, chives, nuts

Melt 1 T butter in medium size pot on med/high heat. Add shallots and saute for five minutes.

Add garlic and saute for two more minutes.

Add rice to pot and stir for two minutes.

Add wine. Turn down heat to medium. Simmer till wine is absorbed, stirring constantly.

Add broth, one cup at a time allowing broth to be absorbed between additions. Stirring frequently. It should take about 35 minutes to add all four cups of broth. Stay close to your risotto the entire time. Stirring and adding broth as needed.

When rice is creamy and most of the broth has been absorbed, turn off heat.

Add cinnamon, parmesan, a few pinches of sea salt, and freshly ground pepper (to taste). Stir.

Add roasted butternut squash, I like mine with browned edges.

Add pecans and stir.

Garnish with chives and pomegranate seeds if in season, you can used dried cranberries if preferred.
May I Please Ask A Favor?
We small bloggers need all the help we can get. Subscribing and sharing on social media is very appreciated!

View The Organic Kitchen's Privacy Policy.

Post tags: gluten free, vegetarian