Got Leftovers?
Thanksgiving leftovers are so versatile. They can be used for making broth (follow this recipe using turkey bones), soup (just sub chicken with turkey) and of course sandwiches. This is a simple little recipe I make using my leftover turkey and cranberry sauce.
(This post contains affiliate links. I may make a commission from sales but your price remains the same.)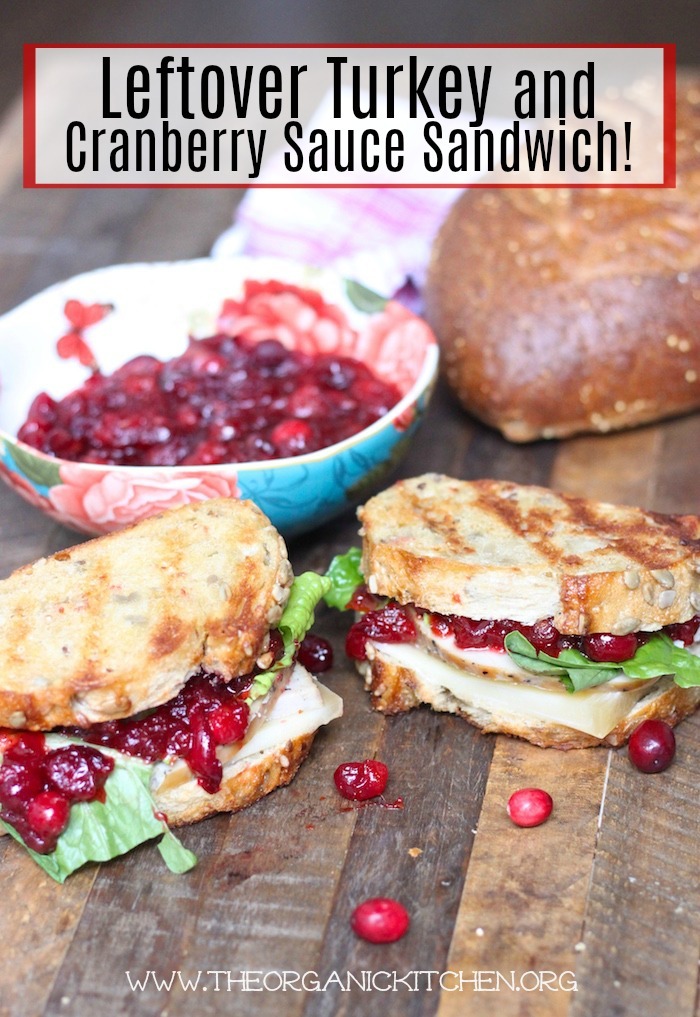 The Homemade Cranberry Sauce:
There is simply no comparison between store bought gelatinous cranberry sauce in a can and homemade cranberry sauce. And before you say "I ain't got no time for that!", let me tell you that it takes five minutes to make! It's the perfect accompaniment to turkey and stuffing on your Thanksgiving table but also makes one heck of a spread for a turkey sandwich!
The Sandwich!
Simply use grill or toast your favorite bread, spread with mayo, and then fill it with leftover turkey, chopped romaine, red onion, mayo and your favorite cheese (I like a good gruyere, raw sharp cheddar or provolone) and then spread with my homemade cranberry sauce. A fabulous lunch in two minutes and none of your holiday foods will go to waste!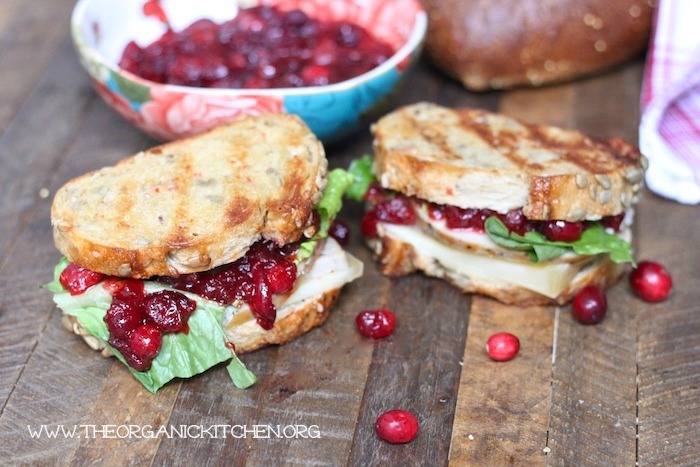 The Recipe: Leftover Turkey Sandwich with Cranberry Sauce
What you will need: homemade cranberry sauce (<– my recipe)
The Turkey and Cranberry Sauce Sandwich
A simple sandwich using leftovers from Thanksgiving.
Ingredients
Your Favorite Bread

grilled or toasted

Leftover roasted Turkey

Cranberry Sauce

my recipe above

Chopped Romaine or baby arugula

Thinly sliced red onion

Cheese

I use gruyere,  raw sharp cheddar or provolone

Mayo
Instructions
Grill or toast your bread. Spread one piece of bread with mayo. Place lettuce, onions, cheese and turkey on bread and top with cranberry sauce.
NEED MORE THANKSGIVING MENU IDEAS?
Take a look at Everything But the Turkey Part 1, Part 2, Part 3 and Part 4!
MAY I PLEASE ASK A FAVOR?
We small bloggers need all the help we can get. Subscribing and sharing on social media is very appreciated!