Go big or go home…that's my motto. When it comes to the Ultimate Mediterranean Appetizer Platter that motto definitely applies!
(This post contains affiliate links. I may make a commission from sales but your price remains the same.)
The Ultimate Mediterranean Appetizer Platter: Pretty fabulous right?
All kinds of savory, salty, and spicy goodness with some sweet relief provided by fruit makes this the platter everyone at the party will be flocking to. And the best part is a lot of it is assembly only! Don't have a big enough board? Find a large wooden serving board here.
Breaking Down The Board: Let's Start with the Cheeses….
We bring the heat with some fresh uber creamy crumbled feta drizzled with olive oil and mixed with minced jalapeño! Spread this spicy goodness on pita or a chip for a treat with a kick. Of course if spicy isn't your bag try feta with sun dried tomatoes for a savory twist. That cube of cheese in between the two is greek feta sprinkled with greek oregano. These cheeses were all found in the deli section at my local Sprouts and Whole Foods Markets.
I am a huge fan of gouda (because it's soooo gouda). Here I use raw gouda from grass fed cows and gouda aged five years, it tastes like caramel and cheese rolled into one! And last but not least soft goat cheese topped with fig spread (a favorite I have shared before on my No Fuss Appetizer Platter). Spread it on your favorite cracker and enjoy!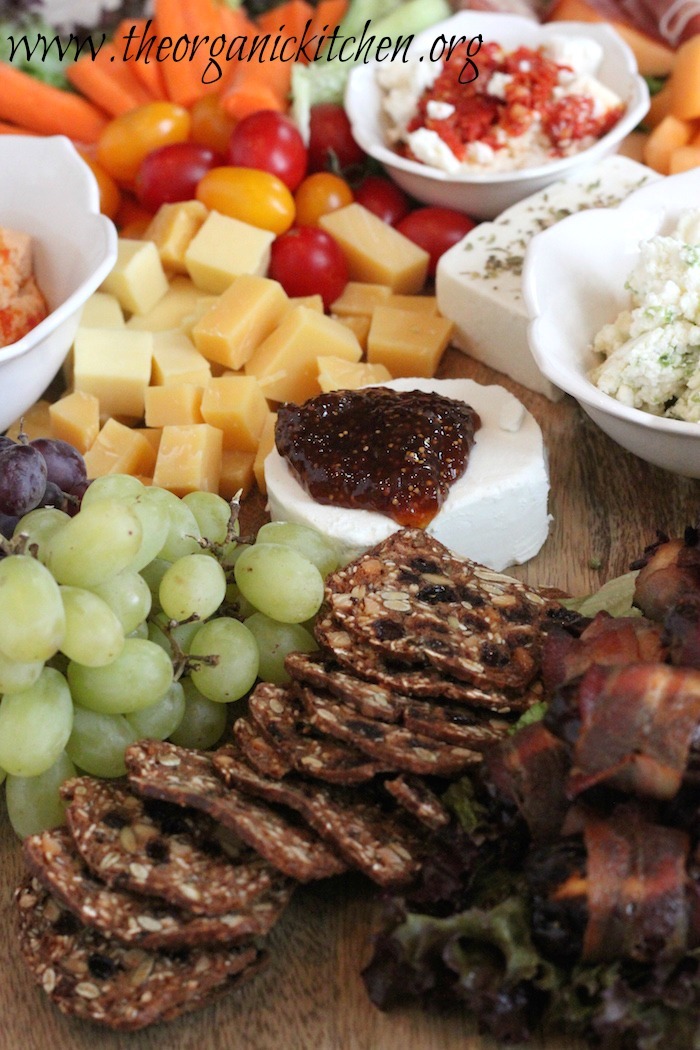 The Hummus, Olives, Tapenade and Bacon Wrapped Dates
Homemade Sun Dried Tomato Hummus (<—click for recipe) is perfect for dipping with pita and a variety veggies!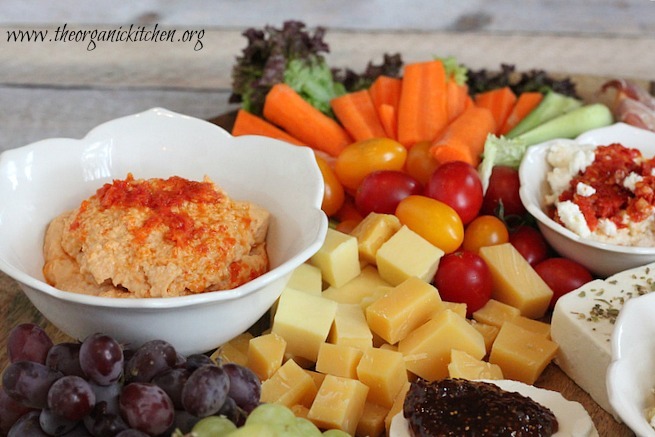 And the the bacon… oh the bacon! Goat Cheese Stuffed Bacon Wrapped Dates are a huge hit at every party and much easier to make than you'd think. And down there in the right bottom corner…that is black olive tapenade. I used store bought because a girl only has so much time!
Of course no Mediterranean appetizer platter would be complete without an assortment of olives.You can usually find these in the deli section of almost any grocery store.
The Fruits, Veggies and Breads:
To counter all the savory, salty and spicy goodness above we add sliced pears, cantaloupe (alone and wrapped in prosciutto), grapes, Persian cucumbers (smaller than their American cousins and the skin can be left on!) sliced carrots and colorful cherry tomatoes. Of course you need something to spread all this amazingness on… so supply an ample amount of sliced toasted baguette, your favorite crackers, flatbreads, chips and pita.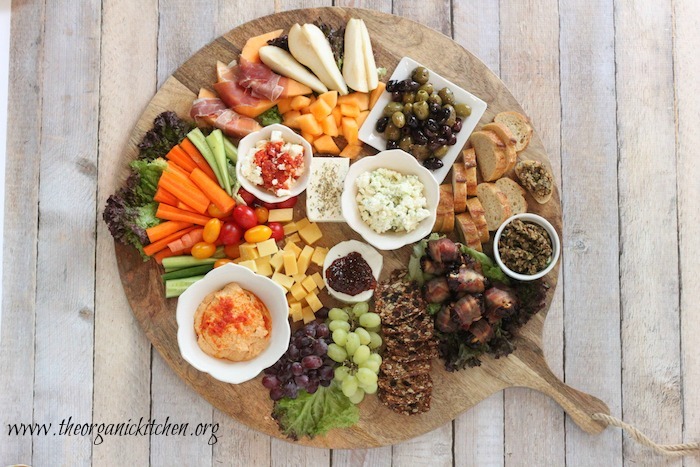 How To Make It Look Pretty:
With all this incredible color you don't have to do much to make this board gorgeous, but I do have some tips: First, find a large wooden serving board you love, after all this is the Ultimate Mediterranean Appetizer Platter, size matters! Arrange lettuce leaves around the edges of the board to garnish and serve as a 'platform' for fruits and veggies. Begin by arranging the items that have more staying power, the sliced Persian cucumber, carrots, olives, hummus, and grapes. Then shortly before guests arrive add cheeses, and last add sliced fruit, crackers, breads and bacon wrapped dates straight out of the oven. Then set out some cheese knives and let your friends have at it! Important tip: set out small portions of everything you make and replenish as the food disappears. That way you keep it fresh throughout the party!
The Recipes: The Ultimate Mediterranean Appetizer Platter
What you will need: recipes for bacon wrapped dates and hummus can be found above. You will need a large wooden serving board & cheese knives. My favorite crackers are Leslie Stowe Raincoast Crisps. If you can't find Adriatic Fig Spread at your grocery store, have it delivered to your door!
The Ultimate Mediterranean Appetizer Platter
My favorite cheeses and spreads for a fabulous appetizer board! This isn't really a 'recipe' per se but more of a guide of what to include on the platter with recipes linked above in the blog post.
Keyword:
easy appetizer recipe, party recipe
Ingredients
Fruits and veggies:
Diced cantaloupe and slices wrapped in prosciutto

green and purple grapes, fresh pears, sliced, and assortment of kamalata olives

sliced carrots, cucumbers, celery and cherry tomatoes
Breads and Crackers:
Sliced toasted baguettes, crackers, pita (fresh and/or chips), tortilla chips
Cheeses:
Aged gouda and raw gouda cut into cubes

Greek feta sprinkled with Mediterrean oregano

Soft goat cheese topped with fig spread, link above I always have the deli cut about 4 oz off a log of fresh soft goat cheese
Sun Dried Tomato Hummus and Bacon Wrapped Dates: recipe linked above
Instructions
Fresh crumbled feta with jalapeno (preferably sheep's milk)
8 oz feta, mix with chopped jalepeno (start with a teaspoon and add more to taste) or mix with chopped sun dried tomatoes to taste. I also like to combine the two! Tomatoes and jalepeno together.

Drizzle cheese mixture with extra virgin olive oil and use to spread on crackers, or as a dip for chips or pita.
Goat cheese with fig jam:
Spoon Fig Jam onto goat cheese and use a knife to spread on crackers
MAY I PLEASE ASK A LITTLE FAVOR?
We small bloggers need all the help we can get. Subscribing and sharing on social media is very appreciated!
View The Organic Kitchen's Privacy Policy.
We are a participant in the Amazon Services LLC Associates Program, an affiliate advertising program designed to provide a means for sites to earn advertising fees by advertising and linking to Amazon.com.