When I used to teach cooking classes, I taught a Moroccan Chicken class that was hugely popular. And why wouldn't it be? Moroccan food is visually stunning, incredibly flavorful and generally speaking, very healthy. This Moroccan Chicken and Cauliflower Rice Platter is no exception!
(This post contains affiliate links. I may make a commission from sales but your price remains the same.)
Moroccan Chicken and Cauliflower Rice Platter!
To make this chicken dish, I simply brush the chicken lightly with olive oil, season with a traditional Moroccan spice blend called 'ras el hanout', garlic, sea salt and black pepper and then roast in the oven. Yes, it's that simple. While the chicken cooks I prepare and make the cauliflower rice.
THE CAULIFLOWER "RICE"
Cauliflower rice is a great replacement for traditional white rice. You can make it yourself by placing cauliflower florets into a food processor and pulsing or simply chop cauliflower finely with a knife, that said many stores sell cauliflower rice already prepared now. If you aren't sure, ask! I am all about making life easier as long as quality isn't compromised. I find the store bought cauliflower rice is just as good as doing it yourself. I sauté the cauliflower rice in olive oil and add sweet shallots and zucchini, making the perfect, healthy bed for this amazing roasted chicken.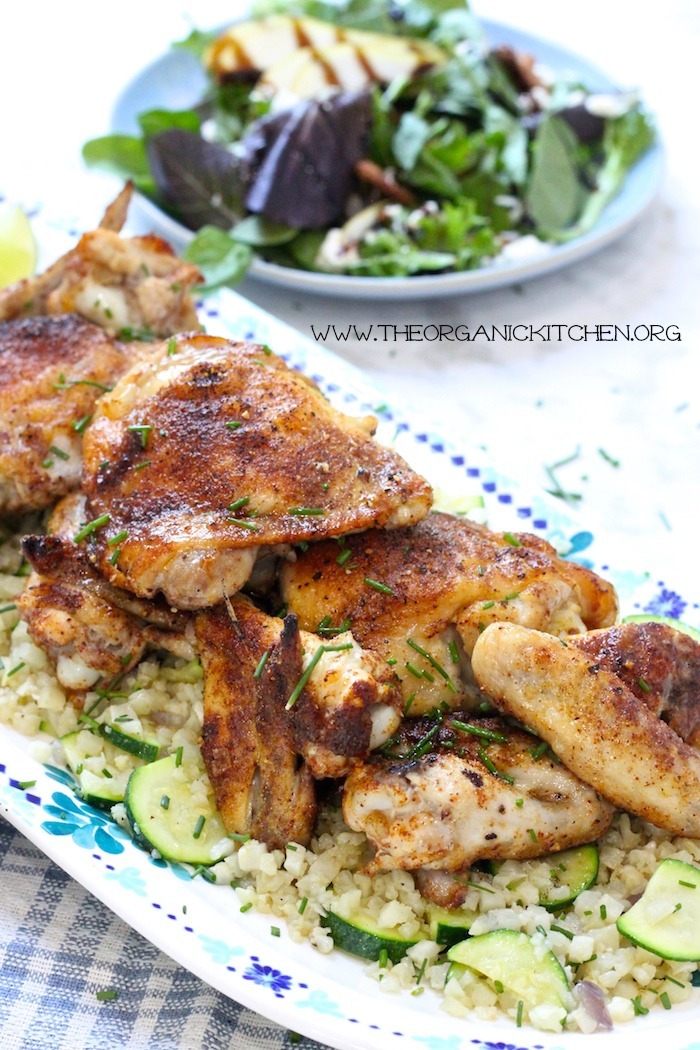 Feed a Crowd!
One of the best parts about this recipe is that it's super easy to feed a crowd. You can literally place as much chicken as will fit on a pan and roast it all at once, then serve. Guests are happy because it tastes fantastic and you are happy because there is very little clean up and no having to tend to the chicken!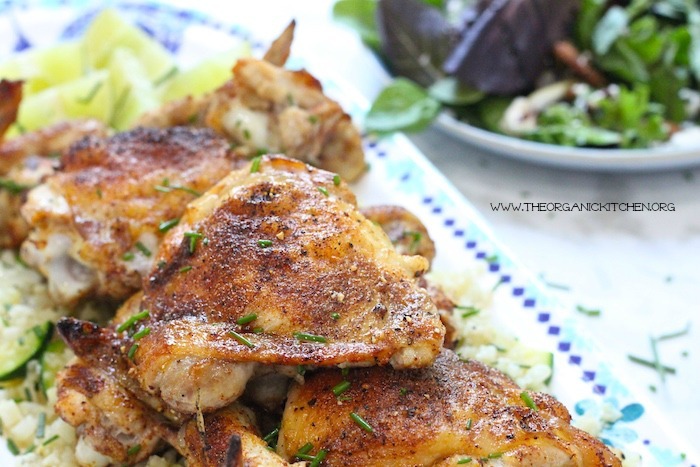 The Recipe: Moroccan Chicken and Cauliflower Rice Platter
Serving suggestions and what you'll need: if you need a side salad for this dish I recommend my Greens with Asian Pears Salad. You will need the Middle Eastern Spice blend "Ras el Hanout" , if your grocery store doesn't carry it, you can have it delivered to your door. Many grocery stores carry pre-made cauliflower rice, but you can also make it yourself by placing cauliflower florets into a food processor and pulsing or simply chop cauliflower finely with a good knife! You can also make this recipe in a grill pan.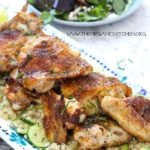 Moroccan Chicken and Cauliflower Rice Platter!
A simple and delicious take on a traditional Moroccan meal. Paleo/Whole 30 compliant.
Keyword:
easy dinner recipe, Paleo recipes, Whole30 recipe
Ingredients
The Chicken:
4

large chicken thighs, bone in skin on

8

chicken wings

Ras el Hanout

Sea salt

Freshly ground black pepper

Garlic powder

3

tablespoons

olive oil (give or take)
The Cauliflower Rice:
4

medium size shallots, peeled and sliced

1

zucchini, thinly sliced and cut in half (forming half moons)

6

cups

cauliflower rice (make your own or buy store bought

Sea salt and freshly ground pepper

1

tablespoon

chives chopped, for garnish

1

lime, quartered
Instructions
I use pre-made cauliflower rice. If you are making your own allow a little more time and see instructions in blog post above.

Preheat oven to 450 degrees and move oven rack to center position. Place parchment paper on cookie sheet and set aside.

Lightly brush all sides of chicken with olive oil, then generously sprinkle with ras el hanout, garlic powder, sea salt and freshly ground black pepper

Place chicken in a single layer on parchment covered cookie sheet and place in oven (thighs should be skin side up)

bake for 25-30 minutes or until chicken is done
While chicken cooks start cauliflower rice:
Prep shallots and zucchini. Pour 2 tablespoons olive oil into large pan and turn heat to medium/high heat. When oil is hot but not smoking, add shallots and cook for 3 minutes stirring occasionally.

Add zucchini and sear for 2-3 minutes. Add cauliflower rice and if necessary add another tablespoon olive oil. Stir frequently. Cook for another 5-6 minutes. Season with salt and pepper to taste
To Plate:
Place cauliflower rice on platter, top with chicken, garnish with chives and limes
MAY I PLEASE ASK A FAVOR?
We small bloggers need all the help we can get. Subscribing and sharing on social media is very appreciated!