If you have been reading my blog for even a little while I am sure you have caught on to the fact that I am a big fan of homemade bone broth. But I also understand why many people won't make broth themselves. While it is very little work, it does take a while to simmer itself into the rich golden health elixir that it is. And while I like the smell of bone broth filling the house I understand that many others don't. So today I am going to let you in on a little secret: You can make chicken broth in as little as 30 minutes without smelling up the house! How? The Instant Pot!
(This post contains affiliate links. See full disclosure at bottom of page)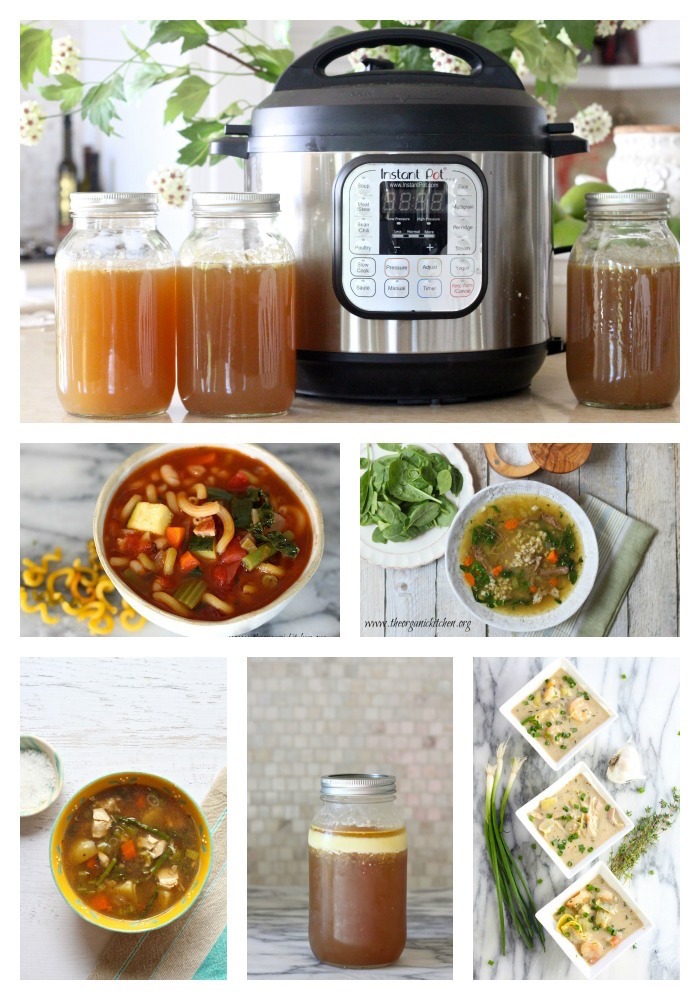 How To Make Chicken Broth in As Little as 30 Minutes!
Yup. It's true…simply use the 'frame' from a roasted chicken, some vegetables and spices, put all of it in the Instant Pot and close the lid. Pressure cook on high for 30 minutes or up to 2 hours (I prefer two hours, it turns out richer and a darker brown!) and you have fresh, nutrient dense, homemade bone broth! It's that simple.

The Instant Pot is a completely programmable Multi-Functional Cooker–Pressure Cooker, Slow Cooker, Rice Cooker, Saute/Browning, Yogurt Maker, Steamer & Warmer! It's pretty fabulous.
Why Homemade Broth?
Bone broth is nutrient dense! It contains vitamins and minerals that are easily absorbed by the body including calcium, magnesium, phosphorus, silicon, sulfur chondroitin, glucosamine, and a variety of trace minerals. Bone broth is rich in gelatin which supports healthy digestion. Broth has natural anti-inflammatory properties and inhibits infections. Store bought just doesn't measure up in nutrients or taste!
After cooling broth, store in mason jars or ice cube trays with lids (for those smaller jobs)…
…and then use that broth as a base for all kinds of soups, vegetable purées, risotto, or simply drink broth all by itself like tea!
The Recipe: Chicken Broth in As Little as 30 Minutes!
Tips and what you will need: You will need an Instant Pot pressure cooker, mason jars and ice cube trays with lids. Of course I have instructions on how to make broth on the cooktop or slow cooker as well! More Instant Pot Recipes: Eggs en Cocotte, BBQ Baby Back Ribs, Pulled Pork Tacos, Pulled Pork Mini Tacos. To learn to make beef broth, click!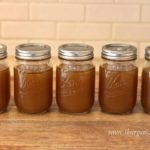 Chicken Broth in As Little as 30 Minutes!
You can make chicken broth in the Instant Pot in as little as 30 minutes. That said I prefer cooking for 120 minutes because the broth is richer and a deeper color.
Keyword:
easy lunch recipe, how to, Instant Pot
Ingredients
1

chicken frame, leftover bones and giblets (from roasted or rotisserie chicken, if using a store bought rotisserie chicken ask butcher for giblets)

filtered water

1

Tablespoon

apple cider vinegar (I use Braggs)

1

Tablespoon

whole pepper corns

1

Tablespoon

Herbs de Provence

3

large cloves garlic

2

carrots, cut in half

1

yellow or white onion, quartered

2

stalks celery, cut into thirds

3

pinches

sea salt
Instructions
After roasting and carving a chicken place the 'frame' and any extra bones, giblets etc. into the Instant Pot. Add all other ingredients.

Fill water to the 4 liter mark. You can let it sit for an hour (this gives the apple cider vinegar time to do it's job of releasing more minerals from the bones) or just close the lid and cook immediately. Place the release valve in the sealed position (don't forget this step!) and then set to pressure cook "high". You can cook for as little as 30 minutes to make broth. I like to set the timer for 120 minutes (2 hours) for a richer, darker broth.

Now you walk away and let the Instant Pot work it's magic!

When the cooker is done it will go into warm mode and stay there until you turn it off!

So you can leave the house, go to sleep, whatever and it will stay warm till you are ready.

Press 'cancel' and use an oven mitt or wooden spoon to release the valve.

Carefully remove the inner pot and pour broth through a strainer into a large bowl. After broth cools, pour into mason jars and ice cube trays. I like to fill mason jars 3/4 full and transition from fridge to freezer to prevent cracking.
You can order an Instant Pot on Amazon or straight from Instant Pot! Just click the banner below.
MAY I PLEASE ASK A LITTLE FAVOR?
We small bloggers need all the help we can get. Subscribing and sharing on social media is very appreciated!
All photos and recipes are copyrighted by Linda Spiker.
Post tags: Gluten free, grain free, dairy free, whole 30