Last week I realized that I don't have a BBQ Rib recipe on my blog! I thought I'd have to wait till next summer to post one. But then I thought why wait? Why not make 'BBQ' ribs in the Instant Pot! And so I did. Imagine, Baby Back Ribs in Red Wine BBQ Sauce made indoors in December!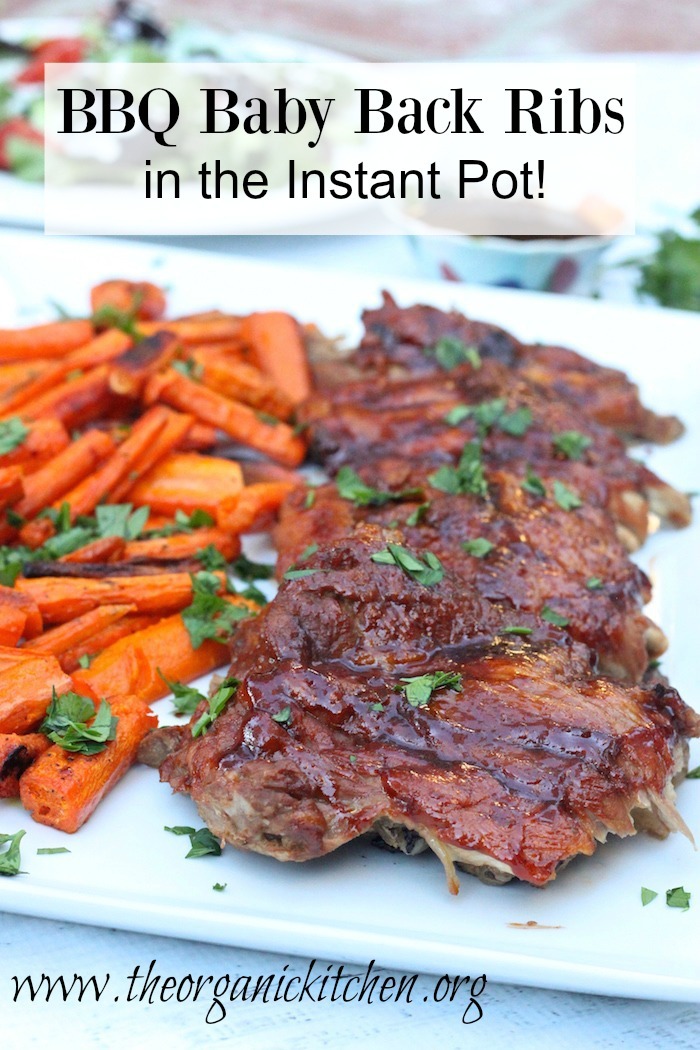 BBQ Ribs in December, Crazy Right?
If you think these ribs look incredible, believe me when I tell you they taste even better! And they are so easy to make. You push a couple of buttons and walk away. No lie. The hardest part in fact, is removing the ribs from the Instant Pot without all the meat falling off the bone!
So how did I do it?
I put the ribs in the pot with white grape juice to braise, then I pressure cooked them for a half an hour! I removed them from the pot, slathered them with my homemade Red Wine BBQ Sauce and broiled them in the oven for six minutes just to caramelize the sauce!
And seriously, the meat is so tender that it literally falls off the bone. The BBQ sauce is pretty fantastic too.
Instant Pot Giveaway!
So if you haven't already heard, the Instant Pot is an amazing new small appliance that takes the place of a rice cooker, a pressure cooker, a steamer and a crock pot! It makes everything from poached eggs, rice and oatmeal to whole chickens, roasts and chicken broth (broth in 30 minutes with no smell!) It's really quite amazing. The Instant Pot company has generously offered to give one of my readers an Instant Pot! All you have to do is enter to win and it only takes a few seconds.
The Recipe: Baby Back Ribs with Red Wine BBQ Sauce!
Tips and what you will need: You can make the BBQ sauce up to two days in advance or make it while the ribs cook. Totally up to you. You will need liquid smoke which can be found in some grocery stores or have it delivered to your door! If you need them, Instant Pot Cookbooks are available!  More Instant Pot Recipes: Eggs en Cocotte, Pulled Pork Tacos, Pulled Pork Mini Tacos.
Good luck to all who enter! I wish all of you could win and Instant Pot but even if you don't win you can buy one! You can order on Amazon or directly from Instant Pot by clicking the banner below.
 MAY I PLEASE ASK A FAVOR?
We small bloggers need all the help we can get. Subscribing and sharing on social media is very appreciated! 
All recipes and photos are copyrighted and owned by Linda Spiker. Do not use without permission.
Post tags: Gluten free, grain free