Snacking. It can be a problem. Your kids come home from school, run to the pantry and pull out the fastest, most convenient, usually least healthy option available and inevitably you meander over and start eating what they are eating. Not so good. If you would like to start the new year off with healthier eating habits, I have some nutritious snack ideas that both you and the kids will love.
Post sponsored by Made In Nature.
How to Make Healthy Snacking Do-Able:
Keep it simple and quick!
Make it fun and delicious.
Have it ready as the kids walk in the door so the healthy option is the first thing they see.
First up: The After School Vanilla Strawberry Smoothie!
Fruit and protein to hold you and the kids over until dinner, and this delicious smoothie literally takes two minutes to assemble and blend! Use a colorful straw and kids get super excited. They really do. (Ok…so do I).
Recipe: 1 cup full fat vanilla yogurt, 1 small ripe frozen banana, 1 cup frozen strawberries, 3 pitted dates (make sure pits are indeed gone before putting in blender) 2 tablespoons almond butter. Blend till smooth. Makes 2 large or four small servings.
Fruit and Cheese Figgypops!
So cute and it only took five minutes to assemble these cute pops. And kids love eating anything off a stick, even healthy stuff!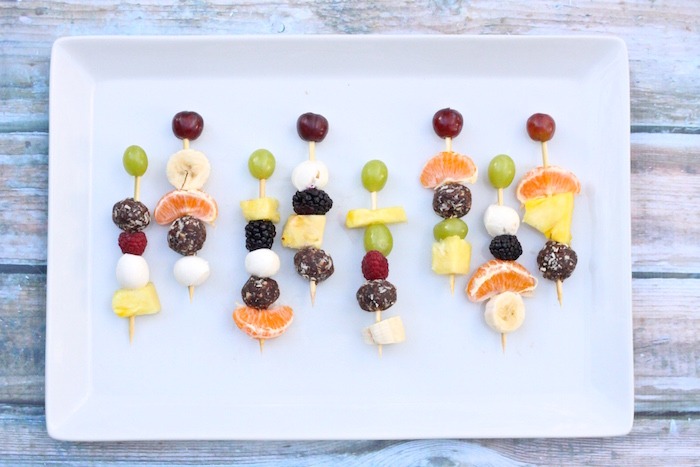 Recipe: just slide any fruit, cheese and dried fruit/energy ball you and your children love onto a skewer and serve. I used grapes, pineapple, tangerines, banana, raspberries, blackberries, fresh mozzarella packed in water and Figgypops Tart Cherry Super Snacks, a blend of organic figs, tart cherries, walnuts, and cacao nibs — covered in coconut!
Almond Butter Apples with Cinnamon Coconut Chips!
Kids love dipping food, and with this snack you can just set out the ingredients and the kids can dip the apples and sprinkle them with coconut chips all by themselves! And trust me you will love this snack just as much as they do.
The recipe: Sliced green or red apples spread with almond or peanut butter and then sprinkled with coconut chips. I used Cinnamon Swirl Coconut Chips from Made in Nature. Organic, non GMO and no refined sugar! The cinnamon really adds a nice flavor and is a natural anti-inflammatory!
Fruit and Yogurt Parfait!
Kids love yogurt, fruit and things that go crunch. I line up these cups and assemble in three minutes.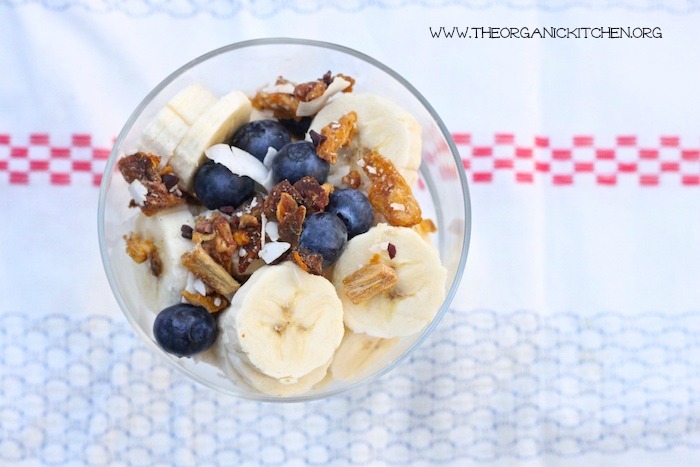 The Recipe: Layer dried fruit and nut mix with your choice of yogurt, top with fresh berries, bananas, or whatever fruit you wish and sprinkle with a little more dried fruit and nut mix. I used organic Fruit and Nut Fusions that are refined sugar free, non GMO and come in several amazing flavors!
Green Eggs and Ham
Protein and healthy fats to satisfy appetites until dinner. This snack does require a little preplanning: you will need to boil some eggs ahead of time.
The Recipe: To boil eggs: Set four eggs in pot of cold water, making sure eggs are submerged with at least 1″ of water above the eggs. Bring to a boil. Turn off heat and let eggs sit in water for 12 minutes. Run under cold water and allow to cool. Peel eggs, cut in half and use a small spoon to scoop yolks into a bowl. Add 1/2 a ripe avocado to yolks and mash with a fork until smooth and creamy. Spoon back into eggs and sprinkle with sea salt, pepper and chopped cooked bacon.

For nearly 25 years, Made In NatureTM has been on a culinary adventure to discover the world's best-tasting, healthy organic foods that will inspire you to enjoy eating well. Visit their Recipes page and discover your new, secret ingredient.
MAY I PLEASE ASK A LITTLE FAVOR?
We small bloggers need all the help we can get. Subscribing and sharing on social media is very appreciated!
All photos and recipes are copyrighted by Linda Spiker.