There aren't many things I like better than a perfectly cooked salmon filet. To me, 'perfect' means a seared, crispy, deliciously seasoned top and a tender, flaky middle. Set that fabulousness on top of a bed of greens with some roasted potatoes and you have a complete meal salad that is the stuff dreams are made of. My dreams anyway…
(This post contains affiliate links. See full disclosure at bottom of post)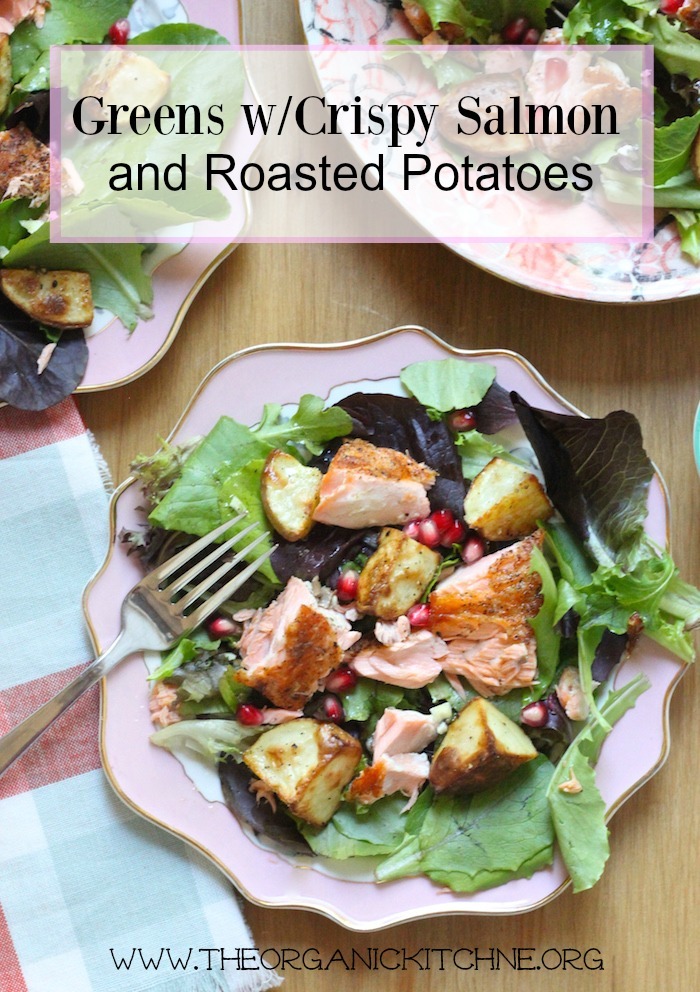 It's The Whole Package:
How often does a single salad have everything you need? Greens, protein, healhty fats and antioxidants in one fell swoop!
Why I Love This Meal:
While the potatoes are roasting I prepare the dressing and the salmon, then pop the fish in the oven with the potatoes. Both will come out perfectly done, with delectable browned edges and the entire meal only takes about 40 minutes to make start to finish. Plus this meal is high in protein, omega 3 fats and you get your greens!
TIPS FOR BUYING FISH:
1. It's best not to buy fish wrapped in plastic. You should be able to smell the fish you are buying. I always buy mine from a fishmonger I trust. If he is handling it, cutting it etc… he will know if it's not fresh.
2. Try to buy fish the day you plan on making it.
3. When selecting fish always point to the piece you want. In stores the freshest fish is placed in the front of the window, closest to you, and the fish from the day before is placed in the back, closest to the fishmonger. So when you are looking at the fish closest to you and ask for it, he pulls it from the back. It doesn't mean there is anything wrong with that fish from the day before, it's just not the freshest…and you want the freshest!
The Dressing:
I use a white balsamic vinaigrette on this salad. It's a smooth, lovely compliment to the flavorful fish. I use Prelibato aged white balsamic from Italy, hands down the best there is! When in season, I sprinkle with a handful of pomegranate seeds for extra color, flavor and antioxidants, but they are completely optional. 
 The Recipe: Greens with Crispy Salmon and Roasted Potatoes
Tips and what you will need: This meal is grain free, dairy free, gluten free and Whole 30 compliant. You will need an oven safe grill pan, a fish spatula and parchment paper. I use Prelibato White Balsamic. Click here to see how to easily seed a pomegranate!
MAY I PLEASE ASK A FAVOR?
We small bloggers need all the help we can get. Subscribing and sharing on social media is very appreciated! 
Gluten free, grain free, dairy free