The word that comes to mind as I begin to describe this Salted Caramel Pecan 'No Churn' Ice Cream is…decadence. This ice cream is so rich, creamy and delicious it almost seems impossible that it is made without an ice cream maker!
(This post contains affiliate links. I may make a commission off sales but your price remains the same.)
 SO HOW DOES "NO CHURN" ICE CREAM WORK? And More Recipes…
Well, it's easy. You use a hand mixer or stand mixer (or even a whisk!) to whip up fresh organic whipping cream, sweetened condensed milk, vanilla etc…  then add any additions you like! In this case I used  salted caramel and pecans. Then pour into a container, cover and freeze for at least four hours. Yep, that's it. What you end up with is amazingly creamy, delicious ice cream, and no ice cream maker needed! For more 'no churn' recipes, check out my "Vanilla Bean", my "Orange Shortbread Cookie" and on our sister blog Cook with Me Darling our "Blueberry Swirl!"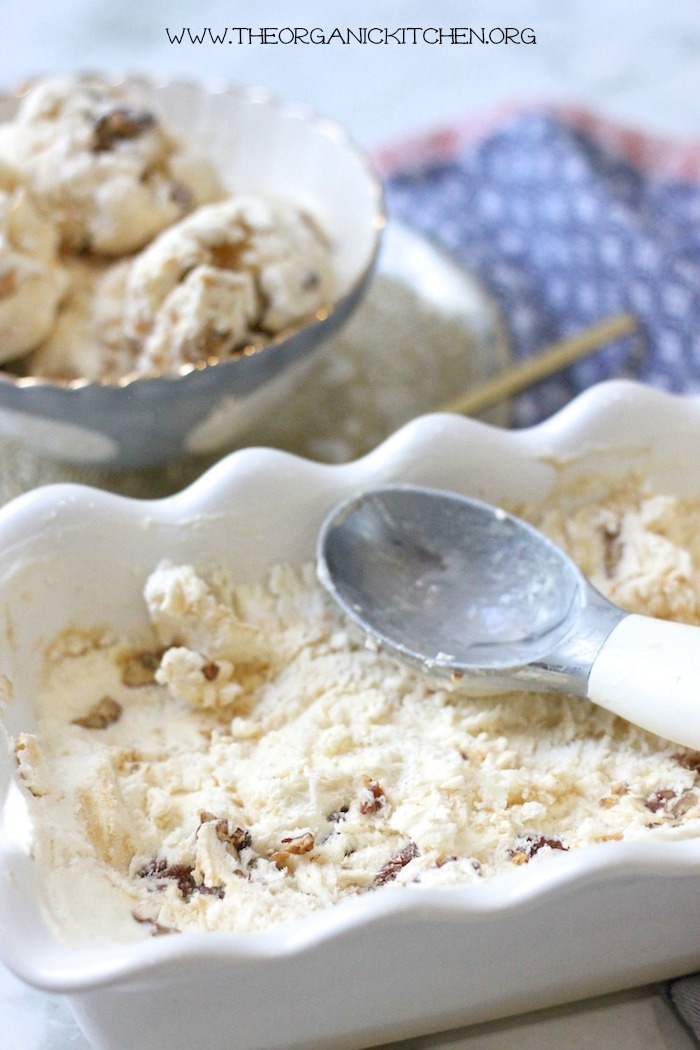 TO MAKE YOUR OWN SWEETENED CONDENSED MILK OR NOT, THAT IS THE QUESTION:
This recipe calls for sweetened condensed milk. Making your own is really easy, but of course you can buy store bought if you prefer. There are some really good organic brands out there! That said, this is how easy homemade sweetened condensed milk is to make: Put milk and organic sugar in a pot, bring to a simmer and leave alone for about 40-50 minutes. You can do whatever you want for that 40 minutes, just check on it here or there. Then cool before using in your ice cream. Easy as pie and you can find the recipe here.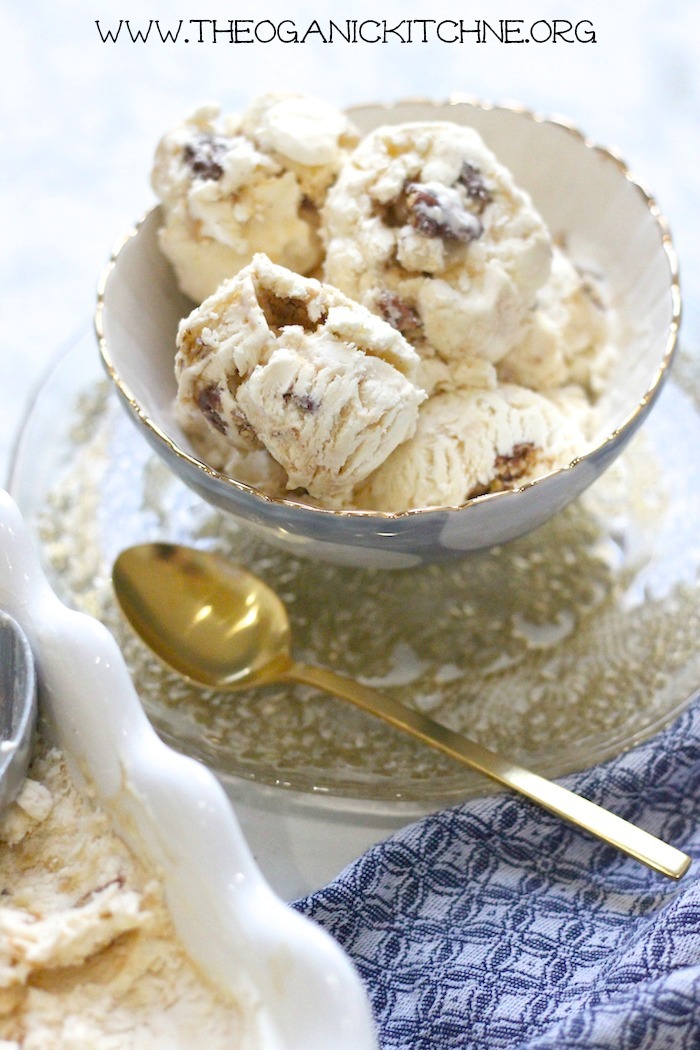 The Salted Caramel:
Again you can make your own (I happen to have a tutorial) or you can buy organic salted caramel sauce from the store, which ever you prefer!
The Recipe: Salted Caramel Pecan 'No Churn' Ice Cream!
Tips and what you need: a hand mixer or stand mixer for ice cream base. If you don't have a mixer you can even whisk cream by hand! To store ice cream I recommend a glass baking dish with lid or Tovolo Ice Cream Containers. I always recommend vanilla paste over extract, it has less alcohol so that vanilla flavor shines through! Plus it gives you those pretty vanilla flecks!