I love sweet potatoes. My husband loves white potatoes. And neither of us is calling a lawyer because we have found a way to settle our potato relationship woes: Orange and White Easy Potato Gratin, the best of both worlds!
(This post contains affiliate links. I may make a commission from sales but your price remains the same.)
Orange and White Easy Potato Gratin: So easy!
Simply slice your potatoes, drench in cream, parmesan, green onion, thyme, sea salt and pepper, and arrange in rows. Then smother with more parmesan, bake, add a generous helping of gruyere, and voila!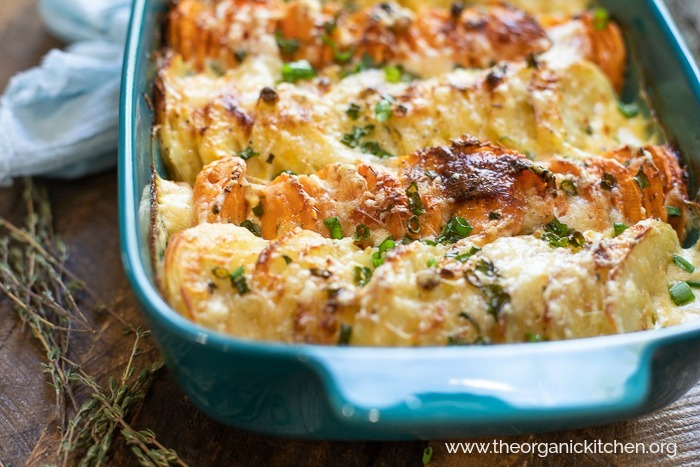 Shave Some Time Off Prep By Using a Mandolin….See What I Did There?
A mandolin is a utensil that shaves veggies into thin slices and it can shave some time off your prep as well. This recipe is pretty quick. But if you want to save about five minutes, use a mandolin! Not only will this give you hands a break, but your slices will be perfectly thin and even.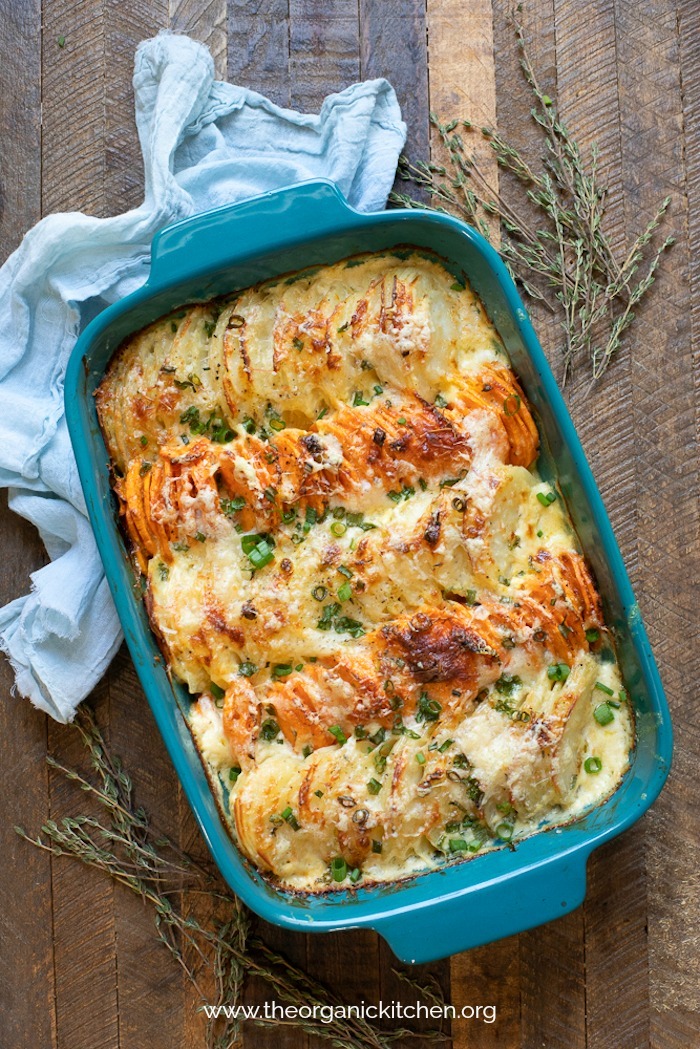 Need Thanksgiving Recipes?
Check out Everything You Need for Your Holiday Feast!
The Recipe: Orange and White Gratin Potatoes
Tips and what you need: a mandolin or very sharp knife and 8×12 baking dish. I love Maldon's Flaked Sea Salt and buy it by the tub to save money.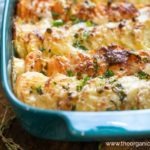 Orange and White Gratin Potatoes
Creamy, cheesy, crispy potato goodness for any meal or holiday celebrations!
Ingredients
2

cups

heavy whipping cream

1

teaspoon

fresh thyme, leaves removed from stems and chopped

6

green onions, sliced thinly, whites and greens separated

1 1/2

cups

freshly grated Parmesan cheese, separated

sea salt and pepper, to taste

1/2

cup

grated gruyere

3

large russet potatoes, peeled and thinly sliced

(about 2 1/4 pounds)

2

large sweet potatoes, peeled and thinly sliced

(about 2 pounds)
Instructions
Preheat oven to 425 degrees and place oven rack in center position

Grab two large bowls. In each bowl place 1 cup cream, 1/2 cup parmesan cheese, 1/2 teaspoon thyme the white parts and light green parts of onions (half in each bowl, reserving dark greens for later) 2-3 generous pinches of sea salt and pepper. Whisk well. Set aside

Using a mandolin or sharp knife, slice potatoes thinly. Place sweet potatoes in one bowl of cream and white in the other bowl. Toss and stir until potatoes are covered with sauce

Arrange slices in baking dish in rows (three white, two orange). I like to lean each row in the opposite direction of the previous row. Pour the cream that remains in each bowl over potatoes. Sprinkle with remaining 1/2 cup parmesan cheese and some more sea salt and pepper

Cover baking dish with lid or foil and bake for 30 minutes. Remove foil, add grated gruyere to top of potatoes. Bake another 20 minutes until potatoes are soft and cheese is crispy and golden

Garnish with desired amount of reserved greens from onions, serve
MAY I PLEASE ASK A FAVOR?
We small bloggers need all the help we can get. Subscribing and sharing on social media is very appreciated!