Happy November! The holidays are upon us, as usual my mind is blown at how fast the year went by. If you are in charge of the salad for this year's festivities, I've got a brilliant one for you: Greens with Roasted Butternut Squash and Pomegranate Vinaigrette!
(This post contains affiliate links. I may make a commission from sales but your price remains the same.)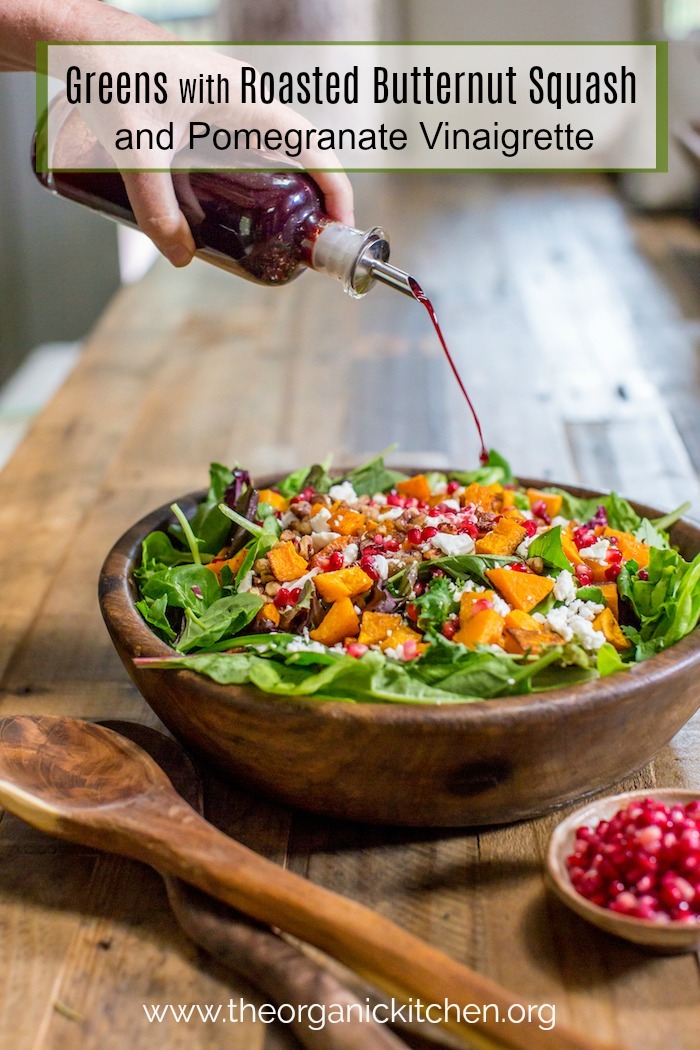 But Before We Get To The Recipe…..I Want To Give You Sneak Peek at the Remodel of Our Sundance Cabin!
Ten years ago we bought a little cabin in the woods of Sundance Utah. It had good bones, but it was…how shall I say…in need of some help. In fact, it was pretty much…orange! The ceiling, the walls, the floor, were all wood and all of that wood was stained a 1970's orange. And if that weren't enough, the cabinetry that wasn't stained orange, was painted black, making a small space feel even smaller.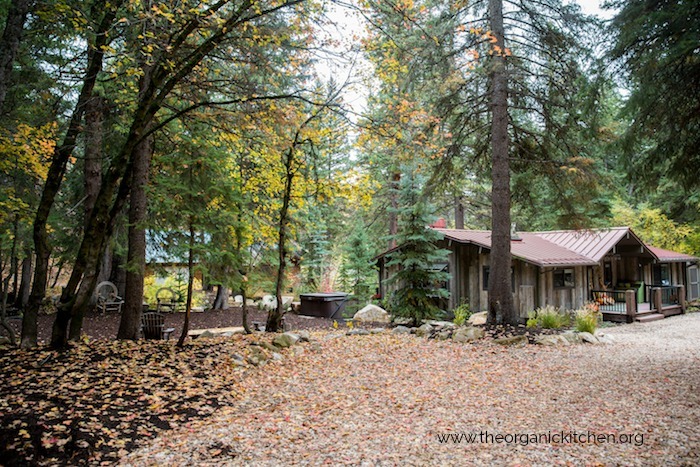 But it was nestled among tall pin trees…
…and sat on a beautiful stream. So we bought it!
We Lived with "The Orange" for Ten Years…
The previous owners lived across the country and basically sold us the cabin as is, with all the furniture, dishes, art, towels, etc.. still there. It was very charming, but felt dark, closed in and was definitely not our style. When my husband retired this last January, we knew we would be spending more time in Sundance to be near our children and grandchildren and decided to make the space our own. We were on a budget, so there was no major construction. All floors, countertops and walls stayed, and with the exception of one new bathroom vanity, all the existing cabinetry stayed too.
What we Did…
To open up our tiny, dark, orange and black kitchen we removed the upper cabinets and added open shelving. We painted the lower cabinetry with Benjamin Moore "owl gray", added a new backsplash and covered the existing stained wood with barn wood. What a difference! So light and airy. Now let's talk about the tiny guest bathroom…again, a cramped space that felt very claustrophobic. A fresh coat of paint on the ceiling, more barn wood, and that new vanity with the chunky soapstone made all the difference!
So Many Changes, But It Kept That "Sundance" Vibe
Our cabin is an authentic "Lincoln log" cabin, meaning it is constructed of real logs that have notches cut near the ends of each log so they can be stacked at the corners to form rooms. We wanted the 'modern mountain home' look without losing any of the original integrity or that magical "Sundance" feel. We LOVE the result and I think you'll be fascinated to see just what a difference was achieved!




The Best part of This Makeover?
We wanted to make sure the cabin remained family friendly and a little whimsical. We have a lot of kids and grandchildren that come to play often and have sleepovers, we don't have to worry about destruction. Noise? Yes. Destruction, no. Every fabric, rug, surface, in the house is sticky little hands friendly!
Now For The Salad: Greens with Roasted Butternut Squash and Pomegranate Vinaigrette!
A fabulous salad makes every meal more special, whether it's dinner for the family or a celebration. And this salad is festive in both color and taste.
Simple But Extraordinary!
Color, color, color! Green, orange, purple, white, and and red come together in the most lovely and tasty way.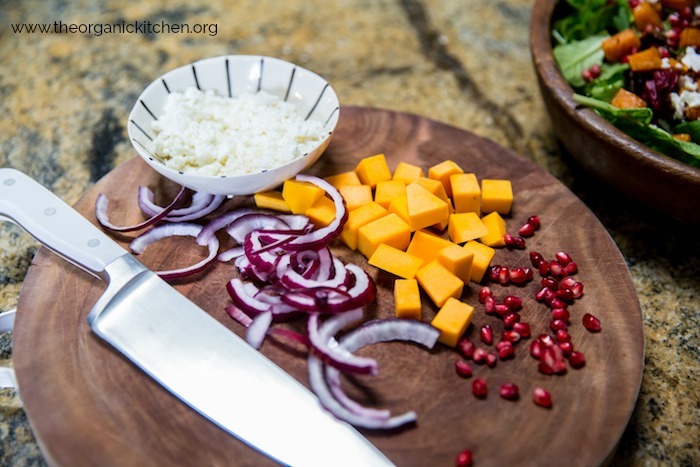 …sweet roasted butternut squash, creamy feta, tart pom seeds, fragrant onion, and salty pecans, all placed on a bed of baby greens…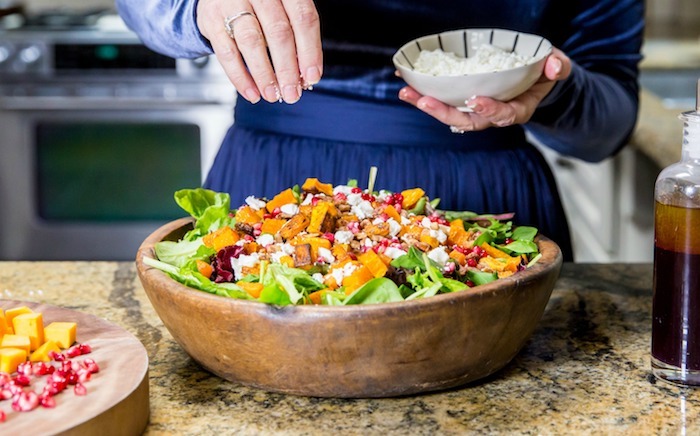 …then drizzled with a homemade, vibrant pink pomegranate vinaigrette! Truly one of my favorite fall salads.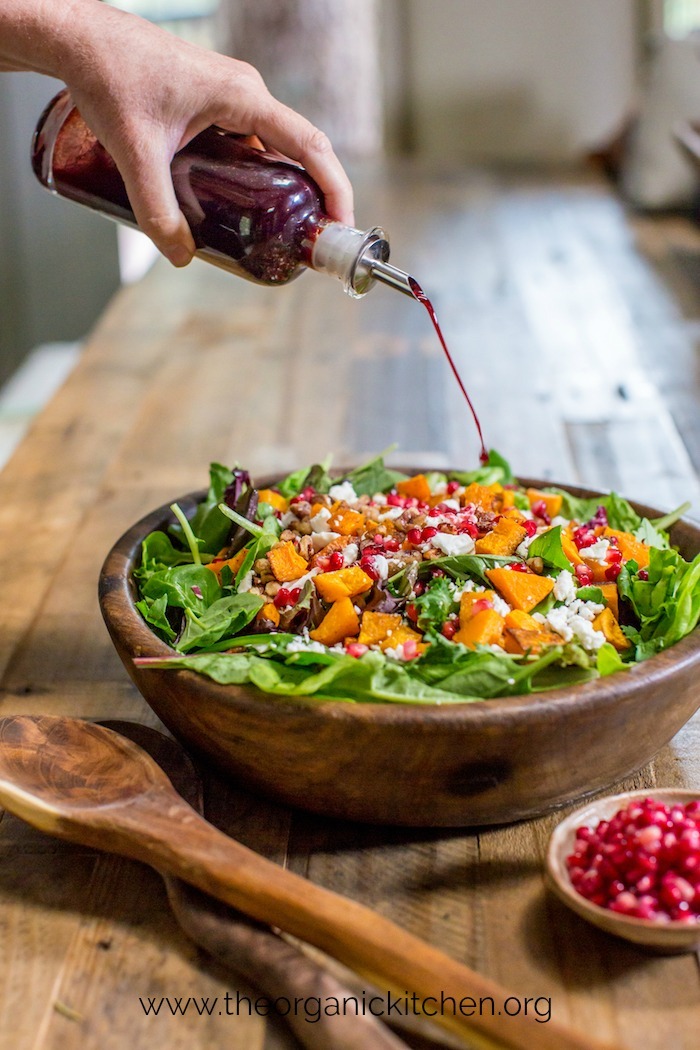 What to Serve It With:
Whether served alone, or as part of a meal, this salad is fabulous. I love it alongside a good steak, or sometimes, I will toss in some rotisserie chicken for a simple, complete meal. But it's also beautiful served alongside your Thanksgiving or Christmas turkey.
The Recipe: Greens with Roasted Butternut Squash and Pomegranate Vinaigrette!
Tips and what you need: ovens are notoriously inconsistent, your oven may roast your butternut squash quicker or slower than mine. So keep an eye on it and remove when BNS is soft and edges are browned. Many stores have pre-peeled and cut butternut, make sure it's super fresh or it won't roast up well, you also may need to cut it smaller. If peeling and cutting your own squash, click here to see a tutorial. You will need a rimmed cookie sheet, and unbleached parchment paper.
Greens with Roasted Butternut Squash and Pomegranate Vinaigrette!
A festive, delicious, salad for fall and your holiday table!
Ingredients
1 1/2

pounds

butternut squash, peeled and cut into 1/2" cubes (Store bought is fine but you may have to cut it smaller)

2

tablespoons

good quality olive oil

sea salt and pepper, to taste

8

oz

baby greens

1/2

cup

pomegranate seeds

1/4

of one red onion, peeled and sliced or chopped

3/4

cup

roasted salted pecan pieces

1

cup

crumbled feta (I also love soft goat cheese in this salad)

1/2

cup

good quality olive oil

1

cup

pomegrante juice (reduced to 1/4 cup)

1

tablespoon

champagne vinegar or white balsamic

juice of half a lemon

1

tablespoon

honey
Instructions
1. Preheat oven to 400 degrees and set oven rack in upper third position. Cover a rimmed cookie sheet with parchment paper.

Place prepared squash on parchment, drizzle with 2 tablespoons olive oil and toss. Sprinkle generously with sea salt and pepper

Place in the oven for about 40 minutes, or until squash is soft and edges are brown. Time may vary according to oven and altitude.

While squash cooks, prepare salad dressing:

To reduce pomegranate juice: Place a small pan on high heat and add juice

Bring to a boil and then reduce to a simmer
Allow to simmer until juice measures 1/4 cup. I measure after 15 minutes and every few minutes after that. Just be sure not to forget about it! After it is reduced to a ¼ cup, allow to cool before using.


Place 1/2 cup olive oil into a jar or measuring cup, add lemon juice, honey, vinegar, sea salt, pepper and cooled pomegranate juice, whisk until well combined, set aside

3. On a platter or large bowl, place lettuce, then add cooled butternut squash, onions, nuts, and feta

Shake dressing well and the drizzle over salad to liking, toss

Serve!
MAY I PLEASE ASK A FAVOR?
We small bloggers need all the help we can get. Subscribing and sharing on social media is very appreciated!