Holiday cookies are like edible art. Especially these beautiful, delicate Holiday Linzer Cookies! Linzer cookies originated in Austria and they are perfect for any holiday or special occasion and are almost too pretty to eat…almost…
(This post contains affiliate links. I may make a commission off sales but your price remains the same.)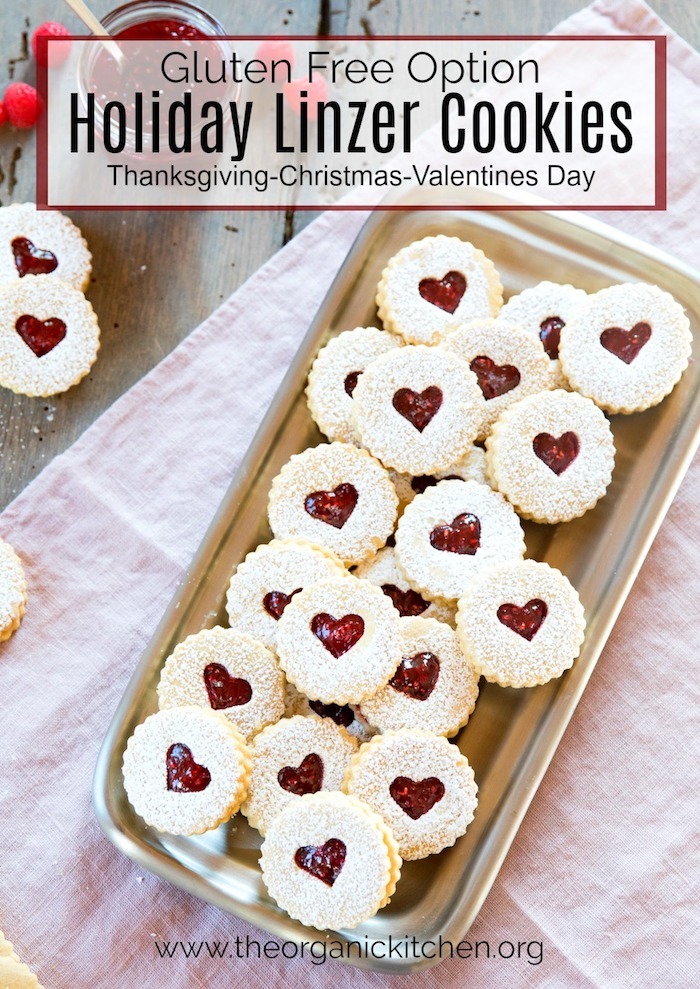 This Stunning Recipe Is Shared by Jovial Foods:
I switched to gluten free living about five months ago and I have not missed gluten at all because there are so many great options these days! Of course this recipe is perfection when made with regular all purpose or einkorn flour, but if gluten free living is your thang, you don't have to sacrifice taste or texture. I use Gluten Free Jovial Pastry Flour, because it's the best for baking and works perfectly for these delicate cookies. It's also soaked for easy digestion!
Baby Showers, Valentine's Day, Christmas or Thanksgiving These Cookies Work
You can roll out this recipe (see what I did there?) any time you have a celebration: baby or wedding showers, holidays, office parties etc. These cookies are always a favorite and the first to disappear!
Change the Cut Out Depending On the Occasion:
You need two cookie cutters for these cookies. A  2″ fluted cookie cutter for the top and bottom cookies and then another 1″ cookie cutter for the top cookie.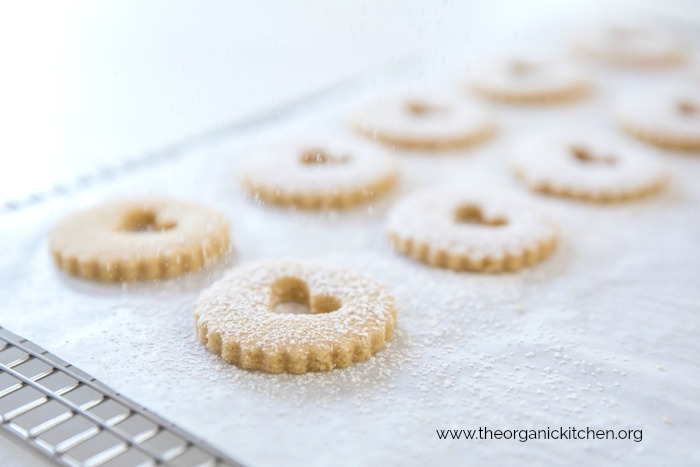 Depending on the occasion you can use a mini heart cookie cutter, a mini flower, circle, star etc…for the "top cookie".
The Filling:
Simply spoon your favorite preserves onto the bottom cookie, place the cut out cookie on top and sprinkle with powdered sugar!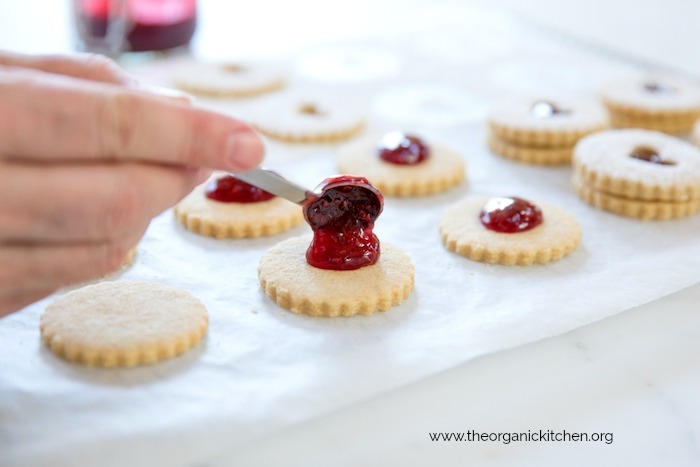 And Voila!
Beautiful holiday cookies that look like they are lightly dusted with snow.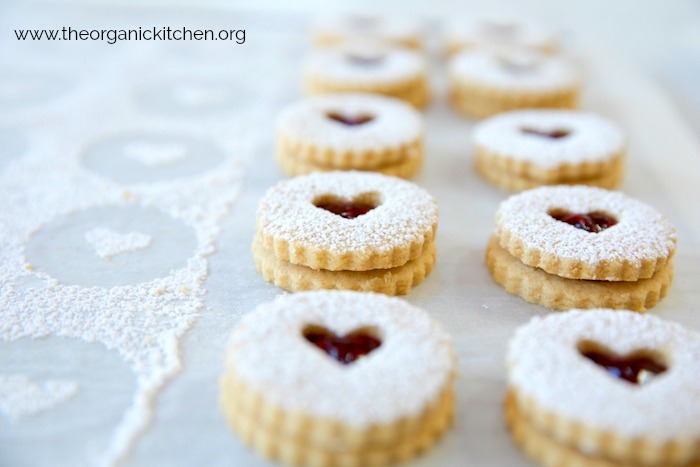 Tips for "Cutting In" Butter:
If you aren't familiar with the term "cutting in" butter I can help you out. It's a technique used whenever you want a flaky result and is often used in cookies or pie crust (<—click for pictures) Butter should be chilled or frozen and cut into small cubes, then tossed in flour and 'cut in' with a pasty blender. But you can also use two knives, or even finger tips, creating pea sized bits of butter in the dough that melt into pools of flakiness when baked!
The Recipe: Holiday Linzer Cookies
What you need:  2″ fluted cookie cutters and mini heart cookie cutter, a mini flower, or circle, star etc…for the "top cookie" and a rolling pin. For "cutting in" butter you can use a pasty blender (see tips above) Unbleached parchment is recommended for rolling dough.
Holiday Linzer Cookies
Sweet, delicate little cookies with a cut out you can switch up depending on the occasion.
Ingredients
2¼

cups

all purpose, gluten free or einkorn flour

I use Jovial Gluten free baking flour

1/4

cup

white rice flour

3/4

cup

almond flour

1/2

cup

granulated organic sugar

1/4

teaspoon

fine sea salt

1/4

teaspoon

cinnamon

12

tablespoons

cold, unsalted butter, cut into 1/4" cubes

1

large

egg, beaten

1

12 ounce jar

raspberry preserves

or any flavor you prefer

3

tablespoons

powdered sugar for dusting
Instructions
Preheat the oven to 350°F. Line a cookie sheet with parchment paper.

In a medium bowl combine the flours, sugar, salt, and cinnamon.

Cut in the butter with a pastry blender until the mixture is sandy. Add the egg and knead in the bowl until the dough is smooth. (if you don't have a pastry blender, use two knives to 'cut in' butter or even your finger tips to form pea sized bits of butter in the flour.

Knead the dough allowing the warmth of your hands to soften the butter. Divide the dough in half. Form each half into a disc, wrap in plastic wrap and refrigerate for 1 hour.

Place the first piece of dough in between two pieces of parchment paper, dusting the paper and the top of the dough lightly with flour. Roll the dough to ⅛-inch thick. Using a 2" fluted cookie cutter, cut out rounds. Half of the round will be the base of the cookies. To make the tops, use a 1" cookie cutter to cut out the centers from half of the rounds.Transfer cookies to the baking sheet 1 inch apart. Gather the scraps into a ball, chill for 10 minutes, then roll out again and proceed in cutting equal numbers of bases and tops.

Bake for 12 minutes until the edges begin to brown slightly. Let the cookies cool on the cookie sheet for 5 minutes then transfer them to a wire rack to cool completely.

Continue in the same manner with the remaining piece of dough.

Before serving, spread 1 teaspoon of preserves on the cookie bases. Dust the top of the tops with powdered sugar and place on top of the preserves. Serve immediately.

The unfilled cookies can be stored in an airtight container for up to 3 days and filled as needed.
MAY I PLEASE ASK A FAVOR?
We small bloggers need all the help we can get. Subscribing and sharing on social media is very appreciated!
View The Organic Kitchen's Privacy Policy.
Christmas cookies, valentine's day