When we visit our cabin in Sundance, Utah, we often eat at a little farm to table restaurant nearby. They serve an amazing Herbed Chicken Breast with Carrot Purée and Brown Butter that we just love. When we return home we always crave that meal. So I recreated it, and you my lucky friends get to reap the rewards!
(This post contains affiliate links from which I may make a commission. Your price remains the same.)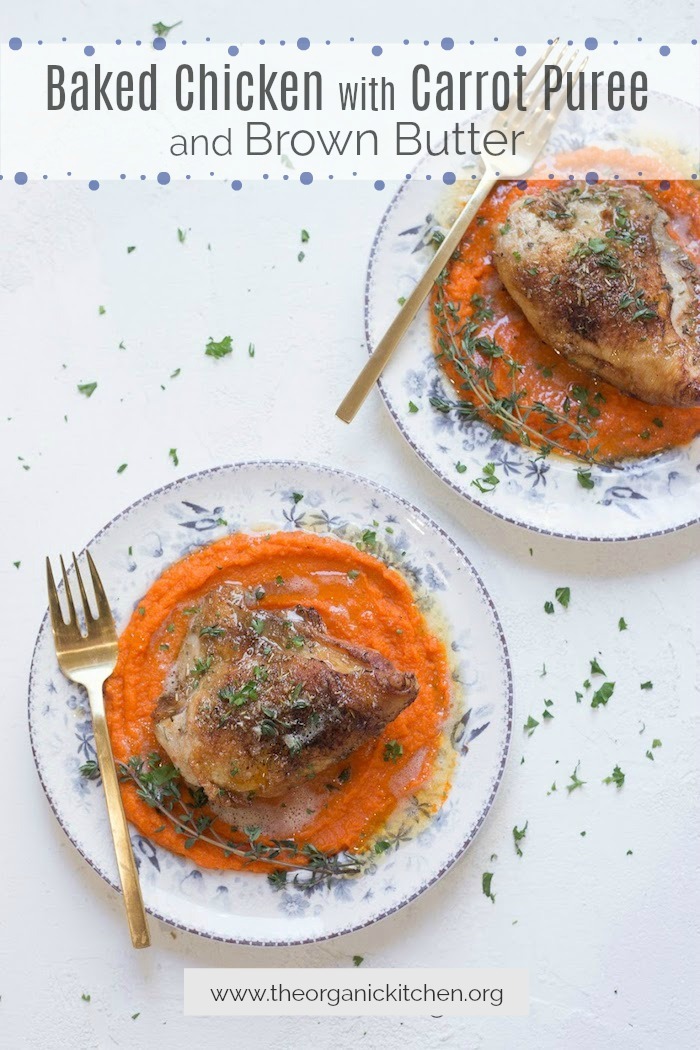 The Chicken:
Brined for 30 minutes, smothered in herbs and then cooked with the skin on, this chicken breast is anything but dry and tasteless. Browned in a skillet and then oven finished, so you have that fabulous combination of crispy skin and tender meat. This meal is casual enough for everyday and special enough for romantic celebrations.
THREE KEYS TO MAKING A PERFECTLY TENDER CHICKEN BREAST:
Bone in, skin on! The bone and the skin make for the most flavorful, tender chicken breast.
Brine: Don't be intimidated! It's as simple as soaking the chicken in salt water for 30 minutes.
Start on the cooktop, finish in the oven. Tender inside, crispy outside. And there you have it! How easy is that?
The Carrot Purée and Brown Butter:
There is nothing better than taking a forkful of this savory herbed chicken and swirling it around in that bed of sweet carrot purée and browned butter. If you have never tasted brown butter, it has a caramelized nutty flavor that basically makes this meal a little piece of heaven.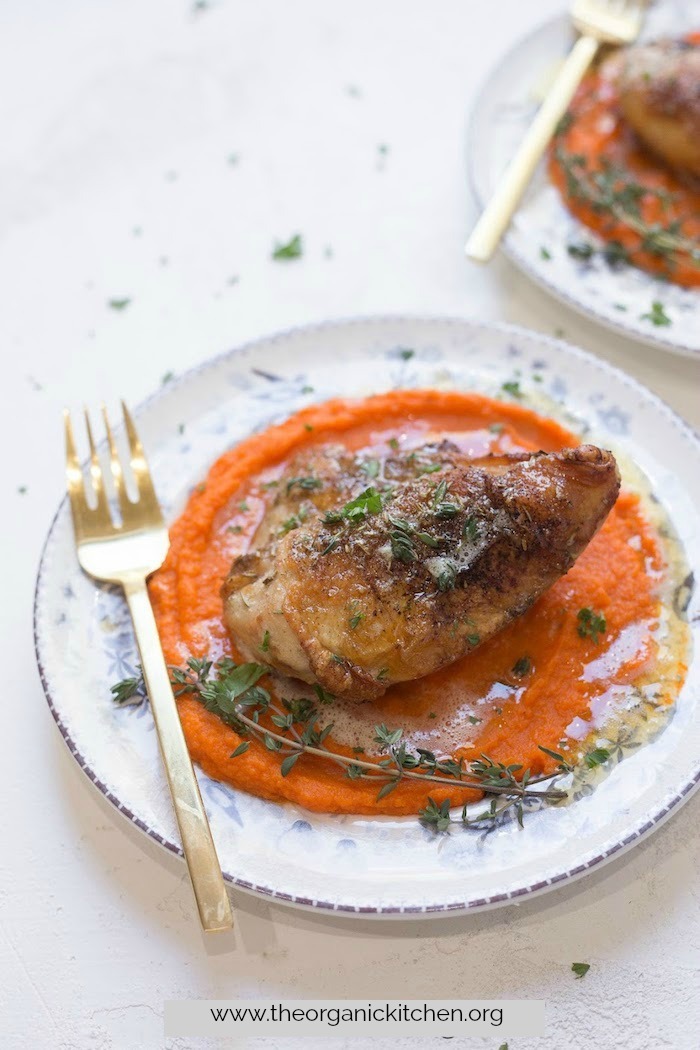 Need More Healthy Chicken Recipes?
Chicken lovers, click here, here, and here!
The Recipe: Herbed Chicken Breast with Carrot Purée and Brown Butter
Tips and what you will need: People often overcook chicken, making it dry. Resist that temptation! You will need a food processor or blender, an oven safe pan and a good sea salt: I use fine himalayan sea salt for brining.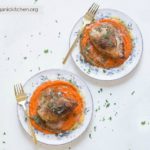 Herbed Chicken Breast with Carrot Purée and Brown Butter
A tender chicken breast, rubbed with herbs and served with whipped carrots and brown butter!
Keyword:
brown butter, carrot puree, herbed chicken, Paleo, roasted chicken
Ingredients
4

chicken breasts, bone in skin on

1/3

cup

kosher salt, or Himalayan sea salt (for brining)

3

tablespoons

olive oil

pepper, to taste

garlic powder, to taste

4

sprigs

fresh thyme, leaves stripped and chopped (you can use extra sprigs for garnish)

2

tablespoons

freshly chopped parsley

4

cups

carrots, peeled and sliced 1/4" thick

2

cups

chicken broth

1/2

cup plus 2 tablespoons

butter, separated
Instructions
Place 6 cups water into a large bowl, add sea salt and stir. Add chicken breasts. Go do something productive or take a nap while chicken brines for 30 minutes

Preheat oven to 400 degrees and place oven rack in center position

Remove breasts from salt water and pat dry with paper towel. Brush chicken skin with a little olive oil. Sprinkle with garlic powder, sea salt and pepper. Rub gently into skin

Heat oven safe pan on cooktop on med /high heat for two minutes. Add olive oil. When oil is hot add chicken, skin side down to pan, cooking until golden brown, lowering heat if necessary (about five minutes)

Turn chicken skin side up, sprinkle with thyme and transfer pan to oven and cook for 20-30 minutes depending on the size of chicken breast.

While chicken breasts are cooking, make carrots and brown butter:

Place a medium size sauce pan on cooktop on high heat, add broth. Bring to a boil, then lower to a simmer. Add carrots and cook until soft and much of the broth has evaporated (about 8 minutes)

Remove carrots from pot, saving broth for later. Pour carrots into food processor or blender, add 2 tablespoons butter, a pinch of sea salt and pepper and blend until smooth. If needed, thin with a little left over broth, consistency should be that of mashed potatoes. Place back in pan and keep warm while you make brown butter:

Place a very small pan on medium heat, add 1/2 cup (1 stick) butter. Simmer butter, stirring frequently for about five minutes. Be patient. Butter will bubble, then become frothy and finally the center will erupt with a golden color. Immediately turn off heat and stir. Your butter is now browned!

When chicken breasts are done, plate food: Divide carrots evenly onto four plates, top with chicken, drizzle with brown butter and garnish with parsley and a few remaining sprigs of thyme. Eat up!
MAY I PLEASE ASK A FAVOR?
We small bloggers need all the help we can get. Subscribing and sharing on social media is very appreciated!
View The Organic Kitchen's Privacy Policy.
We are a participant in the Amazon Services LLC Associates Program, an affiliate advertising program designed to provide a means for sites to earn advertising fees by advertising and linking to Amazon.com.