When I was a little girl my mom would give me a dime and allow me to walk to the local grocery store to buy an Almond Joy. I loved the combination of coconut, almonds and chocolate. Years later I would pilfer my kids Halloween candy looking for my favorite candy bar. No lie. Fast forward: I don't eat Almond Joys anymore, but I still love that wonderful classic flavor combination today. So, I decided it was time to pay homage to my favorite childhood treat with this 'Almond Joy' Chocolate Chip Skillet Cookie! (Gluten Free Option)
(This post contains affiliate links. I may make a commission from sales but your price remains the same.)
The Dough:
There is pretty much nothing better than a giant cookie! Basically it's every child's (and possibly adult's) dream. I add shredded coconut, and sliced almonds to a fairly traditional chocolate chip cookie recipe to make this Almond Joy Skillet Cookie. I use Gluten Free Jovial Pastry Flour, because it's the best for baking!
The Toppings:
Of course you can eat this cookie as is, warm and gooey straight out of the oven. But if you would like to top it I have some suggestions: place a big scoop of your favorite ice cream (my 'no churn vanilla ice cream' works nicely) and then drizzle with hot fudge! So fabulously delicious!
So much better than a candy bar! And certainly feeds more people, unless you eat it all yourself…no judgement here.
Besides how fabulous this dessert tastes (and looks and smells) you know what I love about it? It's easier to bake "cookies" in a skillet and takes less time to make!
The Recipe: 'Almond Joy' Chocolate Chip Skillet Cookie! (Gluten free option)
What you need: a10″ skillet or oven safe pan, a hand mixer or stand mixer, organic hot fudge if desired. If you want to make this recipe gluten free I recommend Gluten Free Jovial Pastry Flour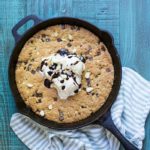 'Almond Joy' Chocolate Chip Skillet Cookie! (Gluten free option)
All your (or my) childhood dreams come true!
Keyword:
easy dessert recipe, kid-friendly recipes
Ingredients
1 3/4

cups

gluten-free or all-purpose flour

I highly recommend Jovial GF Pastry flour, linked above

1/2

teaspoon

sea salt

1/2

teaspoon

baking soda

1/2

cup

butter, softened (1 stick) plus 1 Tablespoon for pan prep

1/2

cup

granulated sugar

1/2

cup

light brown sugar

1

teaspoon

vanilla paste or 1/2 teaspoon extract

1

large

egg

3/4

cup

shredded coconut

3/4

cup

sliced almonds

1

cup

chocolate chips or chunks

I like dark, but milk chocolate works too
Instructions
Preheat oven to 375 degrees and place oven rack in center position

Use a paper towel to wipe bottom and sides of skillet with one tablespoon butter, set aside

Place flour, baking soda and sea salt in a bowl, whisk and set aside

Place softened butter and sugars into mixer and mix for two minutes

Add egg and vanilla, mix well

Add dry ingredients and mix until well incorporated

Add almonds and coconut, mix well

Add chocolate, depending on your mixer you may need to mix by hand

Place dough in skillet and press dough evenly into the pan

Bake for 16 minutes or until cookie is slightly golden and center is set

Remove from oven. You can serve warm or cool. Top with ice cream and hot fudge if desired
MAY I PLEASE ASK A FAVOR?
We small bloggers need all the help we can get. Subscribing and sharing on social media is very appreciated!