Our grand daughter Lucy turned three last month! To celebrate we invited a few of her friends over for a simple little party. We hung banners, made some party hats (links below) and of course let little Lu help with the making of her gorgeous birthday cake! So far this well fed girl has only eaten sugar once a year on her birthday, so her cake needed to be extra special!
(This post contains affiliate links. I may make a commission off sales but your price remains the same.)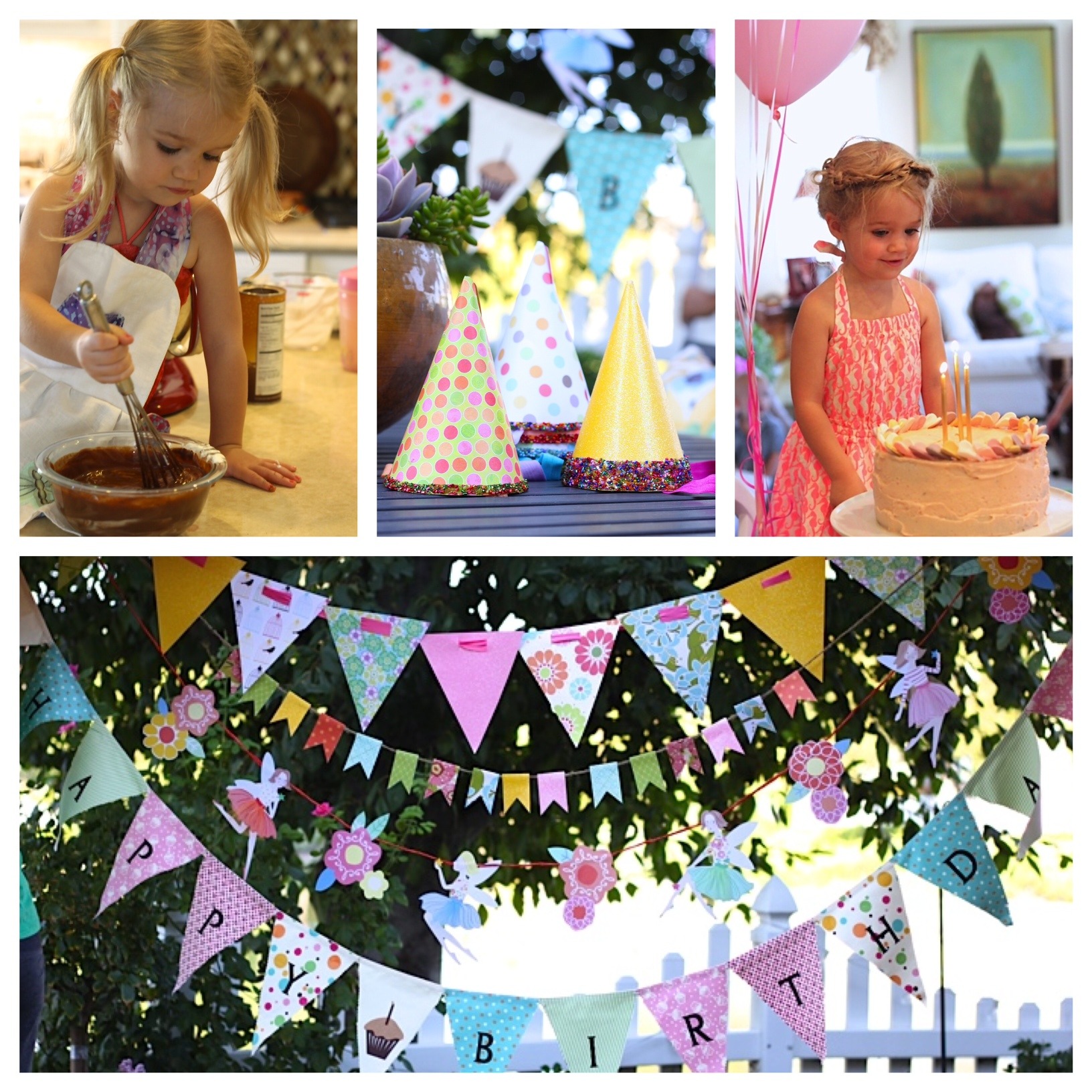 How to Keep it Junk Free:
When it comes to kid's parties the question of what to serve can be a challenge and can become even more challenging as children get older and more accustomed to eating and drinking highly processed junk food at parties. Personally I do not want to serve junk food to three year olds (or anyone for that matter!) but I also want my guests to be happy. So my advice when you are serving both children and adults at a party is to keep the menu simple… no frills, nothing too time consuming and select menu items that are simple to put together right before your guests arrive or can be made a day ahead. We chose menu items that were both kid and adult friendly instead of making some items for adults and some for the kids. Lucy's party was a brunch so we served a big bowl of cantaloupe and watermelon…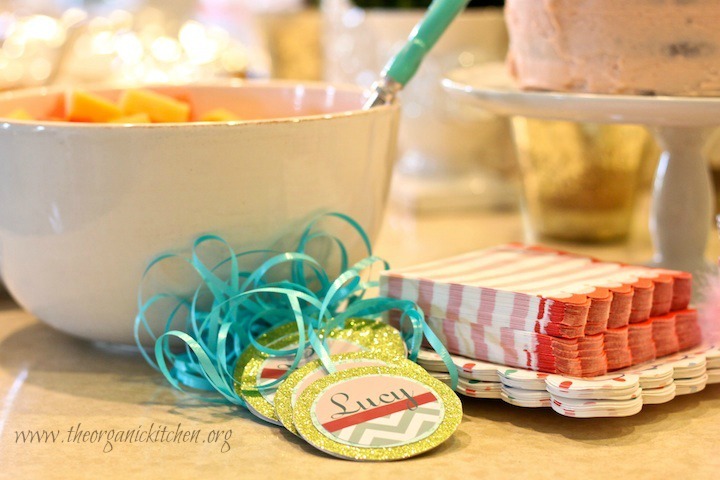 …and topped sliced strawberries with whole milk plain yogurt and granola. We mixed the plain yogurt with vanilla paste and orange zest right before our guests arrived. Vanilla paste and zest give the yogurt enough flavor that there is no need for the high sugar content found it most supermarket brands of yogurt! Then we topped it all with  granola we made the night before.
We also served quiche which is both kid and adult friendly!
Banana muffins…adult size and minis for the kiddos.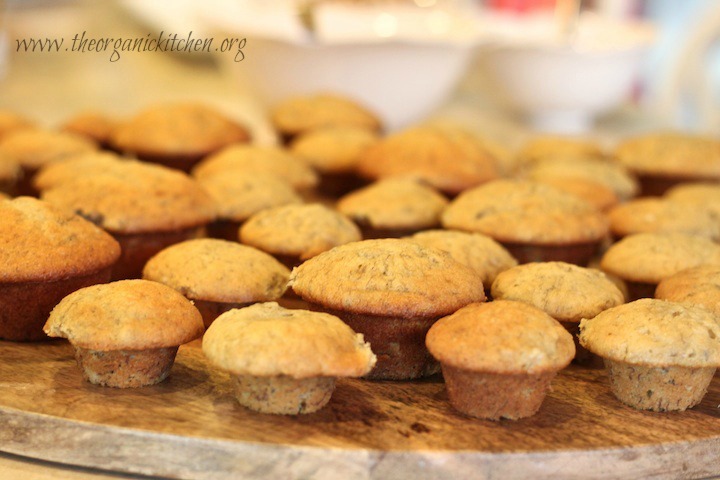 We skipped soda and juice boxes in favor of ice water and freshly squeezed sparkling grapefruit juice. (Pictured on the left, the recipes for the two other refreshing drinks are in my spring/summer cookbook)
The cake is where we splurged! This is my "Naked Triple Layer Chocolate Cake with Buttercream Frosting" I colored the icing pink with natural food coloring and my daughter made adorable gum paste hearts for decoration (they can be eaten but we took them off before serving)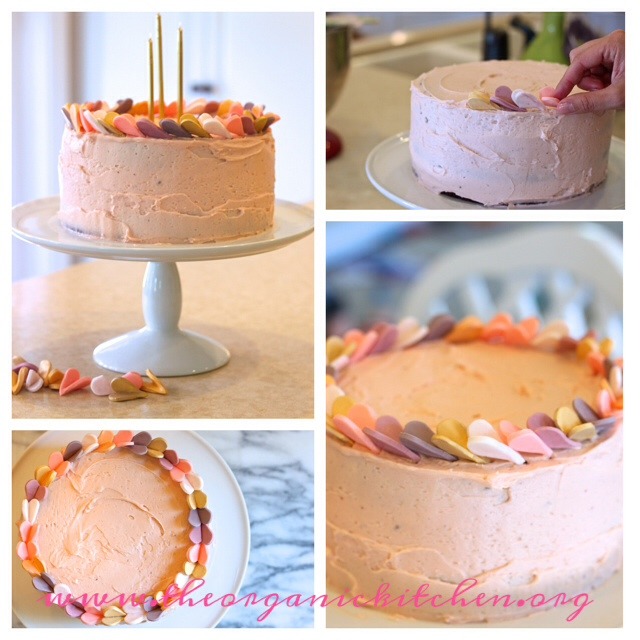 The Recipes for a Junk Food Free Birthday Party
Melon Bowl:
Equal parts cold watermelon and cantaloupe
Granola Recipe:
3 cups whole rolled oats
1/2 cup unsweetened coconut chips
1 tsp Sea salt
1/2 cup honey
1/2 cup melted coconut oil
1/3 cup chopped walnuts (raw)
1T water
1 1/2 tsp vanilla paste
1/2 cup dried cranberries or raisins (added after cooking)
Preheat your oven to 225 degrees. Mix all dry ingredients in a large bowl. Once mixed add the rest of the ingredients (except cranberries) one at a time while stirring until well mixed. Place on large cookie sheet covered with unbleached parchment. Stir every 7-9 minutes until granola is golden brown.
This is a basic granola recipe..you can spruce it up with pepitas, banana chips, coconibs…you can add basically whatever you want.
 Yogurt with Vanilla Paste and Orange Zest Recipe
1 1/2 cups plain whole milk yogurt mixed with 1 T vanilla paste and the zest of one large orange. Mix and serve with berries and granola.
Spinach and Kale Quiche: My recipe here.

 

My moms Banana Bread Recipe

2  1/4 Cups sifted all-purpose flour
1 tsp baking powder
½ tsp baking soda
½ tsp salt
½ cup coarsely chopped walnuts
1/3 cup butter
2/3 cup sugar
2 eggs
2/3 cup ripe mashed bananas
¼ cup buttermilk

Sift dry ingredients together, set aside. Cream butter and sugar until light and fluffy. Beat in eggs, one at a time. Blend in banana pulp. Add flour mixture and liquid alternately, beating until smooth. Fold in walnuts. Pour into a well greased and floured loaf pan or muffin pan. Bake on center rack in a moderate oven (350) about an hour (loaf) 24 minutes (muffins). Remove from pan and cool on rack.
Sparkling Grapefruit Juice Recipe
Serves 2 (so do the math if serving a larger group:)
2/3 cups cold fresh grapefruit juice ( I use an inexpensive Cuisinart citrus juicer)
1/2 cup cold sparkling water
agave nectar or Stevia Extract to taste (liquid not powder)
Mix all in a large pitcher. Serve over ice.
The Cake:
The pink cake pictured above is the same cake pictured below, just decorated differently. Click here for recipe. Gum paste decorations: We used homemade gum paste hearts. My daughter used coconut oil for the hearts instead of Crisco because we never use hydrogenated oils and it worked just fine.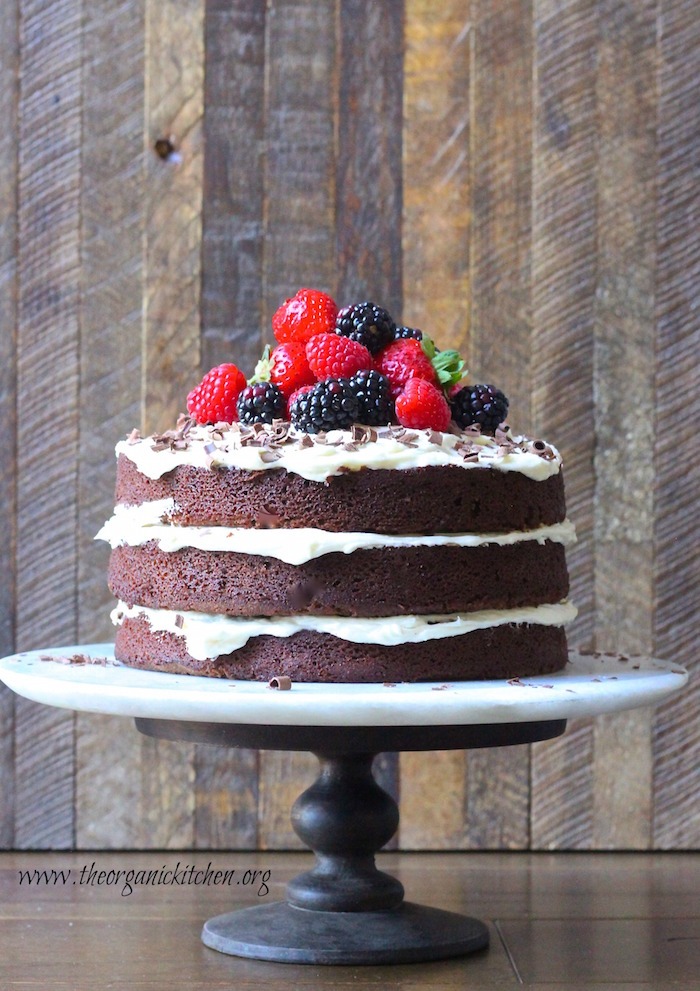 The Banners and Hats:
Click for banner and party hat ideas:)
Another way to avoid junk food at a children's party is to fill a piñata with bracelets, toy cars, stickers, crayons, chalk, bouncy balls, play dough  etc…instead of candy.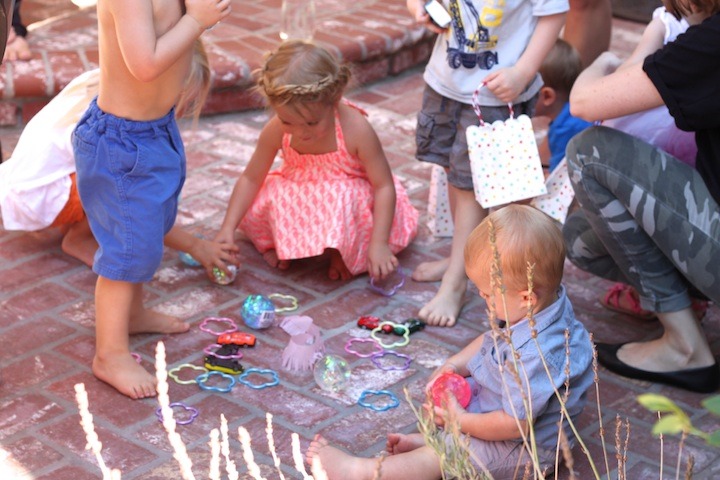 I hope you enjoyed my ideas for a 'junk food free' children's party. Thanks for stopping by! Please subscribe and take a look at my cookbooks available in ebook and hard cover. 
MAY I PLEASE ASK A FAVOR?
We small bloggers need all the help we can get. Subscribing and sharing on social media is very appreciated! 
Tag posts: entertaining, party, celebration, holiday