Store bought or fast food chicken tenders or "nuggets" never appealed to me. They are loaded with artificial flavors, colors, carcinogenic 'defoamers' (why do fast food nuggets need defoamers? Why are they foaming in the first place?) and usually the chicken is so processed that is doesn't even resemble chicken anymore. To make matters worse they are then fried in trans fats. Not good.
(This post contains affiliate links. I may make a commission off sales but your price remains the same.)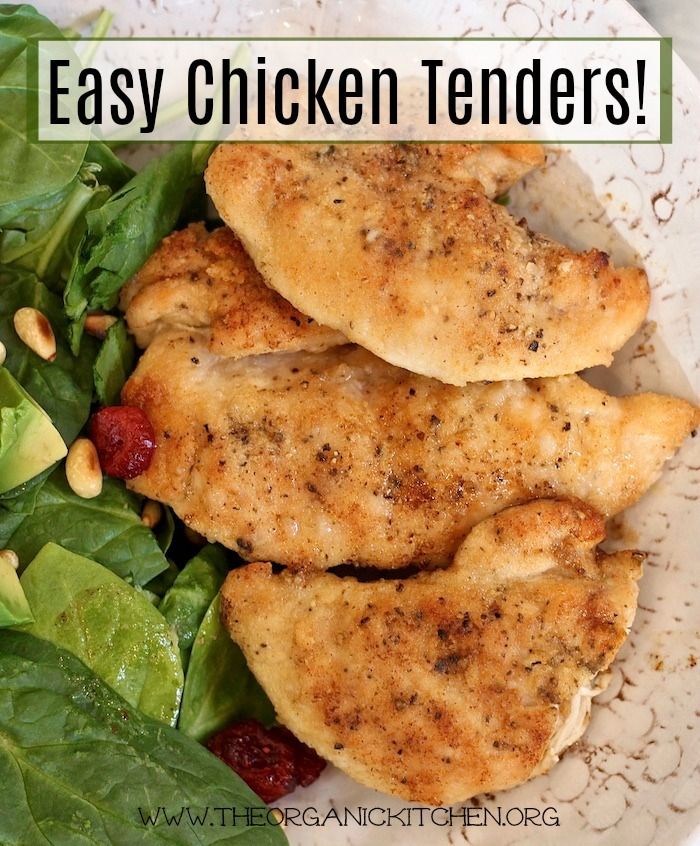 Healthy "Fast Food"
These are my Easy Chicken Tenders. Nothing processed or artificial here! And they literally take less than 5 minutes to prep and less than 10 minutes to cook. Now that is fast food!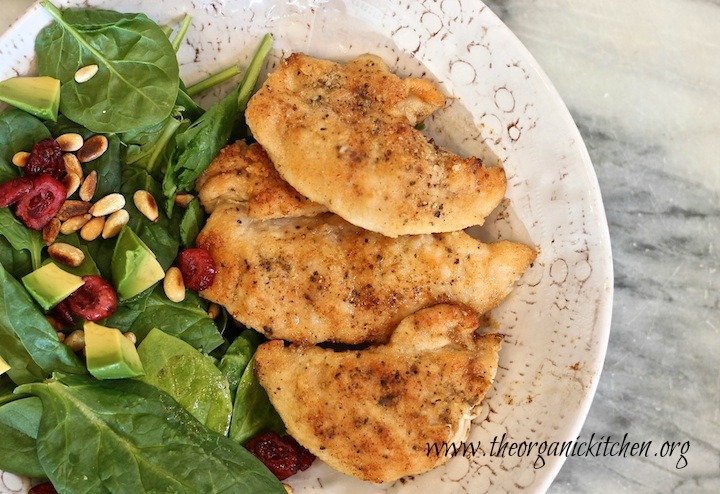 How to: The Organic Kitchen Easy Chicken Tenders:
"Tenders" are located adjacent to the breast. They are white meat and very, well, tender! You can usually find chicken tenders at the grocery store. If they are not available to you, you can use a regular chicken breast and slice into 1/4″ strips yourself.
To prepare tender sprinkle with a salt, freshly ground pepper and garlic powder…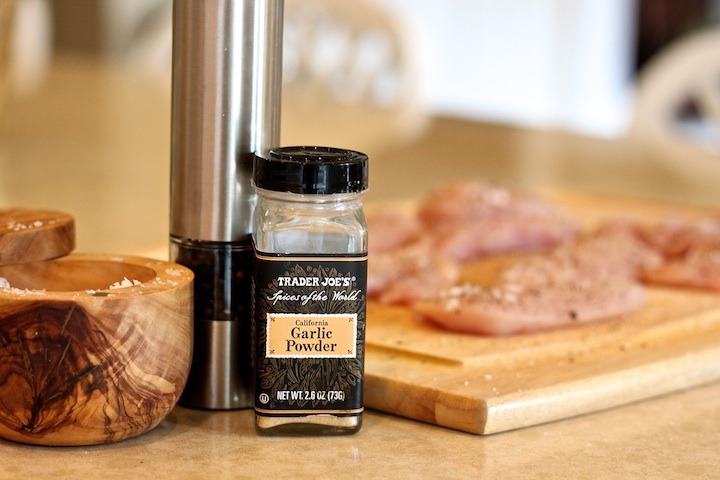 Then dredge in any flour you wish. My GF friends can use a gluten free flour, my Paleo friends can use almond  or Otto's Cassava Flour (affiliate link). Cassava flour tastes, behaves and bakes the most like all purpose flour of any gluten/grain free flour I have used.
Next: place a pan on medium/high heat. (I use a panini pan) Melt enough butter, ghee or coconut oil to coat the bottom of a pan, when oil or butter is really hot add tenders to pan and turn heat to medium.
Cook 4-5 minutes or until chicken is golden brown and then turn over.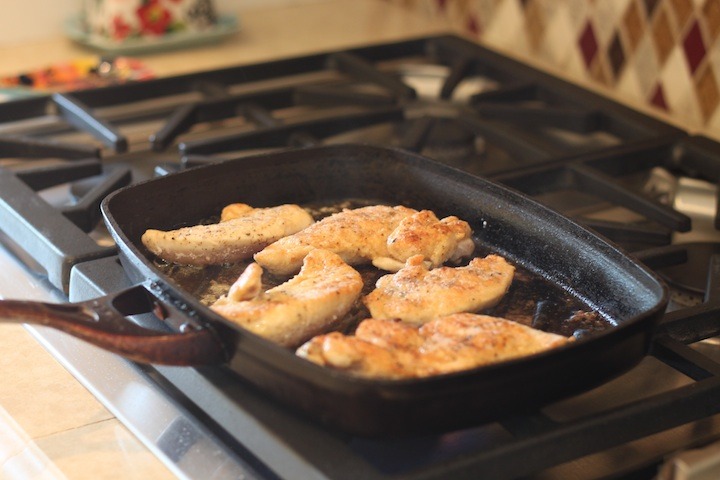 Cook second side till golden brown. Then remove from heat. Serve with a beautiful salad and you have a quick and easy dinner everyone will love. You can also use these tenders in sandwiches or put the leftovers in your kids lunches!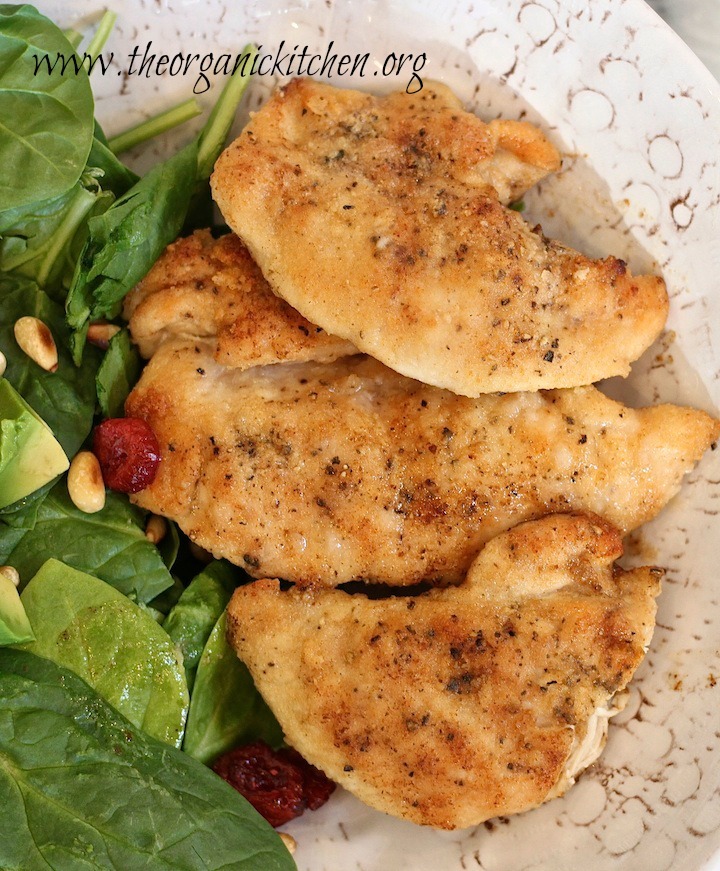 The Recipe: Easy Chicken Tenders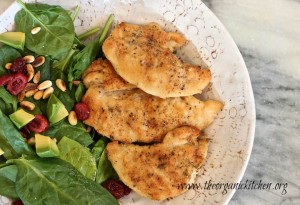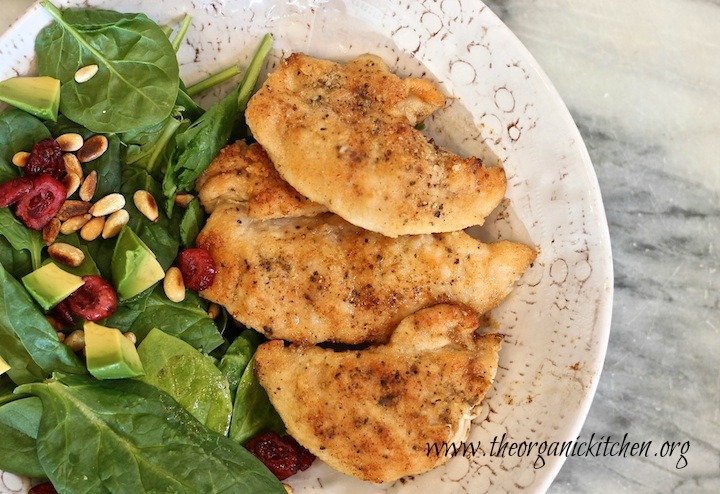 Print
Easy Chicken Tenders
Yield 4
Ingredients
1 1/2 lbs chicken tenders
sea salt
pepper
garlic powder
1/2 cup flour of your choice (all purpose, gluten free, grain free)
butter, ghee or coconut oil
Instructions
Sprinkle chicken tenders with sea salt, pepper and garlic powder.
Place flour in a shallow dish. Dredge chicken in flour.
Place a pan on med/high heat, allow pan time to get hot. Add butter, ghee or coconut oil to pan.
Use enough to cover bottom of pan generously.
When pan and butter is hot, add chicken to pan. Cook for 4 minutes or so, until chicken is crispy and golden. Turn chicken and cook other side until golden brown 4-5 minutes.
Serve.
Courses Main Course
MAY I PLEASE ASK A FAVOR?
We small bloggers need all the help we can get. Subscribing and sharing on social media is very appreciated!
All recipes and food images are copyrighted and owned exclusively by Linda Spiker. Do not republish photos or recipes without written consent.