We here in California LOVE Mexican food. It is a staple. And if you can keep it simple and make it at home then why not? This Spicy Lime Chicken is unbelievably easy to make, delicious and Whole 30/Paleo/ Keto compliant!
(This post contains affiliate links. I may make a commission from sales but your price remains the same.)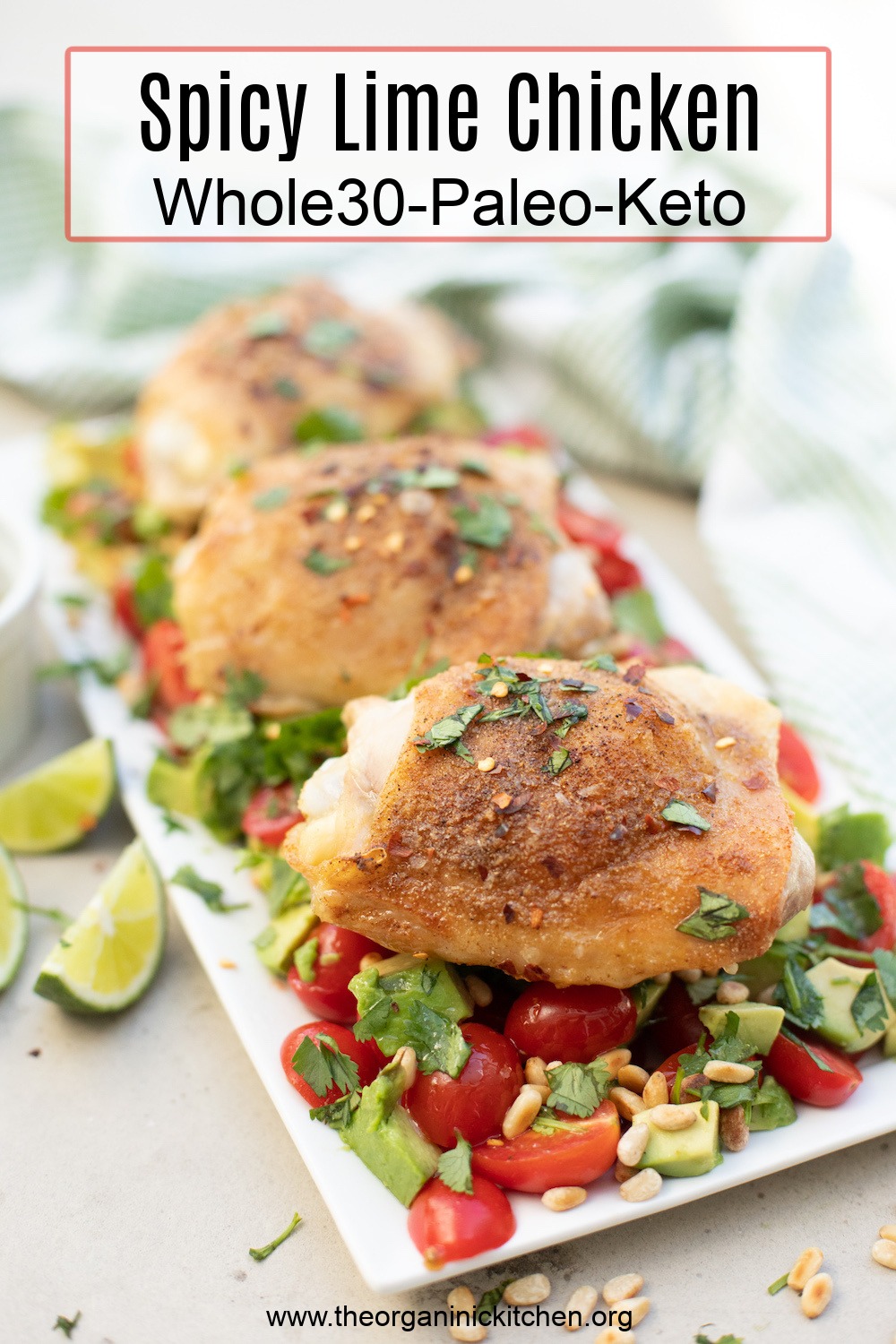 Spicy Lime Chicken:
I use bone in, skin on thighs for this recipe. If you prefer to toss in a couple of breasts you may, just know they won't be as tender and juicy as the dark meat. If you choose to use breasts, make sure they are as close to the size of the thighs as you can get and again, they should be bone in, skin on. I know a lot of you shy away from skin on, I urge you not to. The best way to get moist, tender chicken is to keep the bone in and skin on. And, all the flavorful herbs and spices are on the skin! This flavorful chicken roasts in the oven in 20-25 minutes. Drizzle with fresh lime juice and sprinkle with red pepper flakes….amazing.
If You Want to Bump it Up a Notch, I have Two Suggestions:
If you want to take an already amazing recipe and make it even more so, serve along with my Tomato and Avocado Salad with Lime Vinaigrette!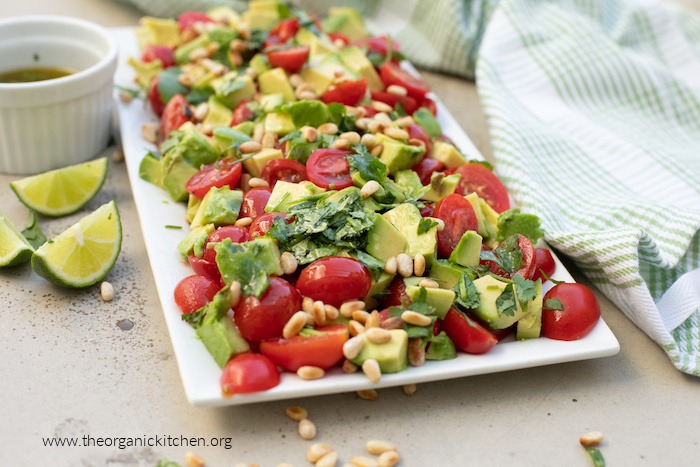 Or top this delicious chicken with my mango salsa! (<—recipe)
So easy, so delicious, so beautiful!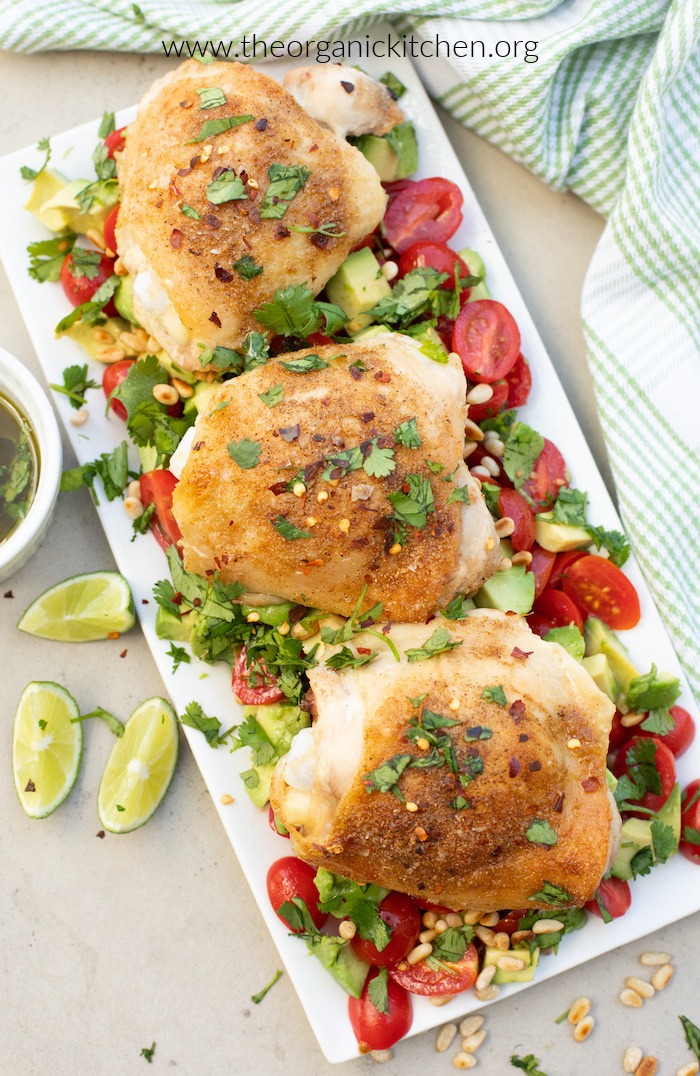 The Recipe: Spicy Lime Chicken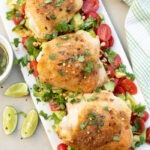 Spicy Lime Chicken
An easy to make spicy chicken dish! I serve it with my mango salsa, recipe link posted above. Note: I recommend using bone in skin on thighs for this recipe. If you choose to use breasts be sure to get bone in, skin on and get them as close to the size of the thighs as you can. Sometimes you just can't find small chicken breasts, if you use chicken breasts that are considerably larger than thighs, place them in the oven ten minutes before adding thighs to the pan .
Keyword:
easy dinner recipe, kid-friendly recipes, summer recipe
Ingredients
6

chicken thighs

bone in, skin on (see notes for using breasts above)

Olive oil

Ground coriander (to taste)

Ground cumin (to taste)

Sea salt (to taste)

Garlic powder (to taste)

Freshly ground black pepper (to taste)

Red pepper Flakes (to taste)

2

Limes quartered

1/4

cup

Cilantro, for garnish, chopped
Instructions
Turn oven to 450 degrees and place oven rack in center position.

Brush both sides of chicken with olive oil and sprinkle evenly and liberally with sea salt, pepper, coriander, cumin and garlic powder.

Place prepared chicken skin side up into oven safe pan. Cook for 20-25 minutes, depending on size.

When chicken is done, remove from oven and drizzle with fresh lime juice. Sprinkle with red pepper flakes to taste and garnish with cilantro if desired. Serve with my tomato salad or mango salsa and watch people be very, very happy.
MAY I PLEASE ASK A LITTLE FAVOR?
We small bloggers need all the help we can get. Subscribing and sharing on social media is very appreciated!
All recipes and food images are copyrighted and owned exclusively by Linda Spiker. Do not republish photos or recipes without written consent.