This will sound like a complaint but it's not. We have a small yard…even by Southern California standards. That said, it's perfect for this time in our lives. When we were younger with many little children we had a house with a big yard and we planted a large vegetable garden. Unfortunately with all the children and their activities we didn't tend it like we should have and it became an eyesore. So we dug it up, planted sod and were done with gardening. One less thing for this busy mom to think about.
(This post contains affiliate links. I may make a commission from sales but your price remains the same.)
How to Plant a Raised Bed Herb Garden!
Thirteen years ago when we still had five kids living at home we moved to our current home with a mini yard. It wasn't the most practical situation for a large family, but one by one the kids left for school, marriage and life. Now the yard fits the two of us perfectly. It's small but pretty, lush and colorful with plenty of room and seating for entertaining and backyard BBQ's. It also has a spectacular lake view.
The irony is now that we have this tiny yard, we actually have the time and desire to garden! But as you can see it has very little room, if any, for a vegetable garden. And for 13 years I have let my self believe that. But not anymore. I have two gardening projects in the works! First is a raised bed herb garden, which I will be sharing with you today and the second is permaculture, which I will be sharing in a month or two! I am attending a permaculture lecture in May and am excited to begin planting food in with my existing landscaping…that is what permaculture is, simply working vegetables, fruits and herbs into your yard with the plants that already exist.
My first challenge with an herb garden was space and my second was bunnies. Our neighborhood has bunnies and they eat anything within reach! So we decided to plant in an Earth Box Garden Kit that comes with wheels or a stand, but there are more decorative choices here and hundreds of other choices here. I used bamboo skewers and mini clothes line clips to label my herbs.(affiliate links)
I can easily move this planter about the garden, even placing it in the flower beds above existing plants and the bunnies can't reach the herbs.
Why We Chose to Plant Herbs:
First, herbs are easy to grow, nutrient rich and add flavor to food. Second, I cook a lot…obviously…and a pet peeve of mine is spending 2-4 dollars on cut organic herbs at the store when the recipe I am making requires only a teaspoon or tablespoon and the rest wilts before I can use it all. Now I can walk into my backyard and cut what I need when I need it. No waste! I started with organic planting soil and seedlings. I chose seedlings because this is my first attempt with growing herbs. Next year I will start from scratch with seeds. I planted the herbs we use most often and only planted one or two of each with several inches of space between each plant, you can see they filled in nicely. To see how to start an herb garden from seeds, click here) Now if you are thinking "This is all very lovely but what would I do with all these herbs?" I have you covered! Links are provided below for recipes using each herb.
What We Planted
Rosemary:
Rosemary grows like crazy in California and was already planted throughout my yard but I wanted to mention it because it's a great source of Vitamin B6, calcium and iron and makes food taste great! For recipes using rosemary click here, here, and here.
Mint:
Mint smells heavenly, is a natural pest repellant, mouth and breath freshener and helps soothe nausea and indigestion. Click here and here for recipes using mint. Helpful hint: Mint has a tendency to take over. You may wish to plant it in a container of it's own.
Oregano:
Of course oregano is a staple of Italian cooking but also contains: fiber, iron, manganese, vitamin E, iron, calcium, omega fatty acids, manganese, and typtophan. Recipe using oregano here.
Thyme:
Thyme is a natural diuretic and as antibacterial properties! For recipes using thyme click here and here.
Cilantro:
Cilantro is staple of Mexican food and is a wonderful detoxifying herb used to remove heavy metals and other toxins from the body. Recipes: here and here.
Parsley:
Also amazing for it's detoxification ability and is used as a garnish and breath freshener. Recipes: here, here, here, and here.
Sage:
Amazing in brown butter and tea this herb is a natural anti-inflammatory known to improve memory. Recipes using sage here.
Chives:
Chives are used to garnish many dishes and sometimes may replace onions in recipes. Chives contain allicin, an organosulfur that is being studied for its ability to help lower cholesterol and blood pressure. Recipes using chives: here, here, here, and here.
Basil:
Yet another aromatic herb used in Italian food that has anti-inflammatory benefits! Basil recipes: here, here, here and here.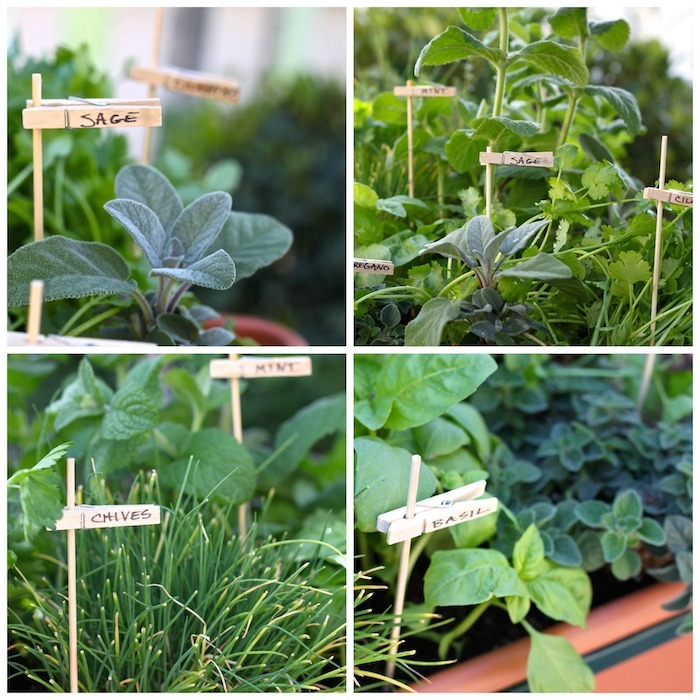 Taking care of a raised bed herb garden is a cinch! I water it everyday, trim back as needed and that's it! And it can pretty much fit anywhere, a small porch, an apartment balcony or a tiny courtyard.

~ Linda Spiker