I can't even begin to tell you how happy I am about the arrival of spring! I am sure many of you feel the same way after this unusually harsh and long winter. Let's kick spring into high gear with this Spring Roll Spaghetti Bowl with Grain Free Option!
(This post contains affiliate links from which I may make a commission. Your price remains the same.)
Isn't This Just So Pretty!?
Just as healthy as it is beautiful, this pasta dish is loaded with veggies, greens and fresh herbs! To put this pasta salad over the top we drizzle it with a delicious sweet and spicy asian almond butter dressing made with hints of ginger and sriracha!
The Pasta Choices: Including a Delicious Grain Free Option!
When it comes to pasta, to each their own. You can use your favorite traditional spaghetti, or gluten free spaghetti, or if you live completely grain free you can use Cali'flour Foods pasta! I love introducing you to interesting new healthier pasta options and Cali'flour Foods has come up with a winner! This pasta is made with only two ingredients: cauliflower and lentils for a firm, al dente, grain free pasta that tastes great and has fabulous texture. I also love Cali'flour foods pizza crusts. And now they make mini flat breads too!
The Perfect Vegetarian Bowl Recipe or BBQ Side Dish!
This recipe makes the perfect meatless Monday vegetarian dinner or beautiful side dish to any protein. It also makes a beautiful presentation on any BBQ or picnic table. Of course, you could just toss in some warm rotisserie chicken or grilled shrimp! Whatever floats your bloat.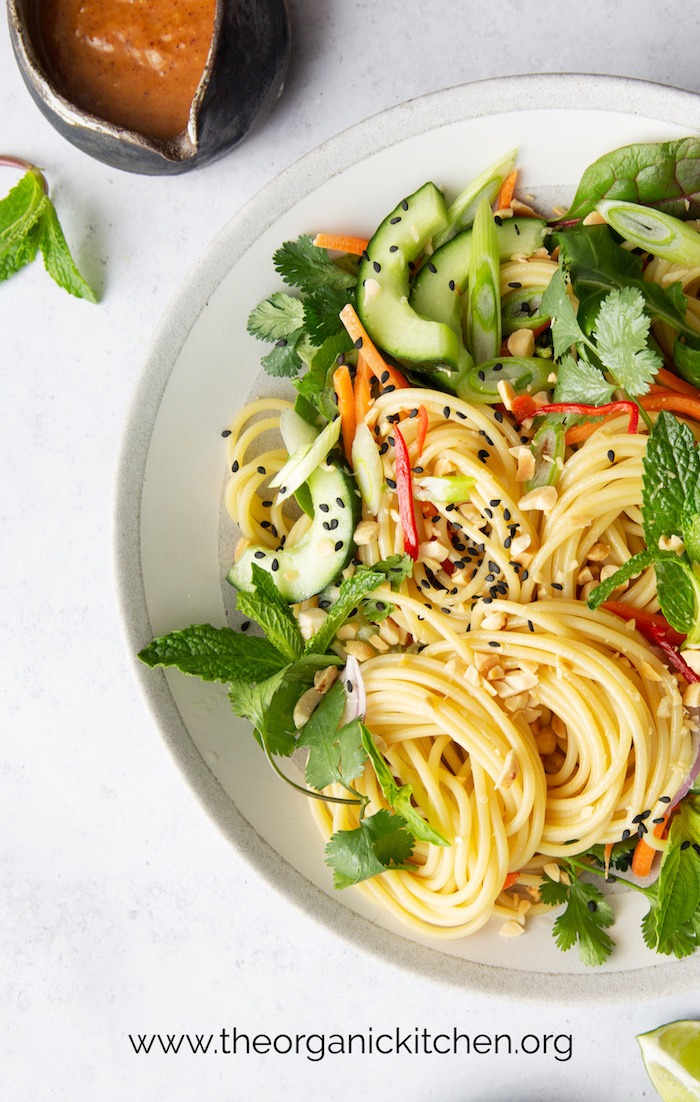 The Recipe: Spring Roll Spaghetti Bowl (Grain Free Option!)
Tips and what you need: for best results cook pasta to package instructions. You will need a stock pot, and a colander.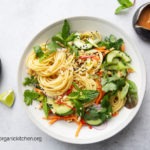 Spring Roll Spaghetti Bowl
A fresh and fabulous take on spaghetti! If you wish to add protein to this meal, grilled shrimp, rotisserie chicken, or thinly sliced steak all work well!
Keyword:
#spaghetti, #spring roll, gluten free, pasta
Ingredients
8

ounces

spaghetti

1

cup

carrots, peeled and cut into "matchsticks"

1

cup

cucumbers (peel if desired, cut in half lengthwise, scrape out seeds, then cut into half moons)

4

green onions (scallions) sliced thinly on the diagonal

1

shallot, peeled and thinly sliced

1/2

cup

each loosely packed cilantro, mint leaves and basil leaves (roughly chopped if desired)

3

tablespoons

unsweetened almond butter

3

tablespoons

avocado oil or extra virgin olive oil

3

tablespoons

honey

2

tablespoons

lime juice

1

tablespoon

rice vinegar or apple cider vinegar

1

teaspoon

sriracha

1

teaspoon

sea salt

2

teaspoons

freshly grated ginger (or 1/8 teaspoon ground ginger)

1

clove garlic, grated

1

large handful mixed baby greens

optional garnishes: sesame seeds, red pepper flakes, or peanuts
Instructions
Cook Pasta, Prep Veggies:
Bring a large pot of salted water to boil. While waiting for water and pasta to cook, prep veggies and herbs and place them in a large bowl
Make Sauce:
Whisk together almond butter, oil, honey, lime, sriracha, salt, ginger and garlic. Mix until well blended, set aside
Put it all together!
When pasta is cooked, strain in a colander, do not rinse. Place the noodles in bowl and toss with carrots, cucumbers, scallions, shallot, herb leaves and half the dressing. Serve in bowls over mixed greens, with additional dressing to taste. Garnish with additional options if desired. Serve!
MAY I PLEASE ASK A LITTLE FAVOR?
We small bloggers need all the help we can get. Subscribing and sharing on social media is very appreciated!
View The Organic Kitchen's Privacy Policy.
We are a participant in the Amazon Services LLC Associates Program, an affiliate advertising program designed to provide a means for sites to earn advertising fees by advertising and linking to Amazon.com.