I feel I must disclose that I have never enjoyed working on a post more than this one. I made hot chocolate everyday for a month. I combined milk with cream, milk with half and half, and half and half with cream. I used different combinations of light and dark chocolates, and then had to decide exactly how much vanilla paste and cinnamon to use! I finally found what I think is the perfect combination. Behold, comfort food at it's finest: Spiced Hot Chocolate with Vanilla Whipped Cream!
(This post contains affiliate links. I may make a commission from sales, your price remains the same)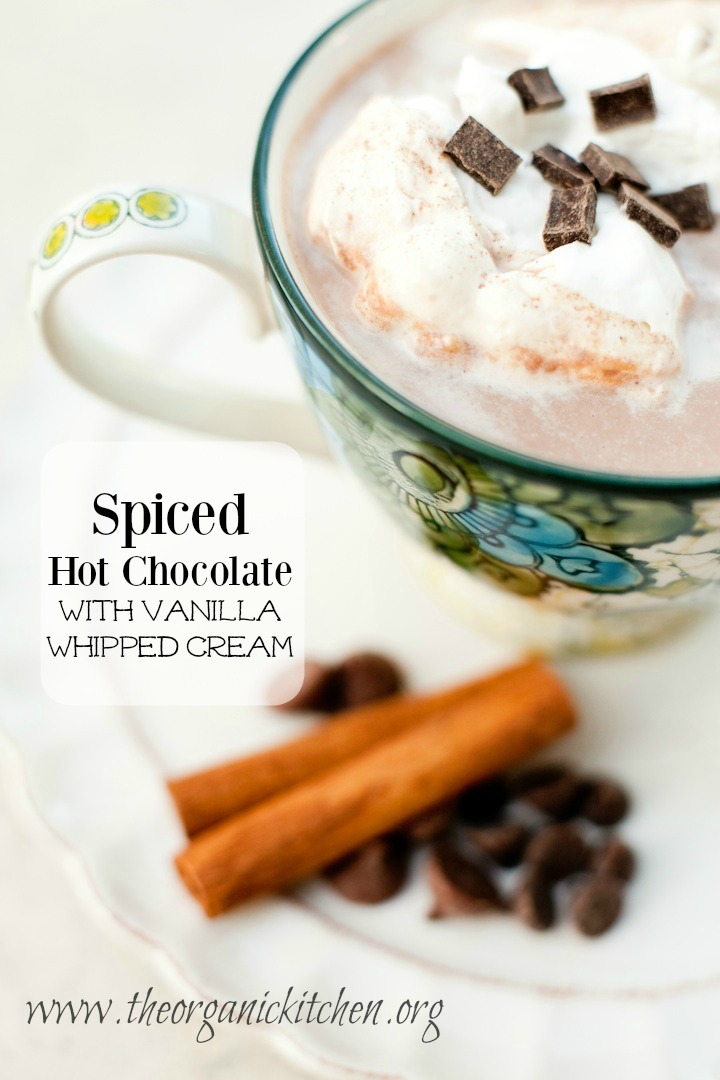 How to Make Spiced Hot Chocolate with Vanilla Whipped Cream:
The Organic Kitchen Spiced Hot Chocolate is made the old fashioned way, on the cooktop with real chocolate and real cream. No powdery mix and boiling water here. Real, rich and delicious!
Let's Talk Cinnamon and Vanilla!
I take traditional hot chocolate a bump it up a few notches by using real chocolate, a hint of cinnamon and a beautiful vanilla paste. This recipe will surly be a family favorite in no time. Dishes in this post are from my favorite store Anthropologie
!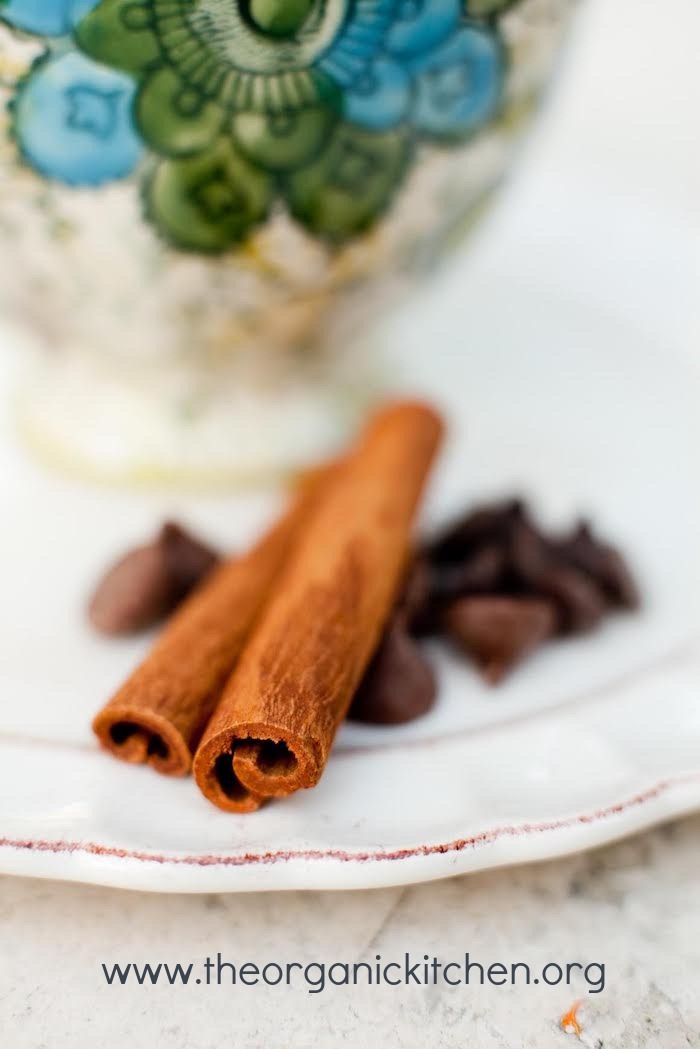 The Vanilla:
You can use vanilla extract in this recipe but I prefer Nielsen Massey Vanilla Paste. It doesn't have that strong alcohol flavor and tastes great straight out of the bottle. If you use vanilla frequently it's a much better deal to buy the quart!
The Recipe: Spiced Hot Chocolate with Vanilla Whipped Cream
You will need: Vanilla paste available in 4oz and quart size (I recommend getting the quart, saves lot's of money in the long run!) affiliate link
Spiced Hot Chocolate with Vanilla Whipped Cream
A rich and creamy hot chocolate topped with vanilla whipped cream.
Keyword:
easy dessert recipe, kid-friendly recipes, winter recipe
Ingredients
Hot Chocolate:
3

cups

2% milk (my raw milk drinking friends...knock yourselves out! It will be really rich but you are used to that!

1

cup

heavy whipping cream

2/3

cup

Bittersweet Chocolate chips

60% cacao

1/3

cup

milk chocolate chips

2

tsp

vanilla paste

1

tsp

cinnamon

1

small pinch sea salt
Vanilla Whipped Cream:
1/2

pint

heavy whipping cream

1

tsp

vanilla paste

1/4

cup

powdered sugar

or liquid stevia drops to taste
Instructions
Hot Chocolate:
Combine all ingredients in a medium sized pot on medium heat. Stir with a whisk till chocolate is melted and all ingredients are blended well. When milk/cream mixture is steaming remove from heat. Pour into mugs and top with vanilla whipped cream.
Whipping Cream:
Place cream in large bowl and whisk by hand or use mixer till cream is slightly thick. Add vanilla and sugar. Continue beating till desired consistency.
MAY I PLEASE ASK A FAVOR?
We small bloggers need all the help we can get. Subscribing and sharing on social media is very appreciated!